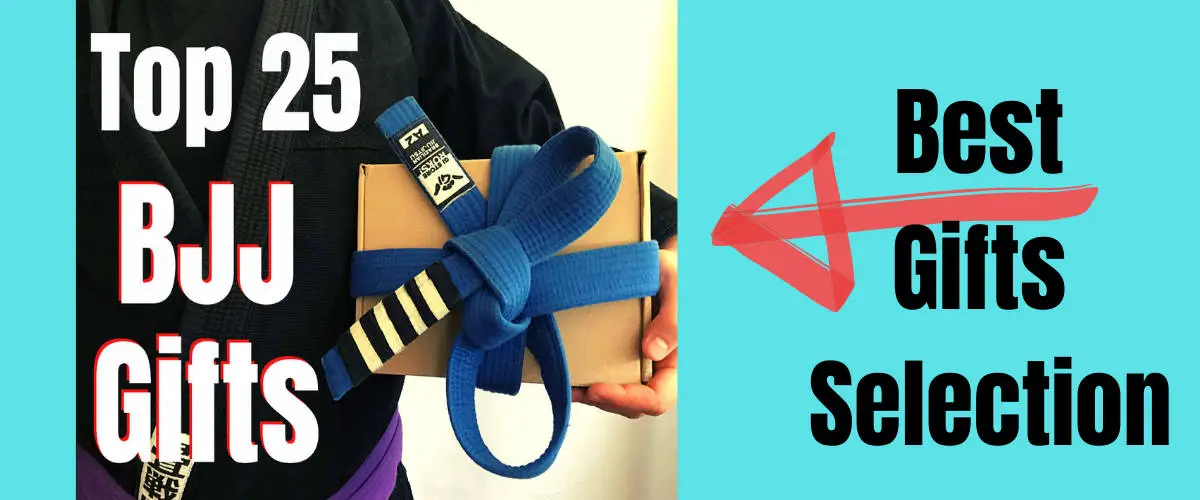 You might be in a challenge right now to find the best gifts for Jiu Jitsu lovers. First things first – don't panic. Because you are reading the best Jiu Jitsu gift ideas for Birthday and Christmas.
UPD 2023: We have updated and continue to update our guide to BJJ and martial arts gift ideas so you can easily prepare jiu jitsu Christmas gifts or any other occasion for your friend and coach.
We are BJJ fans, and we are jiu jitsu store owners. So we know what goes on in an ordinary BJJ maniac athlete`s head.
We will guide you through this challenge.
What budget do you have for jiu jitsu gifts for someone who does jiu jitsu?
With a $50-$100 budget or more let us be your BJJ fan don`t hesitate to buy one of these TOP 8 items below in the list of the best BJJ gifts and you will make cry your special one.
Literally.
back to menu ↑
The best Brazilian jiu jitsu gifts for a $50-$100 budget
 BJJ Rash guard. In fact, this gift option is also available for a lower budget than $50. You can easily find a lot of variants of good jiu jitsu rash guards for under $50.

A rash guard is not only a nogi rash guard but also is worn under the gi during training.




 Shorts. With the BJJ shorts, it is the same story as with the rash guards. A budget over $50 is for top brands of BJJ and MMA shorts. But don't hesitate to look for under $50 products. The article about the top 10 best MMA shorts may help you.




 No Gi set Rash guard+Shorts+Spats
 Backpack. Keep in mind to look exactly for a jiu jitsu backpack. I use the Tatami Omega backpack for the last two years and I`m happy with it. A good choice for not the all money in the world. By the way, I got it as a birthday present.
This one you can realize together with your partner, friend or even with the whole family
7. BJJ training or surfing camp. It's a gift for someone who likes jiu jitsu so much, that is ready to travel around the world to meet new BJJ friends and learn jiu jitsu from a variety of jiu jitsu academies. The BJJ camps take place around the world. For example, check the events by BJJ Globetrotters bjjglobetrotters.com/bjjcamps
8. Pay tournament fee, individual or monthly BJJ lessons. Tournament fees, plane tickets or accommodation spending — for this you will have really big and tight hugs.
back to menu ↑
Best BJJ gifts under $50
But what if you are looking for BJJ gifts under $50 and still something special?
Is it possible at all?
Oh, yes. We are experts in jiu jitsu gifts for Christmas, birthday, or any other occasion. Because we create them and most of them are handmade.
First of all, you should know that a budget of $50 for a jiu jitsu gift is quite decent. The next list of gift ideas will prove it.
As I said, we are BJJ fans and own jiu jitsu shop. So it means several years of experience on Etsy, eBay, Amazon, and our own online store have pointed out best sellers and happy feedback.

10. Jiu Jitsu Keychain. Hint: the most popular is the big belt keychain with a carabiner.

11. The cutest one is the hand-made jiu jitsu gi keychain. Hint: A belt color is a custom option.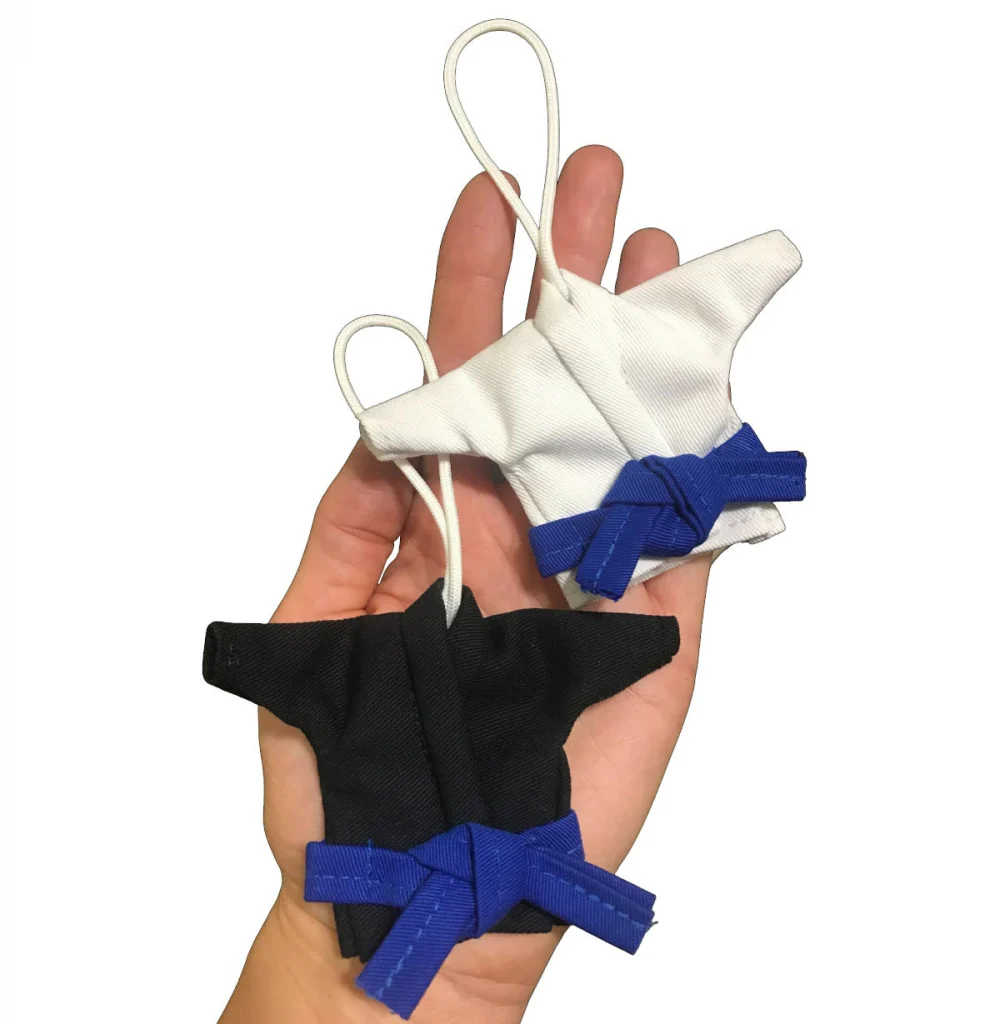 12. BJJ gi patches. The top sellers are Drill to Kill and Live to Fight. Hint: some put them on jeans jackets or etc. Looks cool.

13. In case you know your BJJ athlete will be promoted, a new gi belt will be a good choice also. But better don`t present it before the promotion.
You have already more than 10 BJJ gift ideas and this list can be much longer.
Remember, even small gifts for jiu jitsu lovers are still very essential. Jiu jitsu is a very active activated activity and a lot of stuff needs to be updated often. Like:
14. Big size towel. Hint: the best of the best is the microfiber. It`s compact and has a super dry effect.
15. Mouthguards
16. Finger tape
17. Sports supplements. The most popular are BCAA, protein powder, and collagen. Keep in mind to find good quality suppliers.
And keep in mind these jiu jitsu gift ideas also:
18. Jiu jitsu mug
19. Funny and cool BJJ t-shirts. This cluster deserves a separate article to write. We will show only a couple of the best jiu jitsu shirts.
Master Ken Costume Rash Guard
The Master Ken rash guard collaboration with the XMARTIAL store.
XMARTIAL rash guards are popular with their custom designs.
Sizes: 2XS-XXXL
Reviews: ⭐⭐⭐⭐⭐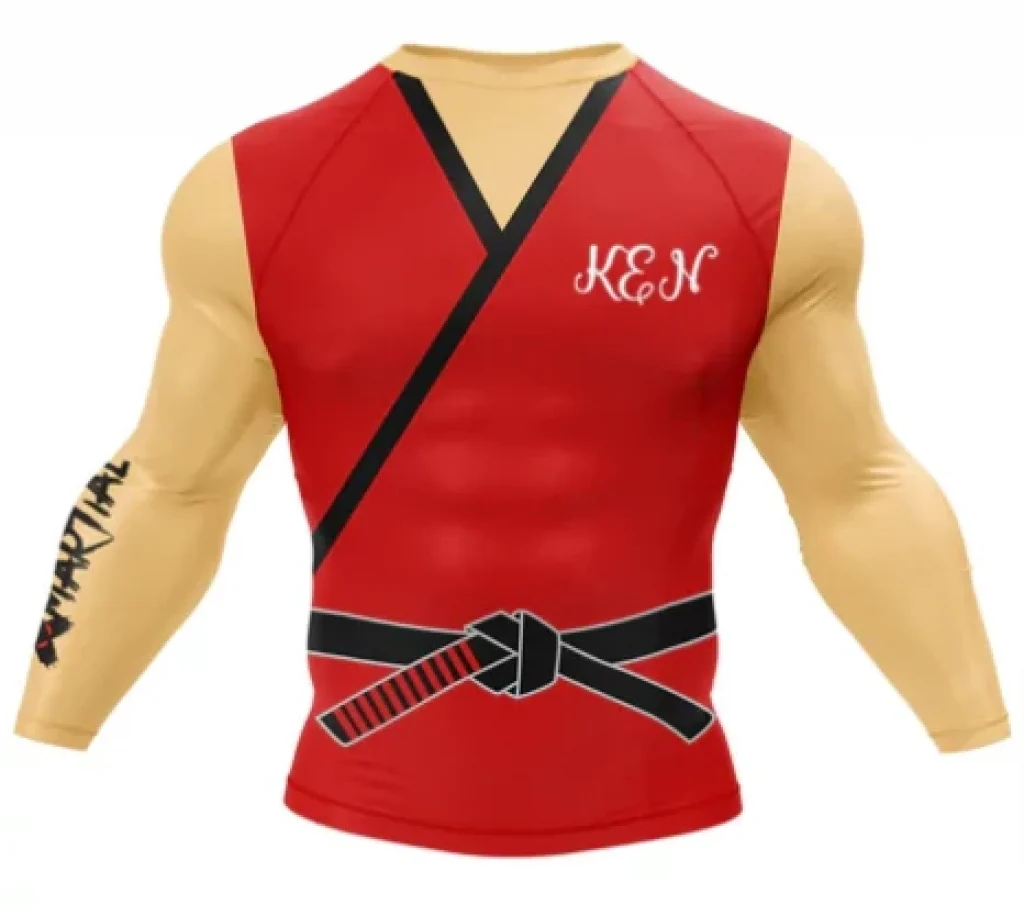 Unisex
Simple jiu jitsu graphic design. Lemon, white, grey, and slate colors. Men's and women's jiu jitsu tee for every day.
Reviews: ⭐⭐⭐⭐⭐
Funny Kimura sweatshirt or the great and funny mood on the Christmas holidays.
BJJ sweatshirt
Funny jiu jitsu Christmas design featuring the Kimura submission lock. Black, navy, dark heather, and royal blue colors.
Jiu Jitsu quote
Black and white jiu jitsu shirt with funny BJJ saying. From small to extra big sizes. Jiu jitsu graphic tees with vintage style.
Unisex
BJJ tee with Popular Star Wars font design. Funny BJJ quote related to the arm bar jiu jitsu technique. Jiu Jitsu, grappling, and MMA shirt for every day.
Reviews: ⭐⭐⭐⭐⭐
20. Online BJJ courses, e.g. Leg Lock Course for Beginners and etc. Or check out the Yoga for BJJ by BJJ black belt Sebastian Brosche.
21. Jiu Jitsu Medal Hanger

22. Foam roller
23. Weights
So let's stop at these 'only' 23 variants. At this point or on about number 11 your gift challenge should be finished with relief. If not:
24. BJJ phone case
25. BJJ phone stand
back to menu ↑
The 26th Bonus Jiu Jitsu Gift Idea
As we mentioned and promised in the beginning here is the bonus martial art gift idea that will fit any martial arts discipline. It's a belt display.
We have made a guide to finding the best Martial Arts Belt Display for jiu jitsu, karate, taekwondo, wrestling, etc.
back to menu ↑
Conclusion
I should say I`m also pleasantly surprised. So much good stuff can a jiu jitsu athlete get as a present. I personally like the BJJ camp, backpack, keychain for a backpack, towel, medal hanger is also a good thing, finger tape. Yep… I agree, that you are still in the challenge.
But remember – your attention and your time for your special one is a big part already.
More ideas for BJJ gifts and our recommendations find in our article What to Get Someone who Loves Jiu-Jitsu.