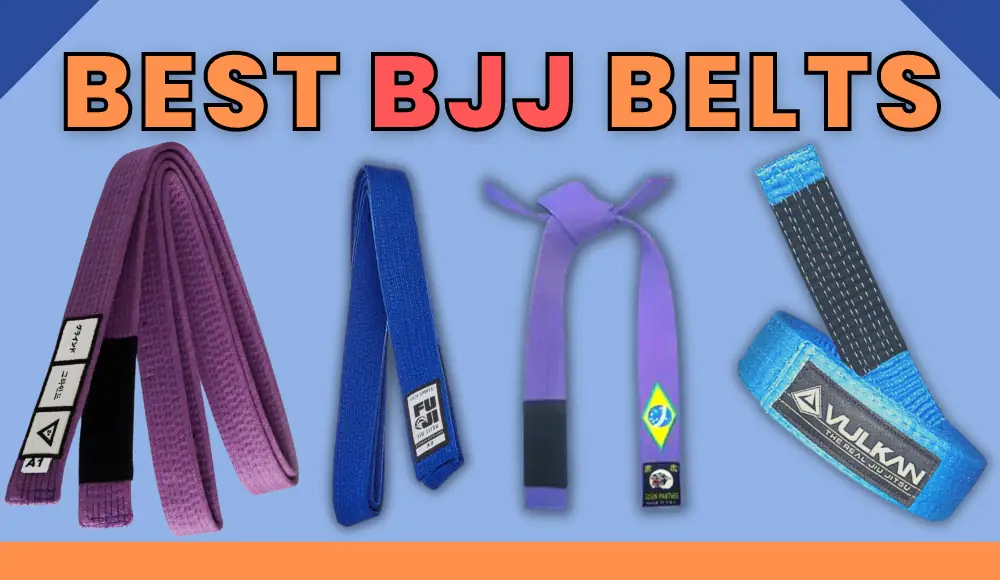 The challenge to find the best BJJ belt will never end. Even if you are in jiu jitsu for a decent of time, I bet you will at least consider checking out the best BJJ belt brands that are current for your next belt promotion.
And this is why it happens.
Practicing martial arts is not only about the practicing itself but it is also a lot about things and stuff relating to and surrounding them – equipment, uniform, accessories, themed casual clothing, a whole range of things for personal hygiene, etc.
Brazilian jiu jitsu takes a special place here thanks to the variety of gi and no gi uniforms. It takes place due to the more formal attitude to the format of training clothing than in other martial arts such as aikido, judo, karate, etc. This fact provides the basis for the emergence of new BJJ brands regularly.
On the other hand, the choice for BJJ athletes increases and it gets harder to find out what is the best jiu jitsu belt to choose from.
Table of content
What is the best BJJ belt?
That's why, without betraying our customs, we made another research to find out, what are current best jiu jitsu belts.
We have good skills in this kind of research already.
For example, one of our biggest and best researches is finding the best BJJ gi brands ever. The results surprised even us – experienced jiu jitsu practitioners.
Also, you may be interested to find out what are the best BJJ spats or best knee braces for jiu jitsu.
But somehow we were not considered seriously to make the same investigation on the best BJJ belts. For now. As mentioned earlier, the constantly expanding market with new jiu jitsu and martial arts brands distracts attention and it's easy to get lost.
A good strategy is to stick with well-known and established brands like Fuji, Tatami Fightwear, Kingz, etc.
But are they still so good? Have the new brands not surpassed the old market players in terms of quality? And what about modern trends and technologies in belt manufacturing?
We decided to put all these questions for our research about the current best BJJ belts.
back to menu ↑
Best BJJ belt Reddit advice
As always, for our research, we don't only take into account our jiu jitsu experience and knowledge as manufacturers of accessories and gifts for BJJ. More important for us is to hold to objectivity and gather as much information as possible.
Reddit martial arts community is just a great place for these tasks. BJJ subreddit counts already over 700K members.
Another source for our research is the customer reviews on the biggest marketplaces.
The list of the current best jiu jitsu belts we want to start with a conclusion we made after the research. The thing is, that there is no one certain winner. In the vast majority, people share what belt brand they like and explain why. And there are almost as many brand recommendations as there are brands in general.
Mostly, it's all a matter of preference.
For this reason, we divide the picks of the best BJJ belts into specific categories that may help coordinate the direction of your search.
back to menu ↑
Premium BJJ belt
Usually, premium BJJ belts are considered to be made from specific materials, such as pearl weave fabric, bamboo, or hemp.
In our case, we put to this category pearl weave BJJ belts.
Pearl weave belt
Fuji is one of those old, good, and well-known martial arts brands with stable quality indicators.

Fuji belt sizing chart: A0, A1, A2, A3, A4, A5, A6. Machine wash. Fuji premium pearl weave BJJ belt is thicker than the regular Fuji BJJ belt.
back to menu ↑
Best hemp BJJ belt
In fact, hemp jiu jitsu belts belong also to the premium BJJ belt category. But we decided to present them separately.
The situation with hemp BJJ belts is a bit strange. We've been watching brands that produce hemp belts come and go for several years now. As for now, we can say that the VHTS hemp belt and Datsusara hemp jiu jitsu belt are the most popular hemp belts. But you may also attention to IMRSE hemp belts and RMBR Club hemp belt.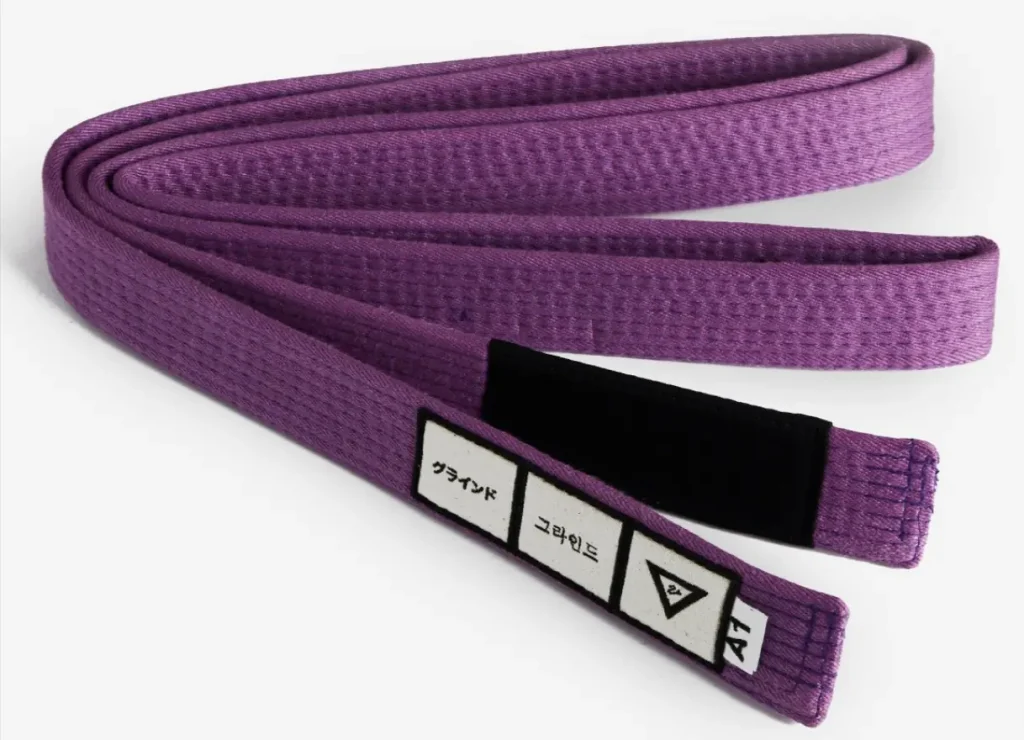 VHTS hemp belt. Site: vhtsny.com
back to menu ↑
Bamboo BJJ belt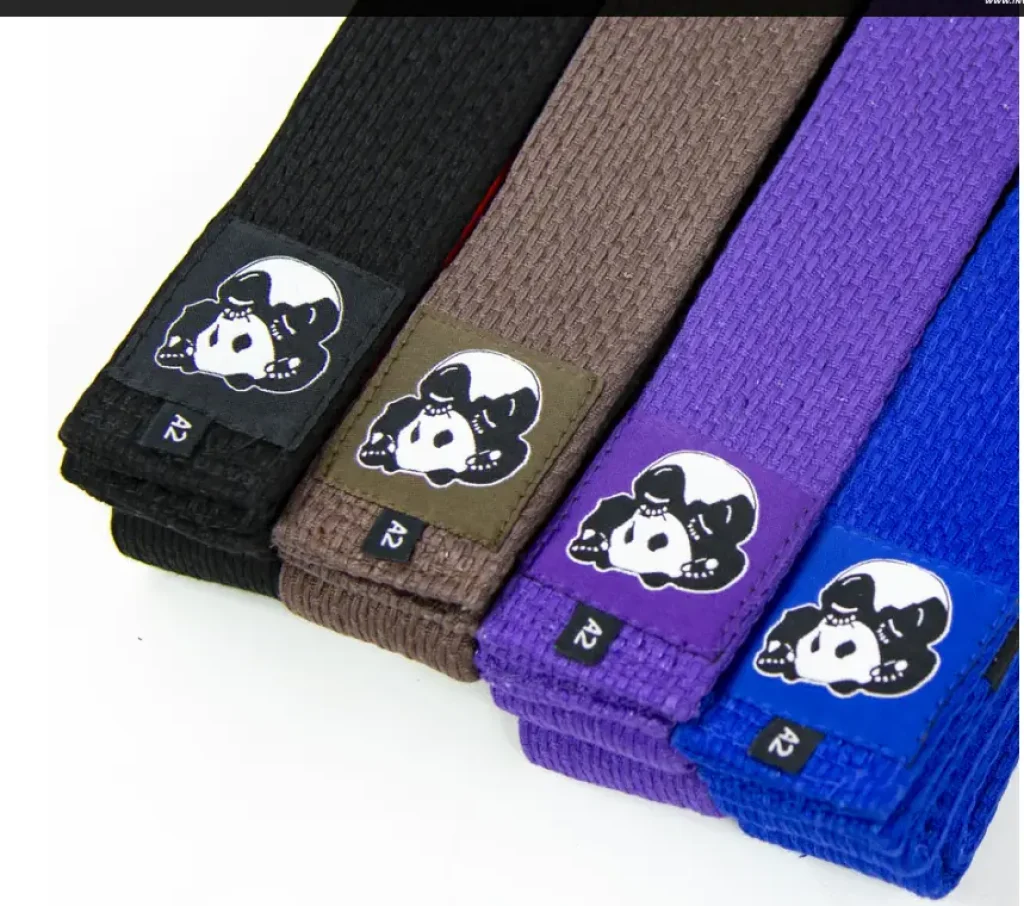 Inverted gear Bamboo BJJ belt
Another kind of belt that we cannot fail to mention is the bamboo jiu jitsu belt.
As of this moment, we have found only the bamboo belt by Inverted Gear.
Site: invertedgear.com
back to menu ↑
Most expensive BJJ belt
Expensive jiu jitsu belts are hardly a story for a BJJ beginner aka white belt. No need to spend a budget of a whole jiu jitsu gi which, in addition, can have a white belt included.
Honestly, it's not always the case even for an experienced jiu jitsu practitioner. Again, it's all a matter of preference.
Expensive jiu jitsu belts for their budget offer such options as quality, brand name, and custom options (fabric, embroidery). In this case, you can see a price tag starting from about $50 or from $80-$100 for custom embroidered belts.
Hemp and pearl weave BJJ belts fit in this category. On average, a hemp jiu jitsu belt costs $50-$55.
High-quality expensive BJJ belts may have a sense for BJJ black belts, as they wear their black belts for more than 10 years.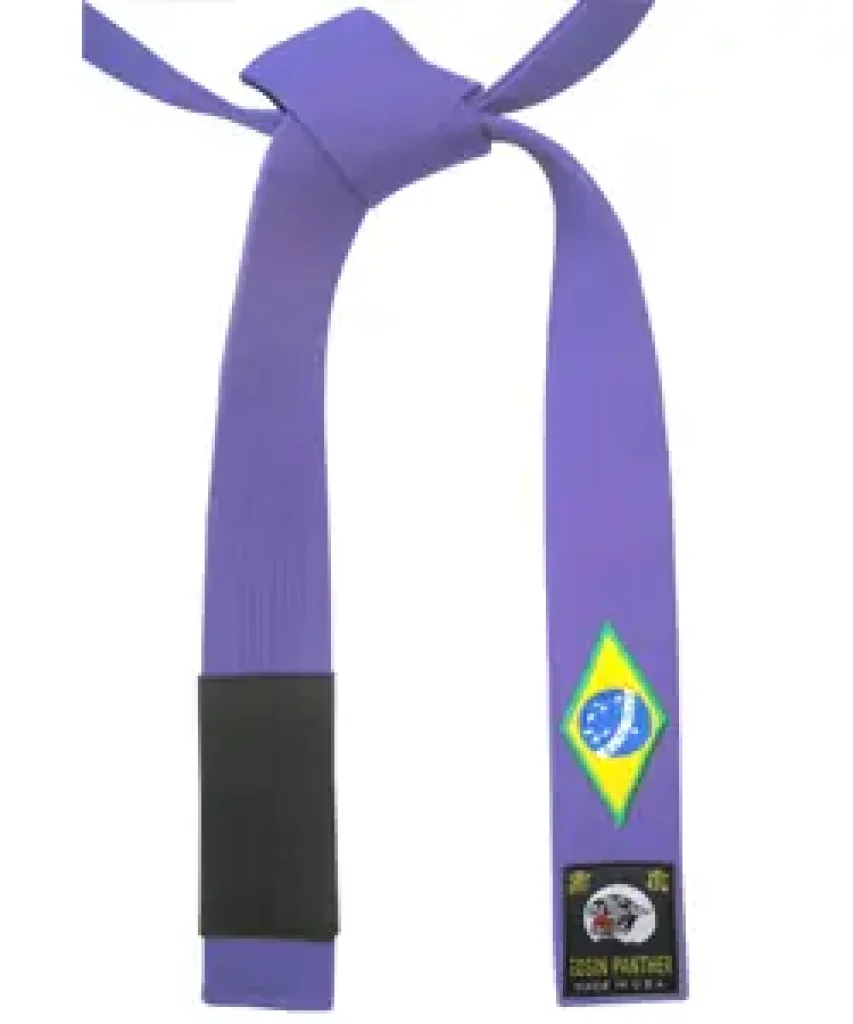 EOSIN Panther BJJ belt
If you need a custom premium belt, you can customize your purple, blue, or black BJJ belt with EOSIN Panther brand. On average, it will cost about $80-$155.
back to menu ↑
Best regular jiu jitsu belts
The most popular type of jiu jitsu belt is the regular belts. They are the most widely represented.
Here are the most popular BJJ belts jiu jitsu practitioners choose from.
Regarding the price range – it's very varied, from $9 to $25 and higher. Below we list the best jiu jitsu belts with a combination of quality + price. If you are looking for a cheap BJJ belt, pay attention to the Sanabul regular belts and Elite Sports. But remember, cheap doesn't necessarily mean poor quality.
For a more expensive branded jiu jitsu belt look for:
Premium cotton
Quality jiu jitsu belt that holds strong when tied. Handcrafted in Brazil.

Vulkan belt sizing chart: A0, A1, A2, A3, A4, A5.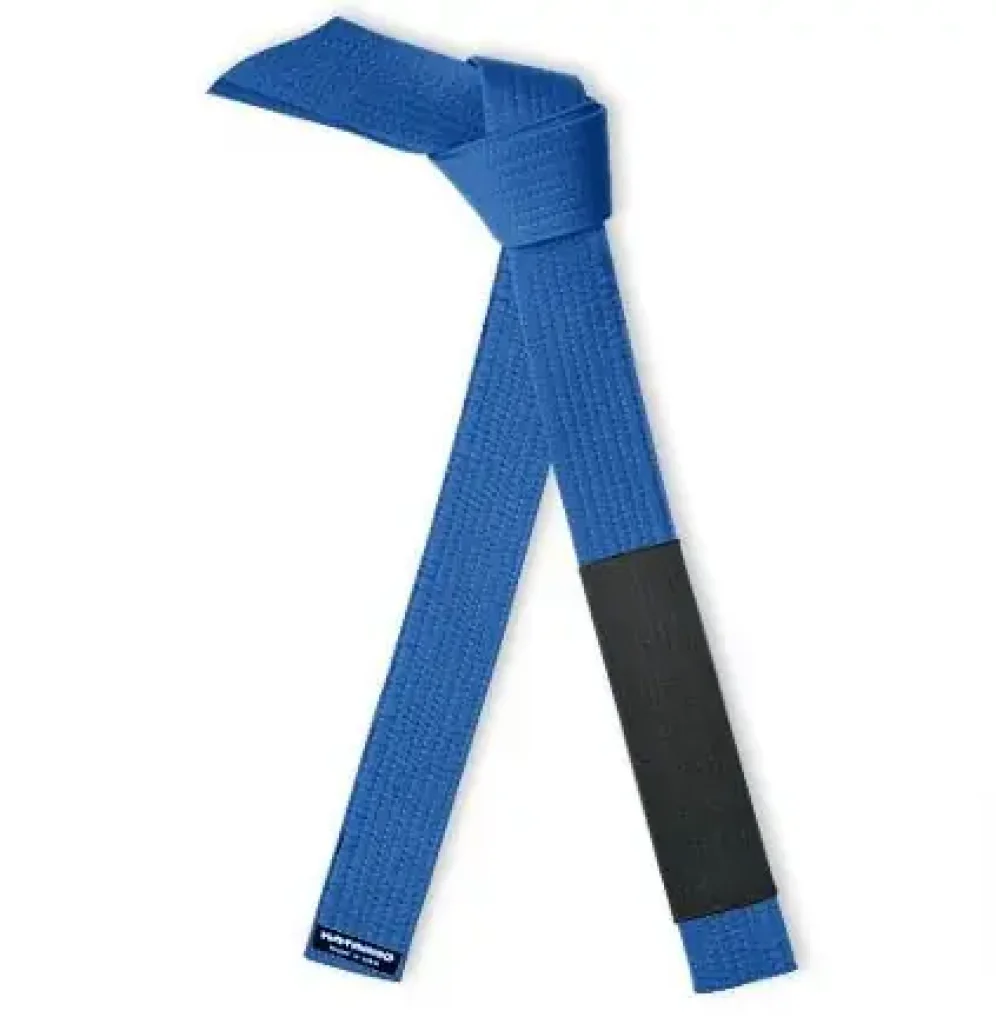 Kataaro BJJ belt is an expensive and quality well-known brand. The price tag starts from $48. It's their regular belt among their assortment of belts so we added it here as one of the best regular BJJ belts. Site: kataaro.com
One of the popular searches is the vintage BJJ belt. As for now, the Sanabul Vintage Series BJJ belts are the best offer to this category of regular jiu jitsu belts.
Over 3000 reviews
Fuji BJJ belts are for years already been one of the best choices. All belt rank colors from white to black belt. It's just a regular jiu jitsu belt that has the needed specifics.

Fuji belt sizing chart: A0, A1, A2, A3, A4, A5, and A6.
back to menu ↑
What is the best BJJ belt knot?
If you are buying your first ever BJJ belt or you just want to change your belt knot for diversity reasons, don't worry about researching it on YouTube and the internet.
We already gathered here in one place 3 ways how to tie a jiu jitsu belt.
Of course, there are some more other ways to tie your BJJ belt and everyone has his or her favorite way of tying the belt.
We recommend starting with the Superlock BJJ Knot – the most popular one. This type of jiu jitsu knot is one that helps when BJJ belt won't stay tied for long.
What is a jiu jitsu belt knot called?
There are no specific traditional names for jiu jitsu belt knots. They are just knots. The names for jiu jitsu knots that you may hear are the names that were created in the course of the case and people got used to them.
back to menu ↑
How to wash BJJ belt?
You asked exactly "that" question.
Only two scenarios are possible here:
You are not familiar with the "Never wash your martial art belt club";
You are familiar with it but It's your conscious choice to wash your jiu jitsu gi belt and you need advice.
It is a personal decision of everyone whether to wash or not to wash the belt. I personally for washing your belt for hygienic reasons. But in reality, somehow I do it very rarely.
Anyway, if you came here to find advice on how to wash a BJJ belt, here are some recommendations to pay attention to.
Wash your belt in cold water. Jiu jitsu belts are made from natural cotton fabric that has a tendency to shrink in hot water. In most cases, jiu jitsu uniform is made from preshrunk cotton fabric but it doesn't always save the belt from shrinking.
After washing with hands the belt will need 1-2 days to dry. BJJ belts are thick and sturdy, as a result, they absorb a lot of water. If you decide to do hand washing, you will be not able to wring it as well as the washing machine.
Think about the stripes. If you have stripes on your belt, be ready they will detach during the washing. One of the ways to prevent it, tie your belt in a knot and hide the edge with stripes inside. Or, wash the belt in a bag.
back to menu ↑
How long should my BJJ belt be?
This is a question you will face before buying your first BJJ white belt.
The belt length or belt sizes in every martial art discipline are more or less the same. The adult belt length starts usually from 240 cm (95 oz) or size A0 and the longest may reach 340 cm (134 oz) or size A5, and even longer.
Kids' belt sizes start from about 180 cm or 70 oz.
Your height may help to determine the belt length, but important is the waist size. Because the belt length depends on what waist size you have.
And it is evident. As you have to turn the belt around the waist.
In the final stage, after turning it around the waist twice, it should be left enough to tie the knot and to leave hanging two belt ends for about 20 to 30 cm in length.
back to menu ↑
BJJ Belt Length Formula
Here is a formula that I use when I need to double-check the belt length for someone.
Waist size * 2 + 40 cm for knot + 60 cm for belt ends + 10-20 cm for reserve (belt and gi thickness) = your BJJ belt length.
back to menu ↑
How to soften jiu jitsu belt?
Another task you may face is to soften your brand-new belt. It doesn't happen to all new belts, but some BJJ belts are really rough that will challenge you every time when tying the belt.
With time the belts are getting softer, as they are made from natural cotton material. There are ways to speed up this process.
In our article about how to soften jiu jitsu belts, we have presented six methods on how to do it.