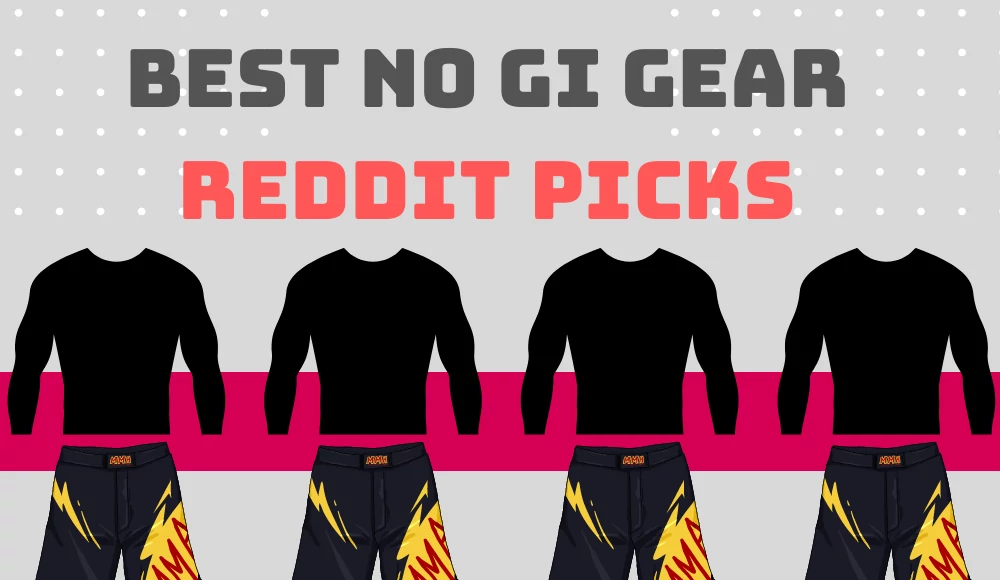 I just love to look for answers on the martial arts subreddits. This time we will search for the best no gi gear Reddit picks and advice. We have a successful case with this kind of research but for the best BJJ gi brands ever. You may find the results here – 13 top Best BJJ Gi Reddit Reviews.
And now we want to jump for the help of the BJJ Reddit community on what is the best gear for no-gi training. In other words, what should you wear to no gi jiu jitsu classes in view of the martial arts gear manufacturers for your best comfort?
What is jiu jitsu clothing called?
Martial arts gear differs depending on the discipline. Although, many of them have things in common.
Before we jump to the main part to reveal the best no gi gear Reddit picks, let's remind those who are new to BJJ what clothing is used to train jiu jitsu.
The most used to call jiu jitsu clothing name is the gi – uniform which consists of a jacket, pants, and belt. Gi is the first association that comes on mind about jiu jitsu training related to its clothing gear.
Nevertheless, jiu jitsu is a grappling fighting style that has one more form of training – it's the no gi grappling or no gi BJJ.
No gi jiu jitsu clothing consists of shorts and a rash guard. Very common is also to complement nogi clothing with tight elastic spats.
back to menu ↑
Best no gi gear Reddit Advice
So, no need to waste more time, let's jump to the most interesting part here – What to wear to no gi BJJ Reddit Advice.
On r/bjj there are a lot of different threads dedicated to the question of the best clothing for no gi BJJ training.
We spent a bunch of our time doing the research – reading the comments and finding the reviews of the mentioned on Reddit no gi clothing.
Nowadays the market has a lot of examples of the best BJJ clothing brands. Every year or two more new brands appear that may join the ranks with time.
It's great. But makes the choice of finding your best no-gi gear harder from year to year.
That's why we need help from the big jiu jitsu community.
We split the list into parts where each one is dedicated to a single brand in descending order – the first one is the most mentioned on Reddit and so on.

Read added comments to each brand to get more details and ease your choice.
back to menu ↑
#1 Best Choice – Phalanx nogi rash guards and shorts
Phalanx BJJ company got the most mentions and good reviews on r/bjj in terms of the best BJJ gear for no gi.
Where are Phalanx rash guards made? We couldn't find the details about the manufacturing place but Phalanx is a US company that delivers their original products to athletes for over 10 years.
Phalanx rash guard review: With the Phalanx items, you can really feel the quality. It has thicker material is thicker and at the same time wicks sweat off easily. Totally worth the money.
Phalanx shorts have a four-way stretching capability that gives additional comfort during the rolling sessions. The shorts are super light but still strong.
The average price for Phalanx rash guard is $55
The average price for Phalanx shorts is $55
Phalanx BJJ shorts and rash guards people search for:
Phalanx HPLT shorts
Phalanx Dimension shorts
Phalanx black ops II RIZR shorts
Phalanx Distortion rashguard
Phalanx HPTX shorts
Phalanx Lionheart rash guard

back to menu ↑
93Brand BJJ no gi gear
93 Brand is an old well-known manufacturer of jiu jitsu gear – gi and no gi. I remember it since my first jiu jitsu classes. The first rash guards they made in 2012.
The company has a range of women's no gi gear. As for the established popularity, the 93 Brand BJJ gear brand has pretty affordable prices with unique nice designs and good quality.
Their design range for gi and no gi is huge.
Also, I can't pass by without mentioning that 93brand is one of the best BJJ gi brands according to our big data brand research.
Who owns 93 Brand? One of the owners and founders is George Ganssle from NY, USA.
The average price for a 93 Brand rashguard is $50
The average price for 93brand shorts is $50-$55
93 Brand rashguard and shorts people search for:
93 brand Palm" shorts
93 brand spats
93 brand Citizen 8.0 shorts
93 brand shorts 2-pack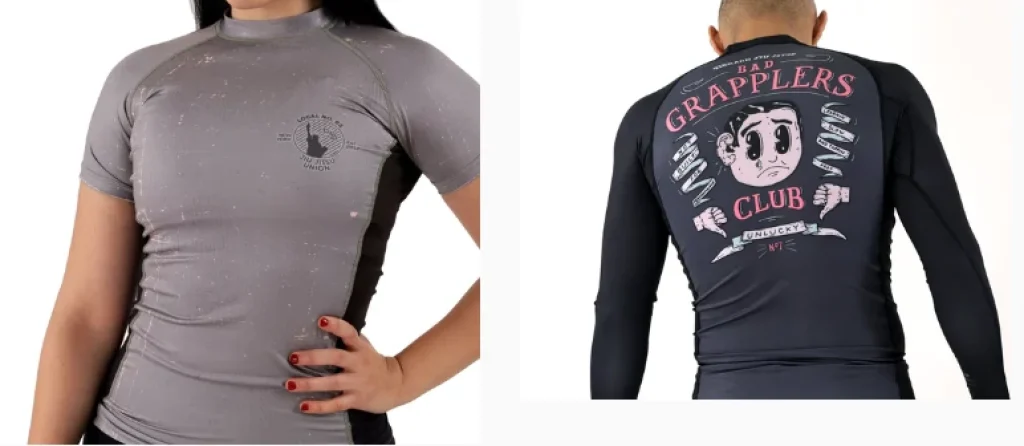 back to menu ↑
Sanabul – best no-gi rash guards for an affordable price
Sanabul gis and no gi gear is very and very popular. And it's not only because the price is affordable for some of their positions (in simple words cheap), but the gear has also decent quality. It's proven through years and thousands of customer reviews.
Brazilian jiu jitsu clothing and gear doesn't mean to be expensive and from a famous brand. Especially the no gi gear. It should fit, work, and feel comfy. The price label is not the main point to make a decision for purchase.
Is Sanabul a good brand? With Sanabul stuff you will close all your needs and save money.
Sanabul has spats, rash guards, and shorts. All this you are able to buy for a bit less than $65. It's a basic no gi gear with good quality.
back to menu ↑
Scramble no gi BJJ gear
The British company is known for its quality and often favored for its restrained and at the same time not boring design. The Scramble stuff brand was established in 2009.
For the honest list making of the best no gi BJJ gear, I want to point out that Scramble was much less recommended than 93brand and Phalanx. But we have found out that people often search for different specific Scramble positions. That is why we have decided to add it to the list.
The average price for a Scramble rashguard is $60
The average price for Scramble shorts is $55-$70
Scramble shorts and rash guards people search for:
Scramble Glitch rash guard
Scramble Ranked rashguard
Scramble Tiger rash guard
Scramble BJJ shorts
Scramble grappling shorts
Scramble Combination shorts – Camo

Also, much attention was given to the XMartial rashguards. One of their advantages is the gel panel technology for extra grip. The brand has BJJ shorts, compression shorts, and vale tudo shorts.
XMartial always keeps adding new original and cool prints. Like this Master Ken rash guard.
back to menu ↑
Elysian Arts nogi gear
Elysian Arts is another British jiu jitu brand established in 2019. Their BJJ shorts are reviewed as super protective, rashguards fit perfectly and wash well. The Elysian Arts BJJ clothing is mostly performed in plain colors.
In fact, Elysian Arts was mentioned only 1 or 2 times but got pretty warm feedback so we decided to add it to the list as a quiet newcomer on the market with good reviews.
The average price for a rash guard is $44
The average price for jiu jitsu shorts is $47

back to menu ↑
Other best no gi gear [Reddit Picks]
If you are an experienced jiu jitsu practitioner you may wonder and ask: "What a weird list. Where are Origin, Tatami, Fuji, and other brands?!".
Well, we are the same surprised as you.
At the same, I personally was surprised by the results of our big data Reddit research for the best jiu jitsu gi brands. You can find it here. Because a lot of BJJ gi brands I was sure about got to the last positions of the top 13 or even didn't.
With the best no gi gear brands I have a deja vu feeling.
Again, these brands were mentioned by the r/bjj members specifically regarding the no gi clothing. Recommendations about the gi brands are not taken into account.
Anyway, there were mentioned not only these brands presented in the list above.
A lot of other brands were named. Some of them appeared in the comments about 3 times, but most of them even less.
Here are these jiu jitsu brands:
Origin
Venum
Hayabusa
Future Kimonos
CTRL
Moya
E Nois (was mentioned about 4-5 times)
VHTS
Tatami
Fuji
Jiujiteiro
Raven
Kingz
Supernatural Survival Gear
Secret Jiu Jitsu Club
Gold BJJ
Progress
MA1 (Craig Jones's sponsor)
Vanguard
AP
Tricks and Traps
Kureiji
Shoyoroll
RVCA
Manto
Xguard Brand
Red Journey
Flow
Rubber Bones
Roll 77 MMA
Skilled Violence
Level X Black
Kayo Kimono Company
Meerkatsu
Half Sumo
Valor
Lanky
Inverted Gear
back to menu ↑
What do you wear to a no-gi BJJ tournament?
No-gi jiu jitsu tournaments are the same as the gi tournaments but differ.
Sounds contradictory but in fact, it isn't as much complicated. The easiest way to know what to wear to a no-gi BJJ tournament is to read and follow the official rule book of the tournament.
The no gi dress code for a BJJ competition is in general the same as you wear for your regular jiu jitsu no gi class. BJJ rash guard, shorts, and spats.
But.
Before attending the no gi tournament read the nogi BJJ gear requirements first for the specific event. As each tournament organizer may have their own rules regarding the fighting clothing.
It will give you time to prepare the needed parts of gear if you don't have them. Don't let yourself be surprised unpleasantly during the weight-in and gear check-in.
For instance, here are the official IBJJF rule book requirements for the jiu jitsu no gi gear:
IBJJF no-gi uniform rules
The IBJJF no-gi uniform consists of:
shorts
rash guard
compression pants (spats) for women
IBJJF no gi rash guard rules: The rash guard should cover the torso to the waistband. The permitted rash guard colors are black, white, or black and white, and it should have at least 10% of the belt rank color of the athlete. It can be also 100% colored by the athlete's belt rank color.
IBJJF no gi shorts rules: The color requirements are the same as for the rash guards. No pockets, buttons, zippers, or any metal parts are allowed to be on the shorts. More details are here.