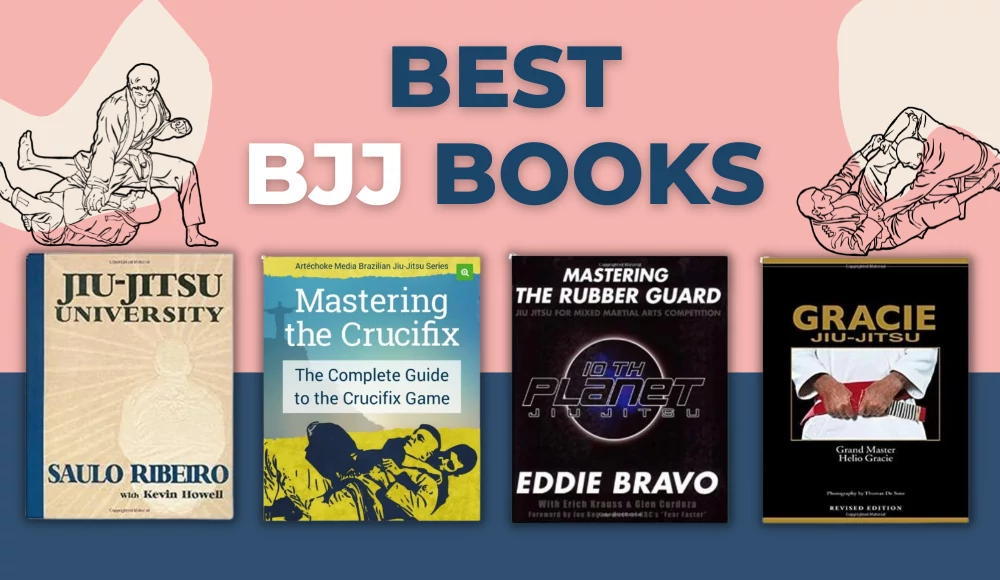 In this article, we will dive into the best BJJ books Reddit recommendations. Earlier we revealed already the 7 Best martial arts books to pay attention to. This time let's see what is the best jiu jitsu book to improve your game.
Reddit is a great place to find answers from real people. So we often do open our BJJ topics more widely incorporating not only our own experience.
Table of content
Are BJJ books worth it?
Here we will present the best jiu jitsu book Reddit recommendations by jiu jitsu practitioners.
But first, let's be clear about the role and meaning of books for BJJ and martial arts on the whole.
We will just share again, what we have already talked about the martial books in general.
Can you learn how do you fight from books about jiu jitsu?
You will not become a martial artist by only reading the best self-defense books or martial arts philosophy books. Even watching videos with boxing or jiu jitsu techniques will not help if a person has no martial art background.

Combat sports is an applied activity and even more, it's a contact sport which means you need other people in this "game".
back to menu ↑
Can you learn BJJ from a book?
The answer to this question you can see above. In other words, martial arts are based on the knowledge which you can find also in books. But as said it's applied activities, so the major progression and skill achievement you will get from the amount of practicing hours.
Combat sports are about feeling the tight contact from your opponent to understand what are the moves about – punches, sweeps, chokes, attacks, counterattacks, escapes, etc. Otherwise, it's only a shadow fight.
Jiu jitsu books are here to help if you already understand what you are doing.
If you are keen on books and another of your favorite time-consuming activity is jiu jitsu, the list below is to help you to find the best BJJ book worth reading.
back to menu ↑
Best BJJ Books Reddit Picks
Best BJJ instructional book
Can you learn BJJ from books?
The most compatible answer to this question is instructional books.
Yes, there are instructional books for BJJ.
Let's start with instructional books that can help improve your jiu jitsu techniques level. The list top jiu jitsu books about techniques is solid.
Best BJJ book
The Jiu-Jitsu University book by Saulo Ribeiro – judo and BJJ black belt under Royler Gracie – is a must-read and must-have book for those who strive for getting martial arts knowledge from the best representatives of the discipline.

It's a gold standard for instructional books on martial arts.

Jiu-Jitsu University focuses heavily on all aspects of Brazilian jiu jitsu. One of the best books on fighting techniques to recommend to other martial artists who want to know more about grappling in detail.

If you want to get the basics down in grappling – this book is the choice.

The book by Saulo Ribeiro is added with pictures and explanations in a top-notch way.

Saulo Ribeiro is more than 10 times Jiu-Jitsu World Champion by various jiu jitsu federations.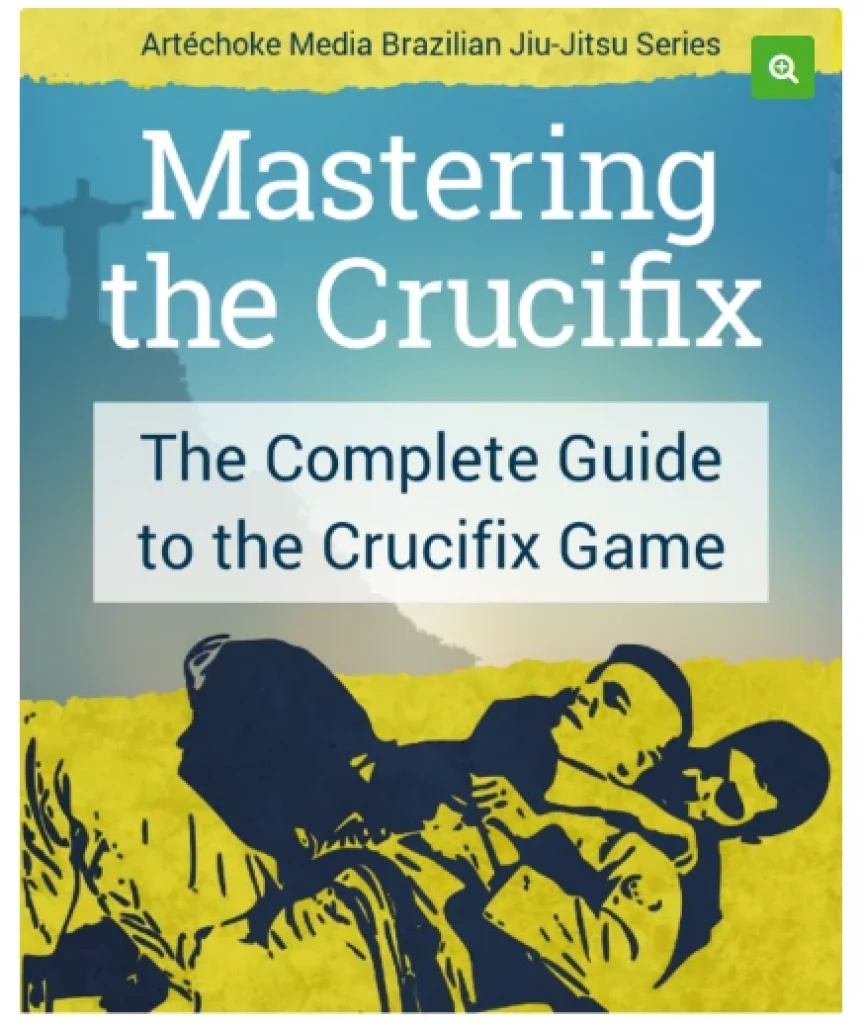 Mastering the Crucifix
by Matt Kirtley
A complete guide to the crucifix BJJ game plan. It's an instructional jiu jitsu book to bring the back attacks to a new level with understanding the little important points.
Most of us may think about crucifix as a jiu jitsu technique with limited options. But think wider: mounted crucifix BJJ position, inverted crucifix BJJ position, etc.
The author – Matt Kirtley – is a jiu jitsu black belt who teaches BJJ and writes about BJJ.
by Eddie Bravo
Mastering the Rubber Guard is quite an old (2006) book by Eddie Bravo from the famous 10th Jiu Jitsu Planet.

It's an instructional book with a lot of well-structured technical information, although maybe with a bit weird intro.

The book reveals the techniques and strategy of the rending Rubber Guard which is associated with the 10th Planet grappling technique.

Mastering the Rubber Guard will help to become a half-guard expert.
Jiu jitsu history book
BJJ history book
Choque is one of the best-researched jiu-jitsu history books with a lot of footnotes.

It's not a fiction or biography book with fun facts and stories, so the reading can be quite dry. And that is Ok, it's a history of jiu jitsu book.

Roberto Pedreira – author of the book – made pedantic and serious research to write about the history of Brazilian Jiu-Jitsu as it was and as it is.
BJJ history book
With the Back on the Ground is an easier reading compared to Choque.

The book has no list of sources.

It covers nearly a century of the history of Brazilian jiu jitsu – from the arrival of Maeda in America to the UFC appearance.

With the Back on the Ground explains the relationship between Japanese jujutsu, Kodokan judo, and BJJ.
About Mitsuyo Maeda
The Toughest Man Who Ever Lived
is not an ideal variant if you're looking for a serious history book. But it's an interesting and entertaining reading about
Mitsuyo Maeda
or
Conde Koma
, a nickname he got in Spain in 1908.
It's a recommended book to anyone with an interest in martial arts history.
by Helio Gracie
Gracie Jiu Jitsu book by Grand Master Helio Gracie is among the best Gracie Jiu Jitsu books. A must-have for any jiu jitsu practitioner.

The ultimate text on the foundations of Gracie jiu jitsu and Brazilian jiu jitsu by Helio Gracie.

Over 1100 illustrative photos, 306 pages of history, principles, and demonstrated techniques. As a bonus an introduction to the Gracie Diet.
back to menu ↑
Best BJJ books for beginners Reddit Picks
The next part is dedicated to the best BJJ books for white belts and other useful instructional sources.
All books mentioned above can be utilized for BJJ beginners. But there is more to add according to the Reddit recommendations.
Renzo Gracie, John Danaher
Mastering Jujitsu is one of the most famous BJJ books. The authors – Renzo Gracie and John Danaher – speak for themselves.

The book starts with history pointers of jujitsu, and how it correlates with judo, Japanese ju jutsu, and other martial arts.

One of the best no gi BJJ books: Mastering Jujitsu will make the no gi athletes happy, as it is the long-awaited no gi book by Renzo Gracie.

"The flow of movement with more than 250 high-quality photos".

"With detailed coverage on advanced principles, you will get all the tactics, strategies, techniques, and drills you need for close combat fighting".
Here are some more sources to pay attention to:
Free books about jiu jitsu: