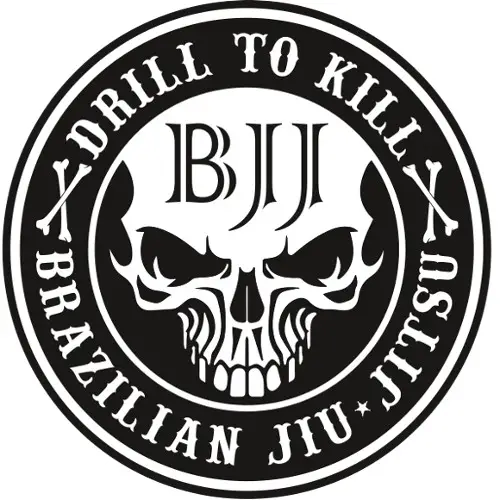 Put your gi on and let`s roll, Drill, slap, bump, roll, repeat, etc. Every jiu jitsu practitioner knows the fun part of BJJ. And one of these ways is the athlete`s uniform — the gi. BJJ gis are commonly like a piece of jiu jitsu art, where we can sew on BJJ patches also called simply gi patches.
Very common are custom jiu jitsu patches. BJJ academies use them to identify themselves in tournaments. BJJ practitioners with their gis show their affiliation to a specific academy or gym.
All martial arts patches have their mood and character. On the kimono uniform of your teammates you can find a variety of expressions.
The same with jiu jitsu patches. It can be funny BJJ patches, it can be some motivational words, or a hard rock and artistic «dark side» style.
Black and White
Embroidered sew on patch. Presented with Brazilian jiu jitsu quote. Fits great also on BJJ pants. Middle-sized.
Size 4.7 in, 12 cm
More on patch ideas for your gi you can find in our article BJJ Gi Patches: Placement, Etiquette, Where to Find.
Choosing a gi patch for yourself, remember — the best BJJ gi patches are those that express your everyday mood on the mat. Time goes, mood changes and your BJJ gear can change to the beat though. Funny gi patches can be mixed with some cool and hard rock sewn on pieces and vice versa. And that is cool in BJJ, because this expression on the gi is allowed.
Don't overdo it: The BJJ patches etiquette
As for us, style and aesthetics should be present, even if you want to create a real crazy BJJ gi.
More so there is gi patches etiquette in competitions. The patch placement on your gi is regulated by the tournament organizers like IBJJF (International Brazilian Jiu Jitsu Federation), USA, or International Jiu Jitsu Federation of other promotions (NAGA, NEWAZA, etc.). Take it to your attention and read the official rules, when choosing places on your gi for patches.