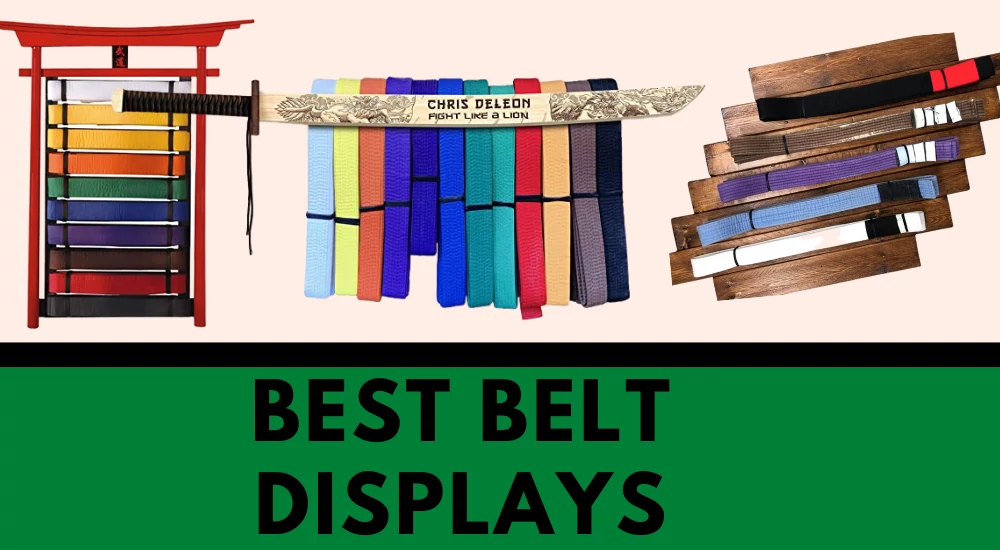 Every martial artist comes to that point when he or she starts to search for a martial arts belt display. In most cases, this phase comes when you can't anymore push all your karate, taekwondo, BJJ belts, or any other into the closet every time you take your current belt.
Another reason is you feel pain when you see how lonely the persistently deserved belts look in the closet.
What to do with martial arts belts?
So, what to do with martial arts belts to not just hide them in the box or closet?
This question arises by itself next. Luckily, no need to reinvent the bicycle. The solution already exists and it's the belt display designed for martial art belts. Your graduation belts deserve the right place in your home.
The same story with the medals from tournaments.
Martial arts belt displays and medal holders are good friends for every athlete. Today we will talk about belt displays and dedicate a separate article to medal holders.
back to menu ↑
Belt levels in the martial arts
But first things first.
You might be an experienced judoka, karateka, aikidoka, or BJJ practitioner and find this part of basic information boring. So we suggest you just skip right to the belt display ideas.
But sometimes happens the situation when one of the parents or husband, wife, grandparents, or friend gets a gift request "martial arts belt display" and they don't know where to run with it. We are talking about those cases when close relatives and friends know, that their beloved is doing some karate stuff or maybe kung fu martial arts. Although in fact, in reality, it is about BJJ or Krav Maga.
back to menu ↑
What are the belt levels?
So, what are the belt levels, and what should be taken into consideration when searching for a belt display to gift when you are a newbie to martial arts?
The martial arts belts have two main purposes:
The belt in martial arts is a part of the training uniform and plays a practical function – holds the jacket (keikogi) together. In some martial arts, the belt can be used as an element of technique.
All traditional martial arts have a ranking differentiation that is implemented in belt colors. How many belt colors are there depends on the martial arts discipline.
The last point is important to know before starting to search the belt display.
Hint #1
To know what martial arts style does your beloved one or friend.
back to menu ↑
What types of martial arts are there?
If your goal is only to find the right gift for your martial arts lover, there is no need to learn all types of combat disciplines. If you need more gift ideas for your BJJ fan, read our best gifts for jiu jitsu lovers guide.
Nevertheless, a list of the most common contemporary martial arts styles can help you not to get lost at all. The most common martial arts today are:
Karate
Brazilian jiu jitsu
Taekwondo
Aikido
Judo
Japanese Jujutsu
Krav Maga
etc.
Hint #2
No need to become a pro in martial arts to buy a belt display. Look the Hint #1.
back to menu ↑
Belt display types
By searching for the best karate belt display, or for any other combat sports, you may be challenged with what type of display construction to choose from:
wall hanging rack
box or case storage
a round cylinder or tube stand
back to menu ↑
Wall hanging belt display rack
The wall-hanging belt display rack is the most popular variant. Luckily there is a big assortment to choose from. But pay attention to the appointed number of belt levels (amount of rows for belts).
It can be specified as:
jiu jitsu belt display for 5 belts
8 belts karate belt display
10 level belt display
12 level taekwondo belt display
Hint #3
Pay attention to the number of rows on the belt display. It must match the number of belt levels of the martial art you need.
We will guide you through how many belt rows will be needed for the most popular martial arts disciplines.
Karate belt display – 8 rows
Taekwondo belt display – 8 rows
Jiu jitsu belt display – 5 rows. BJJ kids belts have expanded ranks but the main colors are limited to five
Judo belts – from 10 to 16 depending on the rankings split
Krav maga belts – 6 rows
Aikido belts – 6 rows
#1 Best Seller
Dimensions 18.5 x 0.75 x 24.5 inches.
Weight 2.65 Pounds. Material: MDF. Holds up to 8 martial arts belts. Fits as a karate belt display or taekwondo belt display rack.
With medal holder
Karate belt display ideas may be very simple and practical. Like this one is made from felt fabric with transparent PVC pockets for 8 belts to keep the belts dustproof. Size: width 15.7 inches and height 26 inches. Easy to hang up. An additional holder for 5 medals.
With hooks for medals
Brazilian jiu jitsu belt display ideas need to fit up to 5 BJJ belts. BJJ belt display rack with hooks for medals. Simple design. Comes with the required hardware to install. Size 19 x 4 x 2.5 inches.
back to menu ↑
Martial arts belt display cabinet
Wall hanging
Karate and tkd belt display cabinet. Solid wood frame with black finish. To store 12 martial art belts for karate, taekwondo, kung fu, krav maga, judo, etc. Sizes 26.5 x 18.75 x 3.25 inches. Interior depth 2.25 inches. With UV protection acrylic door protects and prevents dust. The door is lockable with a key. Wall hooks and metal bracket on the back included.
back to menu ↑
Martial arts belt display personalized
One of the greatest benefits that the manufacturers offer today is customization. It means martial arts belt display can be personalized with an engraved name, martial arts style, etc.
In most cases, the personalized option allows adding:
Name
Style
Motivational quote or saying
Hint #4
The personalization option makes the martial arts gifts really unique.
Amazon's choice
12 level martial arts belt display for taekwondo belt levels and other martial art styles. Personalization options engraved into the wood: name, style, quote, or saying. Natural color. Size: 18 inches wide x 33 inches in height.
back to menu ↑
Creative karate belt display
Martial arts belt displays can be even designed as masterpieces. It implies a higher price and it's reasonable.
Hand Crafted
Made in The USA. Holds up to 12 Belts. 12-level martial arts belt display for karate, taekwondo, aikido, judo, jujitsu, etc. Dimensions: Length – 36 inches. With a custom engraving option.
back to menu ↑
Single black belt display
Another variant of a belt holder is a single karate belt display wood rack or for any other belt color and rank.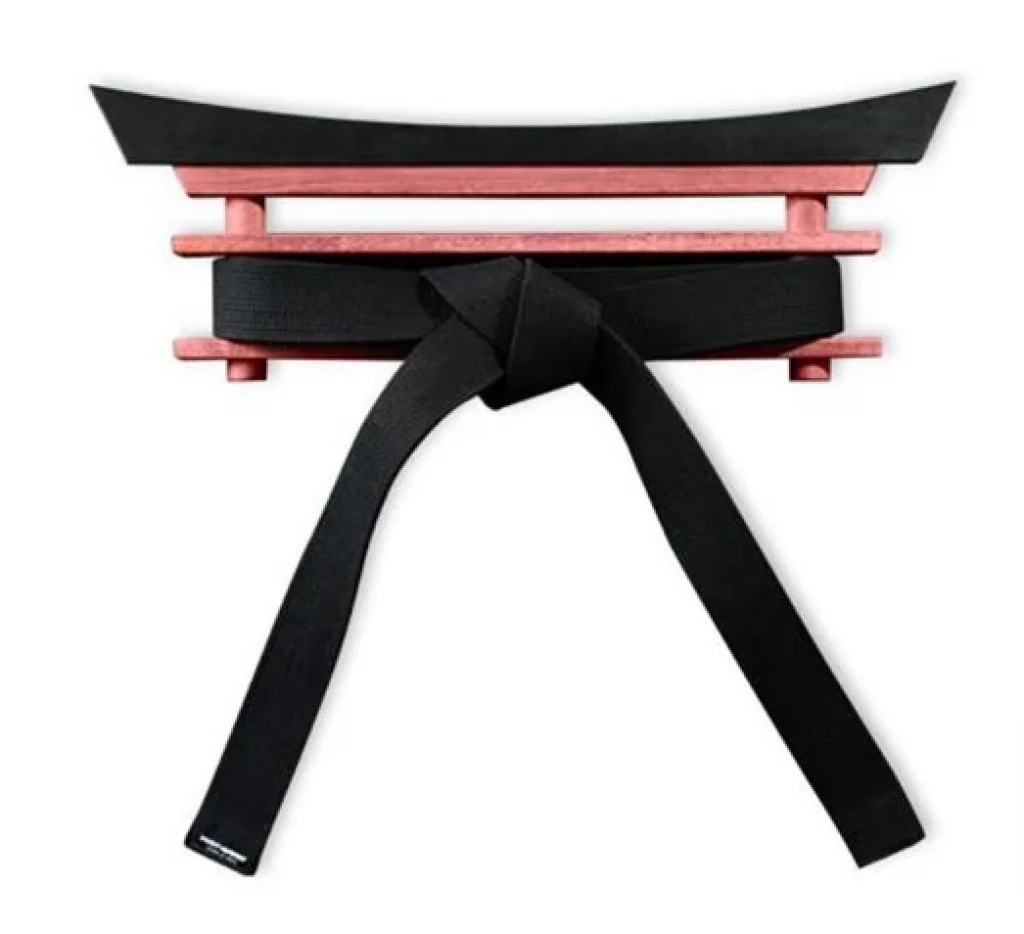 Another design is a black belt display case that is an honorable place to store the highest martial arts belt.

back to menu ↑
Wrestling belt display case
The wrestling belt display case might look not the same as the classic variants above, but due to the size of a wrestling belt, the display case has the appropriate sizes.
Frame cabinet
Hand-made in solid furniture-grade beech hardwood with an elegant furniture finish. For wrestling belts up to 54 inches. It has lockable latches and a UV Protection rated acrylic door.
The wrestling belt display is also markable for wrestling fans and replica wrestling belts collectors.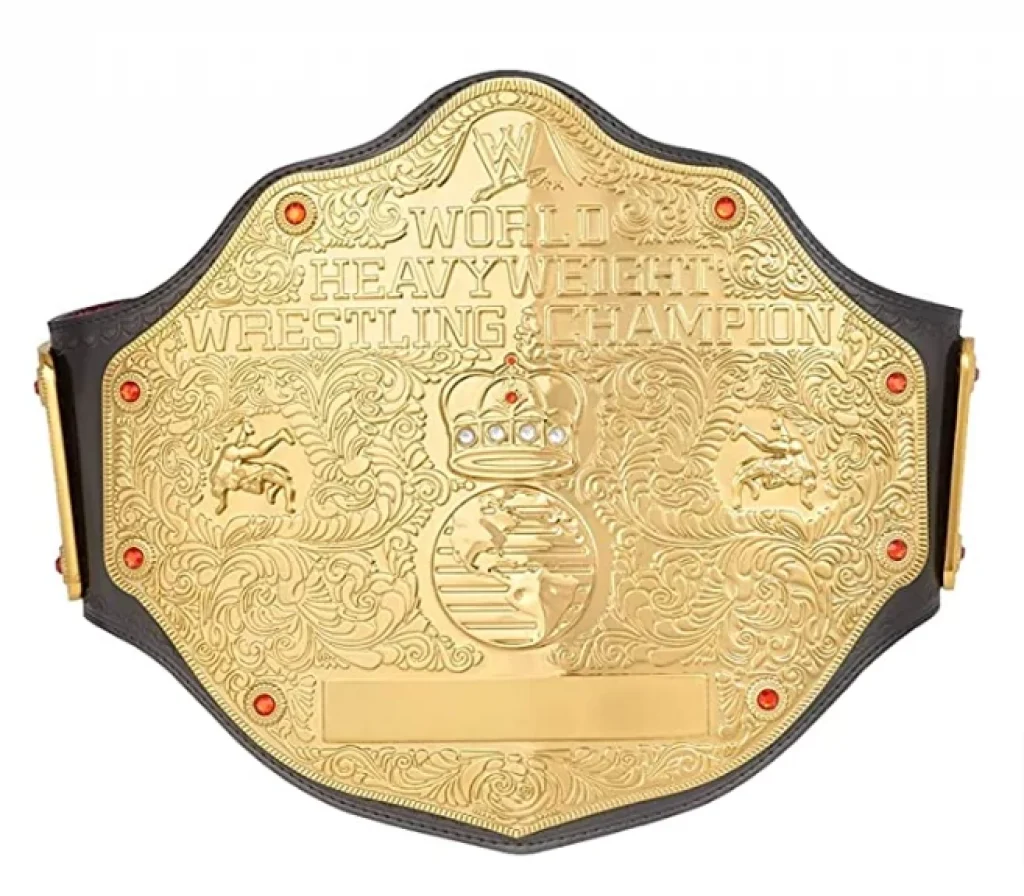 back to menu ↑
WWE Authentic Wear World Heavyweight Championship Replica Title Belt
Plate Material: Stainless Steel Side Plate Material: Zinc Alloy Strap.
WWE belt display case dimensions: 51.57″ x 11.81″ x 0.2″
back to menu ↑
How do you make a martial arts belt display?
Surprisingly the DIY karate belt display ideas are simple to implement. Means you can do it at home with no special materials.
For taekwondo or karate belt display DIY you will need a wood piece for the base and for belt display, sandpaper, a nail gun, an elastic cord to hold the belts on the display, a screw gun, and glue.

Karate belt display DIY How-To
back to menu ↑
How do you tie a belt on a display?
In some cases, a belt display in your living or training space needs creativity. What ideas are there to tie a belt on a display?
back to menu ↑