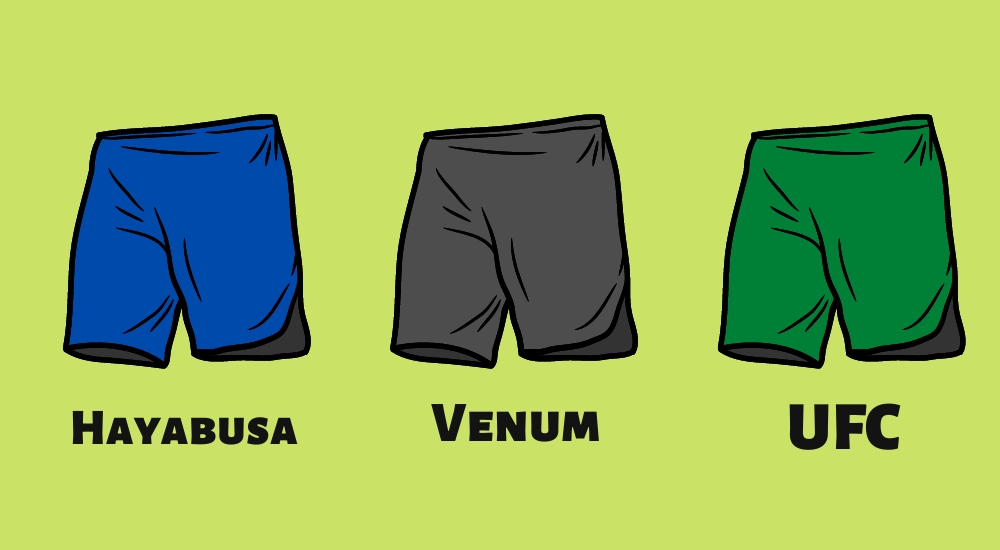 Why MMA shorts are so popular and important in the MMA? Because shorts are the only uniform the fighters can wear during the fight. Apart from the gloves and some protective gear of course.
Here is what the MMA rules say regarding the cage attire:
Male contestants shall not wear any form of clothing on their upper body
Male and female mixed martial artists shall wear the appropriate trunks, mouthguards, and gloves. Male mixed martial artists shall also wear the appropriate groin protection
Female mixed martial artists shall wear a short-sleeved (above the elbow) or sleeveless form-fitting rash guard and/or sports bra. No loose-fitting tops and/or breast protectors shall be allowed. Female competitors will follow the same requirements for bottom covering as the male competitors, minus the requirement for groin protection
The hem of the trunks may not extend below the knee
MMA fighters shall not wear shoes in the cage or ring
Let's see what are the best MMA shorts for training and fighting. In this picks list of best shorts, we consider MMA shorts and BJJ shorts as a universal form of training in both disciplines.

We spent about 11 hours for research what brands with MMA shorts are presented the most today, what people search for themself, and what they say in the reviews. We compared our experience of training in MMA aka BJJ aka Jiu Jitsu shorts on the mats. Most of all best picks we tried to find on Amazon to make the purchase easier. For those best MMA fighting shorts that aren't presented on Amazon, we place the information anyway.
The best MMA brands don't necessarily mean the very first and oldest brands that started to exist on the market. The contemporary technologies of manufacturing and design allow the newcomers to compete equally with the trusted for years brands.
What shorts do MMA fighters wear?
This question obviously appears due to what we see the MMA fighters wear for training or in the cage. And we see, that their shorts are always different and are not unified.
back to menu ↑
What are the tight MMA shorts called?
Mainly there are two kinds of shorts we see. The skin-tight MMA trunks and the loose variant of shorts can be short or long, but not longer below the knee. The tight MMA shorts are referred to as the Vale Tudo shorts. But very often you may hear the compression shorts' name.
back to menu ↑
Vale Tudo shorts vs Compression shorts
However, if to be very correct, the compression shorts are in fact thinner than the Vale Tudo shorts and serve as underwear to wear under the gi or shorts.
An important point in choosing the shorts they should have no Velcro, pockets, or zippers. It may cause injuries for you or your opponent and is forbidden by the MMA and jiu jitsu rules (IBJJF uniform requirements).
back to menu ↑
How tight should MMA shorts be?
Consider the most obvious and important rule to answer this question – the fight shorts should be comfortable to fight.
back to menu ↑
Shorts from other combat disciplines
Not all shorts from different martial arts disciplines can be replaced by each other. For instance, the classic boxing shorts are designed for abdominal protecting groin guard, are often below the knee, and are not supposed for kicks.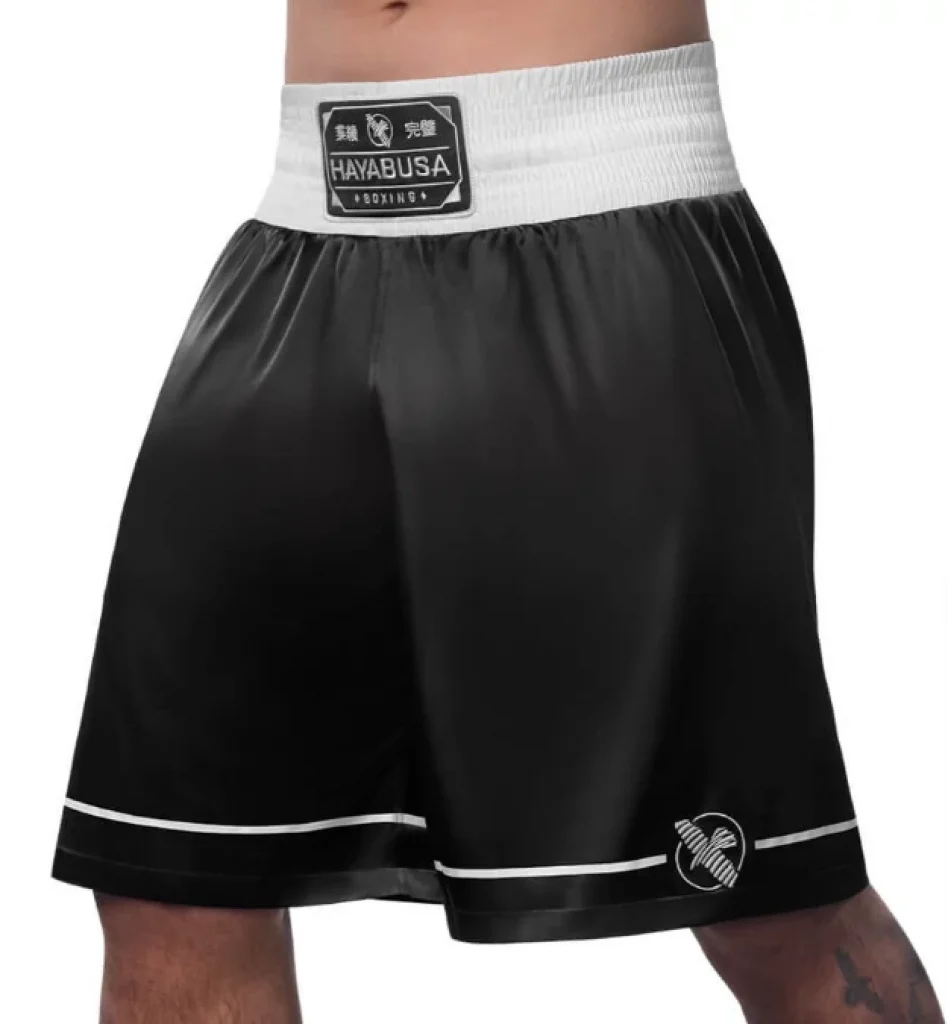 back to menu ↑
Where to buy MMA shorts?
Well, this is not a problem at all. Especially in recent years, when the BJJ and MMA brand list is being supplemented by new brand names regularly.
The point is to find the best variant of shorts for your needs and a trusted online store to make the purchase. Sounds easy, but with the crowded market of supplies, this task gets a problem. Unless you are a very experienced MMA or BJJ practitioner and you already know what you want.
In all ways, our goal here is to facilitate the fate of finding shorts for your MMA or BJJ training.
Here is a short list of trusted brands and online stores. These are just examples because now it's hard to list all brands.
Venum
Gold BJJ
Scramble
Tatami Fightwear
Hayabusa
Fighters Market
RVCA
etc.
back to menu ↑
Top 3 BJJ and MMA fight shorts athletes tend to buy
Amazon's choice
One of the most popular shorts by the Hayabusa brand.
Available also is the
Hayabusa Icon Mid Thigh
MMA shorts. 7 colors: black, black and yellow, red, blue, white, teal, and yellow. MMA shorts with high slits. Strength testing: Ultra high strength fabric "withstand over 790 newtons of force".
We want to give a real thumbs up to the Hayabusa shorts' quality, as we have Hayabusa shorts in our arsenal that were bought 8 or 9 years ago. Literally, the shorts didn't lose their color and have no tears.
Amazon's choice
It's hard to avoid the Sanabul brand that has firmly rooted among BJJ athletes, grapplers, and MMA fighters.
Sanabul shorts is the best pick for combining quality and cheap price.
The legendary BJJ and MMA
coach John Danaher
is the ambassador of the Sanabul brand.
Amazon's choice
The Fuji Sports brand is one of the oldest fightings wear brands. Their FUJI Baseline shorts are always on the top list of best BJJ shorts. Simple blank design, black color. Stretch fabric.
Let's dive further into the list of best shorts for MMA and Brazilian jiu jitsu.
Despite the fact that the next fight shorts are not in the Top 3, most of them deserve to be there, It's just impossible to place all of them in the three positions.
Over 1100 reviews
Gold BJJ brand has taken its place in the hearts of jiu jitsu athletes. Gold BJJ shorts is a choice for an easy and comfortable training session. Stretch fabric. IBJJF Approved.
UFC licensed
Reebok MMA shorts from the previous exclusive collaboration with UFC. Side slits and 4-way stretch.
Amazon's choice
The Shock Doctor mouthguard is the most popular product of this brand for many years. And as found out, today athletes are happy to have the fighting outfit collection. Shock Doctor compression shorts with protective cups have over 7000 reviews on Amazon with an average rating of 4.5 stars.
over 1800 reviews
Every jiu jitsu practitioner knows the Elite Sports gi. The BJJ and MMA fight shorts is not an exclusion. Great choice to save your budget and get affordable grappling shorts. 100% microfiber fabric. Black no gi jiu jitsu shorts with minimum design.
9+ Styles
Anthem Athletics shorts give a choice of style and variety. Tear-resistant, fast-drying fabric with sublimation printing. Designed to fit closer to your true measurement.
17+ Styles
One more custom MMA shorts design assortment by ROAR. With sublimation printing. Made of 100% micro fabric stretch panels.
Amazon's choice
RDX is popular for a long time for their RDX MMA gloves. So it's obvious that the brand develops the assortment also with MMA shorts. 98% Polyester, 2% Spandex. Fortified with 3 Ply polyester stitching along the seams.
back to menu ↑
Do UFC fighters pick their shorts?
The UFC promotion is a big commercial company with its rules and vision. UFC has its unified fight wear which they design in collaborations with different brands like Reebok or Venum.
In fact, UFC shorts is the only piece of cloth the UFC fighters may wear in the octagon. Of course, female fighters have also tops.
The official UFC outfitting FAQ can be found here.
back to menu ↑
Why do UFC fighters wear Venum shorts?
For instance, since 2021 Venum is the new exclusive global outfitting and apparel partner of UFC. The partnership with Reebok expired in March 2021 and lasted for six years.
Venum UFC Shorts
UFC licensed
Venum UFC shorts designs are inspired by the UFC fight night kit Venum worn by fighters during their walkouts. 7 different colors: green, white, black, red, yellow, blue, black, and gold.