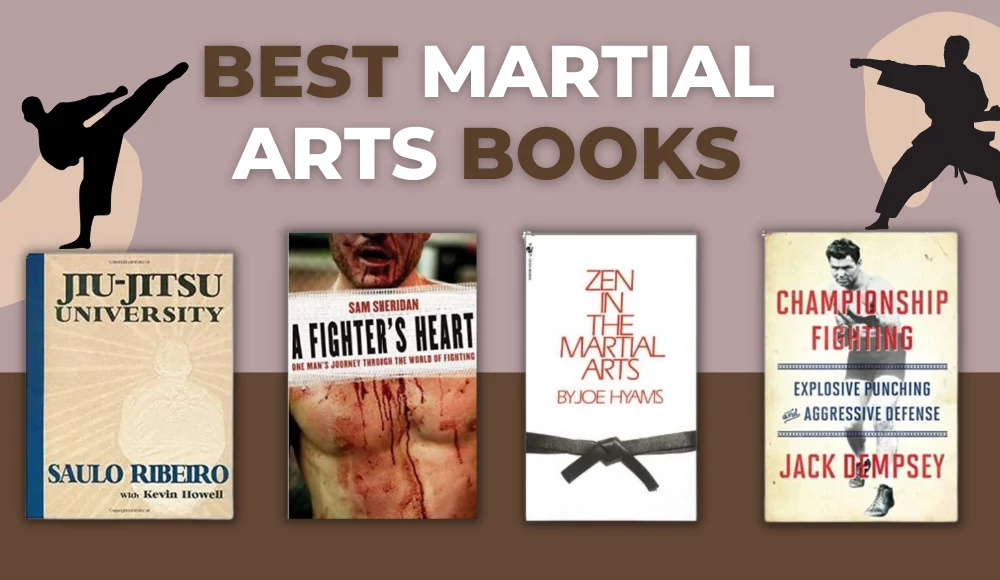 Can you learn martial arts through books? No, and yes. But more no. As an argument for "yes" stays the fact that there are many Best martial arts books Reddit threads with recommendations for a reason.
What are these all martial arts and wrestling books about and how can they help learn martial arts?
In this article, we will share some best martial arts books for training and also make some thoughts about whether is it possible to learn martial arts from a book.
Table of content
Can you learn how do you fight from a book?
You will not become a martial artist by only reading the best self-defense books or martial arts philosophy books. Even watching videos with boxing or jiu jitsu techniques will not help if a person has no martial art background.

Combat sports is an applied activity and even more, it's a contact sport which means you need other people in this "game".
Nevertheless, martial arts are based on the knowledge which you can find also in books. But as said it's applied activities, so the major progression and skill achievement you will get from the amount of practicing hours.
"All knowledge of reality starts from experience."

Albert Einstein
And this understanding applies to all sports disciplines, no matter what kind.
back to menu ↑
Can a martial art be self-taught?
Before jumping to the main part of our article with the best books to learn martial arts, let's point one more time.
Do you want to learn martial arts by yourself?
Why?
If the reason is that you are too shy to get close to new people then you have definitely to start training in martial arts. One jiu jitsu class with close guard techniques and rolling and a lot of psychological complexes will disappear.
I know it, I had some similar issues.
If you think you don't need anyone to learn martial arts, well, we can only recommend staying as objective as you can and wish luck.
Combat sports are about feeling the tight contact from your opponent to understand what are the moves about – punches, sweeps, chokes, attacks, counterattacks, escapes, etc. Otherwise, it's only a shadow fight.
Martial arts books are here to help if you already understand what you are doing.
back to menu ↑
Best martial arts books Reddit recommendations
If fighter books matter, are there some must-read martial arts books?
In fact, this question was raised on Reddit many times already. We made our research in the subreddit threads.
As a result, we gathered here the best martial arts books Reddit recommendations by different contexts and genres. Because martial arts books don't mean only about how to fight and techniques.
Often martial arts books are about:
techniques
inspiration and philosophy
history
fiction
romance
autobiography
back to menu ↑
Ancient martial arts books
The newer edition
The Book of Five Rings
 (Go Rin no Sho) is a book from around 1645 about martial arts in general and
kenjutsu
specifically. Kenjutsu – Japanese swordsmanship schools.
In general, it's a sword fencing manual with a good amount of philosophy added for good measure. Many martial arts adepts call this book to be one of the most influential texts in martial arts. So The Book of Five Rings belongs to the list of the best books on martial arts philosophy.
The book was written by Miyamoto Musashi – a Japanese swordsman, samurai, writer, and strategist. He is also the founder of the Niten Ichi-ryu swordsmanship.
It consists of 5 main chapters:
The Book of Earth, The Book of Water, The Book of Fire, The Book of Wind.The Book of Five Rings
became popular among businessmen as a manual discussion of conflict and philosophy.
The work will be interesting not only for eastern martial arts practitioners. 
back to menu ↑
Best books on fighting techniques
Best BJJ book
The Jiu-Jitsu University book by Saulo Ribeiro – judo and BJJ black belt under Royler Gracie – is a must-read and must-have book for those who strive for getting martial arts knowledge from the best representatives of the discipline.

Jiu-Jitsu University focuses heavily on all aspects of Brazilian jiu jitsu. One of the best books on fighting techniques to recommend to other martial artists who want to know more about grappling in detail.

If you want to get the basics down in grappling – this book is the choice.

The book by Saulo Ribeiro is added with pictures and explanations in a top-notch way.

Saulo Ribeiro is more than 10 times Jiu-Jitsu World Champion by various jiu jitsu federations.
Best books on fighting
Can you learn to fight from a book? With Jack Dempsey Championship Fighting book yes, if you already have a martial arts background.

Jack Dempsey – World Champion and Hall of Fame Boxer – shares fighting techniques and strategies on the pages of his book.

Dempsey reveals his boxing methods for "theory, training, and application of powerful punching, aggressive defense, proper stance, feinting, and footwork".

Boxing instructions with common sense from a boxing legend.
back to menu ↑
Martial arts philosophy books
By Rory Miller
The author – Rory Miller – is a martial artist and veteran correction officer. In his book Meditations on Violence he helps to reveal some myths and expectations that most martial artists are about to learn in their dojos.

Miller takes his life experience from jailhouse brawls, tactical operations, and his martial arts knowledge to understand the reality of violence and how to deal with it as complex.

After reading this book you may come to the conclusion that all self-defense training is in fact a situational awareness.

The book is recommended to those who are concerned about violent altercations.
5 star reviews
About the book Zen in the Martial Arts one can say "It's classic". The author – Joe Hyams – was guided by the kenpo master Ed Parker and Bruse Lee.

Learn how the Zen principles help to develop physical and mental expertise to overcome competition and work pressure.

Zen in the Martial Arts gives lessons on martial arts and our lives.

An easy-to-read book to grow your own skills and talents to be good at what you are doing instead of criticizing others.
back to menu ↑
Autobiography fighter books
by Sam Sheridan
"Why do people fight?" – this is one of the questions that the author in his fighter's autobiography book is trying to find an answer to.

Traveling around the world and training and fighting with pro fighters of different styles, he encourages himself to understand the nature of the desire to fight. Meanwhile discovering things about himself.
back to menu ↑
Books about martial arts history and traditions
by Dave Lowry
The full name of the book is
In the Dojo: A Guide to the Rituals and Etiquette of the Japanese Martial Arts
.
The name says for itself. It explains the basic meaning behind the traditions and etiquette in Japanese martial arts. The role of this task took an American sword master –
Dave Lowry
– who is adept in Japanese martial arts since 1968.
A great resource for martial artists, especially of Japanese styles.