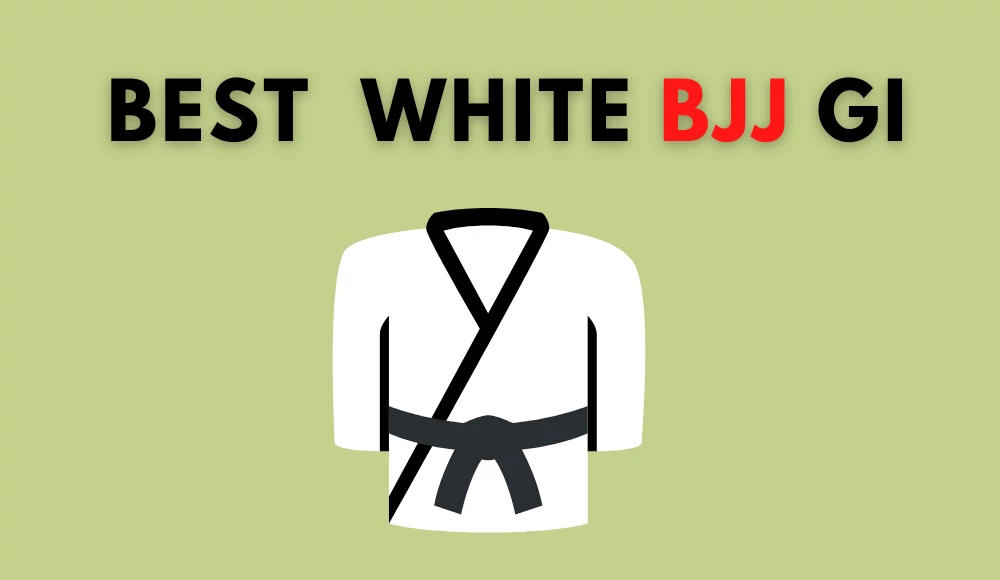 Today our challenge is about finding the best white BJJ gi. If you have missed our 8 Best Black Gi Jiu Jitsu Reviews and the 5 Best BJJ Gi for Beginners, check them out now to make your Jiu Jitsu life easier.
And we are about to find the best picks of white jiu jitsu uniforms for BJJ beginners and advanced practitioners, so everyone can find for themselves the best white gi for jiu jitsu.
Best White BJJ Gi under $50
Let's start with the best white BJJ gi for the money budget of under $50. There are really good and affordable variants that are actively reviewed by the customers for years already.
Before buying a gi, don't forget to check the BJJ gi size chart by the brand you choose as every manufacturer may have its own size chart measurements.
#1 Hawk Jiu Jitsu Gi
Amazon's choice
350 gsm Ultra-Light pre-shrunk pearl weave material. 10 oz ripstop pants. IBJJF Legal. Simple plain white BJJ gi design. Free white belt included.

A $50 mens white jiu jitsu gi with a unisex fit that will fit women. Pick your size from the Hawk BJJ gi size chart.
#2 Jayefo Gi Women and Men Fit
With white belt
Ultra-Light pre-shrunk white BJJ. Simple and minimalist design. Free white belt included. White jiu jitsu gi top and bottom.
back to menu ↑
Men and women's white BJJ gi under $100
#3 Sanabul Gi for BJJ
Amazon #1 best seller
Ultra-Light Weight Single Weave.
Women's Sanabul Jiu Jitsu gi
also available. 100% cotton. Stiff, rubberized collars, tapered sleeves, and dense single weave design.
6 colors: black, white, blue, navy, green, and grey.
The Sanabul gi takes a secure place as the best affordable black jiu jitsu gi for training under $100.
#4 Fuji BJJ Gi
Free white belt
Sizes are available from C0 to A5 and A6. Strong mediumweight pearl weave fabric with minimal shrinkage. Not pre-shrunk material. Reinforced knees.

This Fuji gi has a slim look cut. The white gi pants go big (baggy). Free white BJJ belt included.
back to menu ↑
Best Plain White BJJ Gi over $100
#5 KINGZ Gi premium basic white jiu jitsu gi
Cotton twill pants
Kingz BJJ gi for training and competition. IBJJF approved. Premium basic white jiu jitsu gi by the Kingz BJJ brand. 400 gsm pearl weave jacket. 10 oz cotton pants. The gi comes with a white belt. Kingz BJJ gi size chart has wide range of sizes from A0 to A5.
#6 Hayabusa gi – the premium starter white jiu jitsu gi
Cotton twill pants
100 percent cotton white jiu jitsu gi by Hayabusa BJJ and MMA gear brand. 420 gsm pearl weave jacket. 8 oz blended pants. IBJJF approved. For training and competition.
back to menu ↑
How to get blood out of white gi?
This question may sound weird like from the Kill Bill scene. But only for those, who don't do martial arts at least three times a week.
But for those who do martial arts and are doing it wearing a white kimono uniform, it's a regular issue to deal with. Some experienced BJJ athletes say that the best way to get blood out of white gi is not to wear a white gi.
But when seriously, how can you save your best white BJJ gi if somehow it got blood stains?
Here are the steps to help get blood out of the white jiu jitsu uniform:
Right after the blood appeared on the gi wash off the blood in cold water. Remember, blood is proteins, and proteins break apart in hot water. It means, that under hot water, the stain will get even bigger and will set quicker.
Wash your white gi with bluing occasionally. The bluing liquid helps to increase the brightness. See the link below for the best bluing liquid.
Use hydrogen peroxide on the blood stains after they get there. It will help later, when washing your gi, to get rid of the stains.
Don't use bleach. Yes, it may help with washing off the blood stains but bleach destroys the fabric fibers of your jiu jitsu uniform. Even more, it can bleach out the colored elements of the gi. Some BJJ gi brands withdraw their warranty if you wash your gi with bleach. But if anyway want to bleach your gi try first Oxiclean White Revive detergent. See the link below.
Dye your gi to another darker color – blue, black, gray – or a custom color (green, orange, pink, etc.).
How to dye your gi?
One more video of "How to dye my white BJJ gi?" using a white Hyperfly gi and turning it into a black Hyperfly gi:
back to menu ↑
How to wash a white gi and keep it white?
How to wash a white gi is not about how to wash your gi in general, when it is dark-colored (black, blue, navy). We all know what the white gi usually looks like after a couple of training.
So, what can you do to keep your white gi white?
As already mentioned before, do not wear a white gi. This advice really works.
But when seriously and without fun. What if you don't have this option because:
The white jiu jitsu gi is your favorite gi
Your jiu jitsu school wears only white BJJ gis
You just have all jiu jitsu gi colors in your wardrobe and you like all of them
How to wash a white gi?
A lot of useful information has been said before, so let's repeat it one more time and maybe add some more points.
Don't wash your white gi with bleach.
Bleach destroys the cotton fabric, its fibers become weak much quicker and your gi will just rip one day. If you still have plans to bleach your gi better use a good quality detergent and follow instructions for gi washing. And anyway, washing your gi with bleach is not recommended.
Stain remover
OxiClean stain remover and white revive. Laundry detergent for whitening. Chlorine bleach. One of the washing recommendations is to use OxiClean with detergent
OxiClean is often recommended by martial artists who claim, that this detergent does good work to get rid of stains on white training uniforms.
Another OxiClean laundry detergent for colored martial art gear that is chlorine-free.
You can find more best sports detergents in our Best Detergent For BJJ Gi list.
Chlorine-free
OxiClean stain remover is for sweaty gym clothes, smelly household stains, and musty towels. No fading.
2. Wash your gi with bluing liquid occasionally. The bluing helps to increase the brightness of your white gi.
Best choice
Bluing liquid to brighten the white color of your jiu jitsu gi. Bluing is the best way to keep white clothing looking white. Mrs. Stewarts bluing exists on the market since 1883.
3. Add some baking soda. Put your gi in the machine and add a few spoons of baking soda together with the detergent.
back to menu ↑
What brand gi does Joe Rogan wear?
As you know, Jow Rogan is a black belt under Eddie Bravo 10th Planet Jiu Jitu academy. And you may wonder what BJJ gi he wears.
As also known, the 10th Planet Jiu Jitu academy is more about no gi training. But anyway, the internet sometimes caught Joe Rogan in a gi.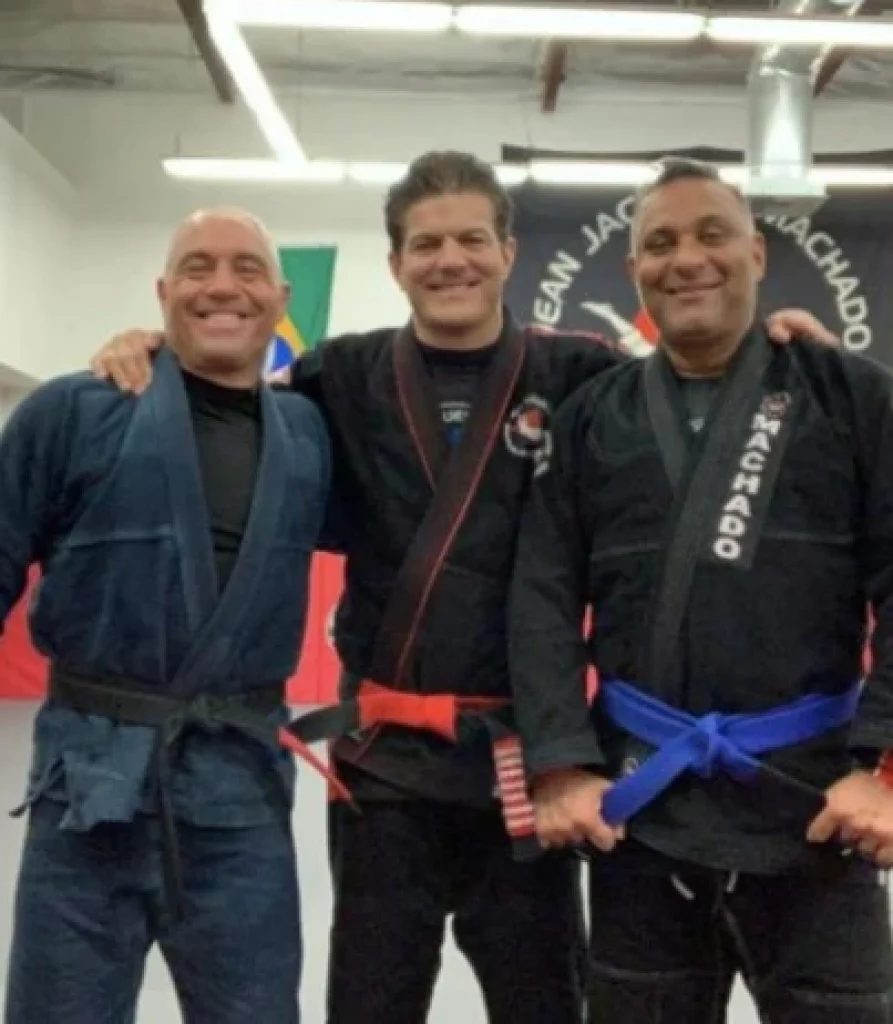 But what BJJ gi brand he usually prefers?
From his social media, he says about the collab with the top hemp BJJ gi brand Datsusara.
Datsusara Hemp Gi Joe Rogan Experience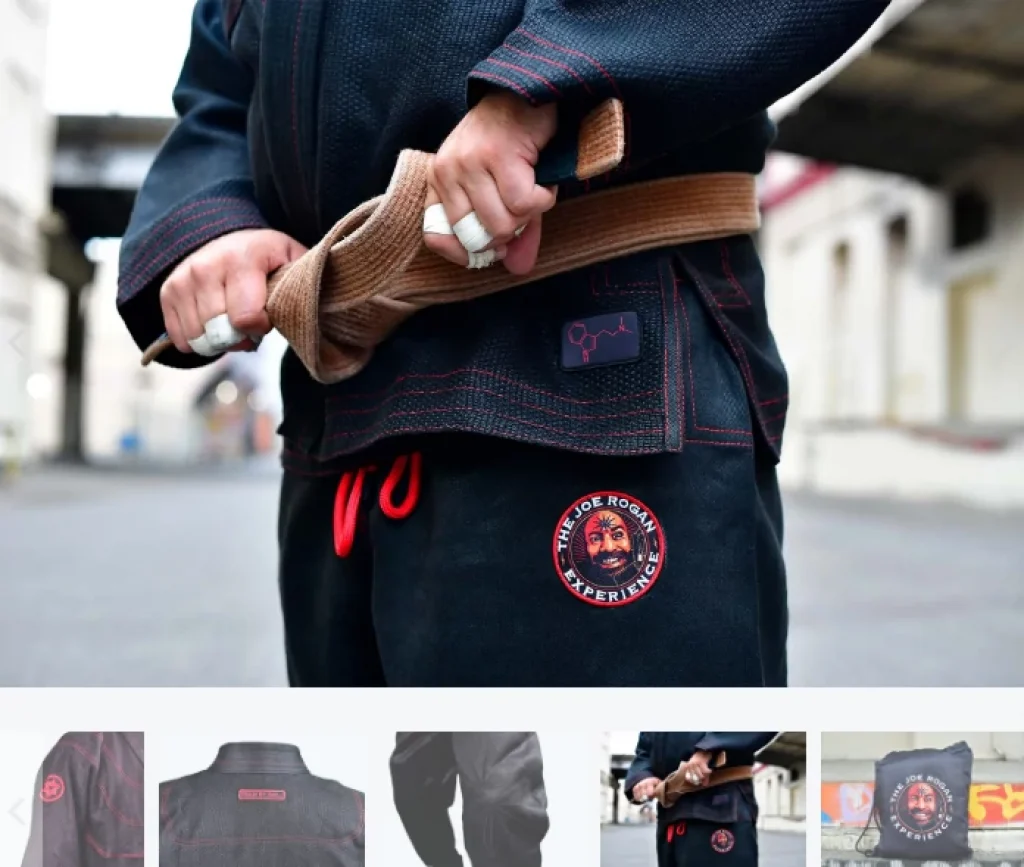 back to menu ↑
Conclusion
We will not stop our challenge of finding the best BJJ gis for training and competitions, for beginners and advanced jiu jitsu athletes. We search and analyze the best BJJ brands and reviews for their gear, adding also our experience of practicing Brazilian jiu jitsu. Stay tuned.