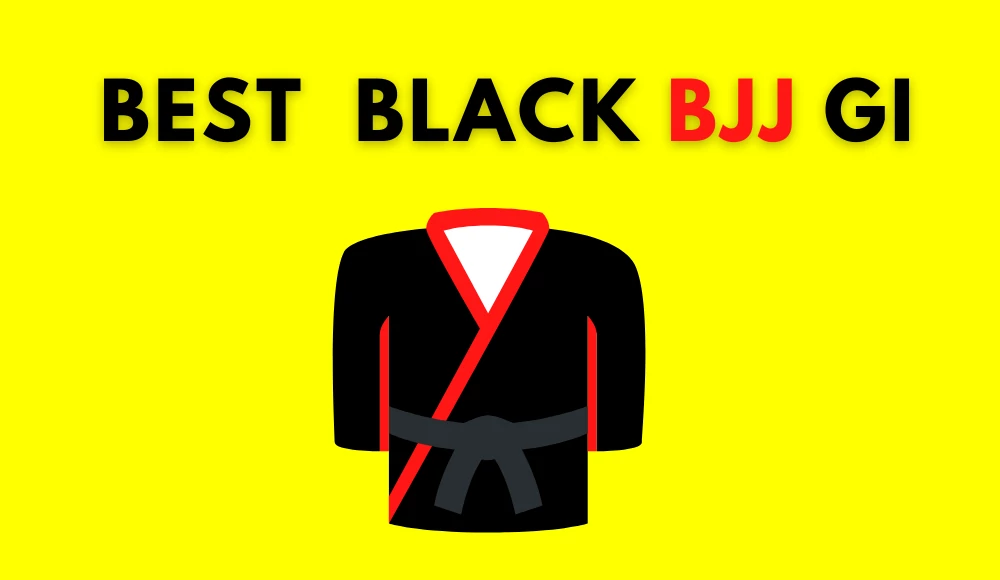 Finally, we are doing it – the black gi jiu jitsu reviews. There is nothing special in the black jiu jitsu uniform above blue, or white. But we all see, that somehow everyone prefers a certain Brazilian jiu jitsu uniform color.
Also, we know that some jiu jitsu schools and academies have the "no black gi" or "no blue gi" policy. But today it's not the subject of our article.
Again, we don't compare white vs black BJJ gi or blue vs navy blue.
We just wanted to gather the best black BJJ gis – the most affordable and the most expensive – in one place.
We spent about 17 hours of research and analyzing the well-known best BJJ brands and newcomers on the market, and the reviews of each black jiu jitsu gi we have found. Below you see the result of the work and we hope it will help you to find the best black BJJ gi for your needs.
The next challenge we will do with the white gis. So, stay tuned.
First things first, if you are very new to jiu jitsu you may struggle with which Brazilian jiu jitsu uniform to buy and what color BJJ gi should I get.
What do jiu jitsu fighters wear?
As with any sports and martial arts discipline, jiu jitsu has its own, let's say, outfit etiquette.
Jiu jitsu uniform consists of:
BJJ kimono or gi
Gi belt
Rash guard
Spats
Jiu jitsu fighters don't wear this outfit at once. It depends on the jiu jitsu class form – gi or no gi.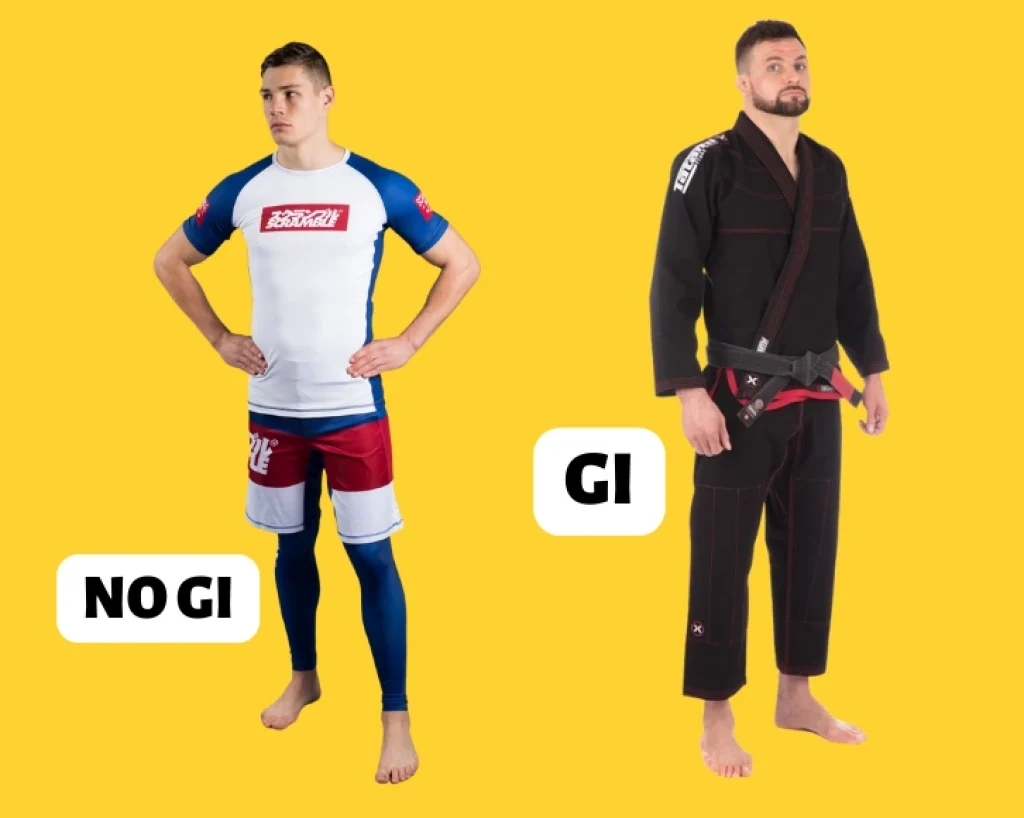 back to menu ↑
What is the Jiu Jitsu uniform called?
As already mentioned before, the jiu jitsu uniform is called a gi. Often people mistakenly write it as "jiu jitsu gee" or "gee for jiu jitsu". But it's jiu jitsu gi, BJJ gi.
The jiu jitsu gi consists of a:
back to menu ↑
What does gi mean in jiu jitsu?
The origin of the Brazilian jiu jitsu uniform name comes from the Japanese martial arts. Gi is not a unique uniform name in BJJ. All uniform sets or jackets in traditional Japanese martial arts are called gi – akidogi, judo gi, BJJ gi, dogi, keikogi, etc.
In our previous articles, we have already discussed in detail what to wear to Jiu Jitsu class. It will help you not to get lost in the new world for you if you are just starting BJJ.
back to menu ↑
How much is a jiu jitsu gi?
There are many factors that determine the price of a jiu jitsu gi. For example, the main factors are:
Brand
Quality of fabric, materials, and manufacturing
Design. Plain design or with patches and embroidery
Custom or regular color. A limited crazy color BJJ gi set has a higher price
The price range for a jiu jitsu gi may vary from about $50 to $150. The most expensive premium or custom gi costs about $200-$300, or even $1000.
back to menu ↑
Who makes the most comfortable BJJ gi?
Honestly, we don't have a straight answer to this question. We can name the top BJJ brands whose BJJ gis have the majority of fans over years. But even in their assortment not every gi is beloved and deserves the title of the most comfortable BJJ gi.
The experience shows that the most comfortable BJJ gi have those BJJ brands, that exist on the specific BJJ gi market for the longest time.
Check these top jiu jitsu brands when searching for a comfortable BJJ gi:
Kingz
Tatami
War Tribe
Hayabusa
Fuji
Atama
Shoyoroll
back to menu ↑
Best cheap BJJ gi in black color under $50
back to menu ↑
#1 Hawk BJJ black gi
We already mentioned the Hawk Jiu Jitsu Gi as one of the best BJJ gis for beginners in our guide.
Hawk black jiu jitsu gi is the best pick for an affordable and of decent quality jiu jitsu uniform under $50. In simple words it's a cheap jiu jitsu gi.
It's unisex men and women grappling kimono. The manufacturer claims a 1-year warranty. Over 3200 reviews from customers on Amazon. It's hard to find a better BJJ gi for the money.
Pre-shrunk ultra-light 350 gsm pearl weave material. Pants are made of 10 oz density ripstop fabric. A white BJJ belt is included in the set that saves time, money, and effort additionally to searching for purchasing a belt. The fabric is decent or not worse compared to some top jiu jitsu brands for a higher price.
EVA rubber collar is covered with ripstop fabric. Hawk BJJ gi size chart has the sizes A1, A2, A3, A4, and A5. Is IBJJF legal.
Minimalist design.
Hawk Gi Sizing
Despite the pre-shrunk fabric, the jacket and pants will still have some shrinkage. It is recommended to wash your gi in cold water and hang dry. With this method, the gi will shrink for about 3-4 cm / 1.2-1.6 in. If your size is between two different gi sizes, choose the larger size.
In most cases, it's recommended to buy a gi for jiu jitsu by Hawk one size larger. If you will need to shrink the gi, make a few first washes. After that, you can put it in the dryer.
Over 3200 reviews
350 gsm Ultra-Light pre-shrunk pearl weave material. A cheap BJJ gi with a white BJJ belt included. 10 oz ripstop pants. IBJJF Legal. Simple plain black BJJ gi design. Free white belt included.

A black jiu jitsu gi without patches on it.
back to menu ↑
#2 Best BJJ gi for the money – Jayefo gi review
Meet another best affordable BJJ gi pick under $50. Pre-shrunk ultra-lightweight BJJ kimono for adults in 450 gsm pearl weave fabric with 10 oz ripstop pants.
The Jayefo BJJ gear is presented by adult and kids' jiu jitsu uniforms. One of the popular gi color variations among the jiu jitsu practitioners is the red and black gi color. And the Jayefo BJJ brand has what to offer.
True to size Jayefo gi size chart consists of A1, A2, A3, and A4 measures. IBJJF approved.
Jayefo gi is a great choice to buy for those who are just starting jiu jitsu.
With white belt
Ultra-Light pre-shrunk black gi jiu jitsu uniform. Simple and minimalist design. Free white belt included.
back to menu ↑
The best gi for jiu jitsu under $100
back to menu ↑
#3 Sanabul BJJ gi
The Sanabul Essentials gi we have already mentioned in our guide for BJJ Top 5 Best Gis for Jiu Jitsu Beginners. The BJJ brand has collaborations with prominent BJJ athletes, among them is also the legendary jiu jitsu coach John Danaher.
Amazon #1 best seller
Ultra-Light Weight Single Weave.
Women's Sanabul Jiu Jitsu gi
also available. 100% cotton. Stiff, rubberized collars, tapered sleeves, and dense single weave design.
6 colors: black, white, blue, navy, green, and grey.
The Sanabul gi takes a secure place as the best affordable black jiu jitsu gi for training under $100.
back to menu ↑
#4 Fuji BJJ Gi
The glory of Fuji gi for jiu jitsu is ahead as the Fuji Sports brand name knows every judoka and BJJ practitioner.
Free white belt
Sizes are available from C0 to A5 and A6. Strong mediumweight pearl weave fabric with minimal shrinkage. Not pre-shrunk material. Reinforced knees.

This Fuji gi has a slim look cut. The pants go big (baggy). Free white BJJ belt included.
back to menu ↑
#5 Black Venum Contender Evo BJJ Gi
Venum jiu jitsu uniforms are popular among BJJ athletes since 2005. The Contender gi deservedly can take its place in the top best gi for BJJ list under $100 even with its a bit over $100 price.
350 gsm cotton
The Venum gi sizing chart has a wide range of sizes: A0, A1, A1.5, A2, A2.5, A3, A3.5, A4, and A5. The all black BJJ gi has even black embroidery that makes the design minimalistic.

Belt not included. Pearl wave 350 gsm cotton fabric and cotton black gi pants.

Venum is the exclusive outfitting and apparel partner of UFC.
back to menu ↑
The most expensive jiu jitsu gi over $100 and $150
The jiu jitsu uniform design in combination with a top brand name can change the price range for BJJ gis drastically.
Let's see what black jiu jitsu uniforms offer the top premium BJJ gi brands.
back to menu ↑
#6 The Hayabusa BJJ gi
Hayabusa Fightwear is a prominent name in the martial arts equipment world. It was founded in 2006.
Hayabusa BJJ means quality
Hayabusa gear is also well-known for its long-lasting quality.
For instance, we still use Hayabusa fighting shorts for training that were bought about 8 years ago and they literally have no traces of fading or torn.
How and where to buy the Hayabusa gear?
Pay attention to buying only the original Hayabusa gear from the official Amazon store, Hayabusa online store, or affiliated shops.
Hayabusa has also prominent collaborations. They have a deal with the UFC champion Georges St-Pierre, black belt Carlos Machado, Neil Melanson, and others.
In 2019 Hayabusa launched a collab with Marvel. One of the results is the Hayabusa Punisher series of items:
black BJJ gi
boxing gloves
fight shorts
rash guard
hand wraps
The Punisher Hayabusa black gi jiu jitsu review
Premium Gi
Sizes A0, A1, A2, A3, A4, A5. Durable, comfortable, and light black gi jiu jitsu uniform that gives a soft feeling within minutes of putting it on. Pearl weave ultra-light gi material.

Top-notch liner and the patchwork, no cheap materials. The gi has an athletic cut which may be not very female-shaped: straight and tighter on hips pants, the shoulder area for wider shoulders.

The Hayabusa Punisher gi is a real find to gift for jiu jitsu lovers and real Punisher fans too.
The Hayabusa brand has a unique outfit. For instance, this Hayabusa Uwagi gi jacket is made from real pearl weave cotton gi fabric.
Black and navy blue
The Hayabusa kimono hoodie has a classic streetwear style for every day. Extra warm polar fleece lining.
Available in black and navy blue colors.
Made from the fabric that is used in jiu jitsu gis.
Outlined with the traditional
kanji patches
. Zipper closure with zippered pockets. Has an additional inner pocket with a zipper.
back to menu ↑
#7 Moya Brand Gi
The adult black Moya Gi by Moya brand.
The Moya BJJ brand is also known for its collaborations with other famous brands. For instance, with Hello Kitty, Crooks & Castles, etc. They also have a Bruce Lee collection.
IBJJF approved
The Standard Issue Moya BJJ gi is presented not only in the black color but also in blue and white.
375 gsm fabric. Simple plain design.

The Moya gi size chart has its own size marking (A0F, A1H), so pay attention to their size chart.
back to menu ↑
#8 Black gi jiu jitsu uniform by Shogun Fight Apparel
Premium gi
The Shogun gi BJJ size chart consists of A0, A1, A2, A2L, A3, A4, and A5 sizes. 450 gsm pearl weave fabric. Ripstop cotton pants with 6 drawstring loops.

The gi has an original dye-sublimated rash guard liner inside the jacket.
back to menu ↑
Does Gi color matter in jiu jitsu?
You may wonder if there is any meaning to black BJJ gi color, blue, or maybe white.
To be short, there is nothing special with the gi colors in Brazilian jiu jitsu. You can choose for your BJJ classes any of the common BJJ gi colors – black, white, blue, or navy blue. But if you want to compete in tournaments, read carefully the uniform requirements of the organizer.
So, it means you can choose the best color BJJ gi you want for your training. There is even a tie dye BJJ gi.
How to tie dye gi?
back to menu ↑
How to keep black BJJ gi from fading?
To avoid your black BJJ gi from fading you should follow the manufacturer's requirements on how to wash a black jiu jitsu gi or any colored gi.
Usually, the requirements are always the same and easy to follow:
Use free of bleach detergents. Check our guide for the best sports detergents
Dry your colored gi inside out
Wash in cold water or low degrees
Washing a black jiu Jitsu gi you can use a laundry detergent that prevents fading
Amazon's choice
The Woolite detergent protects synthetic fabrics and blends from damage during washing. Keeps the dark clothing looking like new, and protects it from fading and stretching.

No phosphates and bleach.
back to menu ↑
Conclusion
We made a pick only of 8 BJJ black gis – from the cheap BJJ kimonos to premium. We haven't shown a lot of other great black gis, just because we didn't want to make the list too long to not complicate the choice.
In our next best gis for BJJ lists, we will look deeper into the assortment of not presented here top BJJ brands like Kingz, Tatami, Shoyoroll, Atama, etc.