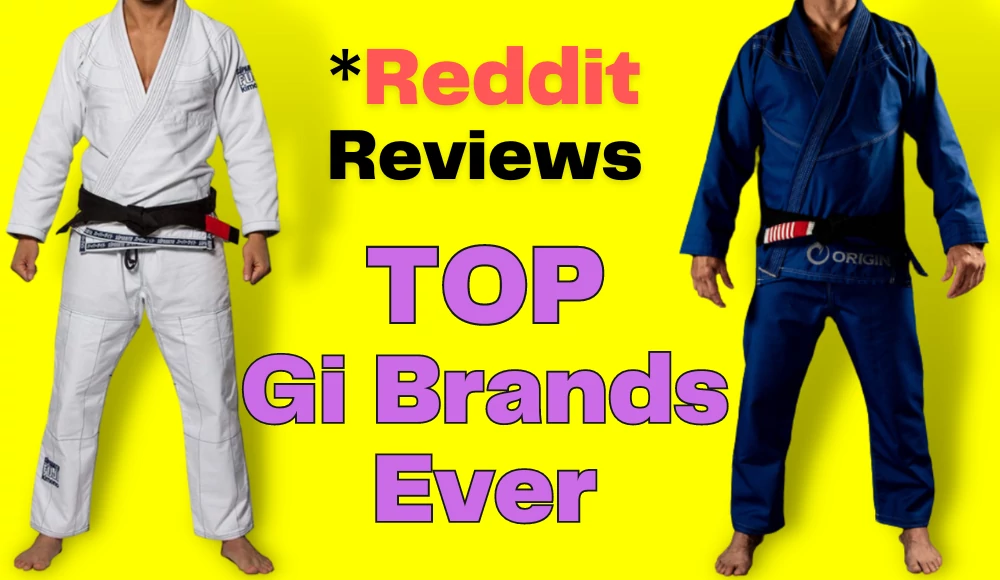 One day it dawned on us that the best way to find a good jiu jitsu gi is to look for the best BJJ gi Reddit reviews on the Reddit BJJ community.
If you are new to BJJ you might not know the r/bjj Subreddit. It's a huge online jiu jitsu community with over 730 000 members. You can read about it in our article here.
If you are an experienced athlete, you may say what a discovery, every BJJ practitioner knows it. BJJ Reddit is one of the first places that comes to mind when you need advice on what jiu jitsu uniform to buy. No matter if it is a gi, rash guard, or shorts.
And you are right.
But.
One thing you need every time, whenever you have to look for a new gi again, to make the whole search on Reddit for threads to remind you what were the recommended gis. Or to find out what are the up-to-date recommendations.
Another thing is when you have all the best BJJ gi Reddit reviews in one place.
And this place is here now.
The best BJJ gi challenge big data
We have found and gone through to read about 15 different threads about jiu jitsu gi brands on Reddit BJJ.
We spent about 13 hours analyzing and composing all gi recommendations and discussions by real people who train jiu jitsu.
These discussions on r/bjj are spacing the time span from 2014 to the current months.
The result of this Best BJJ Gi Reddit Reviews challenge is the below list of assorted Brazilian jiu jitsu gis by the community.
Keep reading to find out, what the best jiu jitsu gi recommendations are given on Reddit by your fellows – the experienced jiu jitsu practitioners.
This article should help every athlete to avoid the challenge of finding the best jiu jitsu gi. We have done it for you.
back to menu ↑
Best BJJ gi brands not relying on price
This collection of best BJJ gi Reddit reviews doesn't rely or depend on brand popularity, price, or color.
Because it's not a review for the cheapest BJJ gis or the most expensive one. Moreover, the best ones don't necessarily mean the most expensive.
If you are looking for the most affordable jiu jitsu gi, read our Top 5 Best beginner Gi for jiu jitsu.
For the Reddit gi review list we selected the most popular gis – most times mentioned and recommended on Reddit as the best.
You are seeing the list here presented in reverse order starting with the less mentioned and to the first – the most popular and the best choice gi according to BJJ subreddit.
Used terms explained:
Overall points – how many times was the brand positive mentioned
What people say – we gathered the main PROS and CONS people shared from their experience with the brand
Best Brand's gi – the specific gi name of the brand that was recommended
back to menu ↑
Best BJJ gi brands Reddit List
A small spoiler before we jump to the main topic.
We gathered all BJJ gi brands that were mentioned on Reddit during our research into one list.
Here it is.
Total: 64 BJJ gi brands.
The winner list will show only 13 top gi brands – those, who received more than 10 points. But nevertheless, the research resulted not just in the top 10 BJJ gi brands but as many as 13 best brands.
BJJ gi brands list that received less than 10 points and didn't get to the best BJJ gi brands Reddit pick
back to menu ↑
13 Top Gi Brands Ever according to Reddit reviews
#13 Atama
#12 Progress
#11 Sanabul
The Sanabul gi is just exploded on Amazon as a best choice starter gi for jiu jitsu.
Sanabul brand has famous jiu jitsu stars as ambassadors, like Michael Bisping, Sean O'Malley, and John Danaher.
#10 CTRL Industries
#9 Inverted Gear
#8 Scramble
#7 Shoyoroll (SYR)
Yes, Shoyoroll gi is only in 7th place. Just statistics, nothing else.
Nevertheless, Shoyoroll Instagram has 145K followers.
Shoyoroll online store – shoyoroll.com
Quite well-known are the RVCA Shoyoroll gi collaborations. The Shoyoroll and RVCA gi are one of the most expensive gi out there.
#6 93Brand
93Brand is New York based small grapplers company that is well known among athletes for a long time already.
93 Brand store site 93brand.com.
#5 Flow Kimonos
Where are Flow Kimonos made?
Flow Kimonos is a brand based in Boston, USA. What we have defined from our best BJJ gi Reddit research is that the Flow gis are underestimated.
Are Flow Kimonos good?
Looks like if the Flow brand marketing would be more spread, the Flow BJJ gis could have better positions in the top gi brands list.
The Flow Kimonos Hemp gi is available to purchase only once a year due to the shortage of materials.
Are Flow Kimonos IBJJF legal?
Yes, the Flow Kimonos are IBJJF legal. But pay attention to what color you choose for the tournaments. As IBJJF allows only three main jiu jitsu gi colors – white, blue with navy blue, and black.
Flow Kimonos shop site – flowkimonos.com.
#4 Kingz Kimonos gi
back to menu ↑
#3 The bronze winner
The bronze medal winner among the BJJ gi brands is Tatami Fightwear brand. That is not surprising. Tatami gear is on everyone's lips worldwide for many years already.
back to menu ↑
#2 The almost winner
The second place got the Fuji BJJ gi.
Honestly, when we just started with this research, I was sure that the winner will be Fuji with their All Around gi.
But a surprise was waiting for me.
The BJJ gi brand winner of this list (which you will see below) broke ahead and got the most points from the very start.
Anyway, Fuji BJJ gi got confidently the second most of all points by a slight margin from the winner.
We want to stress that Fuji confirmed its status as the most sturdy and reliable gi over years.
back to menu ↑
#1 And the winner of the best BJJ gi Reddit reviews is!
The best choice and the best BJJ gi Reddit review over the years got the Origin BJJ gi brand – the best American made BJJ gi.
If you don't know the Origin brand let us share some short facts.
Origin is based, designed, and made in the US. And we should more say here about the words "made in the US". Because it means, Origin literally makes the fabrics and manufactures their gis in the USA.
Making own fabrics for martial arts uniforms is a huge thing no exaggeration. The jiu jitsu uniform, especially the jackets, is made from specific cotton-weaved fabrics. The almost monopolists and the biggest suppliers of the fabric are China and Pakistan. Here are made about 90% of all jiu jitsu uniforms and other martial arts gear.
But Origin went with another way – their own.
Does Jocko Willink own Origin gi brand?
It's a common question people are asking who is already known with the Origin USA brand and Jocko Willink.
In fact, the founder of Origin is the 3d degree black belt in jiu jitsu Pete Roberts. Origin USA and Jocko Industries are partnered to create quality products for Grappling athletes and their lifestyles.
back to menu ↑
Conclusion to the best BJJ gear brands research
I must admit this research has changed my vision about the best BJJ gis brands. Despite the fact that I train jiu jitsu for over seven years and I'm quite deep into the BJJ market, as we are producing and selling martial arts goods for many years.
The Origin brand I know for many years. I have even watched a short documentary about the owners and how they create their products. But I never thought that their gis are so much popular and spread among the athletes.
Venum, Storm, GR1PS, Hayabusa, and some other brands have surprised me with how much they lost in their popularity and positions. Though, they have quality products.
The results are very telling.
We are very happy we have made this research. The time and efforts were worth it.
I think we can even encroach on calling it the list of the best BJJ gi in the world, as BJJ Reddit members, who shared their gi reviews, are spread worldwide.
Let it help you to find your top-notch jiu jitsu gi for regular training, competition, etc.