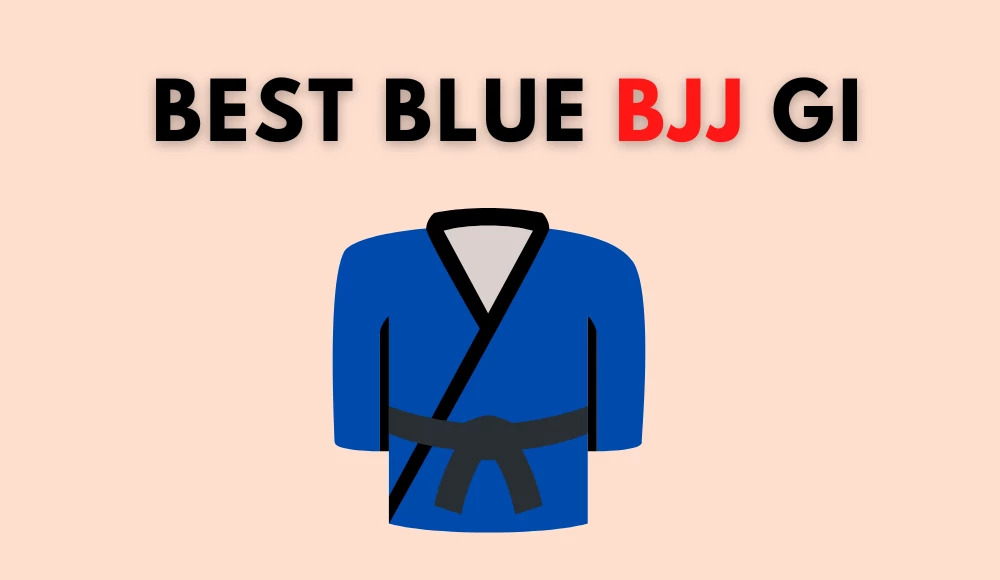 We continue to help all BJJ athletes from BJJ beginners to professional jiu jitsu practitioners to ease the task of finding the best jiu jitsu uniform for regular training and competition. This time we present the best blue BJJ gi list.
If you already have a blue gi and are looking to diversify your BJJ gear, check out our lists of:
The blue jiu jitsu gis together with the black BJJ gis are the most popular gi colors among the jiu jitsu practitioners. As we see from the statistics in the BJJ gyms we are visiting blue and black are more popular than white gis.
And it's true unless a specific jiu jitsu school wears the white gi as the mandatory gi color of the academy.
What is also great about the blue BJJ gi it's that it has one more variation of the dark blue BJJ gi color that is also legal to wear in most tournaments. It's a navy blue gi color. In addition, if white gi or black gi colors are always just white and black, blue can have its shades – light blue BJJ gi or darker blue.
We spent about 14 hours of research to find the best BJJ brands gi in blue color and analyzed the reviews of customers. Below you see the result of this work. We made a short list of the best blue BJJ gi reviews to not overload you with the assortment and to make your choice of the coolest BJJ gi easier. We selected the best picks for different budgets – from the most affordable gi under $50 to premium BJJ gi over $150.
Table of content
Best Blue BJJ Gi under $50
What is the main advantage of the budget BJJ gis under $50, that you can buy three of these for the price of one premium brand gi.
As a result, you have a bunch of gis to train your regular 3-5 times a week jiu jitsu classes and not destroy your premium $130-$150 gi. The premium gi you can wear on tournaments and promotions.
#1 Hawk Jiu Jitsu Gi
Any list of our best BJJ gis picks doesn't come without the Hawk jiu jitsu gi. If you just start Brazilian jiu jitsu or need a gi for regular training, this is one of the best affordable variants to buy.
Amazon's choice
350 gsm Ultra-Light pre-shrunk pearl weave material. 10 oz ripstop pants. IBJJF Legal. Simple plain blue BJJ gi design. Free white belt included.

A $50 plain blue BJJ gi for men and women. Pick your size from the Hawk BJJ gi size chart.
#2 Guard Reevo Gi for kids and adults
The best jiu jitsu gi should not necessarily be expensive. Here we have another best pick of a BJJ kimono for a low price.
BJJ blue gi for kids and adults
350 gsm ultralight fabric. The underarms of the jacket are made of synthetic double-layer mesh material. 8 oz pants with a full-length knee patch for durability. Simple plain blue BJJ gi design. With a free white Brazilian jiu jitsu belt.

The Reevo gi goes in both sizes – for kids and adults.

With contrast stitching. True to size and easy to move in gi with enough room to move around and not being felt restrained or restricted.
back to menu ↑
Best Blue BJJ Gi under $100
#3 Adidas BJJ Gi blue color
In the jiu jitsu community and gyms, you will not see a lot of Adidas BJJ gis. I haven't seen at all, maybe only the Adidas judo gi.
But the Adidas brand gi is popular in other martial arts disciplines, like karate and judo.
So, if you are a fan of the Adidas gear or want to give it a try, here you have a good blue gi option.
IBJJF approved
450 gsm pearl weave BJJ blue gi pre-shrunk fabric. Reinforced chest, shoulders, and knees. IBJJF approved BJJ kimono. Bright royal blue BJJ gi color.
A great thing to have for an Adidas gear fan and jiu jitsu lover is a jiu jitsu shirt by Adidas.
Funny BJJ shirt
Adidas jiu jitsu t shirt with funny typography "All day I dream about submissions". 100% cotton.
#4 Elite Sports Gi lightweight in blue color
The Elite jiu jitsu gi brand doesn't change its traditions for many years already offering good quality and a variety of BJJ gear.
Belt included
Light-weight preshrunk 60% cotton and 40% polyester material. White BJJ belt included. 10 oz ripstop pants. IBJJF Legal. This blue BJJ kimono has a simple plain design.
#5 Venum Contender Gi Evo
Belt included
Available sizes: A1, A2, A3, A4, and A5. Belt not included. Venum BJJ kimono with pearl wave 350 gsm cotton jacket. And 230 gsm cotton pants. Knees and stress zones are reinforcement.

This gi is for jiu jitsu beginner level to Intermediate level.
back to menu ↑
Premium Blue BJJ Gi over $100
BJJ gi over $100 is the budget range where you have the highest chances to get a best looking BJJ gi.
#6 Kingz Gi The One blue color
IBJJF Approved
Lightweight best blue BJJ gi from the top BJJ brand Kingz. 400 gsm pearl weave fabric and 10 oz 100 percent cotton pants. A white BJJ belt is included. Kingz is known for being one of the best BJJ gis in the premium segment for many years.
#7 Fuji Navy Blue BJJ Gi
Navy blue BJJ gi in competition is allowed. At least by IBJJF. The All Around Fuji gi is the first gi in navy blue color that comes to mind.
over 1500 reviews
550 g traditional mid-weight weave. The best selling and most trusted Fuji Gi kimono for years. Cotton twill pants with traditional cotton drawstring.
#8 Hayabusa Gi jiu-jitsu
It's a navy blue jiu jitsu gi over $100 budget by Hayabusa gi brand.
IBJJF legal
Lightweight adult Jiu Jitsu gi. IBJJF approved. Machine wash. Reinforced seams. Pearl weave jacket fabric. 8 oz ripstop blended pants. BJJ size chart from XS to XXL.
#9 Blue Moya Gi Brand
IBJJF approved
The Standard Issue Moya BJJ gi is presented not only in blue color but also in black and white. 375 gsm fabric. Simple plain design.

The Moya gi size chart has its own size marking (A0F, A1H), so pay attention to their size chart.
back to menu ↑
Premium Blue Jiu Jitsu Gi over $150
#10 Gameness Gi for BJJ
Gameness is one of the top premium BJJ brands
IBJJF approved
Gameness has a wide range of sizes in their BJJ gi size chart: A0, A1, A2, A2S, A3, A3L, A4, A5, A6, and A7 BJJ gi. Premium heavier weight competition gi.

The jacket is made of 100% pearl weave 550 gsm cotton. Twill weave pants from blended fabric (55% cotton, 45% polyester).

The belt is not included.
back to menu ↑
Premium Blue BJJ Hemp Gi
BJJ hemp gi by Datsusara covers with its gis several different segments – premium, custom (made of custom material – hemp), and eco-friendly. Also, Datsusara is one of the best hemp BJJ gi available on the market.
Joe Rogan BJJ gi
The Datsusara brand is by now the best-known hemp gi manufacturer. They have a collaboration with Joe Rogan for their official Joe Rogan Experience Gi.
#11 Datsusara Combat BJJ Hemp Gi in blue color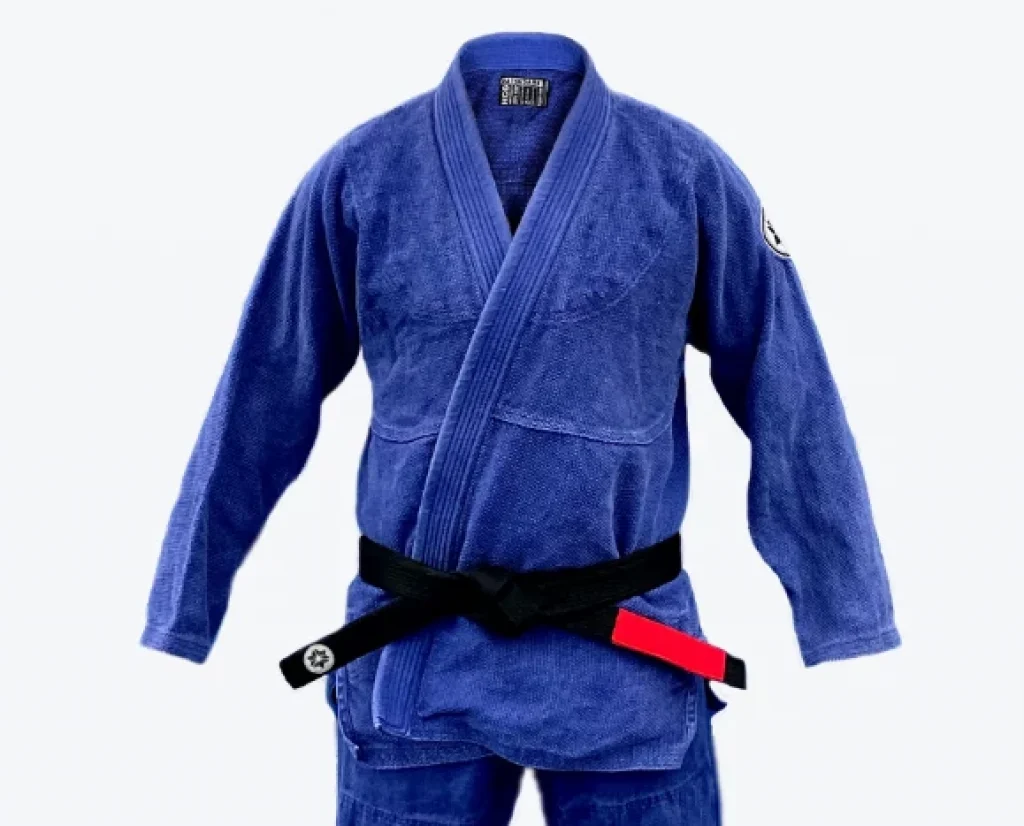 Hemp judo gi
If in Brazilian jiu jitsu hemp jiu jitsu gi is a trend of the latest years, so in judo the hemp judo gi is a historical fact.
According to existing information, Japanese firemen of the 19th century were wearing rough fabric jackets made of hemp.
Jigoro Kano – the father of judo and judo training uniform – was inspired by the firemen's uniform, so the first judogi made of hemp were revealed to the world.
We have tried to find if any judo brand is manufacturing and selling hemp judo gi, but didn't find anything pure for judo.
back to menu ↑
Can white belts wear blue gi?
When you start to train Brazilian jiu jitsu and are familiar with some martial art etiquette you may wonder if you are allowed to wear a specific color of jiu jitsu uniform as a beginner.
In Brazilian jiu jitsu any belt rank – from white belts beginner to the highest rank in jiu jitsu – can wear any gi color. So, yes, white belts can wear blue gi in BJJ. Unless you jiu jitsu school prefers one specific gi color.