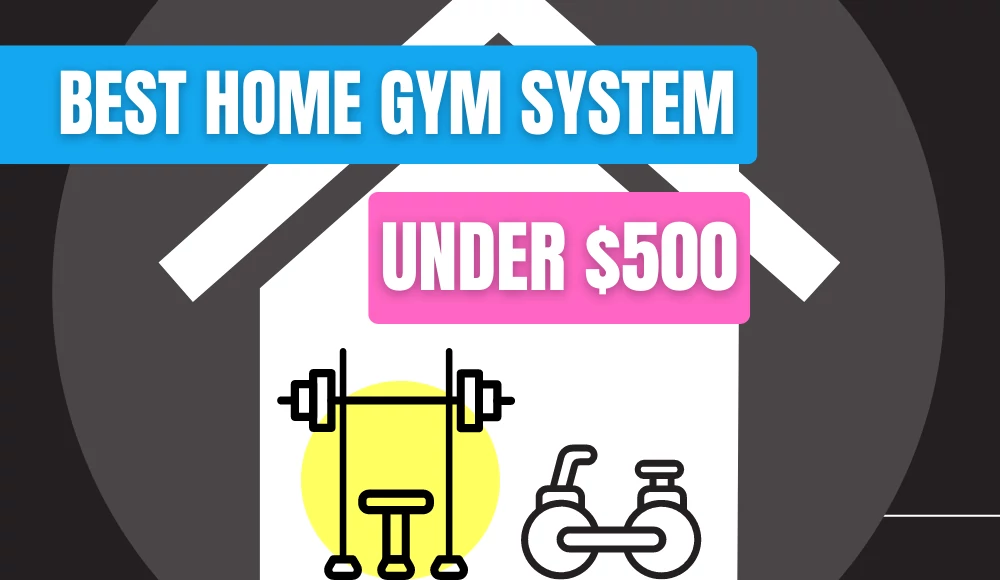 We are talking here a lot about martial arts and related sports. Why do we talk now about the highest rated home gym system under $500 dollars? Because we came to the point to deal with this issue.
In fact, we came to this topic in a planned manner.
The strength training for BJJ was already discussed. You can find here already the list of the top 6 picks of best workout benches.
If you came on your own to the point to buy a home gym system for your workouts, it means you are serious about your training.
That is why we are ready to spend the efforts to research and share the results what is the highest-rated home gym system under $500 dollars. Also under $700 and under $300.
Home gym vs gym membership
As usual, some basic questions first.
Even if you are already serious to build a home gym system in your house or garage, you may still be questioning yourself:
is building a home gym worth it
what budget is reasonable to spend
what size of the home gym should it be
a garage or in-house layout of placement
are there any minimalist home gym versions available
is it worth buying home gym equipment at all
Are home workouts as effective as a gym and can you get ripped with a home gym?
These are mainly the fundamental questions that are fluttering in the space. Because the final result – effective strengthening training and muscle building – is the core point. You don't need a dust collector in your house.
And here is another core point and actually the main short answer to the home gym vs gym membership challenge:
The home gym workout equals the gym membership if you do your home workout with the same intensity and regularity. This is the crucial and fundamental basis.
Another helpful aspect says that you will keep doing your home workout intensely and regularly if your home gym system gives you all that you need to fulfill the previous statement.
Very obvious points. But in fact, you may think and research for days and months on the best ways to work out at home, and these aspects will still remain basic and sufficient.
back to menu ↑
Is it worth buying home gym equipment?
If you follow our articles you may already know that we like to analyze and refer to people's opinions and not just share our own experiences.
Subreddits are one of our favorite places to gather information as Reddit offers the biggest data for it as we have seen.
Is it worth buying home gym equipment question fits great with our practice.
So let's see, what people advise.
Pros and Cons of home gym Reddit advice
PROS
CONS
No gym membership payments
A large investment in qualitative equipment ($800-$1000)
No need to share equipment with strangers
Can become a dust collector due to the laziness of the owner
Anytime workout
Dangerous if lifting heavy weight alone
No gym crowd for those who are introverts
No gym crowd mood for those who enjoy it
No need to wait for a squat rack
Not an option in an apartment with noise-sensitive neighbors.
Time saver: no need to spend time on the way to the gym and back.
Especially a good option for those who live in cold and windy regions.
Needs a place at home.
In addition money saver: you save on gas.
You may not have all the needed gym system parts: a full set of dumbbells, some machine parts, etc.
24/7 and every day open gym.
No shame for failing.
Choose your own music.
You can split the workout into parts during the day.
To get ripped at home any time.
back to menu ↑
How much does it cost to build a gym at home?
A home gym system is a pricy pleasure. Only separate parts to mount one single installation can result in up to $1000.
If you are a pro martial arts athlete, bodybuilder, or advanced sportsman and taking your workout with passion it's not even a question for you to build or not a home gym. Even no matter where – in your house, garage, or creating some home gym and office combo ideas in the apartment.
Probably even the budget is not an obstacle.
But what if you are doing your first steps to equip your house or garage? Or any other reason to build the $500 home gym variant.
back to menu ↑
How much to build a home gym [Reddit answers]
We took some time to see what people usually spend to buy their essentials for the home gym. Or in other words, how much does it cost to turn your garage into a gym? Or your house space.
The final budget depends on where you buy the essentials and what home gym essentials you plan to buy to build your machine.

On average, your final budget for a home gym will be about $550-$800 if buying most parts from Craiglist and around $5000 for new top brands of gym equipment (Rogue Fitness, Titan Fitness, etc.).
As you see, the $500 budget for a new home gym machine is a quite low entry check.
Anyway, let's see, what we have found after our research.
back to menu ↑
Highest rated home gym system under $500 dollars
But what if you don't need to spend many Ks of dollars because there is a home gym system for a very reasonable price?
We made the research and here is the best home gyms under $500 pick that the market offers today. In our selection, we have relied on the reviews, price, and characteristics compared to other machines.
The best exercise machine under $500 is real according to the reviews:
Under $500 dollars
Marcy is a brand by the US company IMPEX that specializes in fitness equipment since 1982.

Marcy 150 lb is a multifunctional workout station for weightlifting and bodybuilding. A home gym machine with pulley, arm, and leg developer.

Capacity: 300 lbs.
Dimensions: 73 x 42 x 78 inches.

A good all-around home gym for arms, chest, back, and legs workouts.

A great variant for a starting gym with a good price-to-performance ratio. Marcy has good customer support.

The assembly is pretty easy and takes about 3.5 hours to complete. Steel construction with a heavy-duty 14-gauge steel tube frame.
Best home gym equipment for limited space
Folds easy for storage
Home gym fitness equipment for total body strength training with up to 8 levels of resistance. Over 70 workout exercises to implement.

Over 6300 customer reviews.

This Total Gym machine can be folded for storage. Easily folds up out and interchanges everything.

Capacity: 300 lbs.

Accessories included: wing attachment, squat stand, leg pull accessory, dip bars, exercise flip chart, Total Gym TV access, exercise and nutrition guides, manual, and DVD.

Great fitness equipment for pilates like stretching and toning. An easy-to-use and effective home workout machine that lasts for years. Fits to use for elderly people.

Quiet and smooth action by using.

Most likely, Total Gym APEX G3 will not fit competitive bodybuilders or powerlifters in their workout routine.
back to menu ↑
Best home gyms under $700
Of course, if you have a higher budget you can extend your borders of choice to pick the best home gyms under $700 variants.
One of the options that the fitness brands may offer is a Home gym packages for different budgets. These packages allow you to assemble your home gym system gradually.
For instance, you can buy a Home gym starter package from Titan Fitness.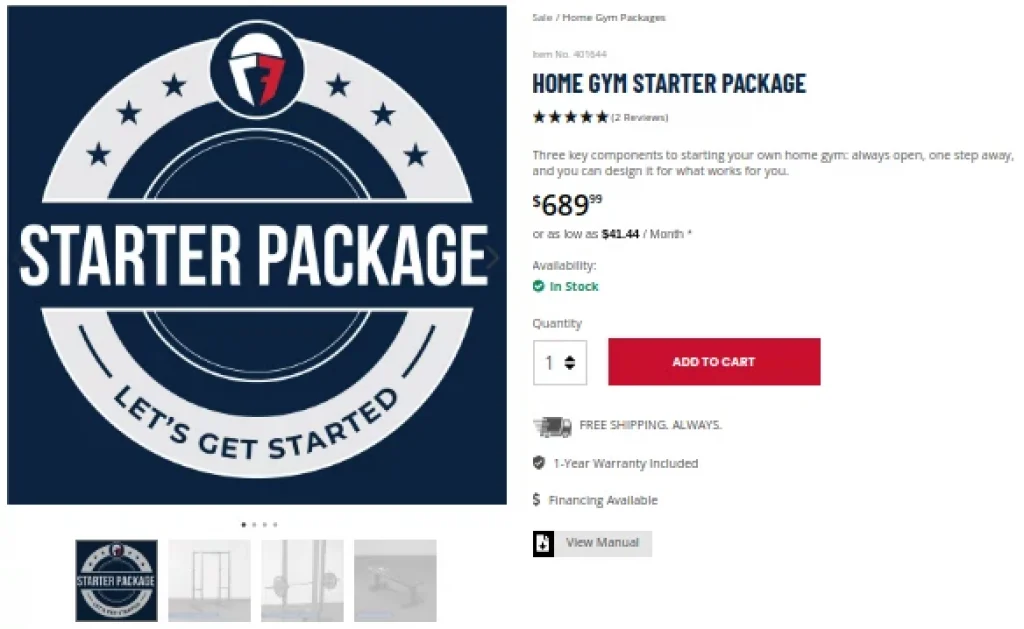 Also, the $700 budget allows you to have the Bowflex PR1000 Home Gym machine.
over 2400 reviews
Dimensions: 103 x 80 x 82 inches.
Weight: 144 pounds.

Over 25 total body exercises.

The Bowflex fitness equipment is on the market for more than 20 years already.
back to menu ↑
Best home gym under $300
As already mentioned before, even a $500 budget makes a limited space to find a good and reliable home gym machine.
Although, possible as we see from our research on the highest rated home gym system under $500 dollars and presented picks.
But what about a home gym under $300?
Well, even for this case we have what to say.
In most cases for a $300 budget, people find great deals on Craigslist, OfferUp (former Letgo), Yard Sales, or Facebook groups. For instance, a bench and a 300 lb set for $100 or a rack full of dumbbell pairs for $150.

People sell their used fitness equipment cheaply when they're moving. Sometimes you can find very high-quality deals.
But not only used stuff is an option for the home gym under $300.
Here are very interesting variants to pay attention to.
home gym under $300
It's a LAT pull-down and LAT row cable machine with a flip-up footplate, a high and low pulley station. Very versatile.

Heavy duty 11 gauge steel tube.

Gross weight: 91 lbs.
Load capacity: 450 lbs.
Size: 22 x 52 x 77

An easy-to-assemble home gym machine. Make sure to lubricate the moving parts once you put the machine together.

ER KANG provides a 6-month components replacement service.
This is not the only option for the budget.
We recommend paying attention to the old classic workout power tower.
budget under $200
Power tower with 4 workout stations. User capacity: 300 lbs.

Over 3000 customer reviews.