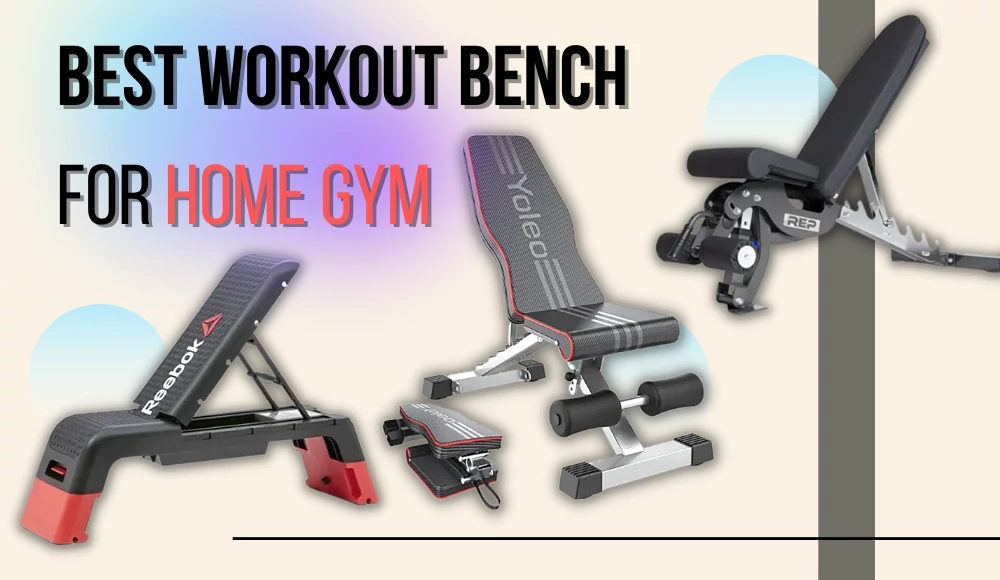 You are a martial art athlete and it has come time for you to buy some bigger home workout gear for your strengthening training. In this article, we will help to not get lost in all the choices on the market. Reddit sports community is a great place to find help. Let's find out the best workout bench Reddit recommendations.
Are weight benches worth it?
Is an adjustable weight bench worth it to spend money on? Or should I sacrifice priceless home space if you don't have an extra garage to build your home gym for a flat bench?
Do I need a weight bench at all? And how much should a workout bench cost?
All these questions are reasonable.
Besides the place at home, the budget remains also one of the main deciding factors. Because big gym equipment for home is a much higher level of training supplement than we used to buy.
So, is it worth buying a workout bench to improve your strength training for BJJ at home?
Let's go through a short checklist that will help you to orient yourself in the situation:
How serious and acquainted are you with the workout routine and utilization of the workout bench? If it's not a question for you already, just skip to the best workout bench Reddit picks.
If you are a newbie, you can first get a membership in a gym to:
1) Watch weight bench reviews on YouTube and test out the benches in the gym;
2)Take a strengthening program with a coach to go through the basics of bench exercises. Later, upon practical experience, you can decide what bench to buy.
Take your time to understand that you really need and want a bench. If you have decided to buy a bench, take your time to choose the best workout bench for your needs. Otherwise, it will be just a dust collector in corner of your house.
The bench in your home gym has one not obvious feature – it gives a seating place in your workout area between the reps, helps to utilize other exercises not related to the bench, and just to be able to sit down for any other occasion.
back to menu ↑
What is the best weight bench for a home gym?
The best weight bench for a home gym is one that is made qualitative and meets all requirements. But this is a "Captain Obvious" answer.
What about practical things that may help to understand what bench should I search for?
Below in this article, we give the 6 best workout benches according to Reddit community recommendations. But before jumping straight to the list of the best workout benches, you should know that there are two main options you will need to choose from:
adjustable bench
flat bench
How do I choose an adjustable bench and a flat bench?
Things you have to pay attention to when choosing a weight bench:
Materials and construction of the bench
Assembly equipment
Weight and dimensions
The height from floor to top should be 17 inches
(optional) Compatibility of the origin pad with third parties pads
back to menu ↑
Should I get an adjustable bench or flat bench?
A weight bench at home is not just about the money but also the space you will have to share with your workout equipment.
The adjustable bench gives not only the configuration option for different bench press exercises but can have a foldable option. In this variant, you can fold the bench to a smaller storage size and can hide it elsewhere in your house.
The flat bench you can't fold but it's a solid and reliable workout bench. Though, flat some flat benches offer a minimum foldable option too.
Should I get an adjustable bench or flat bench?
Anyway, it's hard to say what bench is better – adjustable or flat. The final purpose and your main workout program are what you have to stick to making your choice.
We have gathered some adjustable vs flat bench Reddit comments that will help build a more complete understanding.
| Adjustable bench | Flat bench |
| --- | --- |
| An adjustable incline bench is your choice if you do often seated shoulder press bench workouts. | If the gap at the bend of an adjustable bench is too big, the butt or back can stuck in it when working out weightlifting, etc. Doesn't happen with the flat bench. |
| Adjustable can be used also as a flat bench. | The flat bench is easier to move around than the adjustable bench. |
| Anyway, an adjustable bench gives more versatility. | If you are focusing on Olympic lifting and powerlifting, you will use a flat bench. It may happen that you will not use inclines or seated shoulder press, or very rare. |
back to menu ↑
Best budget adjustable bench Reddit pick
There are lots of different brands that offer their best of the best benches. But which adjustable weight bench is best? How to choose the one?
We have picked the most reviewed and most mentioned weight benches brands in the Reddit community.
Let's start with the best budget adjustable bench.
Best budget bench
We recommend hunting for Flybird bench discounts on their online store. It allows for saving about $50-$60.

In 2022 Flybird lowered their FB149 bench to 18.8 inches, so keep in mind to check this moment before purchasing.

Foldable bench.

Full body workout: 7 backrests, 3 seats, and 2-foot pad positions. Fit for up to 10 different exercises.

Are Flybird benches good? According to the given information, Flybird produces fitness equipment for about 20 years. Since 2016 they serviced over 700 000 families.

Dimensions: 41″ x 12.6″ x 42.5″.
Weight: 23 pounds.
And one more pick to the budget adjustable bench under $100 according to the Amazon reviews.
Foldable Bench
The Yoleo workout bench is not just adjustable but also foldable. 13 adjustable options with fast adjustment: 6 back adjustments, 4 seat adjustments, and 3 leg adjustments.

3 in 1:  incline, decline, or flat bench.
A good variant to upgrade a quite crowded garage gym thanks to its foldable option.

Dimensions: 41″ x 12.6″ x 42.5″.
Weight: 23 pounds.
back to menu ↑
Best adjustable bench under $200 on Amazon
In addition to Reddit recommendations, we have found a couple more interesting variants with very good reviews. Among them was the Reebok deck workout bench.
All in one home gym
Adjustable deck for total body strength and cardio home workouts in a small area. Folds for compact storage. Has a non-slip bobble surface. Reebok Deck Workout Bench has a sturdy form and materials.

A small multipurpose and adjustable gym corner at home. The Reebok deck allows to different new workout content.

Dimensions: 47.64 x 13 x 7.8 in. Two height positions for diverse workouts: 7.87 and 13.78-inches high. Weight: 28 pounds (12.7 kg).

back to menu ↑
Best adjustable bench under $500
4 color options
Adjustable bench by Rep Fitness is a brand that is discussed on Reddit for many years already as a solid thing and one of the #1 recommendations.

Has an easy mechanism to make incline adjustments. With foot roller. It equals professional gym-quality equipment.

Heavy-duty bench, easy to assemble.

The cover is made from ultra-grippy fabric so you don't slip when you sweat.

7 ladder adjustments from an 85-degree incline to a -20 degree decline. 4 different seat positions.

10 year warranty on the frame.

Weight limit: 1000 Pounds (453.5 kg).
Dimensions: 54″ x 17.5″ x 26″
Weight: 85 pounds (38.5 kg).
back to menu ↑
Best budget flat bench under $150
Amazon choice
Marcy bench press has a weight limit of 600 pounds.

Marcy Deluxe Flat Bench is an oversized bench seat with a 2.5" seat pad. Height: approx. 16.25″ which is very close to the IPF specification.
Pad width: approx. 11.5″-13″

Stable, very Sturdy, and easy to assemble.

Dimensions: 44″ x 17″ x 19″.
back to menu ↑
Best flat bench under $200
4 color options
A heavy-duty flat bench. Fits home gyms and commercial gyms for use with dumbbells, smith machines, cages, or power racks. The metal parts are thicker than most other flat benches.

The pad wide is 12 inches and the base is 16 inches which gives reliable stability. The height of the bench is 17.5 in that meets the IPF (International Powerlifting Federation) standards. The hardness and softness of the pad are balanced.

Dimensions: 47 x 12 x 17.5 inches. Weight 45 lbs.
back to menu ↑
How much does a bench press bar weigh?
If you do bench presses, monitoring the weights you are working with is crucial. Except for the weight set you put on the bench press bar you have to take into account also the bench press bar that weighs 45 pounds (20.5 kg).
back to menu ↑
How many people can bench 225 lbs?
The accomplishment of a bench press of 225 lbs (102 kg) needs a correlation of strict conditions:
actual body weight of about 225 lbs (102 kg)
training
An untrained person with a body weight much less than 225 pounds will not be able to bench press 225 lbs. This is a level of pro athletes. Even if the athlete weighs 225 pounds and bench presses 225 lbs, he or she is considered to be a trained person. This simple fact means that not many people can bench 225 lbs. Add to this fact that the majority of people in the whole world don't do sports at all because they don't want or don't have the possibility.
You will not find the exact number of how many people can bench 225 pounds because this data is hard to count. But relying on the mentioned facts you can approximately imagine what percentage of people can do it – maybe 1% or 2%, or maybe more, but not much.
back to menu ↑
How much can UFC fighters bench press?
It is not an obligatory thing that MMA and UFC fighters lift weights for their strengthening training. And it's even reasonable for professional fighters at some point not to lift weights.
For instance, Georges St-Pierre in his earlier fighting career used to train weights and specifically Olympic lifting, as his coach – Firas Zahabi – explained in one of the interviews. But later he focused on gymnastics and calisthenics strength training.
However, bench press exercises remain one of the basic workout routines.
So, how much can UFC fighters bench press?
Well, it depends on some obvious factors. But the fact is, that fighters are even showing their big results of exercises on bench.
Jon Jones UFC fighter shows his bench press training. The video viewers have estimated the weights in the video between 245 lbs and 330 lbs (110-150 kg).
Or watch here how light heavyweight UFC fighter William Knight bench press 495 lbs (225 kg).