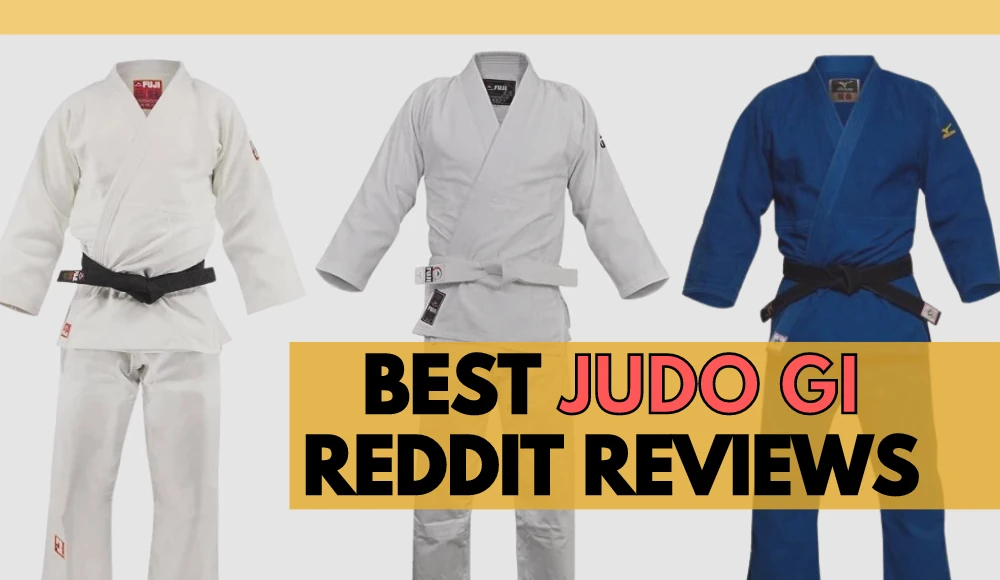 Buying a new training uniform is always quite challenging in any martial art. The challenges may differ in each individual situation, whether it is a budget question, brand choice, color, size, type of quality, etc. Judo is not an exception. Luckily there is a good place to find help. So, in this article, we will find out the best judo gi Reddit reviews to make a helpful list of the best judo gis for any occasion.
Reddit has one of the biggest active martial arts communities so it's an omission not to even try to find advice there.
We have many times researched subreddits – MMA, judo, BJJ, Muay Thai, etc. – to find out what is the best training gear for different situations. For instance, our big research on the best BJJ gi brands ever, or the 7 best martial arts books.
By composing the best judo gi Reddit research we took into account the most important points:
judo uniform price
customer reviews
judo brand names
available sizing chart
fabric density
Also, the goal for us was not just to find out what is the best judo gi according to the judo online community, but to give a variety of choices limited to several best positions.
Judo tips for beginners on buying a judo uniform
If you are a judo beginner you obviously have certain questions about the judo gear and what to wear to your first judo class.
Judo uniform name
The first important detail to know before searching for judo gear is what is the judo uniform called. It will ease your search and you will get a much bigger variety of offers.
What is a judo uniform called?
So, judo clothing for training is called judo gi or judogi. Other names of judo clothes name you will hear are dogi and keikogi. The same training uniform name have other traditional Japanese martial arts (Budo) – karate, aikido, iaido, etc.
Parts of judogi
The parts of judogi uniform are a jacket (gi), pants, and a belt, which you will have in white color as a judo novice.
Usually, a white belt is included in the judogi set. But it's not always the case. Ask the seller before purchasing the uniform. If your desired judo gi set doesn't have a belt, there are plenty judo belts available to buy separately.
Which colour is judogi?
Another question you will face is the judogi color.
What color are judo uniforms?
Your judo dojo will prefer or allow you only two judo gi colors – white and blue. These are also two eligible colors to wear in the Olympics and other judo tournaments.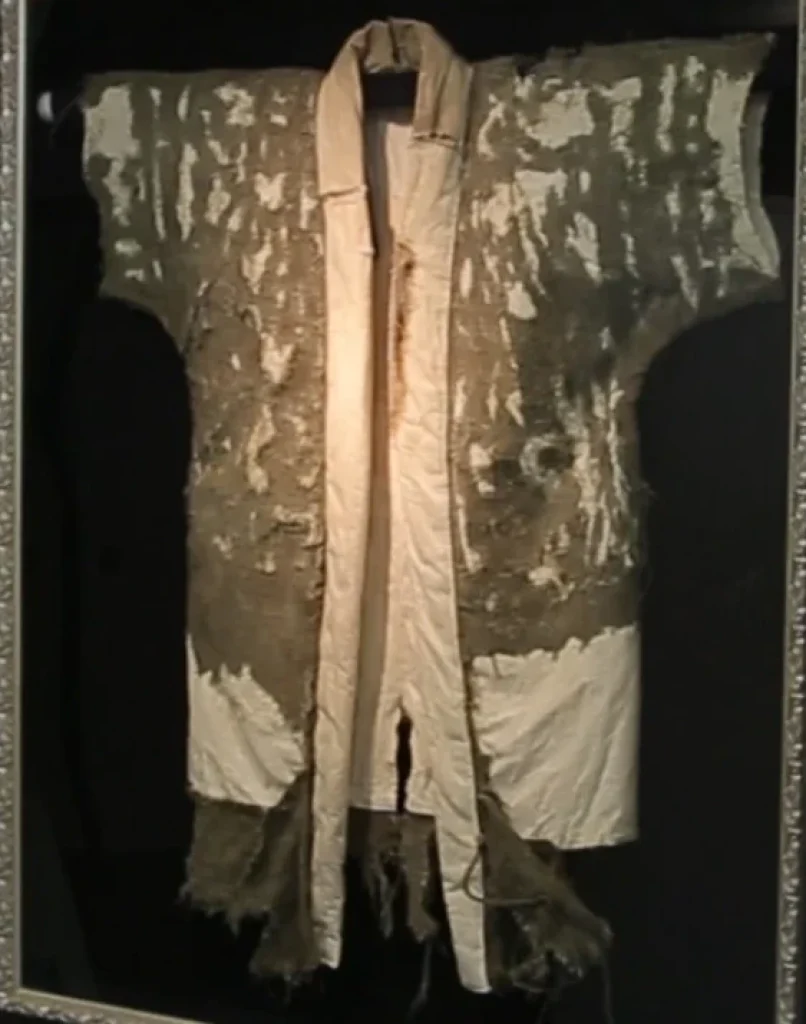 Museum exhibit of the old judo gi worn by sensei and judo founder Kano Jigoro.
Why are judo uniforms blue?
The first judo gi uniforms were handcrafted from unbleached cotton material. Later they were replaced with bleached white uniforms. Afterward, the blue color judo gi was added as the second allowed gi color. One of the main reasons for it was the necessity to distinguish the opponents in the tournaments.
Ask the judo coach in your dojo what color is preferable for training – white or blue. Most likely it will be white. White fits the most to the traditions of Japanese martial arts.
back to menu ↑
How much does a judo gi cost?
If you are an experienced martial artist you know, how different can be the price range for a training uniform. Also, the expensive segment of uniforms will already not surprise you as you understand, why is the price so high.
Another story is about newcomers to martial arts.
That is why we decided to make a small spoiler as a preparation for the judo gi cost before moving on to the main topic.
Judo uniform price
Judo gi is one of the most expensive martial arts uniforms. But luckily, thanks to competition in the market and the popularity of this sport, budget options are also available. The average price range for judo gi is from $60 to $250 and over.
back to menu ↑
Best Judo Gi Reddit Reviews
Anyone looking for a new judo gi may have different requests: a gi for competition, a regular training gi to replace an old one, an additional gi to rotate the training uniform or a budget gi for beginner judo classes.
But everyone would like to find a high quality judo gi as possible on a budget.
In our list of best judo gi Reddit reviews we have chosen the best picks to fit different budgets and criteria.
Those who strictly strive to buy high-quality judo gi should pay attention to the most well-known and established judo brands that meet IJF standards such as Mizuno, adidas, KuSakura, etc.
back to menu ↑
Best Judo gi over $200
#1 Sensei KuSakura judo gi
Sensei KuSakura bleached judo gi
100% cotton, super heavyweight 890 g/m². Sensei judogi by KuSakura is top selling judo uniform by this brand according to the reviews on the official site.
Kusakura 九櫻 Japanese brand is the oldest manufacturer of Budo uniforms (karate, judo, kendo, etc.). The history of the brand begins in 1918 and is a family-run business. Their quality check on the manufacturing is high.
KuSakura IJF competition judo gi:
KuSakura is an officially certified brand by the International Judo Federation since 2011. Also, they support a lot of different judo tournaments.
Sensei Master judo gi price on the official site is $159 for the jacket and about $100 for the pants which makes in total about $259 for the gi set.
#2 KuSakura Dojin Master judo gi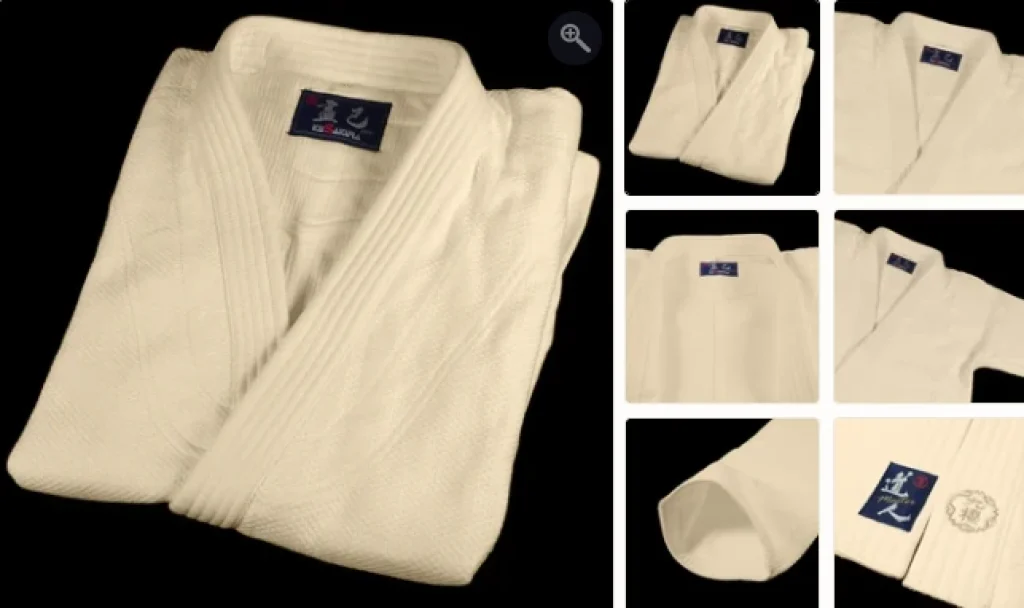 Unbleached KuSakura Dojin Master judo gi
100% cotton, super heavyweight 900 g/m².
The unbleached cotton of the gi refers to the roots of Budo uniforms when there were no bleached fabrics.
Dojin Master judo gi price on the official site is $362 for the jacket only and $100 for the pants which makes it in a total of $462 for the judogi set.
#3 Judo Gi Mizuno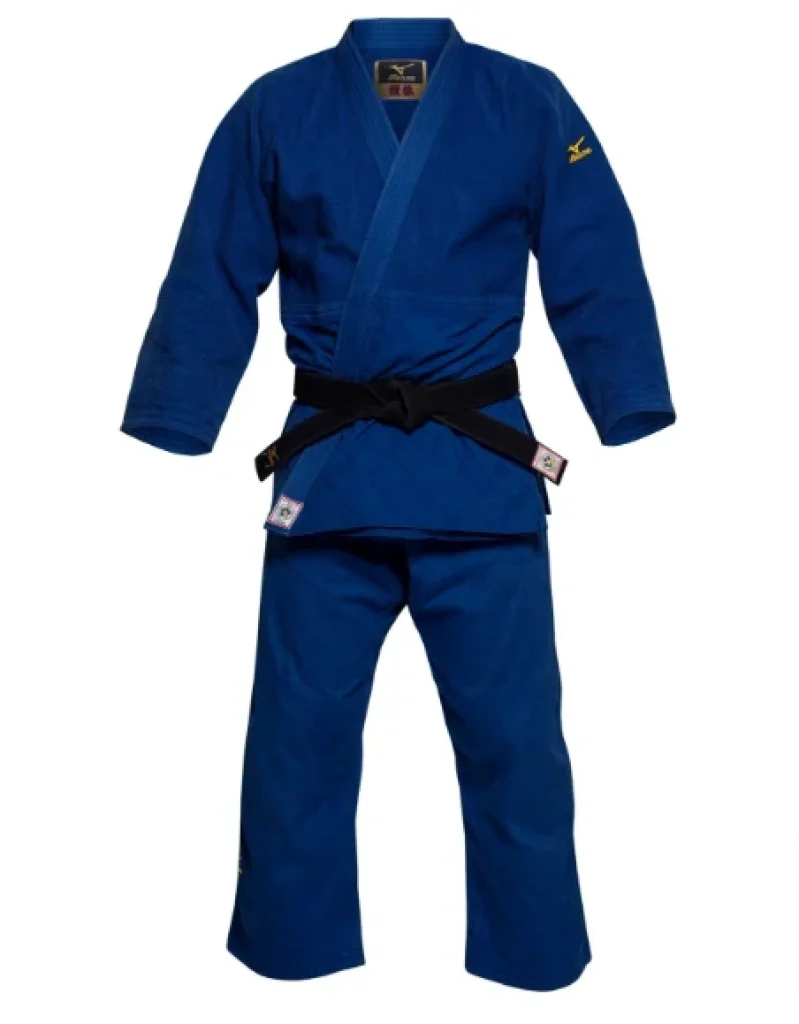 Mizuno IJF Yusho Gi
Mizuno is one of the first brands that comes to mind when you think about the judo uniform.
The Japanese manufacturer of high-quality sports gear was founded in 1906. Mizunois a Red Label IJF brand which means that judo gi by Mizuno is IJF approved. Also, Mizuno is often presented as the official gi of different judo teams.
Judo gi Mizuno belongs to the premium price segment (over $200). Nevertheless, there is also an affordable Mizuno all-purpose gi.
One of the best Mizuno judo gi for competitions is the Mizuno Yusho Comp Judo Gi in blue and white colors for the price of $229.
back to menu ↑
Best Judo gi over $100
#4 As always on the top gi brands list – the Fuji uniform
Meets the IJF rules
Fuji judo gi has collected the most voices among the Reddit community. Of course, all these voices could definitely have the KuSakura brand, if not the high price. Of course reasonable, but not affordable for many, especially as a judo beginner gi or another gi for the regular training routine.

Fuji double weave judo gi meets the IJF requirements and is a good fit for tournament events and for most other situations.

Fabric density: jacket 680 gsm, pants – 10 oz cotton twill material.
#5 Fighting Films Judo Gi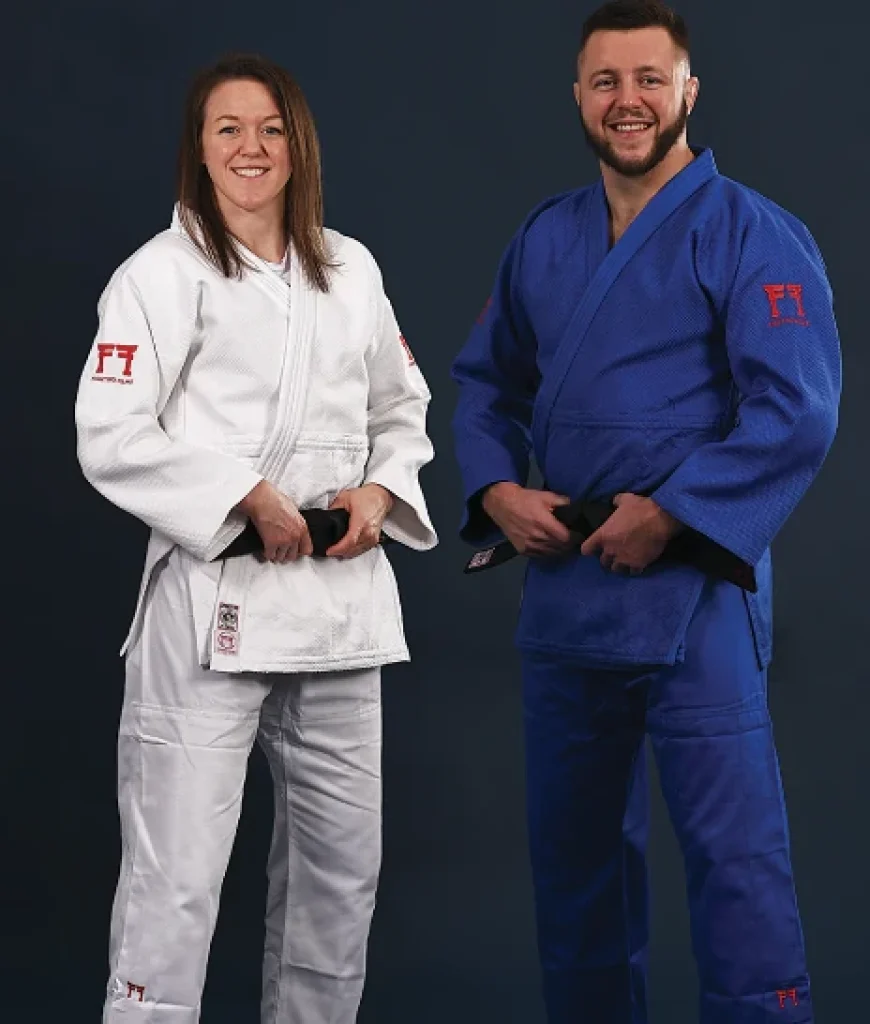 Fighting Films Superstar Gi 750 g
The British company Fighting Films was founded in 1988, but their first judo gi they launched in 1999.
Fighting Films Superstar Gi 750 g is IJF approved and is one of the best choices for competitive judokas.
Blended cotton material: 70% Cotton, 30% Polyester. Available in two colors – blue and white.
Price: $156.
back to menu ↑
Best Judo gi under $100
#6 And again Fuji
Top gi for judo beginner
Fuji brand was founded in 1969 and since that, it became a well-known and high-quality manufacturer among martial artists of different styles – judo, BJJ, and MMA.

Fuji single weave judo gi is the best choice for regular training and for judo beginners.

Compared to the double weave fabric type, the single weave is cooler and lighter during practice and dries faster.

Fabric: Blended cotton fabric. Soft premium Fuji material.
#7 All-Purpose Judo Gi Mizuno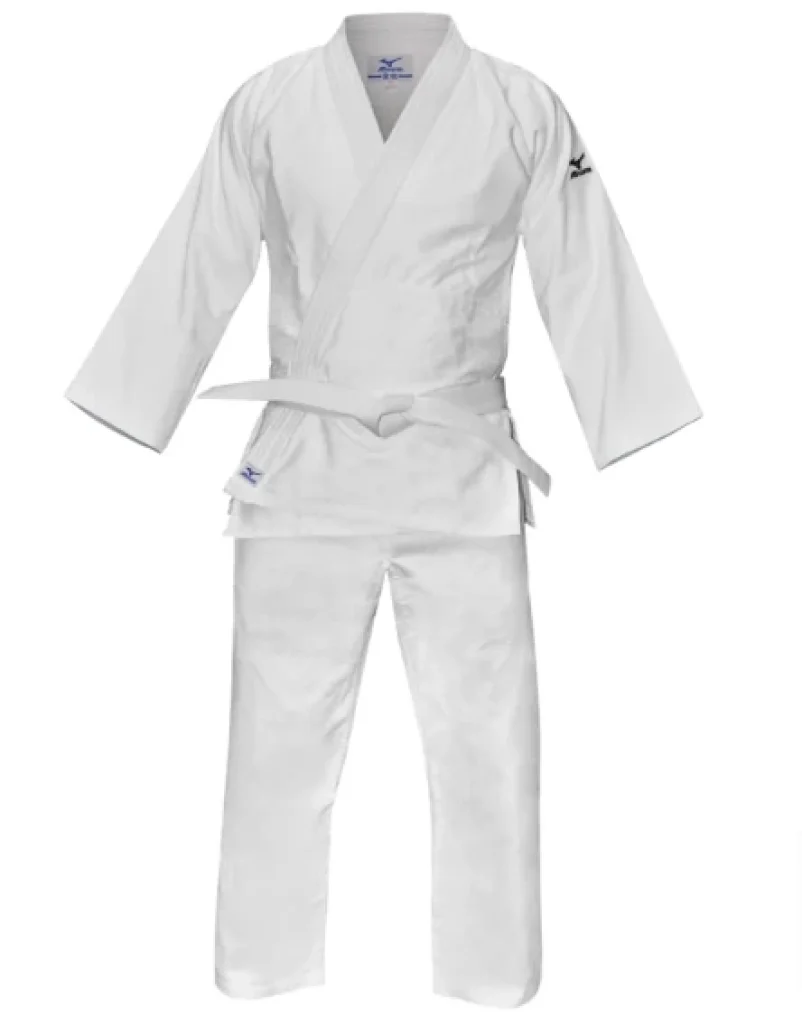 Mizuno Hayato Judo Gi
Mizuno judo gi price belongs to the premium price range. If you plan to have a Mizuno gi in your wardrobe, be prepared to spend $200 and over from your budget.
But. Luckily Mizuno brand understands the market needs correctly and offers also an all-purpose judo gi for an affordable budget of $79.
Mizuno Hayato Judo Gi is a great best judo gi for beginners and regular judo classes.
Characteristics: single weave, white belt included.
back to menu ↑
Best Judo Gi Reddit Reviews [Conclusion]
The presented here best judo gi list doesn't include a bunch of other solid judo brands. As mentioned at the beginning, this study follows the idea of finding out which judo brands are mostly recommended by the judo community on Reddit.
Of course, a lot of other well-known and less-known brands were also mentioned. But our goal was:
to keep the list as short as possible;
to give different price ranges: from premium to the best budget judo gi;
include to the list those brands which were mentioned the most times compared to others.
But we cannot avoid naming other participants of the Reddit discussion.
Here is a list of other judo gi brands worth paying attention to:
Fushida Icon judo gi
Ippon Gear Legend gi
Dax Moskito judo gi
Danrho
Green Hill
Tatami judogi
Matsuru
Lion
Dax Moskito Gi
back to menu ↑
Can I use BJJ gi for judo?
You may want to attend judo classes as an experienced martial artist in some other disciplines. For instance, in Brazilian jiu jitsu.
As an experienced martial art practitioner, especially in BJJ, you may know that the judo gi and BJJ gi are very similar. So you may wonder, whether you can use your BJJ gi for judo classes.
We have already talked here in detail about the judo vs BJJ gi differences.
Here is the short and needed answer:
Yes, you can use a BJJ gi for Judo training, but it's not legal in judo competitions, especially the Olympics, because they are not made to the same standards as Judo gi.

But the BJJ gis are made of the same type of fabric as the judo gis and in most cases, the density is sturdy enough to handle the techniques in judo like the judo throws and grips.

Also, some restrictions on wearing a BJJ gi may take place depending on the preferences in each judo school, as it is harder to make good grips on the tight-fitting BJJ gi. The best way is just to ask the judo coach at the gym.