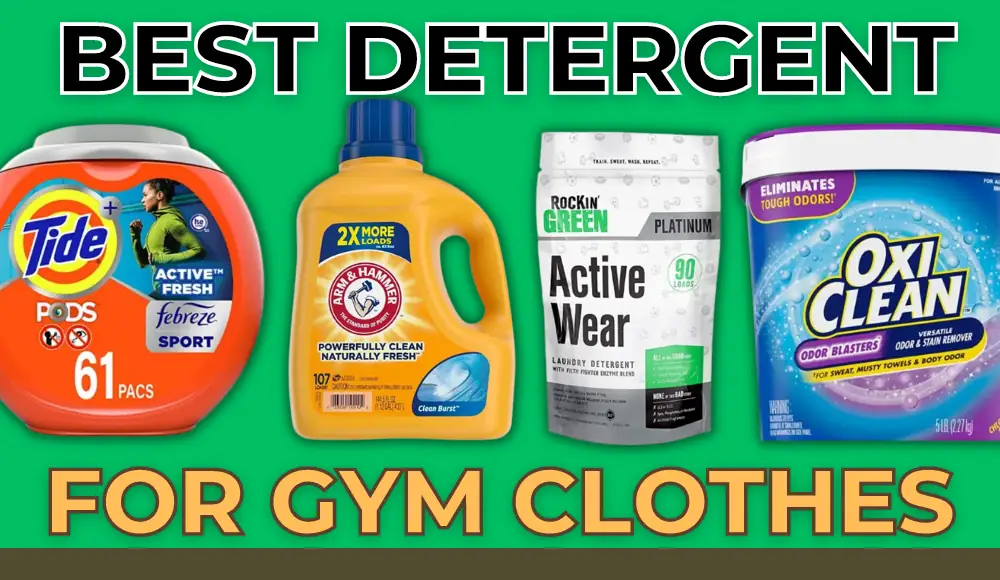 For martial artists, the gym is the second home. Especially if she or he combines the practice with strengthening workouts in the gym, jogging, etc. In this case, it's not just an everyday training schedule but also full baskets of sweaty and wet gym clothes at home. Body hygiene for athletes is important. So we decided to make research to define what are the best detergent for gym clothes Reddit picks.
This is not our first research on the best laundry detergent for active sportswear.
We already published our results about the best detergent for BJJ gi here.
Despite the fact that it's all about training clothing, washing a 100% cotton martial arts uniform (gi kimono) is quite different from the synthetic clothing used in most training. There are some differences to point out about the washing process
Best detergent for smelly clothes Reddit advice
We were curious to find out if there is a significant difference in what detergent to take for regular gym clothes and for specific martial arts training uniforms.
Also, we wanted to make this list of the best detergent for gym clothes so everyone can grab it if she or he is dealing with a sportswear detergent dilemma.
Why Reddit?
Because it's literally a storage of sharing knowledge and experience for any life issue.
Besides the best detergent for gym clothes Reddit picks we will share some most frequently asked questions about washing gym gear.
Best detergent for gym clothes Reddit picks
#1 OxiClean detergent
It is the best choice for any occasion and even for activewear washing according to our both research ceases on the best detergent for training clothing.
Chlorine-free
OxiClean stain remover is for sweaty gym clothes, smelly household stains, and musty towels. No fading.
#2 Tide Sport Detergent
You can't avoid it. Tide detergent is classic for any laundry situation, even for gym sports. Especially as there is a specifically formulated Tide Sport detergent for activewear with odor defense.
The classic pods
Sport Odor Defense technology. Phosphate Free. Dissolves in both hot and cold water.
#3 Rockin Green Activewear Detergent
Best choice for sports detergent
Rockin' Green activewear detergent reviews exposure it as a natural laundry gi washing powder and biodegradable odor fighter. For sensitive skin. Works on all types of fabric.
#4 OdoBan laundry detergent
Best choice for gym clothes
OdoBan professional odor eliminator for activwear. This detergent is one of the best choices among athletes and specifically jiu jitsu practitioners for many years.

OdoBan deals great with gi, spats, and BJJ rashguard smell. Follow the instructions.

Customer reviews: "Odoban is the best thing you can use. Kills smells, mildew, and most importantly staph."
#5 Hex detergent
Eco-Friendly
Fruity apple and citrus notes. For any water temperatures. Cleans tight-knit activewear. For all fabrics.
#6 Lysol laundry detergent without bleach
for sportswear
Lysol laundry sanitizer for sportswear. When used as directed, kills bacteria that other detergents leave behind. Works in cold water.
#7 Arm & Hammer laundry detergent
stain fighter
Concentrated liquid laundry detergent formulated to deal with odor and stains. Gives the clothing a crisp and just-washed fragrance.

For all washing temperatures. Ideal for cold water laundry loads.
back to menu ↑
Do you need special detergent for workout clothes?
Do you need sports detergent at all?
It depends.
In most cases, people with moderate training schedules wash gym clothes with their regular laundry detergent. And it's okay, it's enough. It's not always the case you need to spend extra money and time on special washing products.
Especially since more important is how you treat your gym clothes after a workout.
But for those for whom sport is a second breath and the training schedule is full, the attitude towards sports gear care acquires certain nuances.
Every athlete wants:
to make her or his favorite sportswear last as long as possible
to get rid of the stinky smell of clothes
To keep these optations real a combination of the right attitude to used gym clothes and the choice of washing detergent is the key.
back to menu ↑
How do you remove bacteria from gym clothes?
First of all, any person who cares about sports hygiene deserves a tight handshake.
For someone, it is so obvious. But unfortunately, not everyone understands the importance of proper care of sportswear.
Choosing a good detergent is not the first step in caring for your sweaty workout gear. Even more, you can avoid buying expensive and rare washing products if you follow the simple steps of caring for your after-gym routine.
The sweat from our body is the source of bacteria on clothes. The more sweat – the more spread of bacteria. The longer the bacteria stay on the clothes, the better they "bite" into the fibers and the harder it is to get rid of them.
Do not keep wet sweaty sports clothes wet for too long.
If you don't have the possibility to wash your gym clothes right after the workout, don't let them keep wet in your gym bag. Otherwise, the bacteria have a good environment for building up.
Put the clothes out, and let them dry.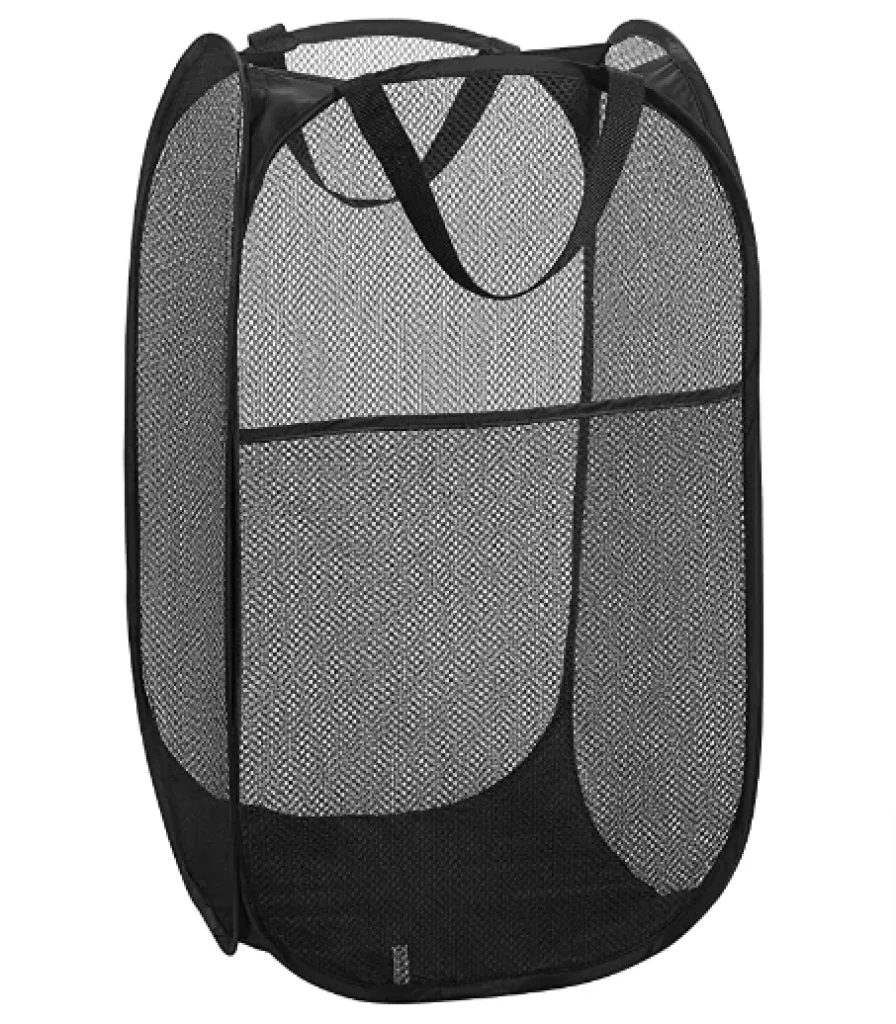 A good option is to use a handy popup laundry hamper.
These laundry net hampers are portable so you can throw them in a gym bag or your car. Also, they help to sort sweaty clothing from other clothes and stuff.
A cup of white vinegar helps struggeling the odors.
You may add white vinegar to your washer. We have talked about how to wash martial arts BJJ gi with vinegar here.
One of the ways to wash clothing with vinegar is: Add 3-4 tablespoons of vinegar into the washer. Wait until it fills with water. Stop the program and let the laundry soak for 30-60 min. Then turn the washing program back to finish it.
Turn the clothes inside out before washing them.
This simple action can help with:
better cleaning the inside of clothes from abundant secretions from the skin and coverings
keeping the printings on the clothes bright for a longer time
Wash gym clothes separately.
Avoid washing your sweaty gym clothes with garments not used for workouts, also towels, cotton items, and fleece. It's not only about spreading the sweat and odor from activewear clothing. Gym clothing, heavy denim or cotton materials, and fleece need good rinsing by themselves. Combining them together may need an additional rinsing circle.
Follow the instructions on the clothing labels.
The best way to keep your gym clothes in good condition for a longer time and remove bacteria properly is to follow the instructions from the manufacturer's labels.
Even more, some brands have official websites with blog posts where they share useful information such as how to wash clothes and gear of their brand.
Don't overload the washing machine.
Too much laundry in the washer negates the whole point of laundry. The laundry volume should be proportional to the washing capacity of your machine so the clothes have space to move inside and give the detergent to penetrate the fabrics.
This principle is especially important with synthetic fabrics which is mostly the case with gym clothing. Synthetics need really good rinsing.
Don't add too much detergent.
This point is in addition to the previous paragraph. If you add too much detergent, be prepared to make an additional rinsing circle to get rid of the detergent. Otherwise, the detergent remains can lead to more bacteria buildup.
Don't use softeners.
Laundry softeners may contain silicone or other contents which clog the pores of the fabric.
Air drying if possible.
If you have the opportunity, dry your clothes outside. Fresh air (oxygen) gives real freshness. Keep in mind to dry your clothing inside out to avoid fading.
back to menu ↑
Can you use OxiClean on workout clothes?
As already mentioned above in the list of the best detergents for gym clothes, OxiClean is picked the most times by people who do any sports.
When we did our research on this topic, we found that OxiClean customer reviews on Amazon and Reddit comments about OxiClean go back several years. Obviously, OxiClean company has gained enough expertise to deserve its loyalty. The brand has different products for laundry of different types. One of them is a detergent to remove sweat stains and odors from clothing, for instance, OxiClean Odor Blasters.
back to menu ↑
What detergent is best for Lululemon workout gear?
Lululemon is one of the trendiest yoga and activewear gear nowadays. Thousands of customers all over the world are satisfied owners of stylish and qualitative apparel.
Obviously and logically many of them have one thing in common – they worry about washing the Lululemon workout gear properly.
Lululemon gear belongs to the premium activewear segment. The desire to preserve its quality as long as possible is understandable.
Unfortunately, high-quality gear doesn't prevent your body from sweating. So, you will encounter the same bacteria and odor issue as with much other apparel.
The best and foremost way is to follow the washing instructions on Lululemon's gear labels. Very obvious advice, but the most effective and practical.
Don't summarize the washing instructions for all Lululemon items, but read the care labels for each product.
Lululemon gives care instructions on its official site. Here is the summary:
– Machine wash with cold water
– Air drying
– Lay flat to dry to save the gear shape
– Inside out washing
– Wash the gear with similar colored items
– Don't wash with abrasive garments, zippers, etc.
– Avoid softeners.