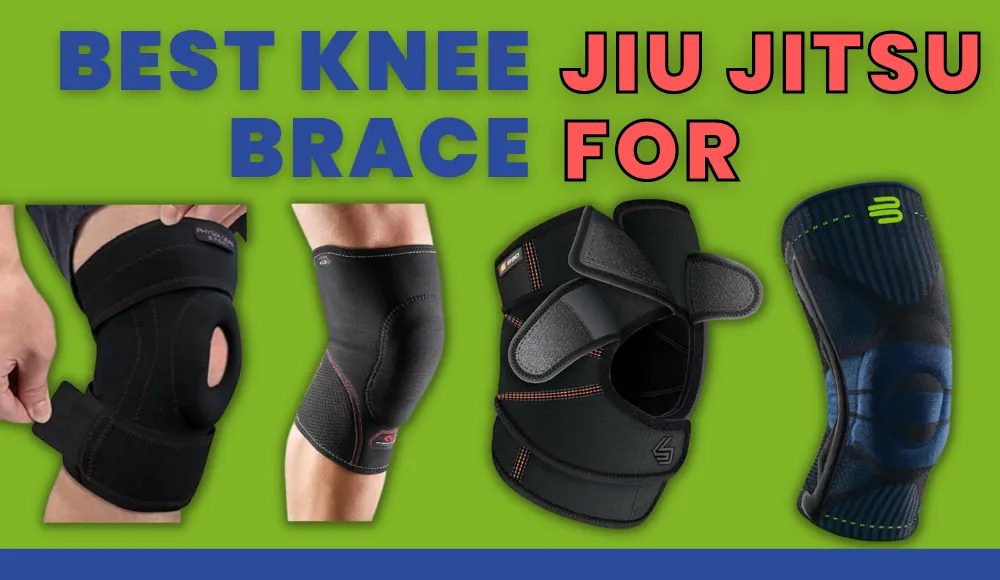 Every jiu jitsu practitioner experiences certain training issues at different stages of his or her BJJ life. At some point, it comes to the point to find out what is the best knee brace for jiu jitsu.
For a jiu jitsu beginner, it may sound terrifying. But not for an experienced practitioner. An experienced BJJ practitioner understands the mechanics already and consciously accepts that knee injury may happen – small or bigger – and it's something you will have to deal with.
Most likely, you are that one experienced practitioner who is on the way to finding out what are the best knee braces for BJJ today. Or a jiu jitsu white belt who also has made this "achievement" already.
Don't worry about the search.
We already made it. We made research on the internet and gathered information from the marketplaces, talkboards, and Reddit BJJ threads to make a list of the best knee braces for jiu jitsu.
Below you can see the results.
Table of content
What's better a knee brace or sleeve?
First things first.
Knee protection can be very different. And that is obvious because knee pain and kinds of injuries are very different.
Bad sensations in the knees can occur both as a result of simple aging and as a result of a serious injury that will require a rehabilitation process.
In each situation, the athlete should determine what knee support he or she needs – a hard one or a softer one.
Here you will face two main variants of knee support – knee sleeve or knee brace.
This is the first decision one will make before going further – finding the best knee brace or knee sleeve.
Is a knee sleeve a knee brace?
A knee sleeve can also be called a knee brace. But it doesn't actually happen in life as both names help to define two kinds of knee protection.
The difference between the two, in short, can be explained as follows:
The knee sleeve is used in most cases as a light version of soft knee protection to support weak knees during training – martial arts, running, tennis, yoga, etc.
The knee brace is used in situations with serious impact on knees, for instance, injury, and where hard and advanced knee joint and ligament support is needed.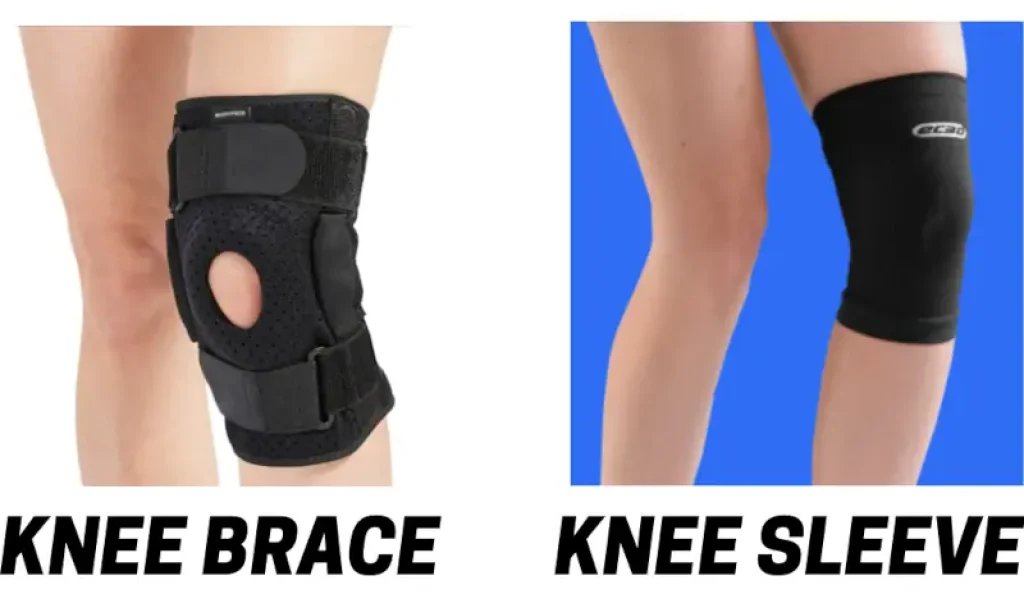 back to menu ↑
Can you wear knee sleeves in Jiu Jitsu?
Despite the fact that Brazilian jiu jitsu is one of the best martial arts for bad knees, it's still a combat style and knee injuries in BJJ are one of the common issues.
But even though knee injuries are quite common in BJJ, it doesn't stop most jiu-jitsu practitioners from continuing to train. On the contrary, for most athletes, it means only one – to find out what is the best knee brace for jiu jitsu to continue training. Or knee sleeve, depending on the situation.
So, yes, you can wear knee sleeves in jiu jitsu. Otherwise, it wouldn't be even logical not to wear it in a martial arts discipline where knees and joints are the main characters.
Can I wear a knee brace in jiu jitsu?
But pay attention not to use knee sleeves or braces with hard and sticking-out parts. It will hurt your partner. Especially it concerns knee braces as it is most common for their construction. Also, be prepared not to wear in competitions knee protectors that are too thick and don't allow the opponent to grip the gi properly.
back to menu ↑
Best knee brace for jiu jitsu
Best choice
#1 Bauerfeind knee brace review
We put Bauerfeind as the #1 because the BJJ community on Reddit recommends this knee sleeves and braces brand in every thread many times.
Be prepared to see a high price, but as explained – it is worth the money and "better to spend it for a knee brace that works instead of for surgery".
One of the advantages of the Bauerfeind knee brace is that you can wear it while jiu jitsu rolling. It stays in place great and is not too thick to fit easily under the gi pants.
Made in Germany
Bauerfeind knee brace has optimal knee support with freedom of movement and medical grade compression. For secure knee feeling during the activity and being functional at the same time.
6 different sizes are available. Pay attention to the sizing chart.
Durable and easy to wash.
What is Bauerfeind Genutrain knee support?
If for someone a misalignment of the kneecap is the case, it is worth paying attention to
Bauerfeind Genutrain P3
knee brace as it is constructed specifically for treating and preventing this kind of syndrome.
#2 Shock Doctor Knee Brace Wrap
This Shock Doctor knee brace can be used during jiu jitsu training if it fits under the gi pants, as it has no metal or hard parts.
No metal parts
Shock Doctor brand is well-known for its protection products for sports and martial arts. The knee brace wrap by Shock Doctor is a good option to wear for wrestling contact sports such as jiu jitsu.
It has no metal or hard parts so you can wear this knee brace during jiu jitsu practice if it fits under the gi pants.
4 different sizes are available.
Lightweight and flexible material. Very compact design. Not bulky.
If you want advanced and hard knee brace support, check out the
Shock Doctor 870 Knee Brace
with aluminum side inserts.
#3 Mcdavid 410 knee pad with Sorbothane insert
In fact, Mcdavid is a knee sleeve. But as it has a solid gel knee insert, we decided to add it to our list. As we mentioned earlier, "knee situations" vary and for someone, this knee sleeve can be a top-notch variant.
Mcdavid 410 knee pads have gel padding on the knee area which absorbs the shock from knee slides and knee spins very well. It allows for keeping the knees in good shape and train a long time.
Knee sleeve
McDavid knee pad has a thick gel insert which helps with impact absorption to protect the knee.
This knee sleeve creates a needed compression around the knee joint so the athlete has more mobile safety.
McDavid Knee Pad is constructed foremost for wrestlers and other sports activities with a high impact on knee joints.
4 different sizes are available.
Fits well for kicking support when doing
taekwondo
,
Muay Thai,
etc.
#4 Physix Knee Brace with Side Stabilizers
Physix Knee Brace is budget-friendly knee support.
Cheap knee brace
4 different sizes are available. Over 1400 customer reviews on Amazon. Material: neoprene and nylon.

Physix Knee brace has side stabilizers, so pay attention to keep your training partner safe. Better to cover it under the gi pants or use a knee brace without hard metal parts.

Three straps allow adjusting the knee brace around the knee to a comfort level. Stays in place if the size is fited correctly.
back to menu ↑
Can you wear a knee brace in MMA?
You can wear a knee brace during your regular MMA practice. But if you have sparring, better choose a safely constructed knee brace to not hurt your sparring partner or yourself.
As for the sparring matches, knee braces must be used or not according to the official event rules.
According to the official ABC (Association of Boxing Commissions and Combative Sports) rules, neoprene knee and ankle sleeves are allowed to be worn.
There is no information regarding the knee braces. But the clarification on knee sleeves gives the understanding that knee braces are not allowed to be worn unless they meet the knee sleeves requirements.
"A competitor may use soft neoprene type sleeves to cover only the knee and/or ankle joints. Approved sleeves may not have: padding, Velcro, plastic, metal, ties or any other material considered to be unsafe or that may create an unfair advantage. Tape, gauze or any materials other than the approved sleeves are not permitted on the lower body".