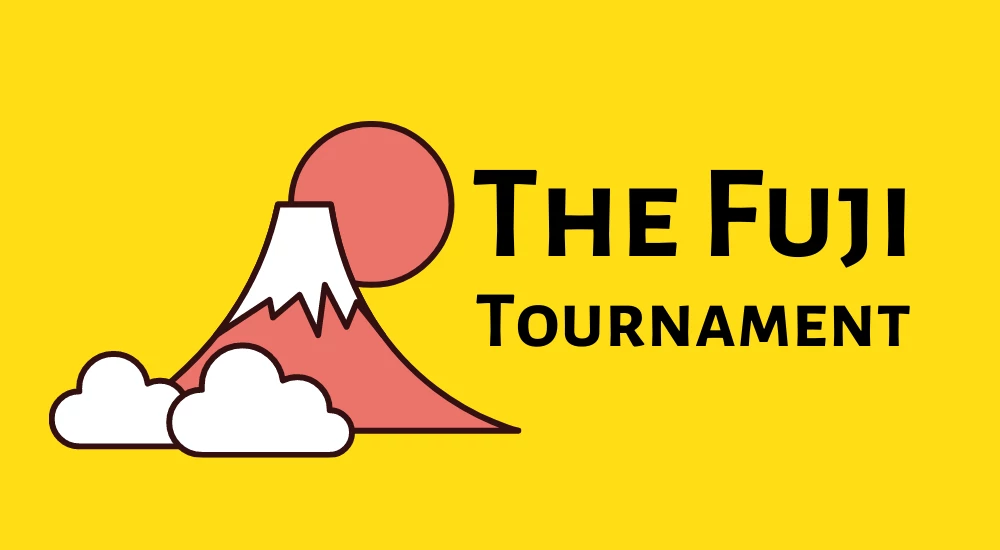 Brazilian jiu jitsu is not only about sports, life and body transformation, fun, and community. It's also about the competition in tournaments. And talking about BJJ tournaments we understand professionally held events throughout the world. One of these events is the Fuji BJJ tournament.
Of course, it's not the level of the biggest sports games in the world – the Olympic games. But the quality and scope of the biggest jiu jitsu competitions are always at a high level. Some tournaments are held for 4-7 days in a row.
Is jiu jitsu in the Olympics?
Brazilian jiu jitsu is not on the Olympic sports list. Although, disputes over the Brazilian jiu jitsu Olympics question are not the first year, and will see what it will bring in the next years.
Combat Sports in the Olympics are presented with boxing, judo, karate, wrestling, and taekwondo.

back to menu ↑
Why is BJJ not in the Olympics?
One of the explanations in short form can be, that Brazilian jiu jitsu is a "practitioner sport, not a viewer sport".
The thoughts about the "BJJ in the Olympics" question shares Robert Drysdale.
Robert Drysdale is a BJJ black belt under Leo Vieira and a former MMA fighter.
Born October 5, 1981, in the US to a Brazilian mother and American father.
Regarded by BJJ Heroes as "the most accomplished American Grappler of his generation".
Currently, Drysdale is running his own BJJ academy
back to menu ↑
What is the best BJJ tournament?
Brazilian jiu jitsu history counts almost a hundred years of its existence as a formed combat martial art. Throughout its all way, BJJ claimed itself as a competitive combat sports discipline. We all know the legendary Helio Gracie vs Kimura Masahiko match that took place in the early 50th of the last century.
Today, the contemporary Jiu Jitu community presents tournament stages at a high level across the world.
Among the countless local competitions, there are the biggest and most prestigious jiu jitsu tournaments in the world.
Which BJJ tournament is most prestigious? Let's count the most popular. These are events, that BJJ athletes from different jiu jitsu schools from over the world strive to attend:
IBJJF World Championship
European IBJJF Jiu-Jitsu Championship
Pan Jiu Jitsu (IBJJF)
Abu Dhabi Combat Challange (ADCC)
Polaris Pro Grappling
Abu Dhabi Jiu Jitsu Pro (AJP)
Fuji BJJ Tournaments
Jiu Jitsu World League (JJWL)
Asian Jiu Jitsu Championship (IBJJF)
Also to mention is the WNO Championship by Flograppling.
This list can be extended with even more jiu jitsu sports events. But these are unambiguously those you hear the most often.
In the list, you can find the Fuji BJJ Tournaments. If you are quite new to the Brazilian jiu jitsu life you may wonder, what does the BJJ gi brand have to do with a professional tournament event?
back to menu ↑
What is FujiBJJ Tournaments?
The Fuji company is structured into three main units:
FUJI BJJ
FUJI Sports (also Hatashita Sports)
FUJI Mats
Fuji Sports and Fuji Mats manage the trading and manufacturing facilities of judo, MMA, and jiu jitsu uniform and gear stores.
Fuji BJJ is the tournament series of Jiu Jitsu Championships that was founded by the legendary Royler Gracie and JW Wright.
Royler Gracie is jiu jitsu black belt from the Gracie Family, a submission wrestler, and a former MMA fighter. He is the son of Helio Gracie.
JW Wright is a Pan American Champion, 4th-degree jiu jitsu black belt under Royler Gracie. He is the head instructor at Gracie Humaita Jiu Jitsu school in St. Louis. JW Wright has been hosting jiu jitsu events for over 15 years.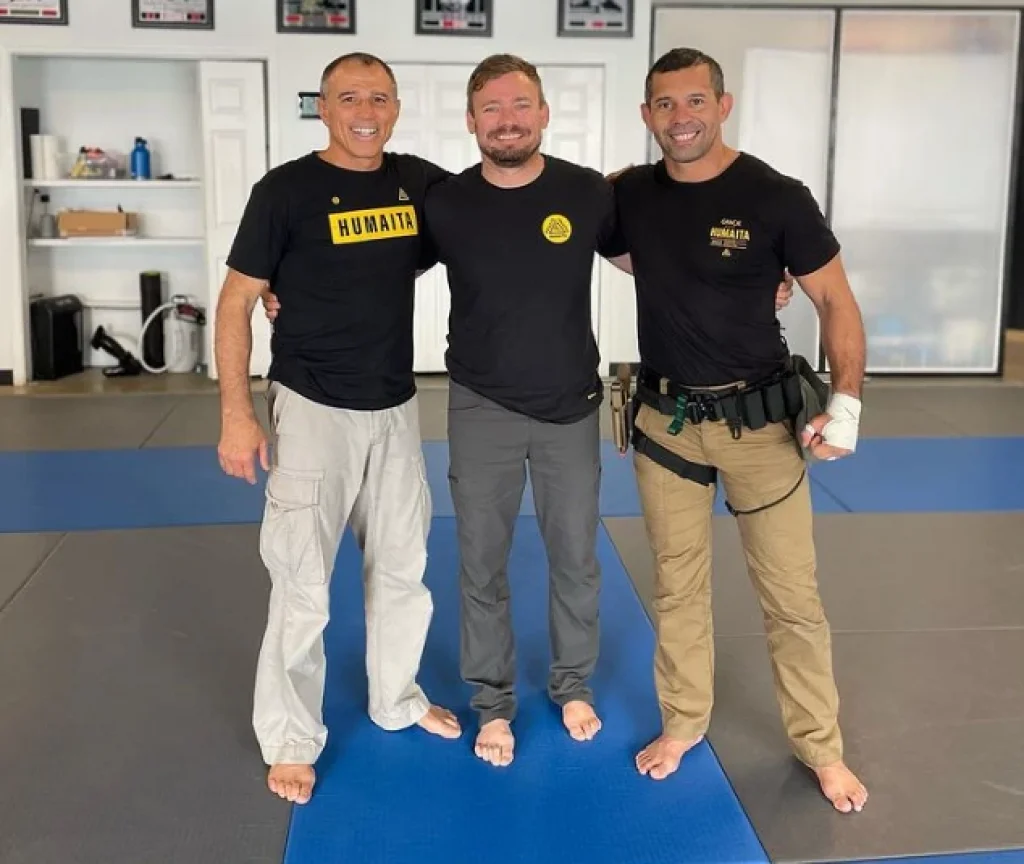 Fuji BJJ tournament is a nationwide event and currently has ten regions throughout the United States. Jiu Jitsu practitioners not only from the US can take part in the Fuji tournaments.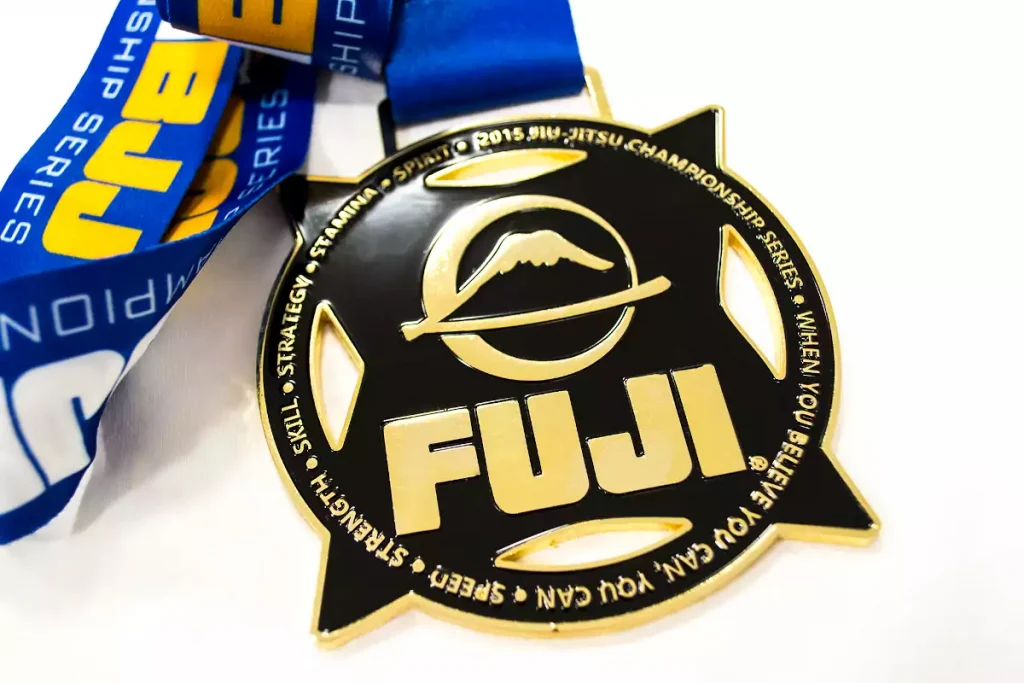 back to menu ↑
Fuji BJJ Tournament Rules
Like any professional tournament organization, Fuji Jiu Jitsu Championship has its tournament rules. Here are the general event rules.
Matches can be won by:
submission
points
referee decision
forfeiture of the match
disqualification
competitor's injury
The scoring is determined by the point system from 2 to 4 points for each specific technique or position – takedown, sweep, knee on the belly, guard pass, mount, etc.
Advantage points are not awarded in the Fuji BJJ tournaments.
Legal and illegal jiu jitsu techniques according to all divisions: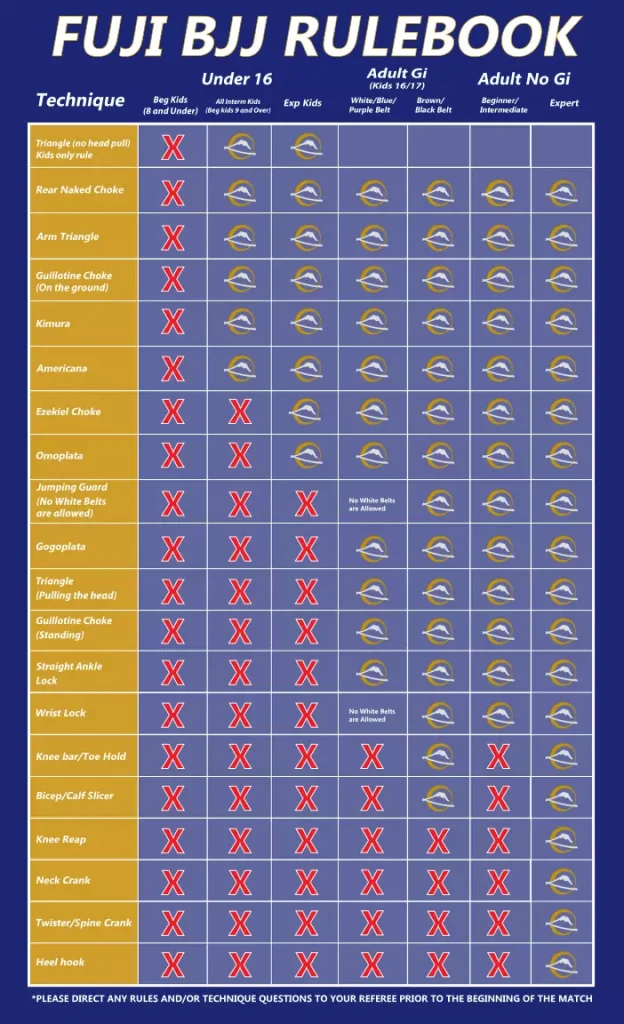 back to menu ↑
Fuji BJJ weight classes
The Fuji BJJ tournament weight classes are divided into age, men, women, children, and teens. Competitors are not required to wear a gi uniform when weighing in. Competitors will be not disqualified for missing the weight class they registered for. More details on the weight categories can be found on the site.
back to menu ↑
How long are Fuji BJJ matches?
The FujiBJJ match length, for instance for the white belt division lasts for five minutes.
back to menu ↑
What color gi can I wear in Fuji BJJ tournaments?
According to the information on the official FujiBJJ site, it is not required a white or blue gi, but these colors are preferred to be worn. An unusual jiu jitsu gi color is not prohibited, but common sense is expected. It is required that the gi fit properly and has no rips, tears, etc.
One of the benefits of the FujiBJJ competition event is that you can buy even a gi for your matches right on the place, so to say. Because Fuji, as known, is a manufacturer and brand name for the famous BJJ gis.
back to menu ↑
How much is the Fuji BJJ tournament?
Prices may vary by event and by region. The cost is about $95-$115. The spectator pass fee is $15.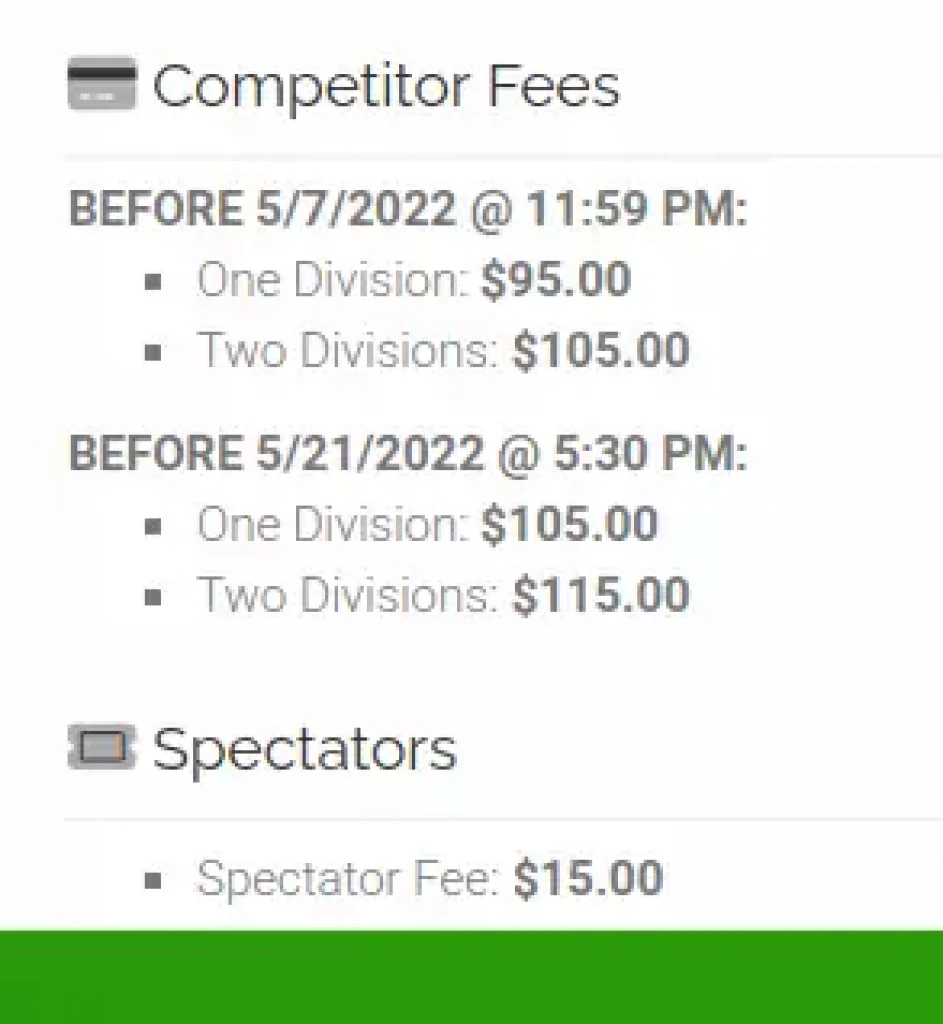 back to menu ↑
Is Fuji a good gi brand?
Fuji kimonos for BJJ and judo are presented under Fuji Sports brand. Fuji gis are one of the most popular among students in jiu jitsu schools worldwide.
A lot of us didn't even exist when Fuji started to make uniforms. Fuji Sports was established in 1969.
The company's team is professionals in judo and BJJ martial arts. For instance, the founder of the company – Minoru "Frank" Hatashita – was the vice-president of the International Judo Federation, and president of the Pan American Judo Federation. Among these positions, he was an IJF referee and owner of many dojo and affiliates.
You can find the Fuji uniform and gear also under the brand name Hatashita Sports.
Experts in what they do can definitely create and lead a good quality brand. Nevertheless, the best indicator is always the praxis and what people say.
Fuji kimonos have over a thousand reviews only on Amazon.
back to menu ↑
What is the best jiu jitsu gi by Fuji BJJ brand?
Over the long years, the Fuji brand has acquired its fan base and today takes confidently its place among the best jiu jitsu gi brands.
We recommend also to read our big research Best BJJ Gi Reddit Reviews – 13 Top Gi Brands Ever, where you can find out what place takes the Fuji BJJ gi.
We made some research and singled out a shortlist of the best Fuji kimonos for BJJ training and competition. The data relies on the most popular searches and purchases by people.
100% cotton
350 g pearl weave. Jiu Jitsu Fuji kimono is made with FUJI's premium 350 gram fabric. Triple-reinforced ripstop pants. This Fuji jiu jitsu gi is IBJJF, NABJJF, UAEJJF approved.
Positive
350 g pearl weave fabric
IBJJF, NABJJF, UAEJJF approved
Ripstop pants
White, blue, and black colors
over 1500 reviews
550 g traditional weave. The best selling and most trusted Fuji Gi kimono. Cotton twill pants. Presented on the market for many years.
Positive
Minimal decorations 
Best selling by Fuji brand for years
The popular navy color is allowed for competitions
White, blue, and black colors
Negatives
550 g weave is havier and should be taken into consideration for weigh-in on tournaments
Lightweight gi
350 g pearl weave. Approved for IBJJF, NABJJF, UAEJJF and by jiu jitsu legends like Xande Ribeiro. Rip-stop pants. Fuji jiu jitsu gi with contrast stitching on jacket and pants.
Positive
350 g pearl weave fabric 
Rip-Stop pants
IBJJF, NABJJF, UAEJJF approved
White, blue, and black colors
100% Cotton
Pearl weave. Fuji premium weave Jiu Jitsu gi belt from premium pearl weave fabric. It is claimed to be made to stay secured just where it is tied. Fuji BJJ gi size chart from A0 to A6
Positive
Pearl weave fabric 
It is claimed to be made to stay secured just where it is tied
IBJJF, NABJJF, UAEJJF approved
Size chart from A0 to A6
back to menu ↑
Video: My White Belt Gi Fuji BJJ Tournament with comments
One of the competitors in the white belt division shares his matches video from the Fuji BJJ Tournament. He gives comments on each match and shares his experience.