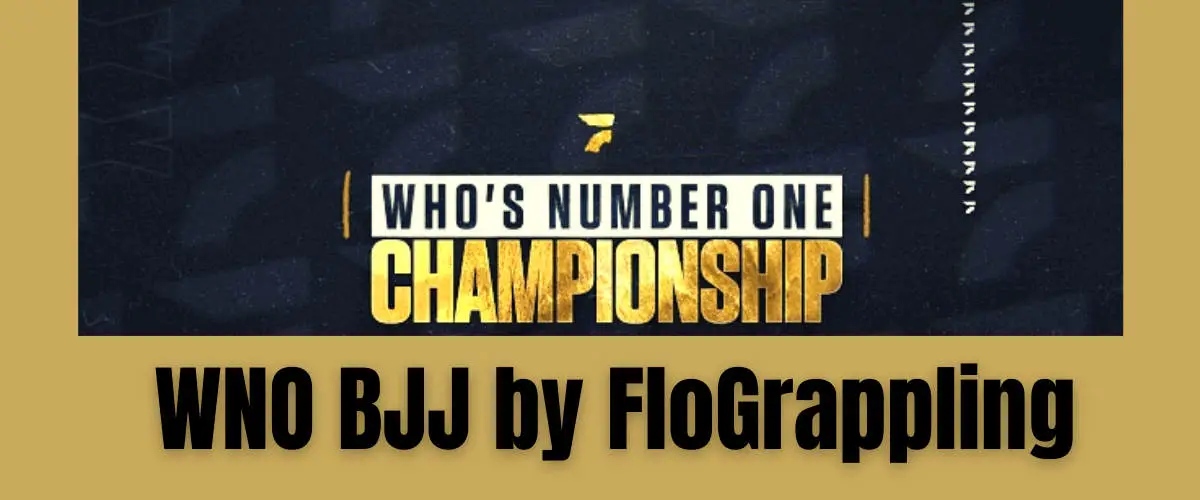 The WNO BJJ event – Flograppling WNO championship – is getting popular. This show is becoming popular for no gi jiu jitsu mainly.
It has plenty of support from big references such as Joe Rogan, Lex Friedman, and Alex Jones. As known and just to remind Joe Rogan is a no gi BJJ black belt under Eddie Bravo (10th Planet Jiu-Jitsu).
WNO – Who is the best?
WNO means Who's Number 1 and is Flograppling's fight event.
Flograppling has its jiu jitsu rankings results for different divisions like no gi or male black belt gi rankings, etc. starting from 2019. You will find there a lot of prominent Brazilian jiu jitsu fighters and grappling names – Gordon Ryan, Roberto Satoshi Souza, Craig Jones, etc.
For instance, here are the 2022 FloGrappling female black belt gi rankings: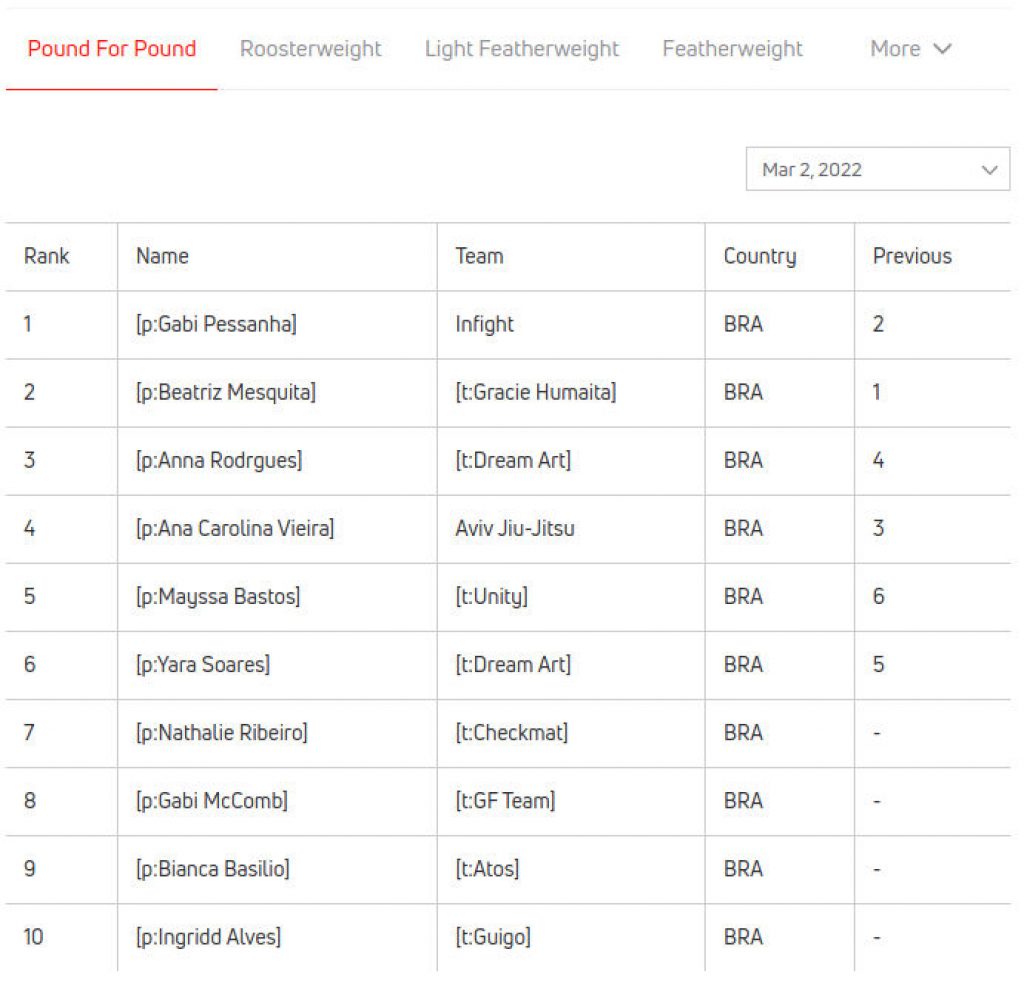 Earlier we have shared the 3 minutes WNO submission by Danielle Kelly BJJ female fighter.
back to menu ↑
How much do WNO athletes earn?
The fighting fan community always tends to know, how much money you can earn from training jiu jitsu, MMA, grappling and etc. WNO athletes are not an exception. BJJ Reddit subscribers share their opinions:
"They don't release the numbers because it gives a promoter more negotiation power, the only people who know are people who are on the same team or who have mutual managers."

"Probably ranging from a thousand to a few grand depending on where you're at on the card."

"Andrew Wiltse an elite black belt got paid for 2k. A lot of the blues and purples get pay a percentages of the tickets they sell so not much."
According to the information on the 2021 WNO Championship page, the event had more than $250,000 in total prizes.
The winner of placing 3rd was fighting for a $7 500 prize, the champion took home $30 000, and the 2nd place was granted $15 000.
back to menu ↑
Who is #1 in BJJ According to IBJJF Rankings?
The up-to-date 2022-2023 IBJJF rankings data reveals to us, who does Brazilian jiu-jitsu the best.
Here are the top 10 best male BJJ black belts gi devision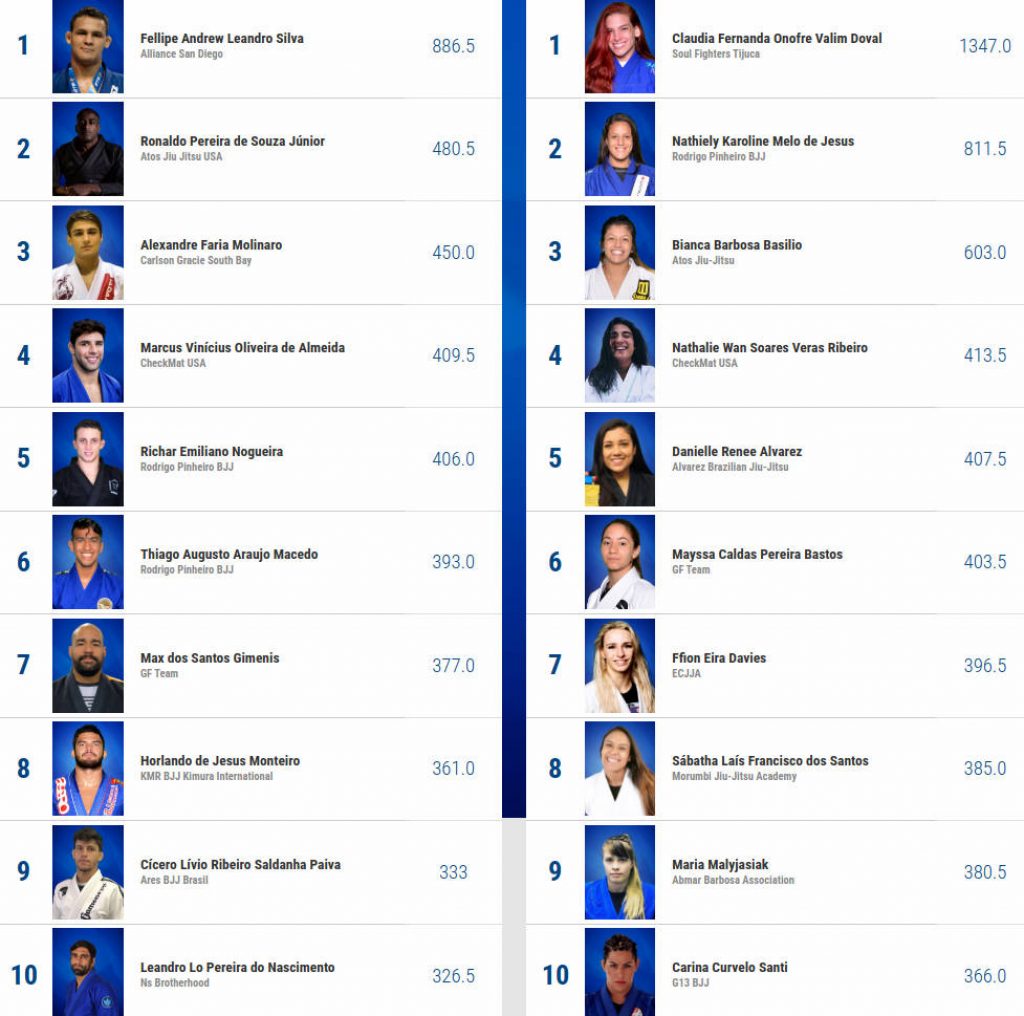 back to menu ↑
IBJJF Male Adult Black Belts Rankings
1
Fellipe Andrew Leandro Silva
Alliance San Diego
819.0
2
Ronaldo Pereira de Souza Júnior
Atos Jiu Jitsu USA
453.5
3
Alexandre Faria Molinaro
Carlson Gracie South Bay
429.0
4
Marcus Vinícius Oliveira de Almeida
CheckMat USA
409.5
5
Thiago Augusto Araujo Macedo
Rodrigo Pinheiro BJJ
393.0
6
Richar Emiliano Nogueira
Rodrigo Pinheiro BJJ
379.0
7
Horlando de Jesus Monteiro
KMR BJJ Kimura International
361.0
8
Max dos Santos Gimenis
GF Team
354.5
9
Leandro Lo Pereira do Nascimento
Ns Brotherhood
326.5
10
Eldar Rafigaev
Jungle BJJ
325.5
back to menu ↑
Top 10 female black belts gi division in IBJJF
1
Claudia Fernanda Onofre Valim Doval
Soul Fighters Tijuca
1347.0
2
Nathiely Karoline Melo de Jesus
Rodrigo Pinheiro BJJ
811.5
3
Bianca Barbosa Basilio
Atos Jiu-Jitsu
603.0
4
Nathalie Wan Soares Veras Ribeiro
CheckMat USA
413.5
5
Danielle Renee Alvarez
Alvarez Brazilian Jiu-Jitsu
407.5
6
Mayssa Caldas Pereira Bastos
GF Team
403.5
7
Ffion Eira Davies
ECJJA
396.5
8
Sábatha Laís Francisco dos Santos
Morumbi Jiu-Jitsu Academy
385.0
9
Maria Malyjasiak
Abmar Barbosa Association
380.5
10
Carina Curvelo Santi
G13 BJJ
366.0
Check other our posts about Brazilian jiu-jitsu fighters and MMA athletes.