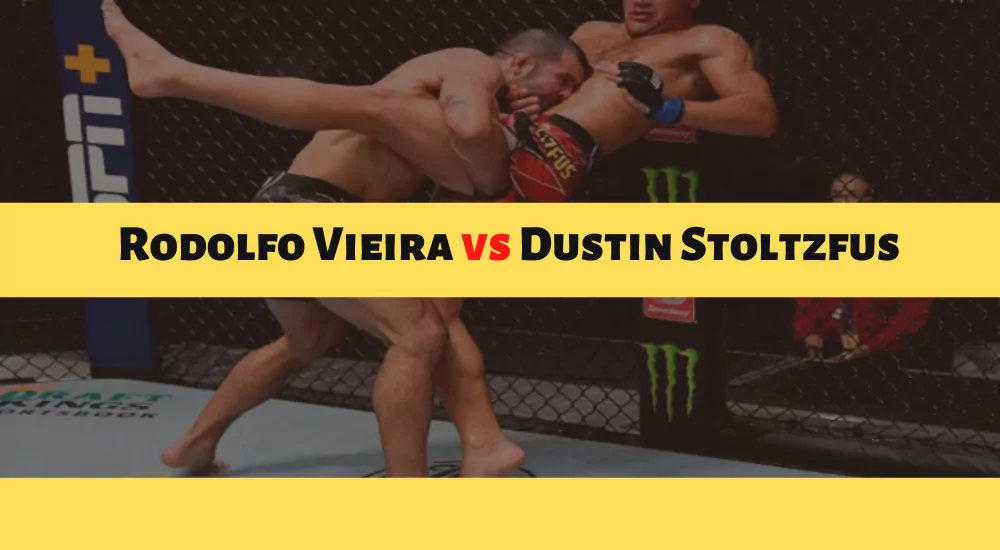 Rodolfo Vieira is a signed UFC fighter since 2019. Since then he has distinguished himself in the octagon with successful results.
One of his fights was the Rodolfo Vieira vs Dustin Stoltzfus UFC on ESPN 26 fight event on July 17, 2021, in Las Vegas.
Rodolfo Vieira submitted Dustin Stoltzfus with the rear-naked choke technique. The fighters were performing in the middleweight UFC weight class (170-185 lb or 77.1-83.9 kg).
Table of content
Dustin Stoltzfus vs Rodolfo Vieira Full Fight Video
back to menu ↑
How much is a Performance of the Night bonus UFC?
Fighters, who received $50 000 bonus awards of the UFC on ESPN 26:
Billy Quarantillo vs. Gabriel Benitez with the Fight of the Night
Miesha Tate, Mateusz Gamrot, Rodolfo Vieira, and Rodrigo Nascimento got their bonuses for the Performance of the Night
back to menu ↑
Rodolfo Vieira BJJ background
Rodolfo Vieira is a BJJ black belt under Julio Pereira and UFC fighter who made outstanding achievements already in his 20s.
Just look at these facts.
Rodolfo was born in Brazil in 1989. He started to train jiu jitsu at 13, which is actually a bit too late for a Brazilian.
Despite this, he won the World Cup Abu Dhabi Championship 2009 in the mixed brown and black belts division being a brown belt at that time. His opponent was the legendary black belt and world champion Braulio Estima from the Gracie Barra team. After this episode, Rodolfo got the nickname "The Black Belt Hunter".
back to menu ↑
Rodolfo Vieira vs Braulio Estima
Full Fight at World Cup 2009 in Abu Dhabi
They met later again at the Metamoris 2 jiu jitsu match in 2013, where after 20 minutes of fight the judges gave the victory to Vieira.
Vieira is a multiple champion of Brazilian jiu jitsu tournaments.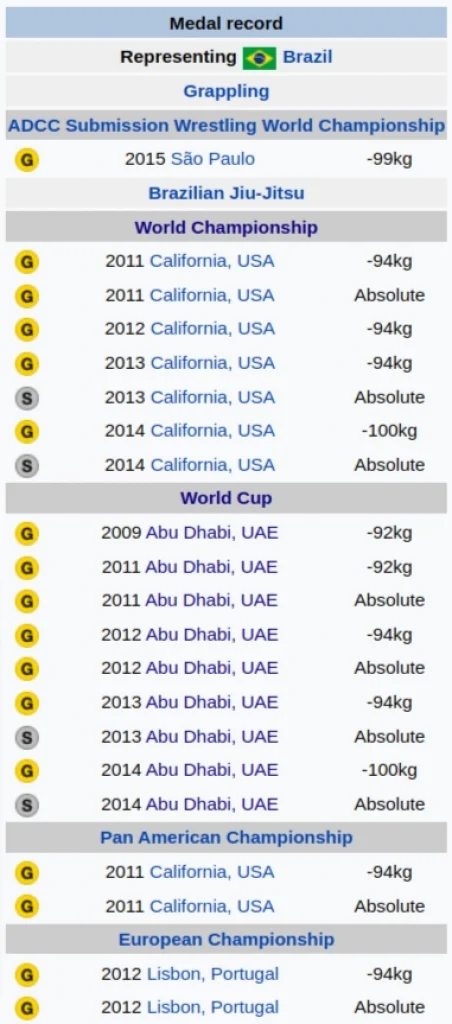 back to menu ↑
Rodolfo Vieira Data
Vieira's Instagram has over 330 K followers.
Rodolfo Vieira record in MMA: 8-1 -0
Height 5'11 or 180 cm
Weight 185 lbs or 84 kg