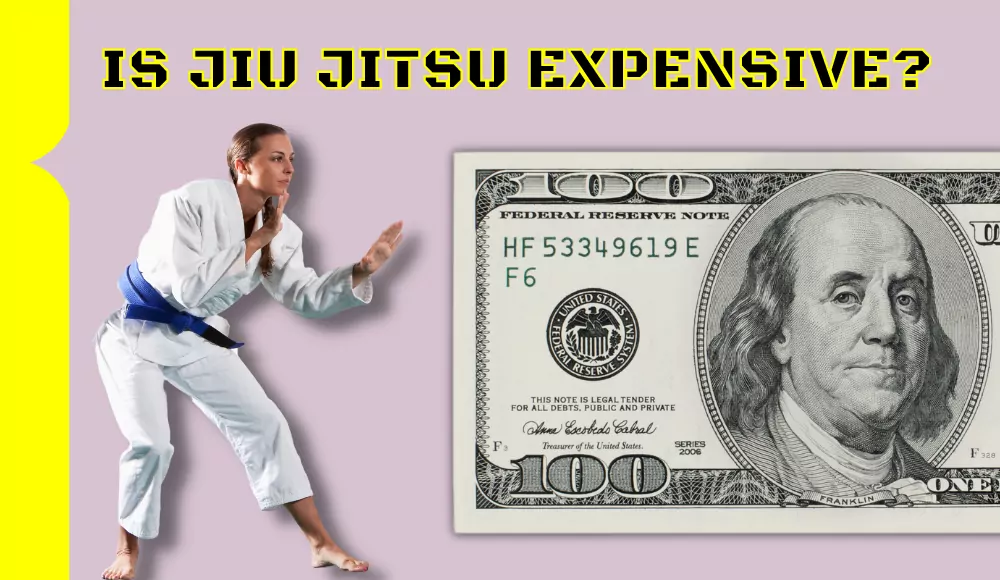 Is Jiu Jitsu Expensive? and Why is BJJ so expensive? are two questions with different intent. But we will discuss and answer both of them as the context is very closely related together.
Let's see what is the cost of BJJ per month and is it really expensive in fact? Or maybe not?
Table of content
Is Jiu Jitsu Expensive in fact?
I see the question Why does BJJ cost so much? for a long time already. So it means this question arises permanently.
This time I decided to look deeply into it and even write this article to dot the i's and cross the t's.
Spoiler: I don't think jiu jitsu is expensive.
I train jiu jitsu for over seven years already and I never felt it for me like something I can barely afford it. And no, I don't have a six-figure salary.
Like all ordinary people, I started Brazilian jiu jitsu on a regular basis as a sports hobby, and like an adult normal person, I calculated my new monthly expenses for my budget. That is in fact an ordinary issue everyone deals with when you don't just live a home-office-home life.
Are there sports cheaper than jiu jitsu? Yes. But even this is very relative.
Are there sports more expensive than jiu jitsu? Definitely.
For example, do you know how much cost hockey equipment? $181 on average only for the hockey stick. And you still need to buy other basic equipment: a helmet, protective gear, apparel, gloves, skates, etc.
And you will definitely need to buy a big bag to carry all the equipment.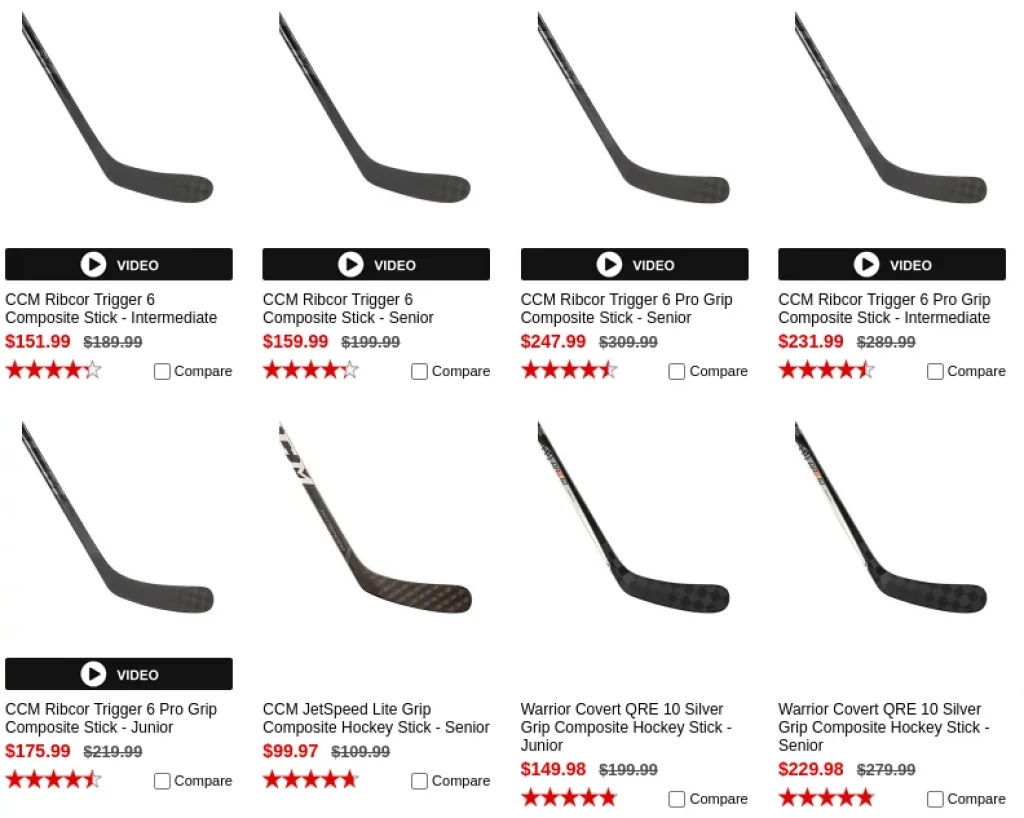 And how much does a jiu jitsu gi cost?
On average $85-$100 for a good quality brand BJJ gi like the Fuji All Around gi. Or you can buy a cheap BJJ gi for about $45-$50 with a gi belt included and this gi will last you for 1-2 years or even longer.
Brazilian jiu jitsu equipment, especially the kimono uniform, needs also a roomy bag. But as experience shows, not necessarily – you can take your regular outdoor or gym backpack.
back to menu ↑
Why does jiu jitsu cost so much?
Is jiu jitsu expensive? Are there martial arts more affordable than BJJ?
If talking about nowadays, I would say no. Modern life has made us big consumers and we like to spend money. There are so many comfortable sports products you definitely need:
supplements and vitamins for every cell of your body
shower gel and antibacterial vegan soap for athletes
water bottles, shakers, and coffee mugs
backpack for clean clothing and bag for wet stuff
microfiber towels of different sizes
etc.
And all this without mentioning the main martial art equipment – gi, belt, shorts, rash guard.
If we would travel now to the past 30 years earlier, we would see how much less is needed for any martial art – one kimono, that makes you happy you have it, a bag, slippers, and a towel.
But now we have a rich variety of any kind jiu jitsu gis, shorts, and rash guards for any price range. You can have a gym bag specifically made for BJJ, a knee brace from the simple elastic one to high-tech technology item, etc.
Jiu Jitsu before and after
In the video below we can see the difference between BJJ no gi earlier and now.
Find the differences.
BJJ no gi competition, 1997-98
BJJ no gi, 2019
What do the possibilities of today mean for martial arts and for jiu jitsu specifically? It means, that you can regulate how much your jiu jitsu will cost you.
There is basic jiu jitsu gear you need to train and you can buy it today for real affordable money. Everything over that or choosing a premium segment – is a choice according to desire and financial possibilities.
And this refers to any martial art or sports.
Yes, having a couple of jiu jitsu uniform sets consists of a considerable budget. I don't mind having more BJJ gis but jiu jitsu uniform is a thing that most people have to plan these expenses. Nevertheless this fact, I have always 2-3 gis in my wardrobe because jiu jitsu is already a part of my life, and updating my BJJ wardrobe is an obvious action.
Every martial art, including Brazilian jiu jitsu, can be even more expensive than covering the basic needs for training. If you want to progress or take the maximum from living jiu jitsu community life, you will take part in seminars, camps, tournaments, and buying courses. Participation in these kinds of events applies you to pay fees that can be relatively high depending on the level of organization, etc.
IBJJF Masters Worlds tournaments fees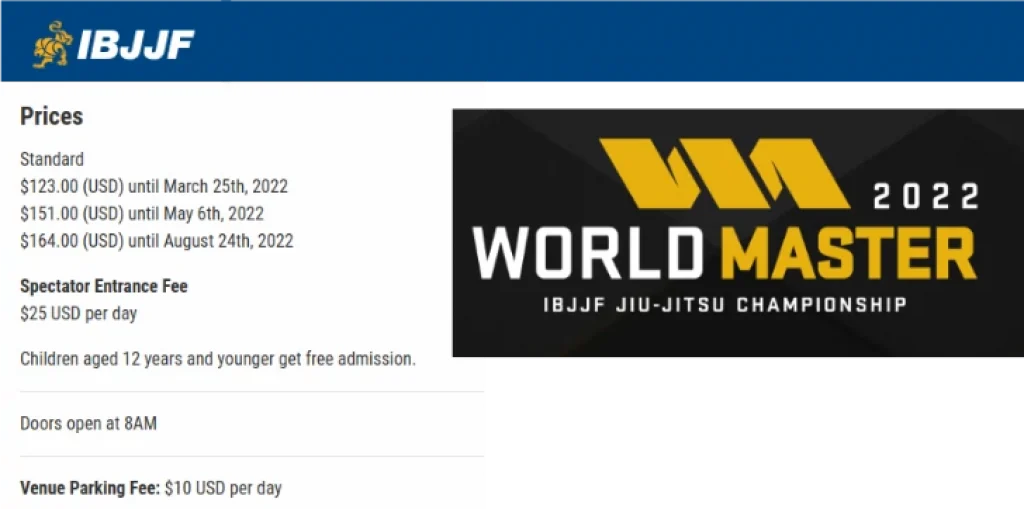 back to menu ↑
Why are jiu jitsu tournaments so expensive?
First of all, not all jiu jitsu tournaments are expensive. Again, relatively.
The local or less popular small tournaments may cost depending on the country on average $40-$60.
But the big international championships are expensive. For instance, the already mentioned International Brazilian Jiu-Jitsu Federation (IBJJF). Be ready to pay $100-$160 for the tournament division.
Other big championships may cost less, but not by much.
To compare, the judo tournament fees are $35-$60.
What can be the cause why are jiu jitsu tournaments so expensive?
Here are a few points that can be highlighted:
First of all, all BJJ tournaments are commercial, which means the organizer is the rule maker
Big expensive tournaments are made expensive: t-shirts for competitors, tournament merch, usually renting an entire building, high-quality medals
Referees and specialists are paid obviously from the tournament's profit
And after all expenses, the organizer has a goal to make a profit from this story
The more budget has the organizer, the more spectacular will be the championship held. As you may know, the IBJJF European Championship is usually held for about seven days.
IBJJF and other big BJJ tournaments are expensive. In addition, you need money for accommodation and to travel to the tournament's place, which can be in another country or even continent.
One of the best ways to get this kind of tournament is to find a sponsor – a brand or company that will pay you all expenses in return for some marketing for them from your side.
back to menu ↑
Why are martial arts gyms so expensive?
To this point, we have discussed the question Is Jiu Jitsu Expensive?
This discussion is also suitable for answering the second question – Why is jiu jitsu so expensive?
But martial arts equipment is not the only expense you have to deal with.
The gym, dojo, academy, jiu jitsu school, or jiu jitsu classes – here is where another part of your investment goes when doing martial arts.
Yes, exactly, investment. If something makes you happy and healthier and you pay for it, it's not just about expenses. It's an investment in yourself. And a good investment. Important is to find your thing for life. Otherwise, you will always ask yourself whether is jiu jitsu worth the cost and why are you spending time on it.
Are martial arts gyms expensive?
From my observation, it may depend on the country.
What do I mean?
For example, in my country in Europe, the jiu jitsu cost per month depends on the city. In big cities, the prices are not cheap, because life in big cities is also not cheap and as a rule, people earn more in big cities than in towns across the regions.
In smaller cities, the same jiu jitsu classes with a BJJ black belt will cost much less than he would teach in a big city.
The jiu jitsu gym cost is not much different from other sports gyms with instructors. Actually, the fact that the martial art classes are held with a qualified instructor is one of the reasons for the price.
How much are jiu jitsu classes for adults?
How much do most BJJ gyms cost on average? Let's answer short.
In the US the jiu jitsu cost per month varies from $99 to $300. It depends mostly on the jiu jitsu academy authority.
back to menu ↑
Cost of BJJ per month
We have a BJJ gyms catalog where we list the best jiu jitsu gyms across the US. One of the sections there is the cost of classes. You can check it out here.
Let's see what membership fees have different jiu jitsu schools. For instance, how much does Gracie Jiu-Jitsu cost or Atos Jiu Jitsu?
Cost of BJJ per month for adults
(*may differ depending on the city)
The official Alliance BJJ website is allianceofficial.com. But each affiliate has its own website. Alliance jiu jitsu cost is about $125-$179
Gracie Barra cost is $135-$180
Gracie Jiu Jitsu prices are $140-$185
10th Planet Jiu Jitsu cost is $130
Jocko Willink BJJ gym Victory MMA and Fitness cost is $99
Atos Jiu Jitsu cost is $350 with no contract
back to menu ↑
Conclusion
Yes, how much does it cost to get started in BJJ has some basic costs. But you can relatively regulate it.
Find more affordable jiu jitsu classes
Visit open mats by different jiu jitsu schools which are free in many cases. Open mats help to progress the skills and integrate better into the jiu jitsu community
Buy only real necessary gym and BJJ gear for your training
Find the most affordable branded jiu jitsu gi
Later, when you will understand that "jiu jitsu changed your life", you may buy the most expensive BJJ gi. But in fact, you don't need it.
Check our articles that may help you to find the best gi variant:
Best BJJ Gi Reddit Reviews – 13 Top Gi Brands Ever
Top 5 Best BJJ Gi for Beginners
You have the last word on whether is jiu-jitsu worth the cost or not.