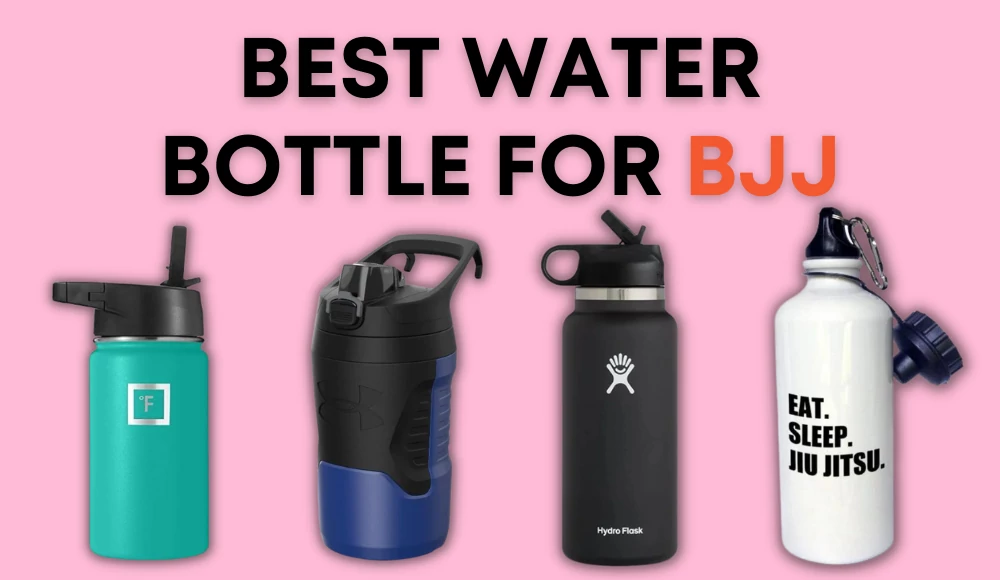 Looking for a BJJ water bottle? Finally, we came to this task – to find the best water bottle for BJJ. Staying hydrated for a human being in everyday normal life is very important. So what to say about sportsmen and martial artists?
As you know even after 30 minutes of jiu jitsu warm-ups your BJJ gi starts to get heavier because of sweat. And a couple of rolling sessions make the whole gym mat like a shoal water pool. Especially the no gi training.
You don't just need to replenish your body's water reserves, but you want to.
Stay hydrated with water bottles
Finding a good water bottle can be oddly difficult.
You may ask how can it be, as there are tons of kinds of sports water bottles on the market.
Yes, it's true.
And this is problem #1 of finding the best water bottle for BJJ or a sports bottle – the overwhelmed assortment and numerous water bottle brands.
The #2 problem is to know the right characteristics or in simple words – what you expect from your future bottle and what functions should it solve.
If you already have experience with water bottles, these questions may be easier for you.
But anyway, before you will buy a new bottle you will do some research.
This altogether makes the task to find a bottle you will really love more complicated. On the other hand: bigger assortment – more choice.
That's why we made this pick of the best water bottles for the gym to collect one of the best variants on the market. We have spent 17 hours on research and analyzing the offers and reviews.
back to menu ↑
Recommendations on a water bottle
Our choice of the best bottle for sports was based also on our own experience of using water bottles for BJJ and sports in general.
Of course, we are not unique in this question. Because every athlete in any sports discipline has a bottle in his or her gym bag.
Even more, for a long time already sports bottles are very popular among people who are not used to doing sports. That is all because of the handy and comfortable for-all-occasions format.
The water bottle brands know it and create designs and versions of their products that suit the casual daily style most.
But the activity during the day of a sportsman and someone who not doing sports differs. Obviously, the requirements for fitness accessories will also differ.
What to pay attention to when choosing a water bottle:
material: plastic or metal
easy way to open and shut
leak-proof
large mouth or narrow
capacity
Additional options that may add value to comfort: carry handle, straw lid, etc.
back to menu ↑
What size water bottle is best for gym?
A minimum of 20-24 oz or 600-700 ml for 1 person. It mostly depends on your activity in the gym or jiu jitsu class and training duration.
19 oz. tritan sports water bottles with straw
A tritan water bottle with 19 oz volume can be a point from which to push off if you don't know where to start your search. Take in mind, that less than a 19 oz bottle can be too small to quench the thirst during and after a jiu jitsu class or any training in the gym.
What is tritan?
Tritan is a BPA-free plastic. It is durable, transparent and heat-resistant polyester.
But don't worry, you don't need to be so specific in your search. A lot of sellers offer the BPA-free or tritan water bottle by default. But so you have an understanding of what is tritan when you will read the product description.
back to menu ↑
Is Iron Flask as good as Hydro Flask?
As you may guess already, you will find two popular brands on our Best Water Bottle for BJJ list – Iron Flask and Hydro Flask.
Iron Flask vs Hydro Flask
Both carry out their functions very well:
reusable
stainless steel
durable
maintain the temperature
leak proof
different stylish colors
Is Iron Flask as good as Hydro Flask you should answer this question by yourself. Both water bottles have a descent of very good reviews.
So, we let the Iron Flask vs Hydroflask battle in your opinion.
back to menu ↑
Best Water Bottle for BJJ
back to menu ↑
#1 Iron Flask water bottle review – Best Hydro Flask alternative
The Iron Flask water bottle is one of the most popular water bottles for sports and everyday.
We put the Iron Flask higher than Hydro Flask because of the price – the Iron Flask is more affordable.
The classic Iron Flask water bottle offer comes with 3 straw lids. The Iron Flask lid replacement is very easy as you can buy a new one if needed.
Can you put hot water in an Iron Flask?
Yes, the bottle is intended for hot and cold liquids so you can put any beverage. For instance, it keeps the water ice cold for 6 hours and even longer.
A more affordable alternative to the Hydro Flask bottle.
Here are some popular versions of Iron Flask bottles people search for:
Iron Flask 64 oz volume
Iron Flask accessories
Iron Flask nomad tumbler
Iron Flask food jar
Best seller on Amazon
Material: Stainless Steel. Available sizes: 14 oz, 18 oz, 22 oz, 32 oz, 40 oz, 64 oz. Leak proof. Iron Flask warranty option. The logo on the bottle is engraved, so it will not erase with time. Hand wash only.

Comes with 3 100% leak proof lids. 28 colors, Wide mouth bottle. Premium stainless steel.

Iron Flask insulated sports water bottle is a great gift for gym lover and jiu jitsu lover.
back to menu ↑
#2 Hydro Flask water bottle with straw
The steel reusable vacuum insulated bottle brand that made from the product a trend. Know with "hydroflask" people call often any bottle of the same type.
Or people are buying hydroflask stickers meaning waterproof stickers not specifically for the Hydro Flask bottle brand.
Where to buy Hydro Flask bottles?
On the official website or on Amazon. Only on Amazon there are about 100 000 reviews from customers for the Hydro Flask bottles.
P.S. Pink Hydro Flask is one of the most popular searches on the internet in a row with purple, yellow, and white.
How to clean hydro flask? Keep reading our article or just jump to the needed part.
Best seller on Amazon
Material: Stainless Steel.
How many ounces in a hydro flask? This bottle is available in 24 oz, 32 oz, and 40 oz.
Leak resistant.
Wide leakproof mouth straw lid.
Carry loop for easy transport. Special insulation keeps water and beverages cold for up to 24 hours and hot for up to 12 hours.
Dishwasher safe
.
Great Christmas gifts present idea and for Birthday for beloved one.
back to menu ↑
#3 Under Armour 64 oz water jug
When talking about sports accessories, Under Armour knows the deal and appeals to offer its best water jug for sports. We just can't pass through the Under Armour water bottle.
The Under Armour water bottle has different variations – bottle, jug, and squeeze bottle.
The Under Armour 64 oz water jug has a great size not to worry about that you will run out of water during the jiu jitsu open mat event, BJJ tournament, or seminar.
Best seller on Amazon
Material: Polyester, Nylon, Polypropylene. 64 oz Under Armour water bottle for the most active training sessions. Available sizes: 32 oz and 64 oz (1.9 L). Leak resistant. Foam insulated jug to keep water and beverages cold for 12 hours.

Non-slip side grip for a secure hold. Perfect for all sports. Cool birthday and good Christmas gifts present idea.
back to menu ↑
#4 Klean Kanteen water bottle
The 40 oz Klean Kanteen water bottle we have found in the recommendations in the Reddit BJJ community.
But we chose the Classic Klean Kanteen Sport Cap bottle. It's one of the best Hydro flask alternatives. First of all, it's way affordable. But pay attention that the Classic Klean Kanteen bottle doesn't have all specifics as the Hydro flask.
Can you put hot water in Klean Kanteen?
You can put hot water in the insulated bottles which keep the temperatures stable for a long time.
with sport cap
Material: Stainless Steel. Can Klean Kanteen go in the dishwasher? Yes, it's dishwasher safe with a removable spout. Lightweight and chip resistant. BPA free. Non-Insulated.

Sports water bottles are cool gifts for jiu jitsu lovers.
Can I put soda in my Klean Kanteen?
You can put water and soda in the bottle to clean it. Here is a video with hints on how to clean Klean Kanteen with vinegar and soda.
back to menu ↑
#5 Miir water bottle review
Another recommendation from BJJ practitioners in the Reddit jiu jitsu community. Their Miir travel mugs are also claimed as very good.
Miir water bottle is a good Hydro flask alternative. But not cheaper. Miir water bottles are one of the top-notch choices among water bottles.
are miir bottles dishwasher safe
According to the official site, though technically Miira bottles are dishwasher safe. But for the longest term product satisfaction, they recommend hand washing in hot soapy water with a soft brush. As extremely high temperatures and the indefatigable environment of a dishwasher will make the bottle finishing make worse over time. The MiiR lids are dishwasher safe.
Optimal size
Material: Stainless Steel. The 3D double wall vacuum insulation removes condensation on the bottle. Keeps coffee and tea hot, and cold drinks cold. 100% BPA free.

Wide mouth bottle. The lid is very intentionally easy to clean. Car cup holder compatible.
back to menu ↑
#6 Eat Sleep Jiu Jitsu Bottle
As you may see this bottle is really the perfect BJJ lover accessory. The specific jiu jitsu quote on the bottle makes it also a cool gift for jiu jitsu lovers.
Amazon's choice
Material: Aluminium. Has two lids: an easy-flow drinking spout and a standard cap. Carabineer clip included.
Capacity 20 oz. White color. Fits most cup holders. Not intended to use in dishwasher or microwave.
back to menu ↑
#7 Opard water bottle
One of the most affordable aka cheap sports bottles on the list. But still not the cheapest. Check out the next item which is the cheapest water bottle on our "Best Water Bottle for BJJ" list.
Amazon's choice
Material: Non-Toxic Tritan (plastic). 11 different colors. Leak-proof. Slim and easy to hold. Easy one-hand pop-up and lock-up lid.
Capacity 20 oz (600 ml). BPA free. Hand-washing. Comes with fruit recipes.
back to menu ↑
#8 Gatorade squeeze bottle 32 oz
The cheapest sports bottle on our list is the squeeze sports bottle by Gatorade.
Best seller
Material: plastic. Dual-layer walls to keep drinks stay cool. Leak-proof lid. The bottle shape gives non-slip comfort. Hydro-view strip to check the water fill level.

Capacity 32 oz (950 ml). BPA free.

Can Gatorade water bottles go in the dishwasher? Yes, the Gatorskin squeeze bottle is dishwasher safe.
back to menu ↑
#9 H2O Capsule 2.2 L (74 oz)
74 oz is more than a half gallon water bottle. A real big container for water for the most active workouts training.
Big sports jug
Material: plastic. 74 oz (2.2 L) big water bottle with straw. 29 colorful print designs. Has a storage sleeve to store a cell phone, cards, etc. The big sports jug has a handle, key chain, and removable shoulder strap.

Dust-proof covered straw lid. BPA free. Bonus straw cleaning brush included.
back to menu ↑
Are Hydro Flask bottles dishwasher safe?
How to clean Hydro Flask depends on the type of the bottle or mug. According to the official site of Hydro Flask, all powder-coated bottles are dishwasher safe, but the coffee mugs are not powder-coated, so they are not dishwasher safe.
The Hydro Flask caps and lids are also dishwasher safe if put on the top rack.
To clean your Hydro Flask bottle use a bottle brush and warm soapy water.
If brush scrubbing is not your favourite method, you can use the Natural Cleaning Tablets by Hydro Flask. Fill the bottle with warm water and drop in one tablet per 32 oz (950 ml) of water. Let it stand for about 15-30 minutes and after rinse.
back to menu ↑
What's comparable to a Hydro Flask?
Finding the best Hydro flask alternative is just a good way to save some money and sometimes even a substantial amount.
The cheaper Hydro flask alternatives you may find in our water bottle list above and here are the brand names: Iron Flask, Takeya, Klean Kanteen, YETI, Miir, Swell, etc.
back to menu ↑
Are Hydro Flasks allowed on planes?
Obviously, the question refers not only to the Hydro Flask branded bottle but to the "hydroflask" alike bottles. So the question may also sound "Can you bring a stainless steel water bottle on a plane?"
Generally speaking you may bring your metal flask on the plane, but it must be completely empty during the security screening. So, empty "hydroflasks" are allowed in carry-on bags.
But in any case, it is better to double-check the requirements and rules for your flight.