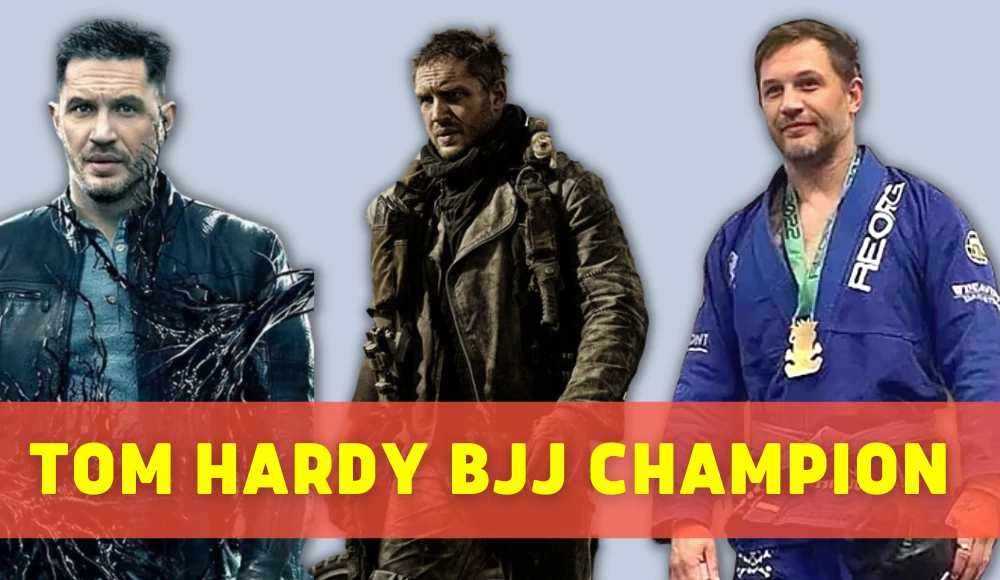 Tom Hardy Mad Max, Tom Hardy Venom, and now Tom Hardy Jiu Jitsu Champion. Yes, we are talking about the English movie star Edward Thomas Hardy (44) you are used to watching on your screens.
But now, if you are a BJJ blue belt be prepared to meet Tom Hardy on the tournament mat as your opponent. As it happened lately to the jiu jitsu athletes at the REORG Open charity jiu jitsu tournament in Wolverhampton, UK.
Reorg Open jiu jitsu championship
The Reorg Open jiu jitsu championship took place on the 20th of August 2022 and was the first tournament event made by the REORG team. They have enlisted the support of the legendary three-time world jiu jitsu champion and 4th-degree black belt Braulio Estima.
The event on August 20th in Wolverhampton brought Hardy the double gold champion title.
Of course, he had to take the path to win this gold and we all know, how different is rolling on the mats in the gym and accepting the challenge on the tournament mats.
Tom Hardy has overpowered the challenge and took two gold medals in his weight category – in gi and no gi divisions.
Tom Hardy Jiu Jitsu fights on the Reorg Open jiu jitsu championship
–
One more Tom Hardy Jiu Jitsu gi fight from the tournament
Army veteran Danny Appleton was one of Hardy's opponents in the tournament.
Needless to say how surprised he was to see that his opponent was the Venom and Mad Max in one face.
"I was waiting for match-side for the semi-final […] when Tom showed up. I didn't know he was going to be there," says Appleton. "I recognized him straight away. Everyone knows who Tom Hardy is, don't they?

I was shell-shocked. He said, "just forget it's me and do what you would normally do"."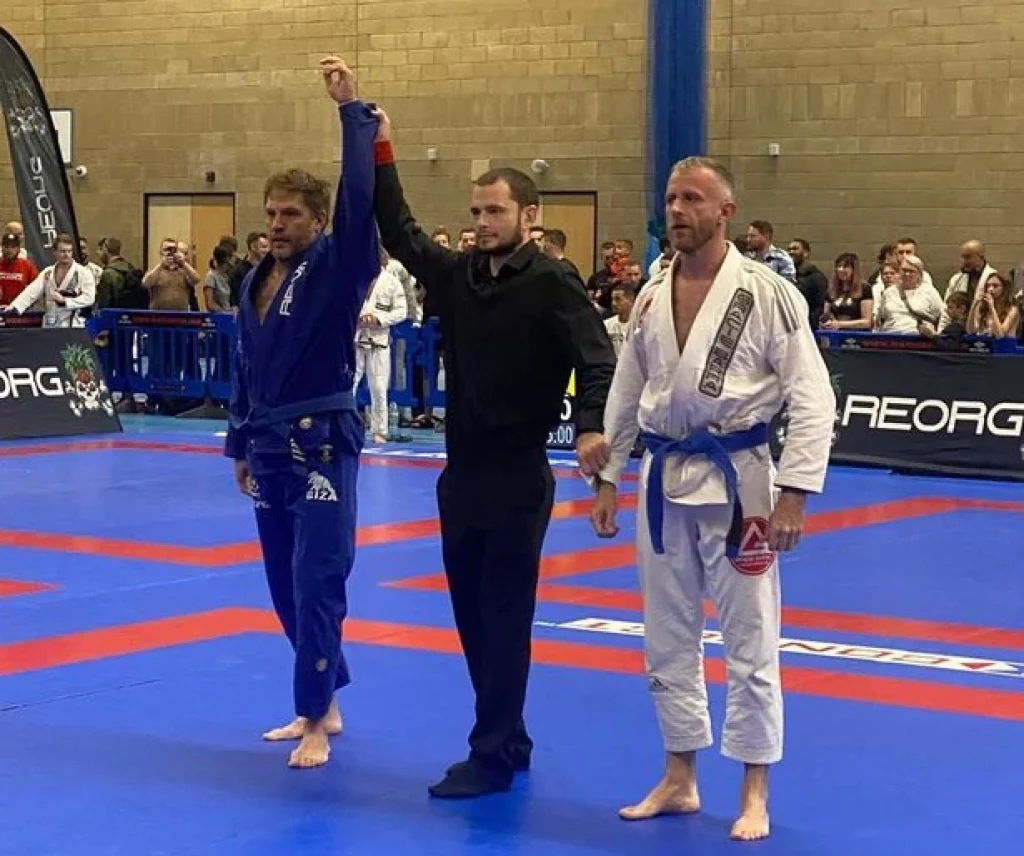 "Tom Hardy's sweat"
"He's a really strong guy," continued Appleton, "you wouldn't think it with him being a celebrity. I do okay, I've done about six tournaments and I've been on the podium in everyone. But he's probably the toughest competitor I've had.

"I haven't washed my gear, I think I might auction it – it's got Tom Hardy's sweat on," he joked.

"The gym [REORG] focuses on self-confidence and a lot of females go," he says. "I'm a veteran myself and the charity means a lot to me, so I went to Wolverhampton to compete."
Tom Hardy BJJ participation in REORG Foundation
The Tom Hardy Jiu Jitsu participation in the REORG Foundation is not a one-day-ticket journey.
Tom Hardy CBE is also a trustee member of the team. He is an avid BJJ athlete for already several years.
Now Hardy is a BJJ blue belt.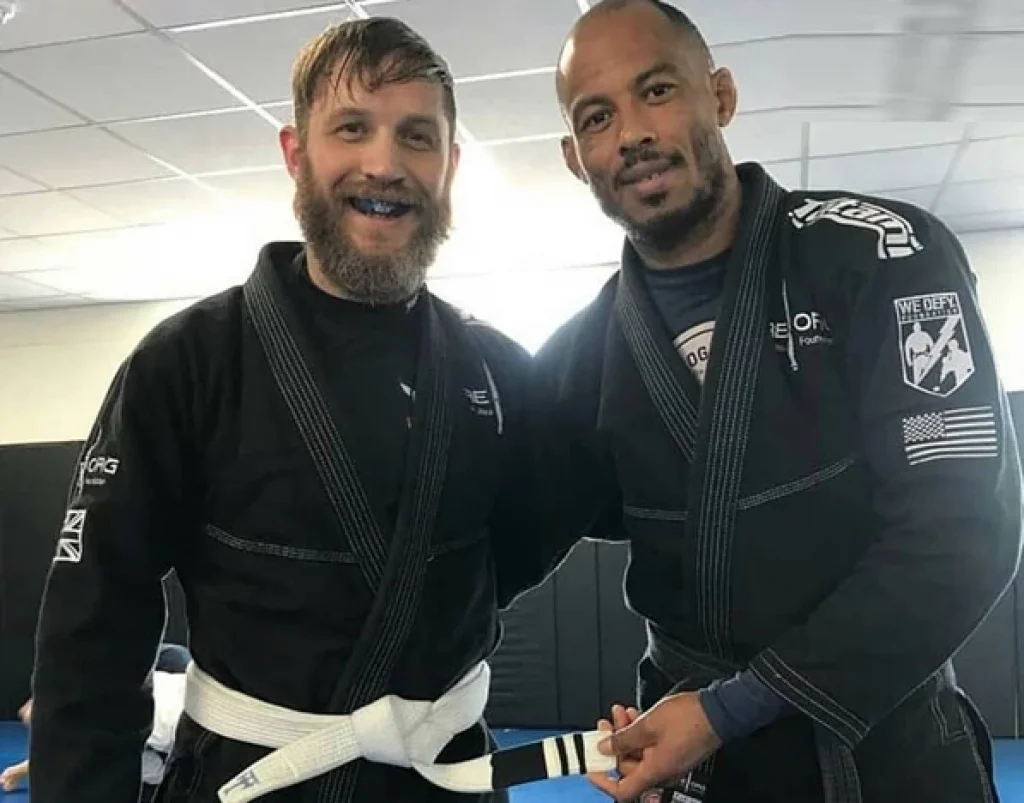 What is the REORG Foundation
The Brazilian jiu jitsu REORG Foundation is created in association with the Royal Marines Charity. Its mission is to be a platform for "serving personnel and veterans to learn Brazilian jiu-jitsu as part of their recovery pathway and to combat the challenge of mental health and physical disabilities".
"Whether you are diagnosed with PTSD, or simply suffering from a low mood or lack of purpose, when you spend a tough hour training, the volume on all your problems gets turned right down."
We have already talked about how good is jiu jitsu as a martial art for someone with bad knees compared to other combat styles.
REORG Jiu Jitsu mission
With its mission, the REORG Foundation proves this fact again how universal is the jiu jitsu combat sport. It allows adapting the physical abilities to the rolling game on the mat and maintaining the body workout on any part of the body.
The former Royal Marine and Invictus Games athlete Mark Ormrod MBE is one of the REORG trustee members. He was one of the first athletes to sign up for the REORG Open charity jiu jitsu tournament.
"It's going be insane," he said. "It's my first ever comp. I never started BJJ with thoughts of competing – I've just loved the journey and how much value it brings to my life. But I can't pass up this opportunity, so I'm going to get stuck in – I can't wait."
Although, REORG jiu jitsu team has the support of legendary jiu jitsu leaders, such as Roger Gracie, 7th degree coral belt Jean Jacques Machado, UFC commentator and former UFC fighter Dan Hardy, etc.
In addition, the foundation has a collaboration with one of the top BJJ gear brands Tatami Fightwear.
Tom Hardy's MMA experience
The famous star is also well known to us for his MMA training as a part of the preparation for the fighter movie "Warrior" in 2011.
Warrior, 2011, official trailer
–
Joe Rogan lately shared on his podcast with Mark Zuckerberg (yes, Zuckerberg is in the game too) how impressed he is with the BJJ skills of Tom Hardy and Mario Lopez. The last one has also won gold at IBJJF Phoenix Open a few weeks ago.
"Tom Hardy is like an a** kicker. Him and Mario Lopez are out there competing in jiu-jitsu tournaments. Like this is wild. And they're both beginners, they're both like blue belts."
Mario Lopez BJJ fight at the IBJJF tournament