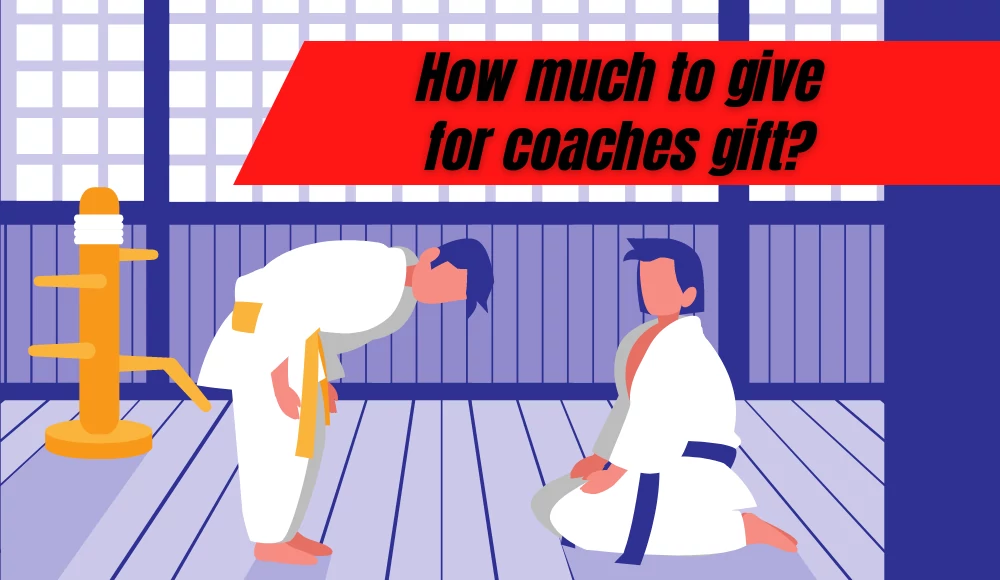 Coach gift etiquette – does it exist? And how much is appropriate for a coaches gift? It's our topic for today and specifically – gifts for martial arts instructor.
But in fact, the martial arts coach gift etiquette raises the same questions as the coach gift etiquette of any sport. The difference is only in the final gift choice, for instance, a fitness or football coach gift, jiu jitsu related gifts, etc.
Or not. Because there are gift ideas appropriate for all coaches – DIY gifts for instructors, coach gift cards, personalized presents, etc. Which you can also personalize according to your sports style.
Table of content
Coach gift etiquette
A coach is a person who since a certain moment takes an important part in our lives and memories if we are remembering our childhood.
Teachers and coaches are our parents and educators in specific areas. This is one of the reasons why we feel a need to have a coach gift etiquette in terms to be attentive and thoughtful in choosing a gift.
Another situation for having a coach gift etiquette is when not much time has passed since meeting the coach. But a gift occasion is coming and you want to make a present.
Both situations have a common thing: You want to give the coach a gift. But you are still not sure whether you should give a coach a gift and how much to contribute to coaches gift.
These are normal human beings' questions.
Don't worry.
Let's get to it together.
back to menu ↑
Do you give a coach a gift?
It's not obligatory to give a coach a gift but in practice, it's a normal thing. In most cases, it's a group gift from the team or class of students (kids or adults).

If you do team sports be more sensitive with giving a gift to the coach personally to not make an appearance of currying favor. Also, pricey gifts can send a wrong message.

If it's about a personal trainer, it depends on the situation and is very individual: how long do you train with the coach, what is the occasion for the present, and how do you rate your relationship?
During the year there are so many occasions for presents that at least once you will want to give a coach a gift:
birthday
Christmas
thank you gift
appreciation gift
end of season gift for coach
National Coaches Day
etc.
back to menu ↑
How much is appropriate for a coach gift?
We have made a research on the internet – athletes' forums, parents' and coaches' talk boards, subreddits – to collect the most common opinions on how much to give for coaches gift.
On average the range is from $10 to $35 per student or kid's family. Most commonly it's $20-$25. The amount of money depends on how many team members there are, one coach and assistant coaches, the occasion, etc.

Personal gifts as mentioned earlier, it's very individual.
back to menu ↑
Gift ideas for coaches
Keeping doing research on the internet to gather more comments and advice on gift ideas for coaches we have made a list of the most common suggestions.
The research has also shown that small and nice things that don't collect dust are most liked and preferred.
What is a good gift for a coach?
$5 Starbucks card, Tim Card, or Donuts card, a gift card for a local steakhouse, Walmart or Target gift cards, etc.
homemade treats
postcard, letter, or thank you note from the kids' students, a painting by the child
plants or flowers
ornament
a gift basket
Best gift ideas for coaches
back to menu ↑
Coaches gift donation letter
And other ways to collect donations for the gift.
Making the collective decision to give the coach a gift is the first part. Another part is collecting donations for coaches gift.
It's easy when it's a one-person gift for a personal trainer or by a class of adult students.
Another thing is if it's about collecting the money from a kids group of 15+ members and their parents.
One will need help to make the task as simple as possible. There are different ways to do it.
#1 Gift donation letters
Here come to help the gift donation letters. Luckily, on the internet, there are different templates.

#2 Google Form poll
Another way is to create, for instance, a free Google Form for surveys or requests.
#3 Collect Money For a Gift with online services
Online technologies can help to implement almost all our everyday tasks. Collecting money for a gift is not an exception. But pay attention that online services are mostly not free – they may collect some amount of fees for their services.
Online services to collect donations for gifts: