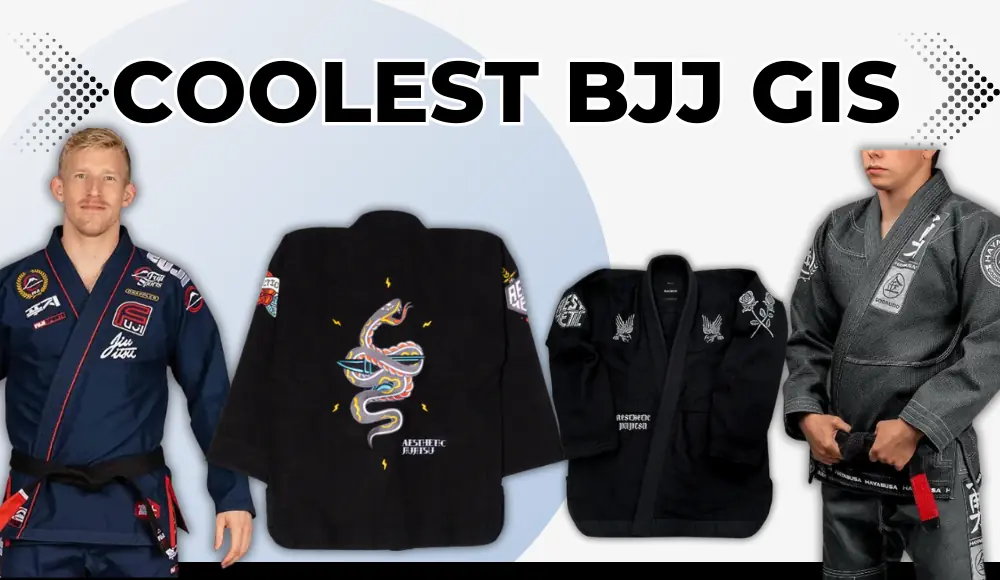 Are you tired of the same old plain white BJJ gi? Or black, or blue? Do you want to stand out on the mat with a cool and unique design that expresses your personality? Look no further and let's dive together into the coolest BJJ gis picks to find on the Internet.
In this article, we'll explore the top coolest BJJ gis in the market, as well as tips for customizing your own gi.
Disclaimer: The best looking BJJ gi is always very subjective and can vary based on personal preferences, design choices, and brand reputation. Nevertheless, we will make a selection of the coolest BJJ gis relying on the BJJ community opinions, for instance, shared in the r/bjj threads.
Table of content
BJJ Uniform Necessity
Before we dive into that, let's talk about Brazilian jiu jitsu (BJJ) for those who may be unfamiliar.
BJJ is a martial art that originated in Brazil and focuses on grappling and ground fighting techniques. It's a highly technical sport that requires strength, strategy, and agility.
One of the most important aspects of BJJ is having a good gi. A gi (pronounced "gee") is a uniform worn during training and competition.
It consists of a jacket, pants, and belt made from durable fabric designed to withstand regular wear and tear while providing comfort and flexibility during training. A good gi can make all the difference in your performance on the mat – it can help with grip control, prevent tearing or ripping during sparring sessions or tournaments, and keep you comfortable so you can focus on perfecting your technique.
back to menu ↑
Top Brands for Cool BJJ Gis
When it comes to choosing the coolest BJJ gi, it's important to choose a trusted brand that is known for quality and style. We already made a big updated research on the best BJJ gi brands ever the results of which surprised even us.
But for today's list of the coolest BJJ gis we will try to abstract from data we already know on the best BJJ kimono to train and make these picks as from a clean sheet.
Here are some of the top brands in the market to consider for the coolest jiu jitsu gi list:
Aesthetic USA
Aesthetic USA is a trendy brand among BJJ enthusiasts and professional fighters. This jiu jitsu brand name may be not so much on the surface and in every top best BJJ gi lists, but Aesthetic USA is a "jiu jitsu tailoring since 2012".
They offer a wide range of unique designs and patterns that stand out from the competition, including Samurai-themed gis and colorful prints. Their cool jiu jitsu gis are made with high-quality materials such as 450 gsm premium pearl weave, that are both durable and comfortable to wear during long training sessions.
Among others, they have BJJ gi with design inside.
Tatami Fightwear
Tatami BJJ gi is another highly respected brand in the BJJ community.
They are known for their attention to detail in both design and construction, with gis made from premium materials such as pearl weave cotton and ripstop fabric.
Tatami Fightwear also collaborates with well-known BJJ athletes to create signature lines featuring their own unique styles. Such as the Mike Fowler Signature Gi.
Another collaboration by Tatami Fightwear with the American thrash metal band Slayer resulted in the Slayer Final Tour BJJ Gi.
Also, Tatami Fightwear is famous for its custom gi colors, such as khaki or gray.
Tatami Fightwear store – tatamifightwear.com
The price range for Tatami Fightwear BJJ gi kimono is $79-$160.
back to menu ↑
Coolest BJJ Gi Reddit Recommendations
The BJJ Reddit community is always a place to find answers and help.
Let's see what jiu jitsu community advice as the coolest gis for jiu jitsu.
| BJJ Gi Brand | Comment |
| --- | --- |
| Fuji | Plain Fuji gi. Something without a ton of "bullshit on it". |
| Shoyoroll | Shoyoroll Batch 52 "Forever Rolls V2". Best choice for unbleached kimonos. |
| Hyperfly | Hyperfly "The Kimono" limited edition, a beautiful gi. |
| Origin | Origin BJJ Gi Nano Pearl Def Gi – a not too flashy gi. |
| Gihoarder | NYHC Batch 65 by Gi Hoarder, $275-$325 |
| War Tribe | War Tribe Women's Artistic Liquid. It says it's for women, but the cut fits like it's designed for men. |
| Hayabusa | Hayabusa Goorudo 3. |
| BJJ Gi Brand | Comment |
| --- | --- |
| Senso Shoto | Remarkable aesthetic on the inner lining. |
| Moya Brand | Gets a lot of compliments when wearing the Gi. |
| Fuji | Fuji Suparaito. |
| Hyperfly x Carhartt | Looks and feels pretty nice. |
| Fenom, BJJ Globetrotters | Patch-covered gis. |
| Raven Fightwear | Unique feel of "The Phoenix 3" GI. |
| Huni Athletics | Favorite gi is the "Huni Oil Slick". |
| Reversal | Dream gi – Kinnikuman gi by Reversal in grey, reminiscent of the Dark Phoenix Saga. |
| Hypnotik and 93 Brand | Blue and red Hypnotik gi and the all-black 93 Brand Hooks V4 gi. |
| Shoyoroll | Shoyoroll gi. |
| CTRL | Cool BJJ gi from CTRL. |
| Braus Fight | The navy Braus Fight DNA gi as the coolest, especially when it fits well. |
| VHTS | All the gis by VHTS. |
| Enois and JiuJiteiro | Fancies gis by Enois and JiuJiteiro. |
| Hayabusa | Hayabusa brand and its "badass" BJJ kimonos. |
Womens' Fenom jiu jitsu gi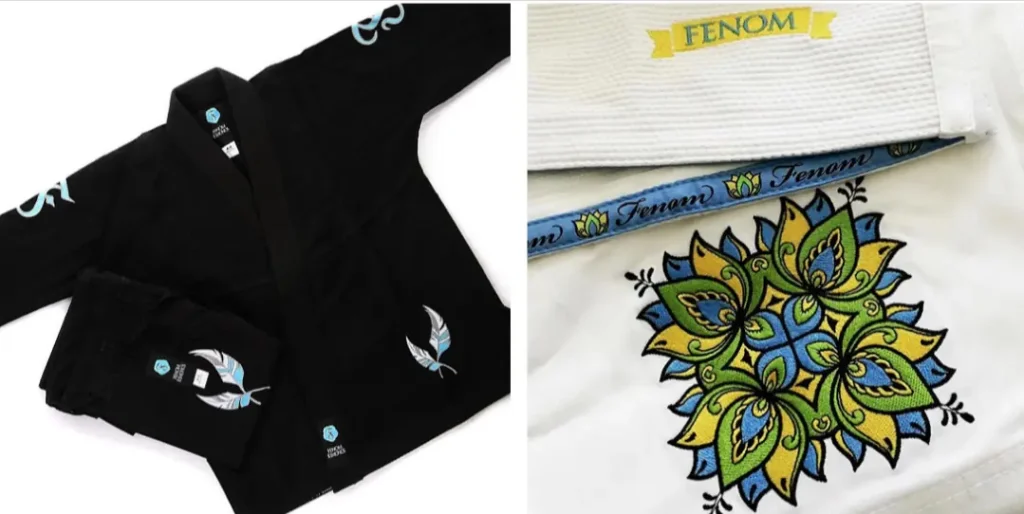 Tatami Fightwear store – fenomkimonos.com
The price range for Fenom Kimonos is $90-$115.
Hayabusa Goorudo 3
Fuji Suparaito BJJ Gi XTR Edition
back to menu ↑
Criteria for Selecting the Coolest BJJ Gi
While personal preference plays a big role in choosing a cool BJJ gi, there are some key factors you should consider:
Comfort
You'll be spending a lot of time wearing your gi during training sessions, so it's important to choose one that is comfortable and fits well. Look for gis made with breathable fabrics that won't trap heat or become too heavy when wet with sweat.
Durability
A good BJJ gi should be able to withstand rigorous training sessions without falling apart or losing its shape. Consider investing in quality materials like cotton or hemp blends that can stand up to repeated washings without losing their strength or color.
Style
Last but not least, the coolest BJJ gi is one that reflects your personal style and stands out from the crowd.
Choose a brand that offers unique designs and patterns, or customize your own gi with patches and embroidery for a truly one-of-a-kind look.
Ultimately, choosing the coolest BJJ gi comes down to finding a balance between style and functionality. With so many top brands to choose from, you're sure to find one that fits your needs and makes you look good on the mat.
Coolest designs for BJJ gis
When it comes to BJJ gis, the design is just as important as the quality of the material.
Many fighters choose their gi based on the way it looks and for good reason. Not only does a cool gi make you look great on the mat, but also it can boost your confidence.
Some popular designs and patterns for BJJ gis include floral patterns, geometric shapes, and abstract art. All mentioned patterns are popular with both men and women fighters alike.
For instance, floral patterns are another stylish design that adds a touch of femininity to an often male-dominated sport.
Geometric shapes are also very popular, especially when they're positioned in unique ways across the gi. If you want to stand out from the crowd, opt for unique and creative designs that aren't often seen in mainstream brands.
Some examples include comic book-inspired graphics or graffiti-style art splattered across the gi. These types of designs showcase your personality and individuality while still being functional during training sessions and competitions.
Very popular also are typography (texts, sayings, calligraphy) on the gis.
Unleash Your Inner Artist
One way to get a truly unique BJJ gi design is to unleash your inner artist by creating a custom design yourself or collaborating with a professional designer who specializes in this type of work.
Many companies, such as Killer Bee Gi and others, offer customization services where you can submit your own artwork or choose from pre-made templates that allow you to add text or logos.
There are endless possibilities for creating your own custom BJJ gi design – from adding your favorite quotes or motivational phrases to incorporating symbols that hold personal significance for you such as family crests or national flags.
In addition to having complete creative control over how your BJJ gi looks, designing your own gi also means you get to choose the colors, patches, and embroidery that match your creative vision.
Whether you want a minimalist look with a simple logo or a more detailed design with intricate embroidery, creating your own BJJ gi is an excellent opportunity to let your personality shine through.
back to menu ↑
Customizing your own BJJ gi
Do you want to stand out in the sea of generic white BJJ gis? Then customizing your own gi is the way to go.
Not only does it give you a unique look, but it also lets you express your personality and style on the mat. Here are some tips on how to create a personalized design for your BJJ gi.
How to create a personalized design
The first step in creating a personalized design is deciding on a theme or concept.
Do you want something bold and eye-catching, or something more subtle and elegant?
Once you have an idea, start sketching it out on paper or use graphic design software to create a digital mock-up.
Next, choose the right colors that represent your personal style.
You can go with classic black or white, or opt for bright colors that pop like neon green or hot pink. Make sure the colors complement each other and don't clash.
Consider adding patches or embroidery to enhance your gi's design.
You can add logos, nicknames, country flags, symbols; anything that speaks to who you are as a person and as an athlete.
Tips on choosing the right colors, patches, and embroidery
When choosing colors for your custom BJJ gi, think about what works best with your skin tone and body type. Darker colors like black tend to be slimming while lighter shades like white highlight muscle definition.
If you're unsure which color combination works best for you, experiment with different options until you find one that feels right.
For patches and embroidery placement, consider visually balancing both sides of the gi so it appears symmetrical when worn.
Patches can be placed on sleeves or chest area while embroidery – these are popular spots but feel free to get creative!
Keep in mind that certain competitions have rules about patch placement, so make sure to check before competing.
Customizing your own BJJ gi allows you to express your individuality and creativity while making you stand out on the mat. With careful consideration of themes, colors, and patches, you can create a personalized gi that is as unique as you are.
back to menu ↑
Rarely Known Small Details About Cool BJJ Gis
Hidden features that make a difference
When it comes to BJJ gis, there are some hidden features that can make all the difference in your training.
One of these is the collar. A well-made collar will not only be more comfortable, but it will also prevent your opponent from getting a good grip on you.
Look for reinforced collars made with thick, sturdy material to ensure longevity and comfort.
Another often overlooked feature is the stitching. High-quality stitching not only makes your gi look better, but it also ensures durability and prevents fraying or tearing during intense training sessions. Pay attention to the seams on your gi pants as well, as areas around the knees and hips tend to undergo a lot of strain during rolling.
Insider tips from professional fighters
Who better to ask for tips on cool BJJ gis than professional fighters?
One tip they often give is to choose a gi with minimal branding and flashy designs.
While it may be tempting to go for the most eye-catching gi out there, professional fighters know that having a plain and simple gi can help focus their energy on their technique rather than distracting them with flashy designs.
Another tip from pros is to invest in a high-quality rashguard or undershirt.
Not only does this add an extra layer of protection against skin irritation or mat burn, but it also keeps sweat away from your skin and helps regulate body temperature throughout training sessions.
Overall, taking care of the small details in your BJJ gear can make all the difference in enhancing your performance while looking cool at the same time!
back to menu ↑
Conclusion
Recap of key points
In this article, we have discussed some of the coolest BJJ gis available in the market. We explored top brands that produce high-quality and stylish BJJ gis, as well as popular designs and patterns that stand out on the mat.
We also delved into rarely known small details about cool BJJ gis, including hidden features that provide an advantage during training and insider tips from professional fighters.
Final thoughts on why having a cool BJJ gi matters
Having a cool BJJ gi can make all the difference in terms of confidence on the mat. When you look good, you feel good. And when you feel good, you perform better.
A stylish and unique gi can also help to express your personality and add to your overall enjoyment of the sport.
Moreover, having a high-quality gi with cool features can enhance your training experience by providing comfort and durability during intense sessions.
It is important to invest in a good gi that will last longer, perform well, and make you stand out among other practitioners.
Overall, choosing a cool BJJ gi is not just about style but also about functionality; it should meet both requirements for optimal performance during training sessions while being able to reflect who you are as an individual.