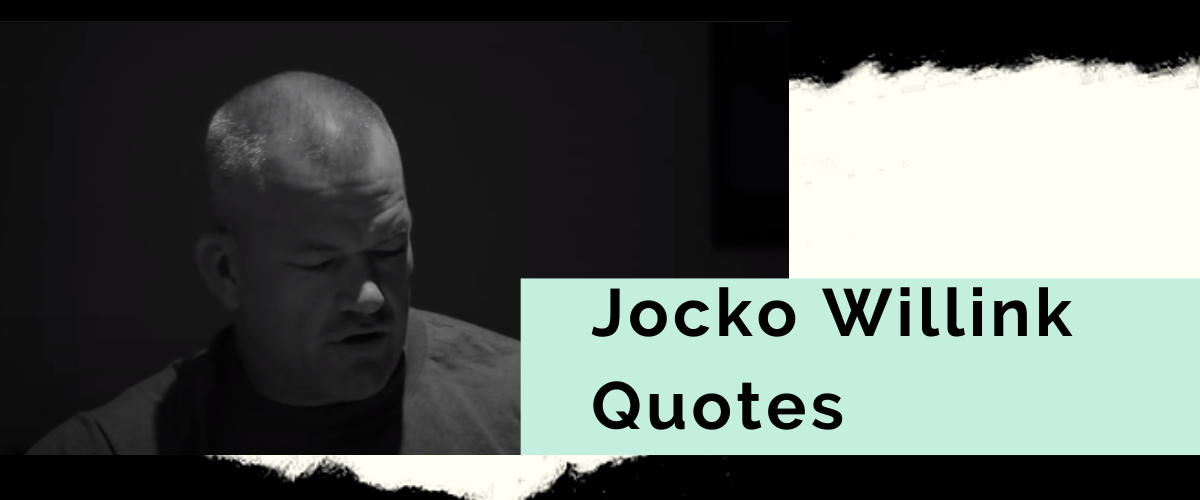 John Gretton "Jocko" Willink is definitely a leader in what he is doing. It's a big happiness for a person to find her or his goal and inspiration source for life. Usually, this kind of person becomes an inspiration for others. We will focus today on Jocko Willink quotes on life and sports as motivational sources.
Table of content
Why is Jocko Willink famous?
Mr. Willink is a retired Navy SEAL commander, co-author of the bestseller book "Extreme Ownership", leadership instructor, speaker, and host of the Jocko Podcast with co-host Brazilian jiu jitsu practitioner Echo Charles.
#1 Best Seller
Extreme Ownership book by Jocko Willink. Available in audiobook, Kindle, and hard cover.
He is also a personal trainer and entrepreneur. Jocko created his own Jocko Fuel brand line of sports nutrition supplements to help build muscle, improve strength or recover faster.
back to menu ↑
Where to buy Jocko Fuel?
Jocko Fuel is presented in different online stores. Two main official stores where to buy the Jocko Fuel products are the Origin Store and Amazon
Over 6000 reviews
Jocko Fuel energy drink is sugar free. All-natural nootropic keto drink with monk fruit. Different flavors: Dak Savage, Citrus Psycho, Afterburner Orange, etc.

Another popular product by Jocko is the Jocko white tea.
Amazon's choice
100 individually wrapped tea bags. Over 3200 reviews. "Discipline Equals Freedom". Refreshing white tea with pomegranate. Contains caffeine and antioxidants.
back to menu ↑
Where does Jocko Willink do Jiu Jitsu and is Jocko a black belt?
Jocko Willink is a Brazilian jiu jitsu black belt and is a BJJ trainer at a San Diego gym, where he is a co-owner. He often speaks about the benefits of BJJ on his podcast.
In the further video, he is talking about self-defense and martial arts.
back to menu ↑
Short facts: Jocko Willink Height Weight
Born September 8, 1971
Jocko Willink' wife name is Helen Willink. They run a fitness gym together
Height and weight: 5'11" / 230 lbs (180 cm / 104 kg).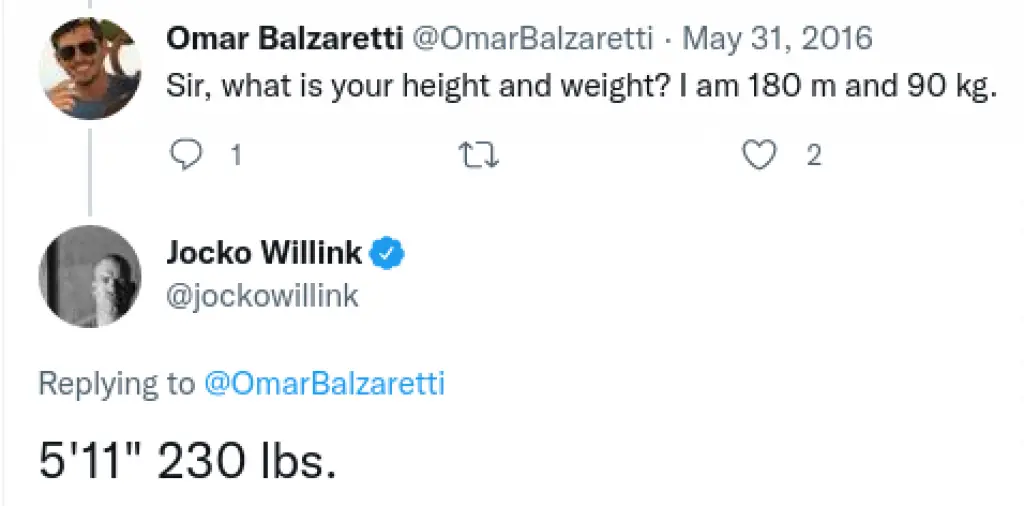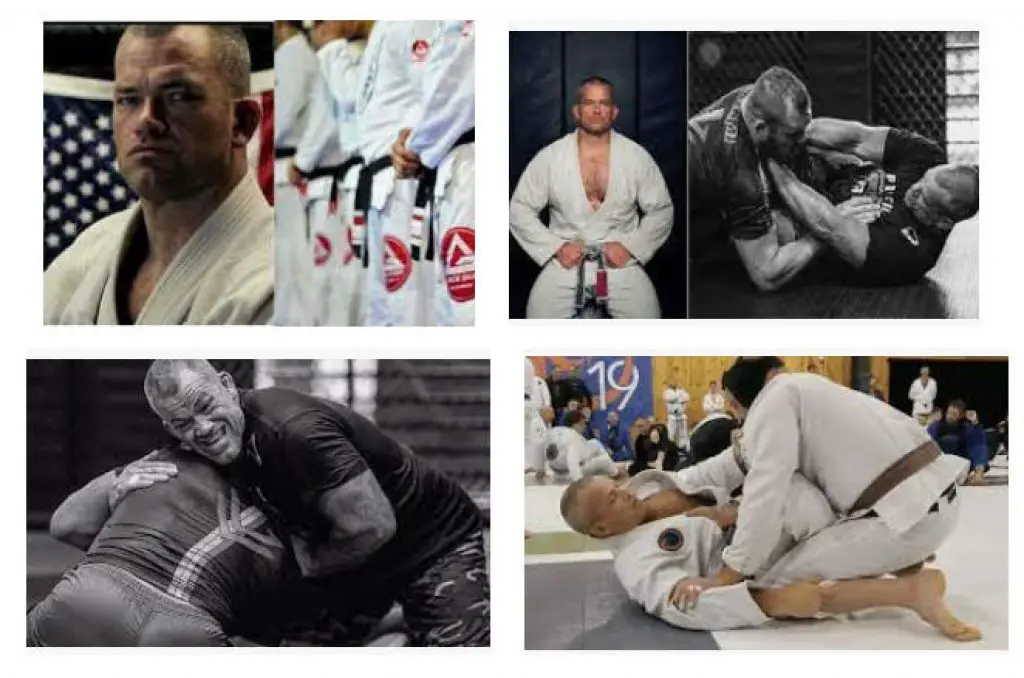 back to menu ↑
Is 40 too late to start jiu jitsu?
Starting jiu jitsu at 40? This question is a permanent sticking point. We already talked about it here.
And now you can even listen to this topic from a prominent jiu jitsu black belt practitioner and coach to find your motivation.
Should I Start Jiu Jitsu after 40?
The next Jocko Willink video is also about some advice for Jiu Jitsu training. For instance, about injuries, the ego, and all that a BJJ athlete is facing.
back to menu ↑
Jocko Willink Quotes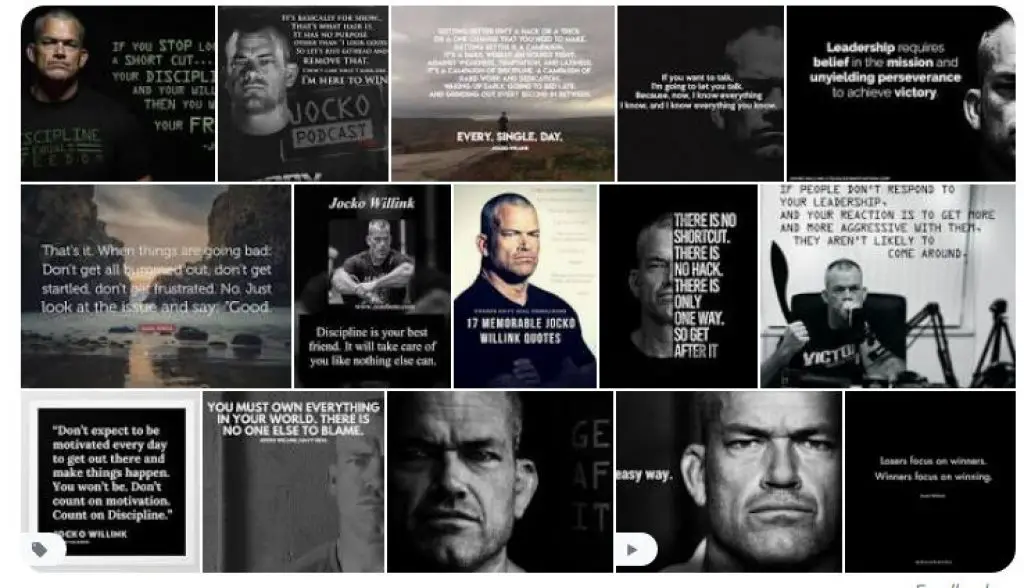 "You're not going to win. You're going to lose over, and over, and over again, to people that are smaller than you, weaker than you, not as tough as you, literally.

You've got to enjoy the journey. You've got to enjoy getting tapped out by someone smaller than you–be amazed by that…say to yourself, 'Chicks dig scars.' Don't look at [injuries and losses] as negatives. Don't rush to the end, take your time and enjoy the sights!"

Read more on Jiu-Jitsu Times
"Discipline equals freedom."
"Don't expect to be motivated every day to get out there and make things happen. You won't be. Don't count on motivation. Count on Discipline."
"Implementing Extreme Ownership requires checking your ego and operating with a high degree of humility. Admitting mistakes, taking ownership, and developing a plan to overcome challenges are integral to any successful team."