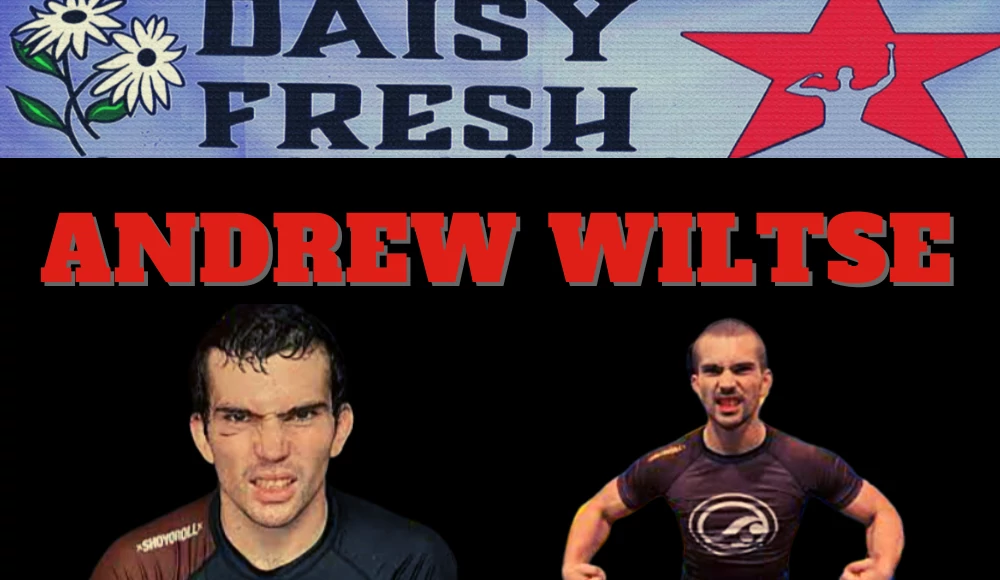 Andrew Wiltse BJJ black belt we have already mentioned here in our article about the Daisy Fresh BJJ team. And as you may know, the Daisy Fresh BJJ team is in fact the Pedigo Submission Fighting (PSF) jiu jitsu competition team.
BJJ is not BJJ without its main players – the athletes. Brazilian jiu jitsu will celebrate its centenary soon. Over these hundred years, so many great names appeared and keep appearing in the jiu jitsu world.
Today we will talk about one of the greatest jiu jitsu players of the latest years – Andrew Wiltse.
Table of content
The one fact that Wiltse is tight connected with the Daisy Fresh BJJ team already prompts to know more about what is all about with this jiu jitsu fighter.
What is Daisy Fresh BJJ?
Daisy Fresh BJJ is not a team name, it's a laundromat name. The real team name is Pedigo Submission Fighting (PSF).
What is Pedigo Submission Fighting?
The PSF team is a highly competitive BJJ team. They won the 2017 and 2019 IBJJF Pan Championship trophy in the novice division and got into the Top 10 placement at the World No Gi Championship.
Their gym is located in an old Daisy Fresh called laundromat in Mount Vernon, USA. That is why PSF is also well known as Daisy Fresh.
The founder and head coach of Pedigo Submission Fighting is Heath Pedigo. He is a BJJ black belt under Rodrigo Vaghi.
Pedigo Submission Fighting Instagram.
back to menu ↑
Daisy Fresh BJJ behind the scenes
A video tour around and inside the Daisy Fresh gym made by Bernardo Faria from BJJ Fanatics in 2022. The video shows that the jiu jitsu athletes are literally living in the Daisy Fresh BJJ gym.
back to menu ↑
When did Andrew Wiltse get his black belt?
Wiltse got his black belt from Heath Pedigo, the head coach of Pedigo Submission Fighting Academy aka Daisy Fresh.
As Andrew was a talented young BJJ practitioner, he managed to pass through the BJJ belt rankings quite fast. His coach, Heath Pedigo, promoted Wiltse to the black belt in 2019.
Heath Pedigo received his black belt from Rodrigo Vaghi under the Gracie lineage.

Andrew Wiltse Short Facts
How old is Andrew Wiltse?
Wiltse was born in 1992, in California. So as of 2022, he is 30 years old.
Andrew Wiltse height and weight
5'9″ or 175 cm. Weight 170 lbs or 77 kg.
Andrew Wiltse Instagram
Andrew Wiltse IG has over 50K followers
instagram.com/andrew.wiltse46
Main wins
5x IBJJF Worlds Champion, 7x IBJJF Pan American Champion
back to menu ↑
Where is Andrew Wiltse?
Andrew Wiltse continues to work hard on the instructional videos about jiu jitsu techniques – gi and no gi.
Is Andrew Wiltse still with PSF?
He is as usual in the Daisy Fresh BJJ aka Pedigo Submission Fighting team. You can see it also from his Instagram account (link below).
He is also actively working with his brother in the Wiltse Brothers BJJ cooperation.
back to menu ↑
What is Wiltse Brothers BJJ?
Wiltse Brothers BJJ is a jiu jitsu community of two brothers, obviously. And obviously, these two brothers are Andrew itself and Andrew Wiltse brother – Bird Wiltse.

Wiltse Brothers BJJ have a YouTube Channel where they regularly upload videos featuring jiu jitsu techniques with details, hints, and in general sharing their BJJ knowledge.
Andrew critiques his younger brother's rolls
In the video, Wiltse comments on the rolling session by his brown belt brother Bird.
BJJ black belt vs BJJ black belt
Here is a video from the Andrew Wiltse IG where he is rolling with another BJJ black belt Coty Kellison.
back to menu ↑
Andrew Wiltse Buzzsaw Passing
Andrew Wiltse has a tight cooperation with BJJ Fanatics online courses platform.
One of the famous Andrew Wiltse jiu jitsu online courses is the Buzzsaw Passing course.
back to menu ↑
Andrew Wiltse and Gordon Ryan on preparing for tournaments
A video made by the BJJ Fanatics channel with a conversation between Gordon Ryan and Andrew Wiltse about mental preparation for Jiu Jitsu matches.
—
back to menu ↑
Andrew Wiltse vs Gabriel Almeida
The full match of Andrew Wiltse vs Gabriel Almeida at the WNO Championship in 2021.
back to menu ↑
Andrew Wiltse breaking grips inspection
Wiltse shares some important moves for white belts of breaking the grips in the Daisy Fresh aka Pedigo Submission Fighting gym