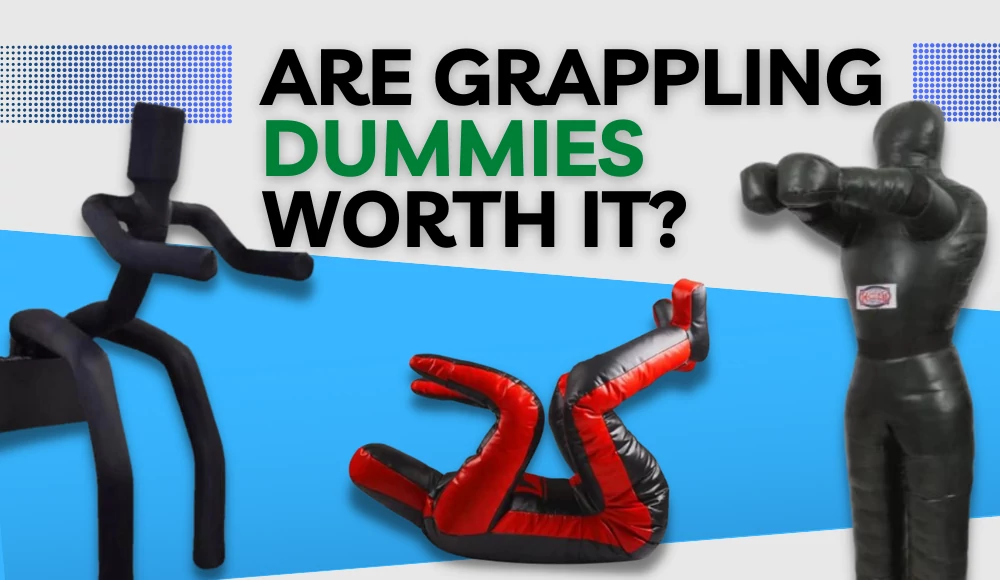 Let's have a short talk about the grappling dummy benefits. Do BJJ dummies help? And what are the best grappling dummies to choose for training?
Why short talk?
Because the answer is short and clear.
Table of content
Do BJJ dummies help?
A lot of jiu jitsu practitioners at some point are going through the question "Are grappling dummies worth it for BJJ at all?".
We will not talk here too much.
Because the answer is short:

BJJ dummies help and there are obvious grappling dummy benefits for training routines.

Wrestling and jiu jitsu dummies are your best partners in drilling and training at home. Because they are the only partner at home even if you have family members.

With the grappling dummy, you don't need to spend time explaining what you will do and why and worrying to hurt somebody.

Wrestling dummies have especially raised in popularity during the COVID lockdown and helped to overcome the physical and psychological struggling of many people.
back to menu ↑
Are wrestling dummies useful?
In most cases, you can see a martial arts training dummy with arms and legs or only with arms.
Everyone chooses a dummy in accordance with his or her needs: heavy, light, with all limbs or not, big or small.
Grappling dummies are used for various techniques. In fact, grappling dummy technique training will vary depending on the combat style the athlete is practicing. Because each fighting style has allowed or prohibited techniques according to its rules.
For instance, in BJJ suplex takedowns are illegal as in all martial arts when the opponent lands on his or her head. At the same time, you can takedown your opponent on his or her side (not on the neck or head).
But there are combat styles where suplex kind throws are allowed and for this matter special training equipment is obvious.
It is way better at the beginner stage to train the actually quite dangerous techniques on a dummy rather than on a live partner.
And here are coming the grappling dummies to the stage.
MMA fighters use MMA dummy to work out the ground and pound fighting moves.
What does ground and pound mean?
Ground and pound is a fighting style where one fighter pins the opponent to the ground and starts striking immediately.
In the list below we present the results of our research to find the best ground and pound dummy to work out the techniques.
Also, the list includes picks of the best BJJ dummies. In the case of jiu jitsu pay attention to the grappling dummy with joints.
The list is divided into two parts to make it easier to search for the needed variant:
Best filled grappling dummies
Best grappling dummy for wrestling and BJJ not-filled
back to menu ↑
Best filled grappling dummy
Let's start with the pre filled grappling dummy picks.
A filled wrestling and BJJ dummy give you the opportunity to avoid the painful process of filling the dummy. But you have to pay for it extra.
Another advantage of a filled grappling dummy is that you can start training right after the unpackaging.
wrestling dummy wall mount
The Snap and Shoot takedown system is hard to compare to other wrestling and BJJ dummies. This is a wall mounted takedown dummy with an original wall-mounting system.

It gives a unique opportunity to work out the guard passing and leg attacks in stance.

A great freestyle wrestling dummy for the most important motions.

2 sizes and 5 colors are available.

The legs sit over 2.5 feet away from the wall.
over 390 reviews
3 sizes available: 70 lb, 90 lb, and 120 lb.
Outer material: vinyl.

Package weight: 35.83 kg.
Item dimensions: 17×75 inches

Ready to use wrestling dummy to practice takedowns, throws, strikes, and submissions.

Durable build and with strongly made stitching pre-filled grappling dummy.
5 star reviews
UFC grappling dummy for ground and pound bag workouts.

UFC Pro 70lb throwing dummy has a durable PU exterior with reinforced stitching.

Package weight: 28 kg.
Item dimensions: 54 x 39 x 72 inches
back to menu ↑
Best grappling dummies not-filled
The next part of the list is the not-filled grappling dummy reviews.
Best choice
Daan grappling dummy takes one of the top positions as the best jiu jitsu dummy.

It's an unfilled dummy.

Material: vinyl.
Weight without filling: 1.6 kg.
Product Dimensions: 9×5 in

Perfect for drilling and reminding yourself the techniques after class at home.

dummy with limbs
Material: Faux Leather.
Weight without filling: 2.4 kg.

Unfilled dummy for practicing throws, ground and pound, great for drilling, etc.

The seller doesn't recommend filling the dummy with sand or fillers that have any sharp edges.

The dummy has strong stitching with additional patches in certain spots.

Recommendations on filling: Before filling, build inside a skeleton frame, for example with pool noodles or other PVC pipes. Otherwise, the weight from the chest will make the legs collapse.
Wrestling dummy cheap variant
canvas dummy
Unfilled Jendila grappling dummy is the cheapest variant on our list. It's unfilled dummy with joints that will cost about $50-$65 after the filling depending on the size.

BJJ and MMA dummy from premium durable canvas with reinforced stitching that feels like a gi.

Jendila grappling dummy can sit and stay on its legs. Arms and legs are able to be straightened and move around that makes it possible to utilize various grappling technique and BJJ submissions, leg locks, knee bars, ankle hooks, ground and pound training.

5 sizes available: 48", 54", 60", 66", 72".
2 colors: black, blue.

This dummy will need about 10-20lbs of polyfill depending on its size. Too much clothing fill can make it limp and unusable. Just fill tight the polyfill.

A very good variant of a fighting dummy for home workout. Gives a great opportunity to drill the jiu jitsu exercises from YouTube right away at home.

The bent legs of the dummy make it possible to practice closed guard BJJ techniques.

Package weight: 0.750 kg.
Item dimensions: 11×12 inches
What to fill grappling dummy with?
An example of filling a dummy using the canvas Jendila grappling dummy.
back to menu ↑
What do you stuff a grappling dummy with?
As you may already know, grappling dummies are being sold in two variants:
grappling dummy filled (prefilled)
and not filled
Prefilled is a good option as you don't need to spend time and effort after the purchase to fill the dummy bag. But for prefilled dummies, you have to pay extra money for shipping, especially if it is ordered from abroad.
Un-filled grappling dummies are much easier to deliver and will cost less. But require some homework to fill them. Yes, it requires also an additional cost to buy the filling if you don't have enough. But for sure it will cost much less as the delivery of a heavy and big prefilled throwing bag.
So, you have made the choice and purchased a not-filled grappling dummy.
What next? How and with what to fill it?
What do you fill a grappling dummy with?
You are an owner of a new grappling and MMA dummy and are wondering what should I fill my jiu jitsu dummy with?
Keep reading. We have made a list of options with tutorials you have to choose from.
Polyfill
It's a light synthetic fill. Looks like cotton but is made from synthetic. You can see it in teddy bears and other toys.
But compared to natural cotton it's lighter. So keep in mind that a polyfill grappling dummy will have a lightweight or middleweight, it depends on the dummy's size.
How much poly fill for grappling dummy?
Approximately, a 70" size fighting dummy needs 3 boxes of 10lb polyfilling. With time, you will probably need to add some more additional filling due to the compression.

Hint: Take about five old pillows or buy a cheap one in Walmart for $3-$5 to use their poly filling for your grappling dummy.
In total it will cost you free (with old pillows) or $15-$25 to polyfill the throwing dummy.
How do you add weight to a grappling dummy?
To add weight to the dummy combine poly filling and clothes. Or use clothes only.
Clothing
It gives more weight and makes the dummy firmer. Clothing pieces are a popular dummy filler.
For the dummy stuffing get used clothing or bed sheets from your wardrobe, or garage, ask your friends or relatives, buy cheap second-hand clothing, etc. Or buy cheap clothing rags.
About 50lb of rags will be enough to fill a 70" throwing dummy.

Pool Noodles
The pool noodles are the answer to the question of what is best to fill a grappling dummy.
Pool noodles as a dummy filler are a good choice as the most efficient method to fill the dummy.
Because:
It needs less time, effort, and other filling materials
Pool noodles build an integral body structure of the dummy, especially the limbs and joints parts
With pool noodles fill you can still have a heavy dummy combining the filling with clothing

back to menu ↑
How do you make a dummy out of pool noodles?
In fact, you can play around and create your own version of a pool noodle grappling dummy for your needs.
Here is one of the variants.
How do you stuff a dummy with pool noodles?
The next video shows how to stuff a purchased unfilled grappling dummy with pool noodles and clothes.
Sand
Sand as a dummy filler will make it really heavy. But it's not recommended to fill the dummy with sand only.
But think twice before using sand. Do you really need that heavy throwing dummy?
Remember the big boxing bags in the gym? An average grappling dummy has about the same dimensions.
You don't need the dummy to lift weights. The grappling dummy should imitate a partner to practice the moves and techniques.
But you can combine sand with clothing, for example.
Some equipment brands like Jendila grappling dummy manufacturer recommend not to use sand of more than 15lb combined with the clothes.
Filling the dummy will depend on the construction of the dummy you have.
Let's say you have the one with joints (legs, head, and arms) that can be the hardest to fill properly.
Below is a video where you can find some tips on what to pay attention to.
back to menu ↑
How to stuff a grappling dummy?
The tips and hints in the video are shown on the Smarty grappling dummy.
back to menu ↑
How do you make homemade wrestling dummies?
Believe it or not but there are ways of DIY for wrestling dummies.
We have found several different variants.
Most of them are free to make.
#1 Best BJJ dummy for free
The homemade wrestling dummy in the video below will cost you zero dollars because of all the needed stuff you have at home.
Even if not, you will spend less than $50.
You will need:
big towels or blankets
backpack
pillow
old gi with belt
#2 The easiest and fastest DIY jiu jitsu dummy
Take a rash guard, a pillow, and some pieces of clothing.
#3 Another free DIY for jiu jitsu dummy
But for this one, you will need a bit more home stuff.
#4 Leg lock dummy DIY
#5 PVC grappling dummy with joints
The next homemade grappling dummy needs construction skills and you will need to buy a set of component parts. Good news – not expensive.
back to menu ↑
Rollbot – realistic grappling dummy
Today AI technologies are almost everywhere. And what if we will say that even in BJJ and grappling?
You might be wondering how?!
Meet the Rollbot grappling dummy.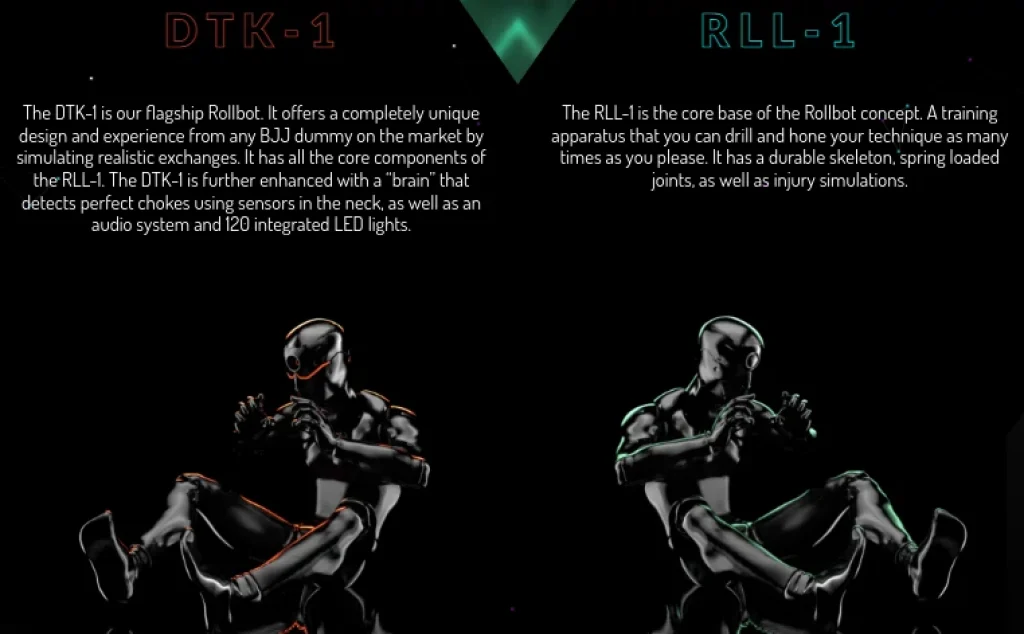 "The Rollbot. 5 years in the making, 37 versions later. Rollbotbjj.com is now online. Beta testing starts today, get your spot in line."


Say the creators
There are not too many real-life examples with dummy robot. Let's wait for more details.