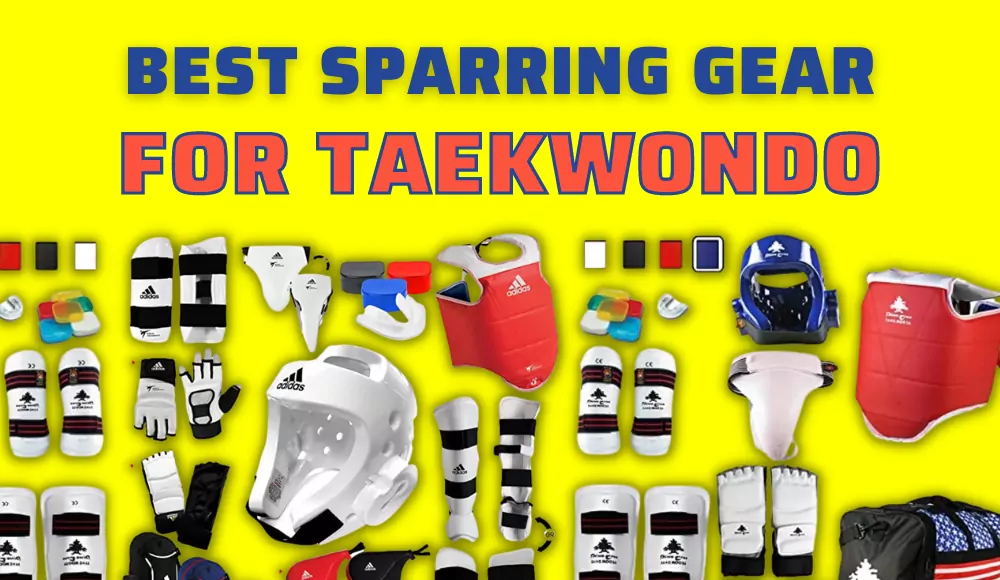 Is it difficult to find and buy the best sparring gear for taekwondo? What are the best taekwondo brands? Are there good cheap alternatives to expensive TKD equipment?
All these questions definitely arise from all parents who are preparing their children for taekwondo classes.
We decided to create a simple all-in-one article to present the most needed and best tkd sparring gear.
Spoiler: There is nothing difficult to find all the taekwondo practitioners (taekwondoin) need.
Why do we need protective gear in taekwondo?
Taekwondo is an Olympic martial art with leg kicks and punching in general. Yes, all kicks in taekwondo are regulated by the official rules and regulations.
Nevertheless, taekwondo is a very dynamic full contact combat sport with fast spinning kicks and kicks to the head.
So, it is obvious that the rules regulate also the availability of protective gear for taekwondo during sparring, as for the regular training, so on the competition and Olympic matches.
back to menu ↑
What do taekwondo students wear?
The taekwondo student, or taekwondoin, wears a white uniform and a belt. During the sparring, the taekwondo student is also equipped with protective gear.
The taekwondo clothing name is dobok. The dobok taekwondo uniform parts are:
All students from white to brown belts are allowed to wear a white shirt underneath the uniform's top. The black belts can wear a black shirt.
How to wear taekwondo uniform?
How to tie a taekwondo belt?
back to menu ↑
What are taekwondo equipments?
In the tournaments, for instance, the Olympics, there is an obligatory minimum of taekwondo sparring gear set.
According to the official Olympic Games site, these are:
trunk protector (chest protection)
head protector (helmet)
a groin guard under the dobok for male athletes
forearm and shin guards
gloves
sensing socks
mouth guard
Taekwondo equipment names
The trunk or chest protector in taekwondo is called hogu and is worn during competitions and sparring sessions.
back to menu ↑
Best taekwondo brands
These three names are the most well-known and best taekwondo gear brands among the tkd martial artists.
Among the taekwondo uniform suppliers to mention also are Mooto, Pine Tree, etc.
Now let's jump to the list of the best sparring gear for taekwondo.
back to menu ↑
Best taekwondo equipment
In this list of the best sparring gear for taekwondo, we will review the main items needed for the training. If you will not see here what you were searching for, it is most likely reviewed in our other articles.
back to menu ↑
Taekwondo sparring gear full set
If your children or you just entering the taekwondo martial art you will need a bunch of taekwondo equipment that is including a uniform of about 10 different items.
A good choice will be here to buy a full taekwondo sparring gear set.
3 colors
Adidas tkd sparring gear set of 6 items:
– Head Guard
– Chest Guard
– Forearm Guard
– Shin Guard or Shin Instep Guard
– Groin Guard, male or female
– Mouth Guard with a case, youth or adult

3 colors: blue, white, and red.

The Adidas hogu (chest protector) is reversible – you can change the hogu color between blue and red.

The Adidas taekwondo gear set price depends on what optional gear item is added to the main set.

Optional items for additional cost: fighter gloves, foot protectors, taekwondo backpack, and a pair of large double paddle kicking targets.
Another best taekwondo sparring gear full set by Pine Tree for a lower price than Adidas but still approved quality for many years.
10 items set
Pine Tree taekwondo gear set of 10 items:
– foam head gear (helmet)
– forearm guards
– hand guards
– shin guards
– foot guards
– chest guard (tkd hogu)
– mouth guard
– mouth guard case
– groin protector
– carrying gym bag
back to menu ↑
Best taekwondo headgear
But if you need to fill up your equipment with separate parts, it's not a problem to find a good variant.
Again two options – with lower and higher prices.
4 colors
Pine Tree martial arts head gear.
4 different colors: blue, black, white, and red taekwondo headgear.

With protection on the top, back, and sides of the head with a chin strap. There are holes in the ear areas for pressure release.
3 colors
Very light EVA material. 3 different colors: red. blue, and white. Elastic strap on the chin.

Made for the most intense sparring workouts.

CE and WT (World Taekwondo Federation) approved.
back to menu ↑
Best taekwondo hogu chest protector
Reversible
Reversible blue and red chest guard protector by Pine Tree. Kids and adult sizes.

Has a string tie for a secure fit. Extra thick padding.

Good protection. Fits also for training in kickboxing.
Reversible
Reversible blue and red chest guard protector by Adidas. With durable vinyl covering.

Sizes XS, S, M, L, XL.
WTF approved.
back to menu ↑
Best taekwondo equipment bags
No need to explain you will need a suitable in-size bag to carry all the taekwondo equipment needed for your or your kids training classes.
The Adidas taekwondo gear is one of the most popular and best taekwondo uniform brands. This fact with Adidas concerns not only tkd, but karate, aikido, judo, and other martial arts.
Adidas taekwondo gear bags
Over 7300 reviews
Medium-sized gym duffel bag for taekwondo supplies and gear. 8 different colors: black, green, blue, gray, pink taekwondo gear bag, etc.
Material: 100% Polyester, reinforced ripstop. Lifetime warranty.

Padded removable shoulder strap and haul handles.
This medium-sized Adidas bag will allow you to carry the taekwondo gear set.
Another bag is a Taekwondo backpack by Adidas.
4 color variations
Two buckle clips on the front to hold the chestguard and other protective gear for taekwondo. There is also an outside hook clip for the headgear.

Size: 19″ x 11″ x 5″.
Material: durable nylon and polyester nylon. A sturdy bag with a comfortable size to carry the taekwondo safety equipment.
One more backpack made specifically for the adult and youth taekwondo sparring gear: headgear and chest gear.
4 color variations
Roomy interior with different compartments on the outside to hold different TKD gear items: chest guard, shin guards, shoes, gloves, helmet,
water bottle
, mouthguard.
This backpack allows carrying all sparring gear needed for the training and
can easily replace a big sports duffel bag
.
Size: medium.
back to menu ↑
Taekwondo uniform patches
Best sparring gear for taekwondo needs uniform patches to create the full image.