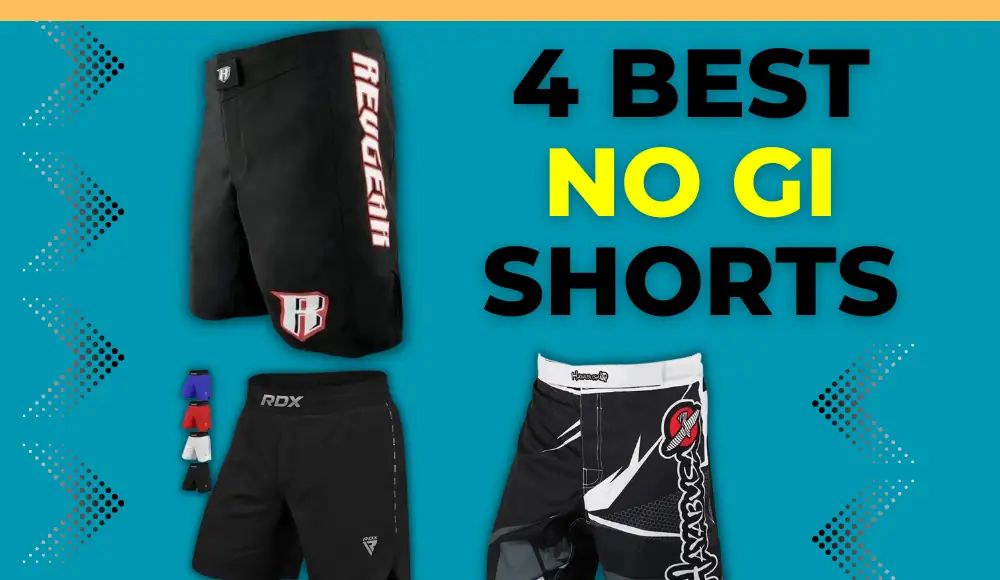 It's our next series on finding and presenting the best no gi shorts for grappling martial arts. Here you can find the list of the 10 best MMA shorts.
As a BJJ or MMA practitioner, one of the essential pieces of gear you need is a pair of high-quality and best performance no gi shorts. It means these shorts should meet the needs of fighters such as comfort foremostly. Other aspects are durability and the possibility to provide a full range of motion, making them ideal for training and competing.
But, with so many options available on the market today, it can be challenging to find the best choice of training no gi shorts for your needs. That's why we've put together a comprehensive guide to the best no gi BJJ shorts and also for grappling in one place.
Also, we have minimized the list to only 4 picks to reduce the challenge of choice to as much as possible.
Table of content
What are no gi shorts?
Overall, no-gi shorts are an essential piece of equipment for grapplers, BJJ, and MMA fighters who train without the traditional gi or kimono attire. In Brazilian jiu jitsu this type of grappling style is called no gi.
Best no gi jiu jitsu shorts, as expected, provide comfort, flexibility, and protection while allowing the athlete to move freely and execute techniques without restriction.
They typically feature a flexible waistband with a drawstring, elastic, or velcro closure, which ensures a secure fit and prevents the shorts from sliding or falling during intense movements.
Many no-gi shorts also feature reinforced stitching and seams in high-stress areas, such as the crotch and hips, to improve durability and prevent tearing.
The materials can differ – from lightweight to dense one. But in any case, it should be a synthetic durable fabric that will stand all loads during training.
The length of the no gi shorts can be as mid-thigh as much as full-length (about to the knees).
back to menu ↑
Can I wear any shorts for no gi?
Technically you can wear any type of athletic shorts for no-gi training.
It's generally recommended to wear shorts specifically designed for grappling and MMA. This is because these shorts are typically made of lightweight, durable, and often stretchy materials that can withstand the wear and tear of intense training sessions, as well as provide the necessary mobility and protection for grappling techniques.
But wearing shorts that are not specifically designed for no-gi in the tournaments may result in your disqualification from the competition. To avoid it, read the official rules before the tournament.
At the same time, not all athletic shorts can meet the no gi training requirements as they may be too loose or bulky, which can interfere with movement or get caught on other equipment or training partners. Also, pay attention not to wear shorts with zippers or wide pockets.
If you are serious about no-gi training, buying a pair of no gi grappling shorts is a wise decision. These shorts are designed to provide the necessary flexibility, durability, and protection for no gi techniques.
back to menu ↑
Best No Gi Shorts
Without further ado, let's jump straight to picks of the best shorts for no gi BJJ and grappling practice.
#1 Hayabusa Shorts
Amazon's choice
One of the most popular shorts by the Hayabusa brand.
Reinforced stitching for advanced strength and durability. Stretch fabric and split side seams gives free move motion. A comfortable waistband stays in place during the most intense training sessions.
#2 Venum UFC Shorts
UFC licensed
Venum UFC shorts designs are inspired by the UFC fight night kit. Venum shorts are worn by fighters during their walkouts. 7 different colors: green, white, black, red, yellow, blue, black, and gold.
#3 Revgear Shorts
affordable price
It's a versatile and durable option for any grappling training – no gi BJJ, MMA, etc. Revgear shorts have stretch fabric that provides maximum flexibility and durability – flexible, strong, and comfortable.

Optimal length and hold up well. Also will fit well for a big or tall guy. Waistband with drawstring.

A wide range of sizes: XS, S, M, L, XL, XXL, XXXL.
#4 RDX shorts
mid-thigh length
RDX no gi shorts for MMA and grappling have mid-thigh length and are designed to provide comfort and functionality during training. Classic color palette to choose from: black, red, blue, and white.

Very lightweight. Sizing: run small.
back to menu ↑
Conclusion
Choosing the right style of no gi grappling shorts for BJJ and MMA can be a daunting task. But luckily, with some guidance on the best picks, you can find the perfect pair to meet your needs. Whether you're a serious competitor or just starting out, finding a pair of no gi shorts that fits all needs of comfort is essential for your training and performance.
Remember to choose a pair that fits well, is comfortable, and provides maximum flexibility and durability.