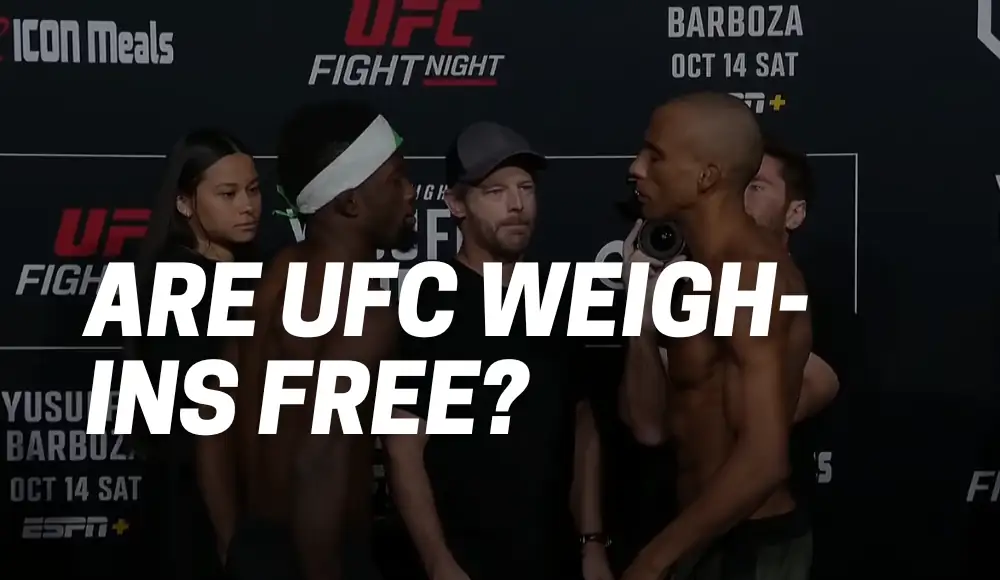 UFC weigh-ins are a fascinating aspect of the sport that many fans eagerly anticipate. Not only do they provide a glimpse into the fighters' physical conditions before a match, but they also offer a unique fan experience. In this article, we will delve into the world of UFC weigh-ins, answering your burning questions and providing you with the essential information you need to become a part of this exciting pre-fight ritual.
Are UFC Weigh-Ins Free to Attend?
Yes, UFC weigh-ins are generally open to the public free of charge. These events offer fans a chance to get up close and personal with their favorite fighters, witness the intensity of the weigh-in process, and feel the electric atmosphere that surrounds the fighters.
However, there can be exceptions and conditions depending on the specific event, location, and COVID-19 restrictions, which may require tickets or have limited attendance. So, it's always a good idea to check in advance.
Also, UFC offers VIP Experience Ticket Packages for different events. The cost may start from about $1250.
back to menu ↑
How Can I Attend UFC Weigh-Ins?
Attending UFC weigh-ins is relatively straightforward. You can typically find information about upcoming weigh-ins on the official UFC website or on social media. Most weigh-in events are open to the public, and you can simply show up at the designated venue within the specified time frame. Keep in mind that popular events may fill up quickly, so arriving early is advisable if you want to secure a good spot.
back to menu ↑
Where and When Do UFC Weigh-Ins Take Place?
The official UFC weigh-ins take place on the day prior to the fight night, with fighters required to step on the scales during the timeframe from 9 a.m. to 11 a.m., local time. Depending on the State Athletic Commission and weight discrepancy, an athlete who misses the initial weigh-in might have an additional hour to shed the extra pounds and reattempt the weigh-in.
UFC weigh-ins take place at various locations, usually near the venue where the fight is scheduled to happen. The exact location and time can vary from event to event, so it's crucial to check the official UFC website or their social media channels for the most current information. These events are generally held the day before the fight, giving fans a chance to feel the pre-fight excitement building.
Table: Upcoming UFC Weigh-In Events
| Event Date | Location | Event |
| --- | --- | --- |
| October 21, 2023 | Etihad Arena, Abu Dhabi, United Arab Emirates | UFC 294: Makhachev vs. Volkanovski 2 |
| November 04, 2023 | Ginasio Do Ibirapuera, Sao Paulo | UFC Fight Night: Almeida vs. Lewis |
| November 12, 2023 | Madison Square Garden, New York, NY | UFC 295: Jones vs. Miocic |
| November 18, 2023 | UFC APEX, Las Vegas, NV | UFC Fight Night: Allen vs. Craig |
| December 17, 2023 | T-Mobile Arena, Las Vegas, NV | UFC 296: Edwards vs. Covington |
back to menu ↑
What Happens at UFC Weigh-Ins?
UFC weigh-ins are more than just fighters stepping onto scales. They are a spectacle of their own. Here's what you can expect:
Fighter Staredowns: After the fighters weigh in, they come face to face for the ceremonial staredown. It's a moment of intense energy, often leading to memorable photos and even brief skirmishes.
Fighter Interviews: Some fighters are interviewed, giving fans insight into their mindset and their thoughts on the upcoming match.
Crowd Interaction: Fans have the opportunity to cheer for their favorite fighters and interact with other passionate UFC enthusiasts.
Official Weigh-Ins: This is the moment where fighters step on the scales and officially make weight. This is a tense moment, as it can determine whether a fight will proceed as planned.
back to menu ↑
UFC 291 ceremonial weigh-ins
back to menu ↑
How Long Do UFC Weigh-Ins Go For?
The duration of UFC weigh-ins can vary, but they typically last for a few hours. The actual weigh-in process is relatively quick, but the festivities and fan interactions can extend the overall duration.
back to menu ↑
Where Can I Get the UFC Weigh-In Results?
The UFC weigh-in results are usually announced live at the event. You can also find them on the official UFC website, as well as on sports news websites and social media platforms. These results are crucial for both fighters and fans, as they determine the eligibility of fighters to compete.
back to menu ↑
Are There Any Rules or Guidelines for Attending UFC Weigh-Ins?
While UFC weigh-ins are free, there are some important rules and etiquette to keep in mind:
Respect Fighters: Be respectful and avoid interfering with the fighters, especially during staredowns.
Follow Venue Rules: Adhere to any specific rules or guidelines set by the venue, such as prohibited items and seating arrangements.
Arrive Early: To secure a good spot and avoid disappointment, arrive well in advance.
Stay Informed: Stay up to date with the latest information on the event to avoid any surprises.
back to menu ↑
Are UFC Weigh-Ins Free Reddit Answers
For those who seek information on Reddit, you can often find answers to questions about UFC weigh-ins on relevant subreddits like r/MMA. However, remember that information on Reddit can vary in accuracy, so it's essential to cross-check with official sources for the most reliable details.
Key Points
Weigh-ins are free, no tickets needed.
Open to everyone, arrive early, long lines for some cards.
UFC 129 weigh-ins required a ticket but were free. First come, first serve for seating.
Suggests calling the venue for current information.
Mentioned uncertainty for larger events.
UFC 145 weigh-in at Fox Theater, no ticket required, great seats.
Toronto weigh-ins not busy; got great seats.
Attended multiple weigh-ins, met pro fighters, and found them fun.
Ceremonial weigh-ins are free and worth attending.
back to menu ↑
What Is the Purpose of UFC Weigh-Ins?
UFC weigh-ins serve multiple purposes:
Weight Compliance: Fighters must make weight to ensure fairness and safety in the octagon.
Promotion: Weigh-ins generate excitement and anticipation for the upcoming fights, promoting the event to a wider audience.
Face-offs: Staredowns at weigh-ins create memorable moments and build hype for the matches.
back to menu ↑
Are UFC Weigh-Ins Broadcast Live?
Yes, UFC weigh-ins are often broadcast live. You can catch them on the official UFC website, on television if it's a highly anticipated event, or through live streams on platforms like YouTube. UFC understands the value of engaging fans worldwide in this exciting pre-fight ritual.
back to menu ↑
Can I Meet UFC Fighters at Weigh-Ins?
Meeting UFC fighters at weigh-ins is entirely possible. Fighters are often more approachable during these events, and many may interact with fans, take photos, and sign autographs. Just remember to be respectful and give them space when needed. Or you can buy the official UFC VIP Experience Ticket Packages and have more guarantees to meet the fighters personally.
back to menu ↑
Are There Any Restrictions or Limitations on Attending UFC Weigh-Ins?
While UFC weigh-ins are typically open to the public, there can be some restrictions or limitations, including:
Age Restrictions: Some venues may have age restrictions, so it's essential to check in advance if you plan to attend with minors.
Capacity Constraints: Popular events may fill up quickly, so arriving early is advisable to secure your spot.
Ticket Requirements: For some events, especially those held at smaller venues, tickets might be required.
back to menu ↑
How Can I Stay Updated on UFC Weigh-In Events?
To stay informed about upcoming UFC weigh-in events, you can use the following resources:
Official UFC Website: Check the UFC's official website for announcements and event details.
Social Media: Follow the UFC on social media platforms like Twitter, Facebook, and Instagram for real-time updates.
News Outlets: Sports news websites and channels often provide information about upcoming UFC events, including weigh-ins.
Email Subscriptions: Consider subscribing to the UFC's newsletter to receive event updates directly in your inbox.
In conclusion, UFC weigh-ins offer an incredible opportunity for fans to be a part of the pre-fight excitement, witness fighter face-offs, and get an up-close experience with their favorite athletes. While they are generally free, it's essential to check for specific event details and any potential conditions that might apply. So, mark your calendar, stay informed, and get ready to be a part of the thrilling world of UFC weigh-ins.