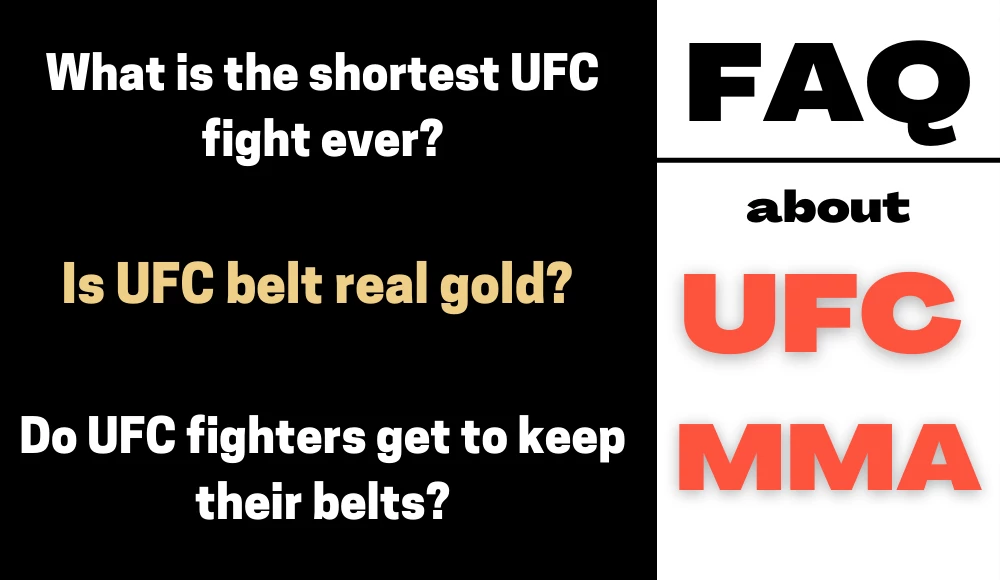 First of all, all the interesting facts about UFC and MMA are too much so it will be hard to put all of them here in one article. That is why let's call it "All you want to know about UFC and MMA. Part 1".
Any weird MMA facts and things that would surprise you about MMA fighters are easy to find out. Because these are the things that in most cases shared not by the fighters themselves, but by die-hard fans of MMA sport.
They see and notice things that no one else would recognize. But when revealed and announced publicly, it becomes often to really cool MMA facts that start to travel among the sports community.
We are also MMA fans, as we are in the martial arts sport every day. But we don't know all about MMA and especially the random interesting UFC facts.
Let's find out together what are some interesting facts about famous MMA fighters and mixed martial arts in general.
Interesting facts about UFC and MMA
There is a lot of general information about MMA fighting and fighters, about the best UFC fighters, etc.
But this is not the format of our article here and the information about MMA we have found and want to share.
Here is what and how we will share the interesting facts about UFC and MMA:
Separated into two parts – MMA and UFC related facts
FAQ share method
All the questions you will find below are question people ask the most frequently about mixed martial arts.
We have selected the most interesting.
And as mentioned earlier, these facts are too much for only one article, so we will continue to share this topic in our next posts. Stay tuned.
back to menu ↑
MMA Interesting Facts
back to menu ↑
Why do MMA fighters put Vaseline on their face?
When you are watching fights you may wonder what do they rub on UFC fighters faces.
They are using petroleum jelly or we all know it under the brand name Vaseline.
Why do they put vaseline on UFC fighters you may also wonder?
Bloody tearing in the skin on the face can be a reason for losing the fight. If the condition is critical, the referee may stop the match.
In order to minimize the tearing of the skin tissues on the face from the blows of the opponent, athletes put Vaseline on their faces. The jelly-like slimy mass reduces friction between the skin and the opponent's gloves.

Also, Vaseline in combination with a coagulant can stopple some amount of blood to be lost from the wound. This allows the fighter to prolong the match.
At matches, there is a special person who is responsible to treat the fighter's damage during the breaks. This person is called a cutman. You can see a cutman doing his job in MMA, boxing, kickboxing, and other full-contact fights.
back to menu ↑
Who is the most famous ring announcer?
The most famous ring announcer (or MC) is Michael Buffer.
He is the voice of professional boxing, wrestling, National Football League matches, NBA finals, etc.
His popular catchphrase is "Let's get ready to rumble!" which is trademarked.
Michael Buffer was the UFC announcer in 1995, but his contract with WCW forced him to stop being an announcer for UFC.
His brother – Bruce Buffer – is a famous UFC ring announcer.

back to menu ↑
What did Meryl Streep say about MMA?
Yes, there is some story between the Hollywood legend Meryl Streep and Mixed Martial Arts.
The story happened back in 2017, when the famous actress in her speech at the Golden Globes wanted to embarrass and criticize the politics of Donald Trump, and as a result indirectly criticized MMA as well.
"If we kick [foreigners] out, you'll have nothing to watch but football and mixed martial arts – which are not the arts," she said.
Predictably, it caused another chain critique from UFC President Dana White to the address of Meryl Streep.
"Of course [MMA] is an art," White said. "These fighters, these men and women, are so talented. They train their whole lives to be the best in the world. To say something stupid like that is like saying, 'She's not a talented actress,' which she is. She's a very talented actress," he said.
Obviously, this is such a dialogue between Streep and White caused by Trump's Republican convention.
back to menu ↑
There are books about MMA
At first sight, it seems strange that any martial arts discipline has books by which it can be taught.
But in fact, it's true and has a considerable right to life. As it is said – it's a discipline and every discipline has its theoretical part.
But martial arts and specifically MMA books are not just about theory and details on what for and how to utilize each technique.
Books can tell us also the history of how it was or the life story of a prominent person in the world of martial arts.
There are also a lot of great motivational books. For instance, legendary masters of martial arts and the best fighters can share their thoughts and experience not necessarily about martial arts only.
If you are keen on what books about MMA are there and worth reading, here are a couple of examples: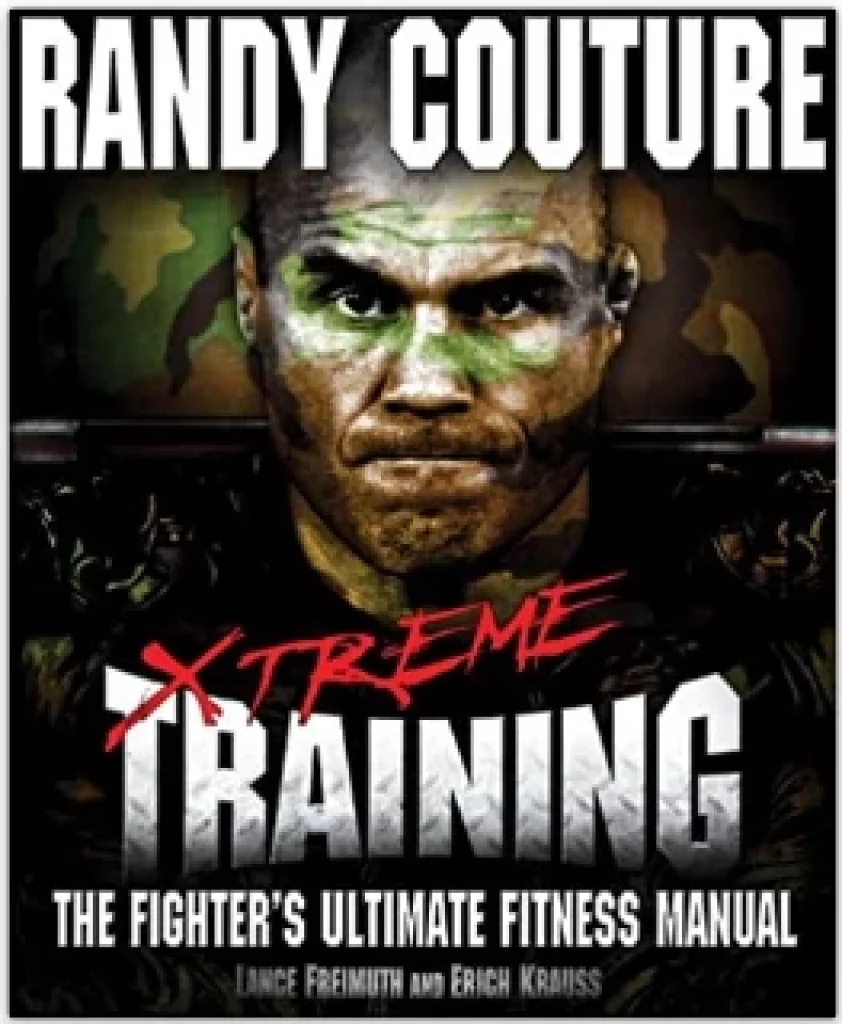 MMA book by Randy Couture Xtreme Training: The Fighter's Ultimate Fitness Manual
A book by the former UFC referee Big John McCarthy Let's Get It On!: The Making of MMA and Its Ultimate Referee
Chael Sonnen vs Wanderlei Silva fight on Bellator 180
The full fight between the former UFC, Pancrase, WEC, and Bellator fighter Chael Sonnen with Wanderlei Silva in 2017 on Bellator 180. Silva competed for PRIDE and UFC.
–
back to menu ↑
Interesting facts about UFC
back to menu ↑
Does UFC clean the blood on the mat between fights?
This question has triggered me always.
I was even thinking maybe it's painted on the octagon's mat as a part of the decoration. Because the blood is always there even at the beginning of the fight.
My assumptions were supported by the fact that blood is unhygienic and dangerous for health.
Now I have the official occasion to find out the truth.
Here are some facts about this question that we were able to find:
We couldn't find any official information or comment from the UFC on how this procedure is carried out.
All UFC fighters are blood tested before the fight so they don't have diseases, said Dana White in an interview in 2007. Otherwise, they are banned from the fight.
In 2016, when UFC was broadcasted on Fox, Joe Rogan revealed how Fox attempted to cover up blood stains with white pain during UFC broadcasts. It's supposed to cover blood from appearing on the screens and to avoid a certain level of violence on TV.
back to menu ↑
How much does it cost to advertise on the UFC Octagon?
Octagon is trademarked by the UFC cage. During any fight, we can see there is a sponsored placement.
According to several resources, the exclusively Monster Energy logo cost placed in the Octagon is about $9 million yearly.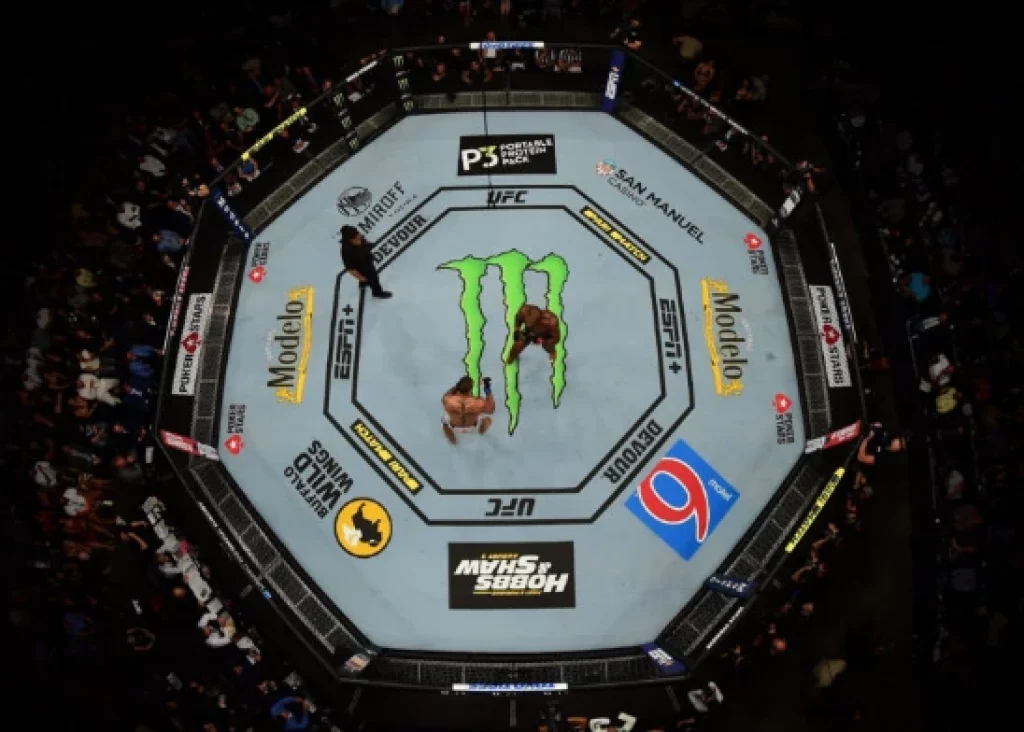 back to menu ↑
How many UFC fights have there been?
Since UFC 1 – the very first fight in the Ultimate Fighting Championship – and till the end of August 2022, there have been taken place 618 UFC events including the main UFC fights, UFC on ESPN, UFC on ABC, and UFC Fight Night.
The last main UFC event held in August 2022 was the UFC 278: Usman vs Edwards 2.
You can find the list of all UFC events on Wikipedia here.
Upcoming UFC events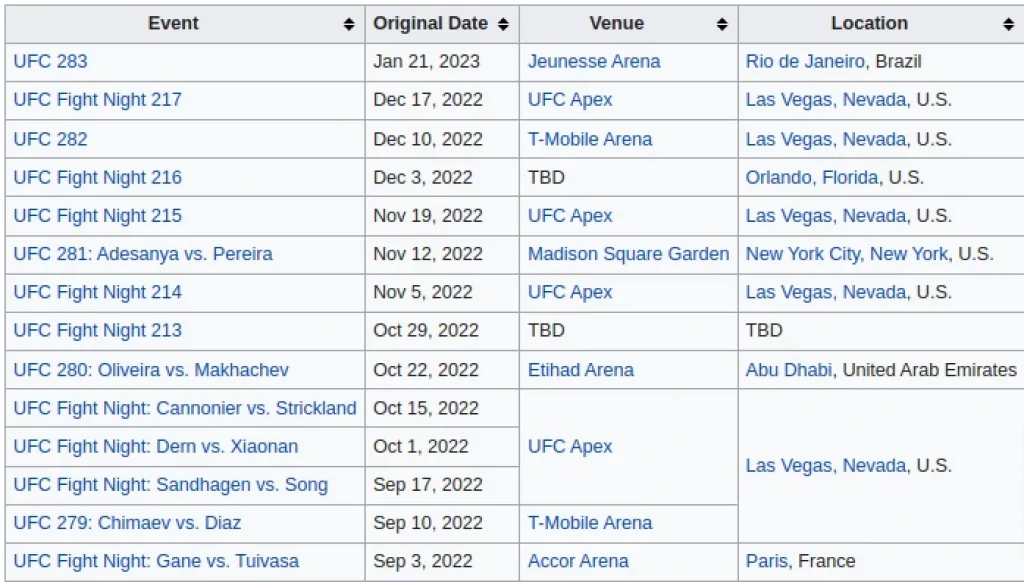 Number of all UFC events (till end of August 2022)

back to menu ↑
When was UFC 1?
The very first UFC 1: The Beginning match took place on November 12, 1993, in Denver, Colorado. First, it was called The Ultimate Fighting Championship but later renamed UFC 1: The Beginning.
back to menu ↑
Do UFC fighters get to keep their belts?

In fact, this question reveals how much is a UFC belt worth. Let's dive even deeper here with more clarifying questions.
For instance, do UFC fighters get a new belt every fight, or do they fight for the same belt that has the previous winner?
How long can you hold a UFC belt and what happens to the belt when a UFC fighter retires?
Do you know the answers or never thought about them earlier as I did?
And here is the answer, what happens with the UFC fighters' belts: they keep them, regardless if they keep or lose the title.
Even if you hear that the belt was taken from the former UFC winner, it means he or she has lost the champion title, but not the belt physically.
back to menu ↑
What is UFC legacy belt?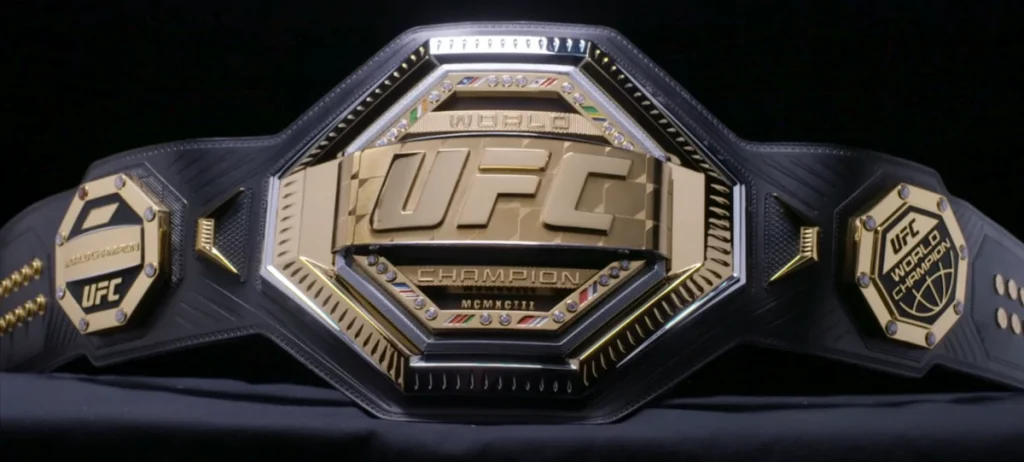 As for now, there is one UFC legacy belt that was presented in 2019 and didn't change since that time. Before 2019 there was a UFC Classic Championship belt that has some flaws as a champion award system.
But the new UFC legacy belt system took into account these shortcomings and now every fighter receives a custom-designed title belt.
The belt is "uniquely customized for each individual champion by the athlete's country, weight class, and number of title defenses. Each belt will be assigned its own serial number and will feature UFC President Dana White's engraved signature for authenticity" – as explained by UFC.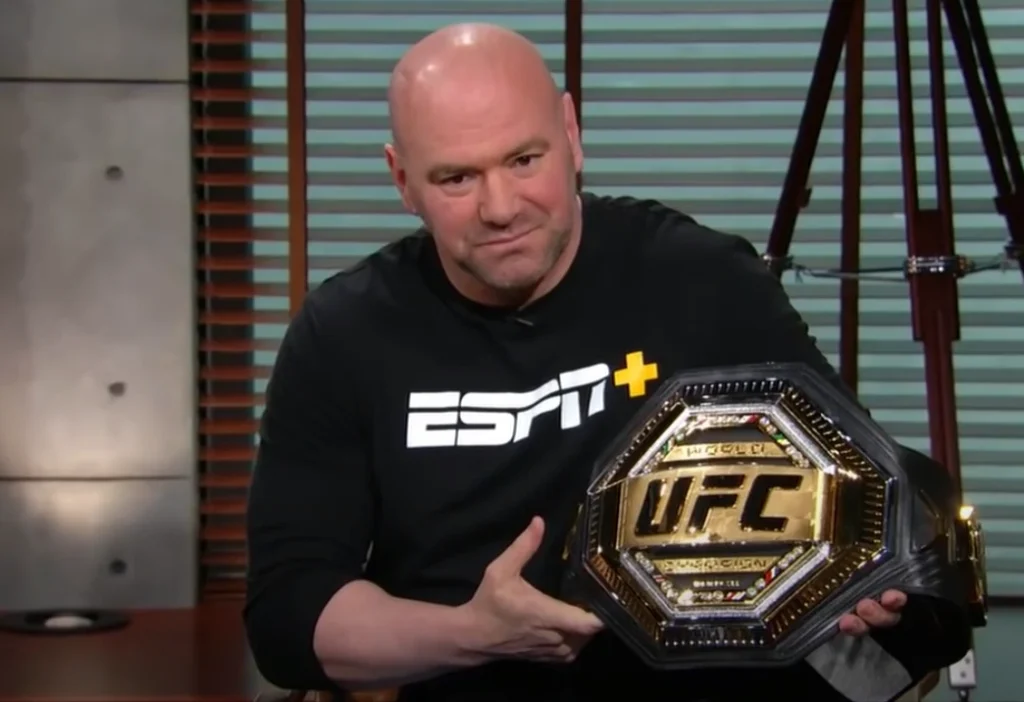 UFC legacy belt dimensions:
length 50 in / 127 cm
height 12 in / 30.5 cm
weight 10.45 lbs / 4.74 kg
back to menu ↑
Is UFC belt real gold?
They say "golden belt".
But do UFC belts have real gold?
The UFC belt is made from genuine leather. Its main Octagon-shaped plate is made from high-polished gold, according to the information from UFC YouTube channel.
The belt has an engraving of eight flags to honor the first countries with the first UFC champions:
Belarus (Andrei Arlovski)
Brazil (Murilo Bustamante)
Canada (Carlos Newton)
Ireland (Conor McGregor)
Netherlands (Bas Rutten)
Poland (Joanna Jedrzejczyk)
United Kingdom (Michael Bisping)
United States (Mark Coleman)
Every UFC fan can buy today a UFC belt replica on the UFC store or on the official UFC Amazon store for a cost from $750 to $850.
back to menu ↑
What is the shortest UFC fight ever?
The UFC 239 event in 2019 became very remarkable in UFC history.
The match between Jorge Masvidal vs Ben Askren lasted only five seconds.
Jorge Masvidal vs Ben Askren full fight
Honestly, hard to watch, especially the two additional shots in Askren's head by Jorge Masvidal.