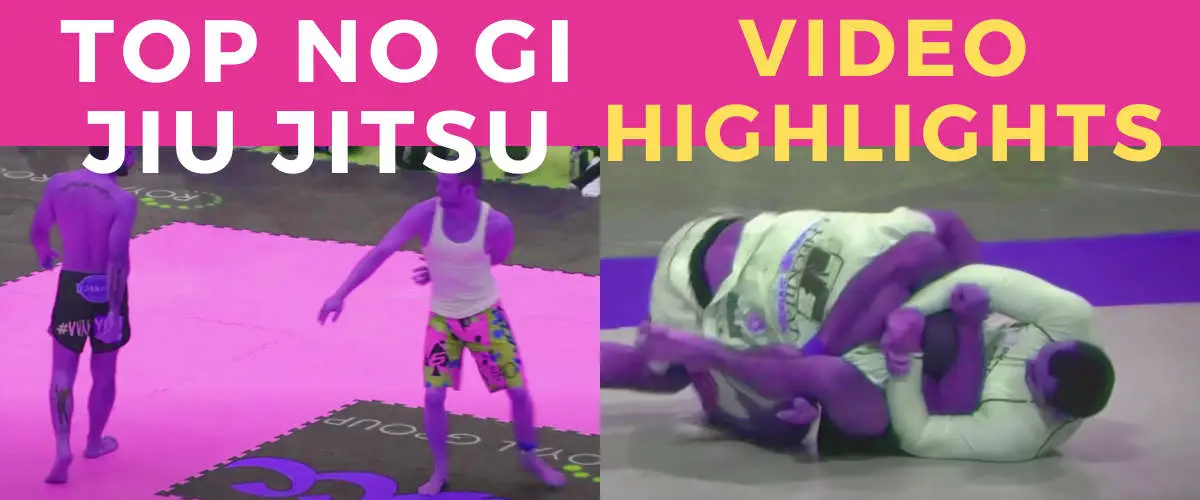 Gi in jiu jitsu is a pretty dominated form of rolling in BJJ. But no gi jiu jitsu fights are no less spectacular. We all enjoy watching the Eddie Bravo Invitational (EBI) submission only jiu-jitsu tournaments or the no gi ADCC championships when the best BJJ fighters meet together.
No-gi grappling is a form of martial art that does not use the traditional uniform with a gi jacket, pants, and belt. The lack of gi and the absence of grips on clothing make it change the game.
You need to have another plan if you fight without a gi. For instance, jiu jitsu takedown techniques will vary for gi or no gi, and will impact the fighting line significantly from the very start.
Jiu Jitsu video highlights of famous BJJ fighters
In this article, we are going to highlight some of the well-known no gi fights from top BJJ fighters.
The first jiu jitsu video shows some of the best BJJ fighters in the world including Ryan Hall, Lachlan Giles, Jeff Glover, and Marcelo Garcia.
All these famous grapplers are black belts in Brazilian jiu jitsu with unique careers. Jeff Glover and Marcelo Garcia are IBJJF World Champions. MMA fans are waiting for Ryan Hall`s next fight in UFC every year. Lachlan Giles is especially successful in no gi competitions.
Ryan Hall is one of the popular UFC jiu jitsu fighters.
Ryan Hall vs Ilia Topuria Highlights, UFC 264, July 2021
The videos showcase a variety of techniques such as takedowns, sweeps, and submissions that are used by the fighters when they don't wear a gi.
No gi grappling is a great field to see new possibilities, may it be single leg takedown or double leg takedown, passing the guard without gi grips.
Another video from the top grappler and IBJJF no gi Worlds champion Gordon Ryan showing how to work with jiu jitsu half guard in nogi:
Check other BJJ news and articles about jiu jitsu training, BJJ fighters and MMA athletes. For instance, Female Jiu Jitsu Black Belt Fights against White Belt.
If you are searching for nogi jiu jitsu classes here is the link to Google Maps to help you to find the BJJ gym – No gi jiu jitsu near me.