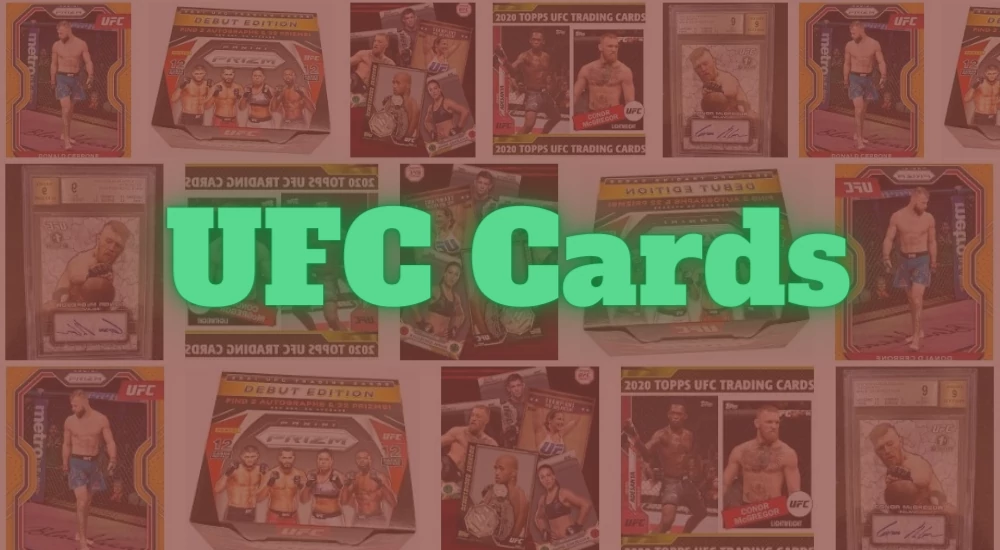 The UFC with its tremendous rising in popularity over its almost thirty years of existence has risen a diversity of subcultures and fans. One of the subculture's phenomena is the UFC trading cards. We will share today the best UFC cards of all time.
What is a UFC card? Keep reading to open yourself to this small but recognized world.
First things first.
What is UFC and What does UFC mean?
UFC is an abbreviation for the Ultimate Fighting Championship. It's an American mixed martial arts promotion company (MMA promotion) that was founded in 1993. One of the founders is Rorion Gracie from the legendary Gracie Jiu Jitsu family. The President of UFC is the well-known Dana White.
UFC Instagram has over 32 M subscribers, the same as the profiles of some top UFC fighters. For instance, Connor McGregor Instagram counts 45 M fans. It's more than by the official NFL with 24 M.
According to Statista, UFC is the most valuable pay-per-view sport. So no doubt, it has an audience for its trading cards.
back to menu ↑
UFC vs MMA: Is UFC MMA or boxing?
This question people are asking on the internet. But it can be understood doubly:
Is UFC a combat sport like MMA or like boxing?
Do UFC competitors fight in MMA or boxing?
UFC is not a martial art. It's a commercial organization, platform, and arena to hold fights. It's like NBA in basketball or WWE in wrestling.
The fights in UFC are held in the MMA style, and the MMA (Mixed Martial Arts) itself is a combination or mixing of different worldwide known martial arts – Brazilian jiu jitsu, boxing, sambo, karate, Japanese jujutsu, wrestling, etc.
The purpose of the Ultimate Fighting Championship was to point out the most effective martial art. The competitors were representatives of different fighting styles. One of the founders of UFC was a Brazilian jiu jitsu fighter Rorion Gracie. With time fighters took on effective techniques from each martial art and as a result, it came to single out a new discipline – Mixed Martial Arts (MMA).
So, it's not the question about UFC vs MMA difference, it's about UFC equals MMA. It makes sense to ask about Bellator vs UFC difference, where Bellator is also a fighting promotion. Or another comparison is UFC vs WWE.
back to menu ↑
Is UFC a sport or entertainment?
It depends on what side are you on or from what perspective you prefer to witness the event. From an honest view, UFC is a very collective phenomenon. It is about games, shows, sports, entertainment, and hobby.
back to menu ↑
What are UFC cards?

Obviously, such kind of popularity creates followers, lovers, and fan groups. As it is established, the expression of adherence and liking needs its attributes. Those, in contemporary society, are, for instance, the UFC for PC video game by EA Sports or the niche-specific hobby and trading cards.
Trading cards are presented in all popular sports.
Like the popular wrestling AEW trading cards or the Mayweather boxing card:
back to menu ↑
Topps and Panini UFC cards explained
There are big collectibles companies, that have acquired licenses for the UFC cards – Panini and Topps, for example. It means they release the cards and the happy card collectors can build their card empire.
Topps had the exclusive rights to produce UFC cards till 2020. Then it moved to Panini America.
The cards can be retail, bluster boxes, or hobby, sold individually or in sets. The hobby cards are usually worth more.
For instance, Panini presented in 2021 to the public its Panini Prizm UFC card collection, which you still can find on Amazon.
Blaster Box
2021 UFC trading cards.
24 UFC panini cards in the box.
Brand and manufacturer – Panini.
4 cards per pack, 6 packs in the box.
Now on the official site are available Panini Instant UFC cards.

back to menu ↑
Does Topps make UFC cards?
As already mentioned, Topps was exclusively releasing the UFC cards until 2020 when the UFC license moved to Panini America. As for now, some Topps UFC Knockout cards are still available from the official site. More cards can be found on eBay, for instance.
When did Topps start making UFC cards?
The Topps UFC Knockout series was started in 2009-2010. Other sets – Chrome and Museum – appeared later.
back to menu ↑
What are UFC relic cards?
Every card can have a different value. This value depends on the type of card:
relic cards
with autographs
from limited editions
rookie
Obviously, the first three types have a high value. For example, relic cards include memorabilia – a piece of fighter's gloves or something related to the event that was held.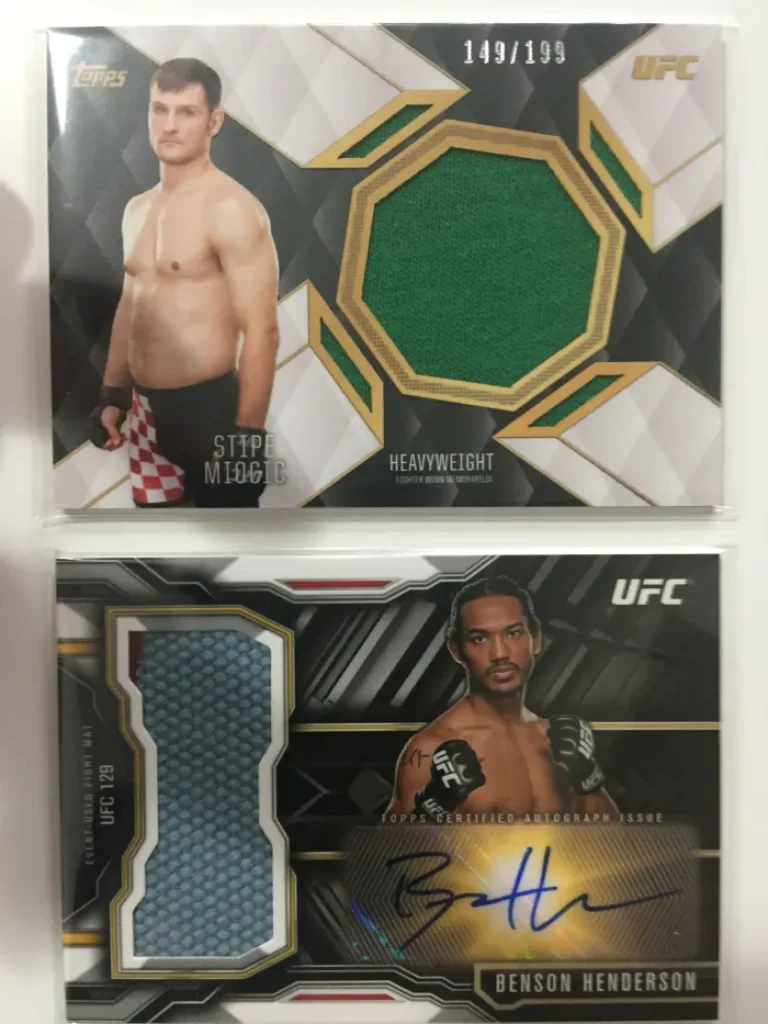 But the most valuable UFC trading cards are those with a combination of all the above-mentioned types with the fighter's autograph (signature). The value for collectors makes the signatures on the cards. They can be signed directly on the card or on a sticker added above. Most of all, preference is given to directly signed cards.
People in the comments on the Internet are sharing, that Topps guarantees the signatures on their cards are real.
The value of the cards brings also the fighter's popularity. Cards with serial numbers and their availability or lack on the market create additional value.
Knowing all these details together a card collector evaluates the worth of each card.
back to menu ↑
Where can I buy UFC trading cards?
There are common and obvious places to buy UFC cards.
First of all, it's the official trading card online stores like Panini and Topps
The next place one would think are local or not card stores
Further is eBay. But attention should be paid not to getting scammed
The good alternative to the 2 and 3 variants is, of course, Amazon
back to menu ↑
UFC trading cards price guide
The average price for the UFC cards, on different online stores and marketplaces, starts from about $30 and can reach $300, $500, and even $8500. The price depends on the amount (pack, set, box) and the individual value, as it can be rare 2019 Topps cards and etc.
back to menu ↑
What UFC cards are worth?
If you are new to collecting, exchanging, or selling UFC cards, there is something to admit. Yes, UFC is still top-notch in popularity around the world as a fight show, and as entertainment. But it is still quite behind in the trading cards agiotage compared with other popular sports like baseball, basketball, football, etc.
But if to run after some hot picks, like the Georges St-Pierre or Conor McGregor cards, the game can bring the fun.
Finally.
Let's come to the most interesting part of this post.
back to menu ↑
5 Best UFC Cards of all Time
The best UFC cards or better to say the most valuable cards ever sold are listed below. So, meet the 5 most expensive UFC cards that will surprise you with their cost
1. Price: $73 800. 2017 Topps UFC Chrome Conor McGregor UFC relic card sold by Goldin collectibles marketplace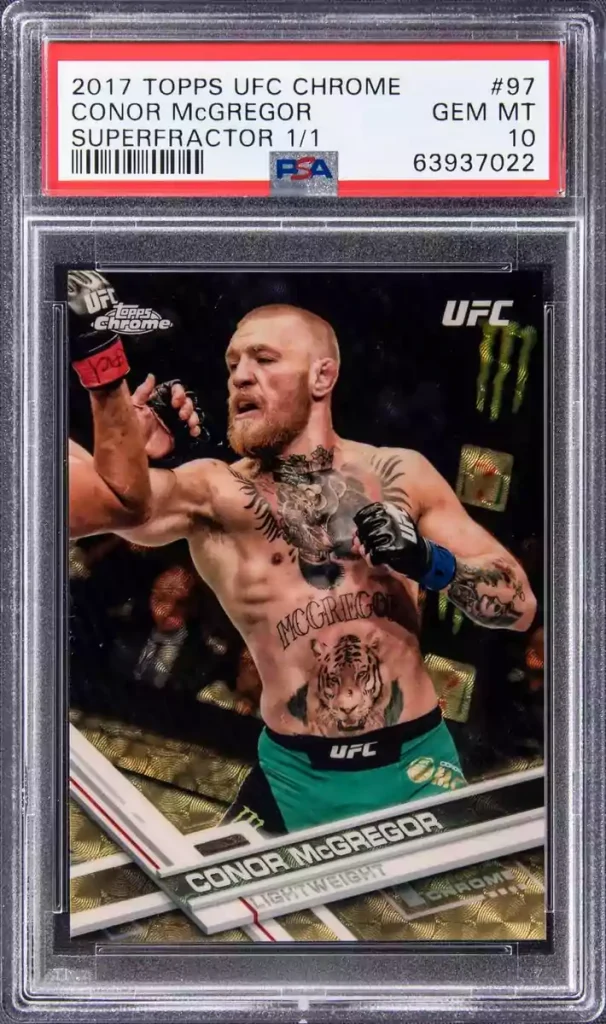 2. Price: $26 400. Conor McGregor 2021 Panini Prizm UFC card. Sold by Goldin collectibles marketplace in August 2021.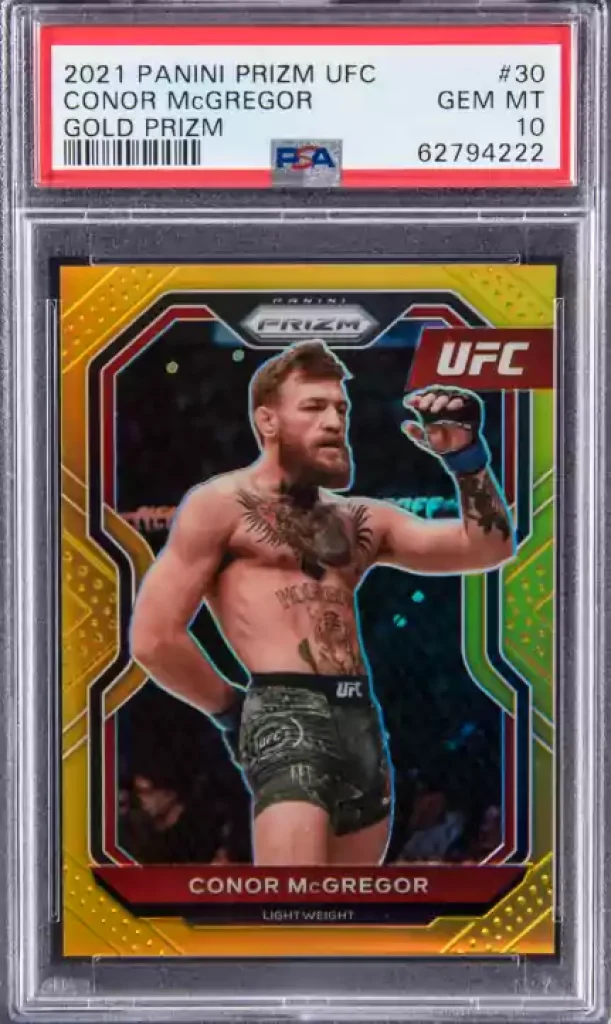 3. Price: $24 000. Khabib Nurmagomedov 2021 Panini Prizm UFC card wit Signatures. Sold by Goldin collectibles marketplace in 2021.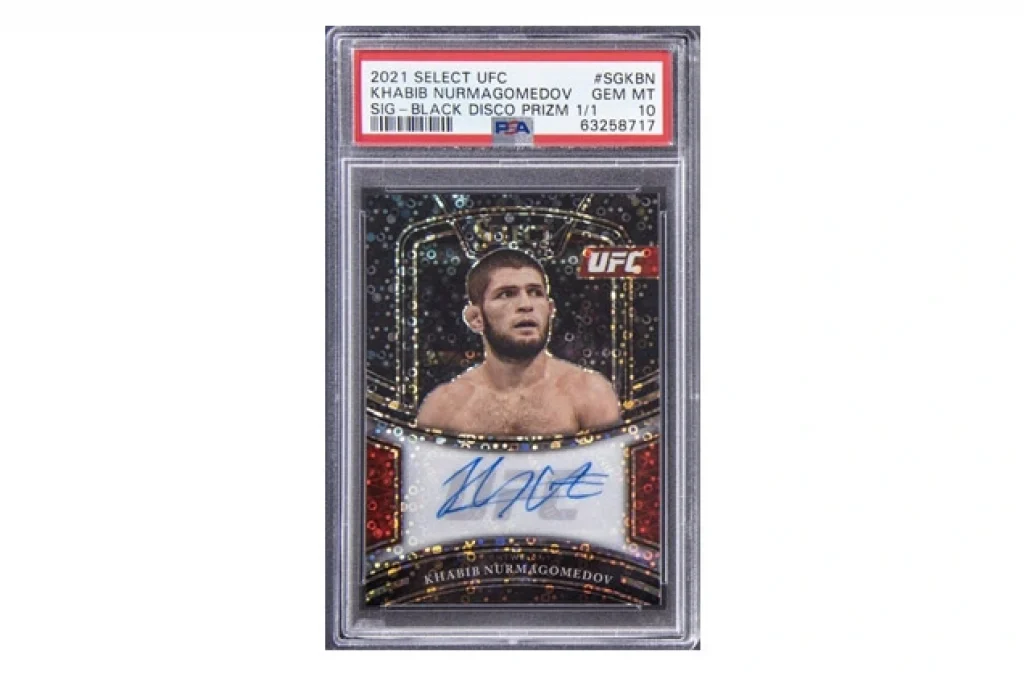 4. Price: $22 212. Conor McGregor 2021 Select UFC Prizm. Sold on eBay in 2021.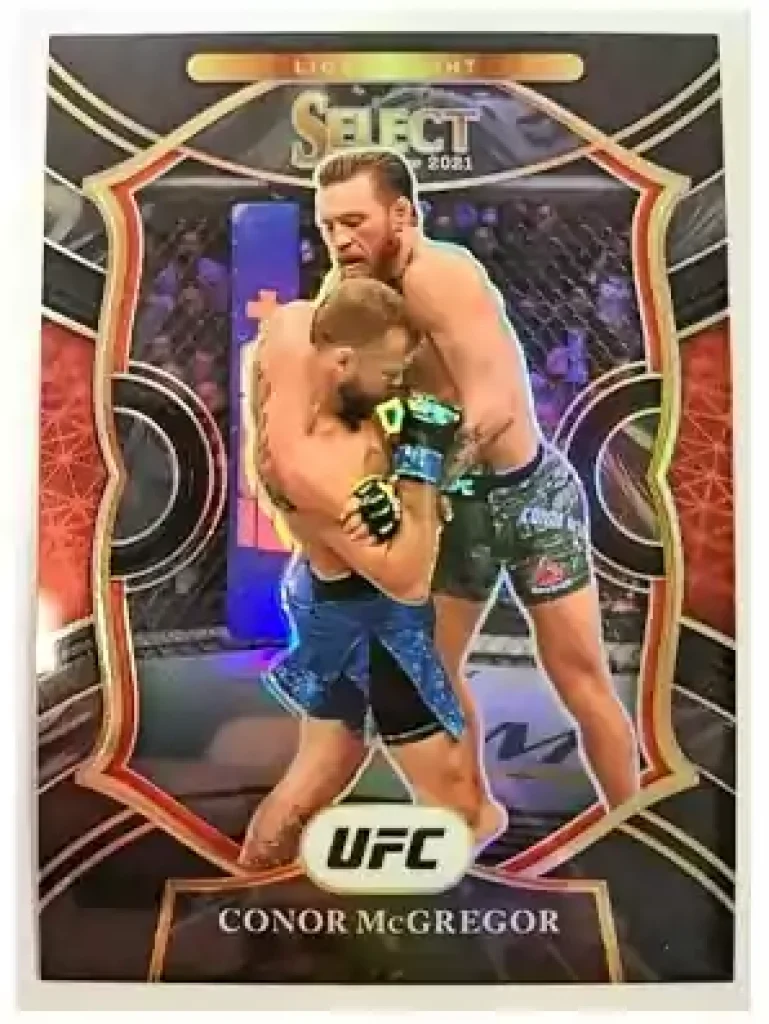 5. Price: $17 500. Khabib Nurmagomedov 2021 UFC Immaculate Premium Patch Auto. Numbered to only eight copies. Sold on eBay.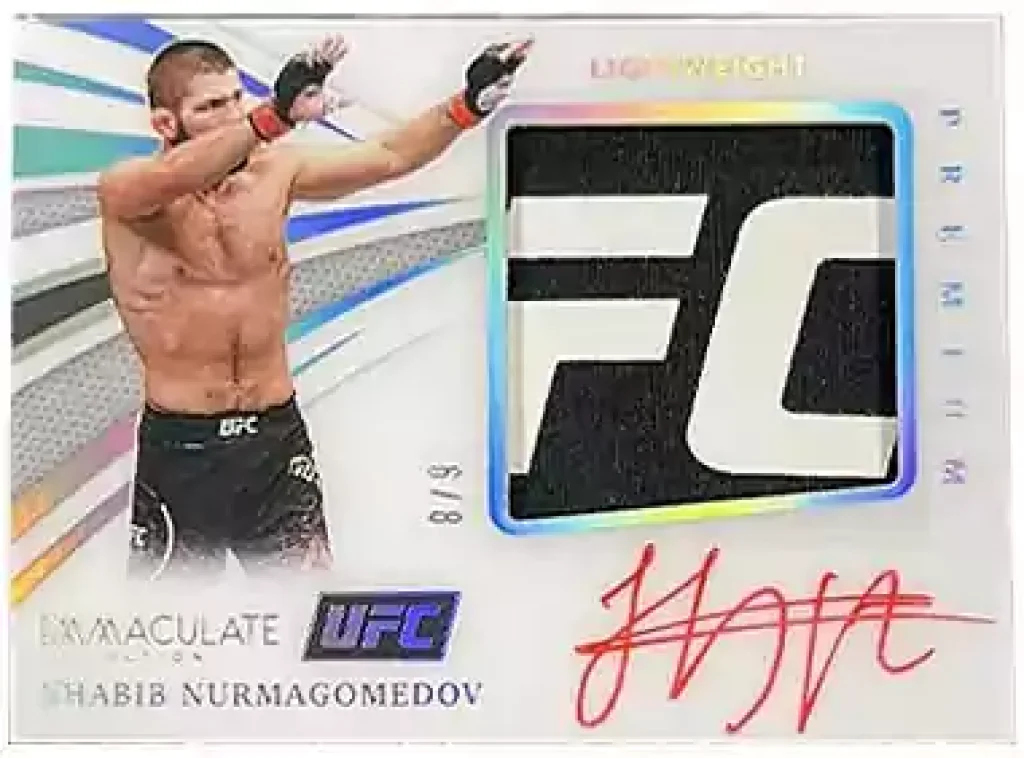 back to menu ↑
P.S.: For those who are already serious card collectors
Cards need to be organized and have their place. Good to know different manufacturers know about this problem and create sports card holders. So every card collector can find a solution.
Zip binder
Non-slip and water-resistant Exo-Tec made from acid-free non-PVC material. 20 pages holding 360 cards, 9 pockets per page.
2200+ cards
Sports card holder to organize over 2200 cards. Protects card corners from damage. For gaming and sports trading cards.