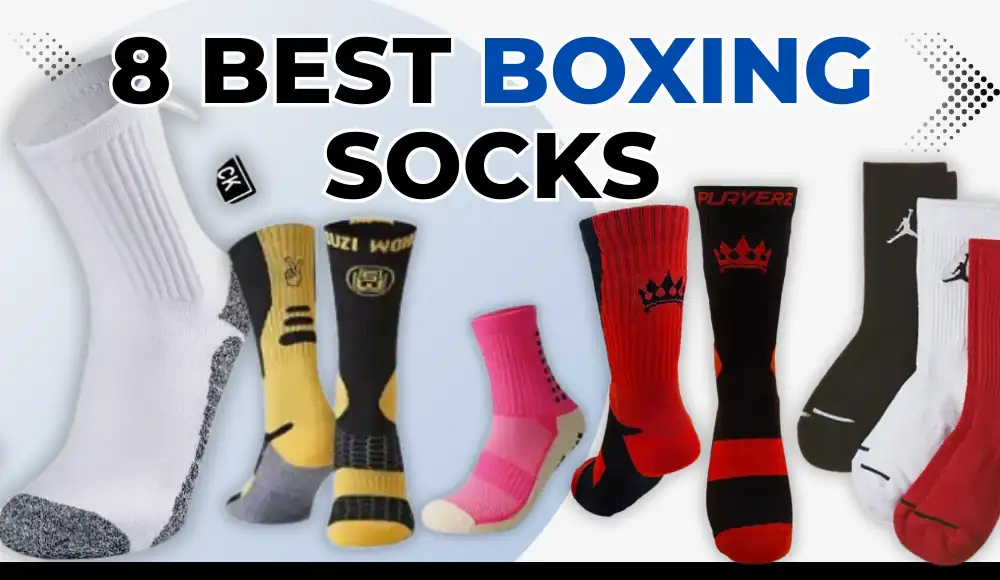 Are you tired of wearing regular socks that leave your feet sore and blistered after a long boxing session? Look no further! In this article, we'll be discussing the top 8 best boxing socks for maximum performance. We'll also be answering some commonly asked questions about boxing socks.
The question about wearing or not socks in martial arts is very common. You may be interested to read more about it here:
What Socks Should I Wear for Boxing?
When it comes to boxing, you want a sock that is lightweight, breathable, and provides cushioning to your feet. A good boxing sock should also have arch support to keep your feet stable during quick movements.
back to menu ↑
Are Compression Socks Good for Boxing?
Compression socks can be beneficial for boxers as they help improve blood flow and reduce swelling. However, they may not provide enough cushioning for the feet, so it's best to look for compression socks that are specifically designed for boxing.
back to menu ↑
What Kind of Socks Do Boxers Use?
Boxers use socks that are specifically designed for boxing. These socks are typically lightweight, breathable, and provide cushioning to the feet. They may also have additional features such as arch support and moisture-wicking technology.
back to menu ↑
What Are the Key Features to Look for When Selecting Boxing Socks?
When selecting boxing socks, look for socks that are lightweight, breathable, and provide cushioning to the feet. Arch support is also important to keep your feet stable during quick movements.
Moisture-wicking technology is another important feature to look for as it helps keep your feet dry and prevents blisters.
back to menu ↑
What Are Some of the Top Brands of Boxing Socks on the Market?
Some of the top brands of boxing socks on the market include:
Playerz Boxing Socks
Nike Boxing Socks
Adidas Boxing Socks
Suzi Wong Boxing Socks
Hayabusa
Ringside
back to menu ↑
8 Best Socks for Boxing
Here are our top picks for the best boxing socks on the market including boxing athletes' recommendations and the best boxing socks Amazon picks:
#1 Playerz Boxing Socks
Playerz Boxing Socks are a popular choice among boxers. They provide excellent arch support and cushioning to the feet, as well as moisture-wicking technology to keep your feet dry.
#2 Hayabusa Boxing Socks
4 colors
Material: 38% cotton/35% nylon/24% elastane/3% Spandex.

Overall, customers are highly satisfied with these boxing socks, with most giving a rating of 4 or 5 stars. The socks are described as durable, comfortable, and made for movement. They are also noted to have good arch support, shin protection, and thick padding on the soles. The socks are breathable and light, but not too thin like running socks.

The only minor drawback mentioned by one customer is that the sock should be worn with boxing shoes rather than on their own.
Positive
Fits better than Under Armour fitted athletic crew socks
Breathable and light
Provides shin protection for deadlifts
Thick on the sole with foot insignia for better fit and padding
Durable and comfortable
Nice compression socks
Negatives
Not recommended to be worn on its own
#3 Suzi Wong Boxing Socks
Suzi Wong is a UK-based company that specializes in creating custom-made boxing gear, including socks. Their boxing socks are designed with high-quality materials that offer excellent support and comfort.
They feature arch compression, cushioned footbed, and a reinforced heel and toe for added durability. The socks are available in a variety of colors and styles, making them a fashionable choice for any boxer.
#4 Nike Boxing Socks
Nike Boxing Socks – These socks are made of lightweight, breathable material with cushioning in key areas.
6 pair pack
Cotton Blend. From the customer reviews, the Nike socks appear to be comfortable, soft, and trendy, with good quality and value for the price. Many customers have expressed satisfaction with their purchase and recommend the product.

However, one critical review mentioned that the socks felt thin and like knockoffs. Another review mentioned that the socks pill after a single wear. Overall, the product seems to have more positive reviews than negative, and customers seem to appreciate the comfort and quality of the Nike socks.
Positive
Comfortable and soft socks
Good quality material
Stay in place
Nice and trendy design
Good value for the price
Fast shipping and good customer service
Negatives
May pill after a single wear
Some customers found the socks to be longer than expected
#5 Jordan Nike Socks
3 pair pack
Based on the customer reviews, the product has received mostly positive feedback. The most commonly mentioned positive aspects of the socks include their comfort, good fit, durability, and stylish design. Several reviewers also praised the socks for being good for various types of sports and activities.

However, one reviewer noted that the socks lacked padding, which may be a drawback for some users. Another reviewer mentioned that the security tag was left on the socks, which was disappointing.

Overall, the socks appear to be well-liked by customers who have purchased them, with most reviewers recommending them to others.
Positive
Comfortable
Good quality
Stylish and good looking
Provides support
Durable and long-lasting
Negatives
Jordan logo is only on one side
Sizing issues if not selected correctly
#6 Adidas Boxing Socks
different colors
Boxing Compression Socks: These socks provide compression to improve blood flow and reduce swelling.

Overall, most of the reviews are positive and indicate that the Adidas socks are comfortable, durable, and offer good protection and support. However, some users found them too thin and small, and a few users thought the price was too high.
Positive
Comfortable
Inexpensive compared to other Adidas socks
Great fit and feel
Rugged and durable
Helps with foot pain
Moisture-wicking and cushioned
Protective design in specific spots
Stylish design
Negatives
Too thin and small for some users
#7 Pink Boxing Socks
Pink boxing socks are one of the most popular searches as a part of boxing gear.
#8 White Boxing Socks
White boxing socks are a great choice for boxers who want a classic look.
back to menu ↑
Boxing Socks Reddit recommendations
If you're looking for reviews and recommendations for the best boxing socks, Reddit is a great resource. There are several subreddits dedicated to boxing where people discuss and share their experiences with various boxing gear, including socks.
You can find useful information about different brands, styles, and features, and get insights from fellow boxers who have tried and tested them.
We made a research on the boxing Reddit threads and here are some recommendations to consider about the best socks for boxing:
X-Bionic socks
Nike socks
Adidas football socks
Hint: To avoid blisters it is recommended to wear a pair of silk or polyester socks over your regular cotton socks when boxing.
back to menu ↑
What Makes Boxing Socks Different from Regular Athletic Socks?
Boxing socks differ from regular athletic socks in several ways. Firstly, they are designed to offer additional support and stability to the feet, which is crucial during intense training and fights.
Most boxing socks have arch compression that keeps the socks in place and prevents them from slipping or sliding, which can be dangerous in the ring.
Boxing socks also have reinforced heel and toe areas, which provide added durability and protection to the feet. They are often made with moisture-wicking fabrics that keep the feet dry and prevent blisters, which is essential for boxers who train or compete for long periods.
back to menu ↑
How Do I Properly Care for and Maintain My Boxing Socks to Ensure Maximum Performance and Longevity?
To ensure maximum performance and longevity of your boxing socks, it's essential to take proper care of them.
Firstly, make sure to wash them after every use to prevent the buildup of sweat and bacteria, which can cause odor and reduce their lifespan.
Use a gentle detergent and avoid using bleach or fabric softeners, as they can damage the fabric and reduce its elasticity. It's also best to air-dry your boxing socks rather than using a dryer, as high heat can damage the fabric and cause them to shrink.
back to menu ↑
FAQs about Wearing Socks in Boxing
Can You Wear Socks in Boxing?
Yes, wearing socks during boxing is recommended, as they offer additional support and protection to the feet. They also prevent blisters and other foot injuries that can occur during training or fights.
Is It Okay to Box Barefoot?
No, it's not recommended to box barefoot, as it can cause injuries to the feet and toes. Boxing shoes or socks offer better support and protection, allowing you to move freely and safely in the ring.
What Do Pro Boxers Wear?
Pro boxers wear a variety of boxing gear, including gloves, hand wraps, headgear, and shoes or socks. They often wear custom-made gear that is tailored to their individual needs and preferences.
Does Mike Tyson Wear Socks?
In one of his interviews, Mike Tyson said he didn't wear socks during his boxing matches. He explained that when he's not wearing a robe or socks, and when there's no music playing when he steps into the ring, he feels like a warrior.