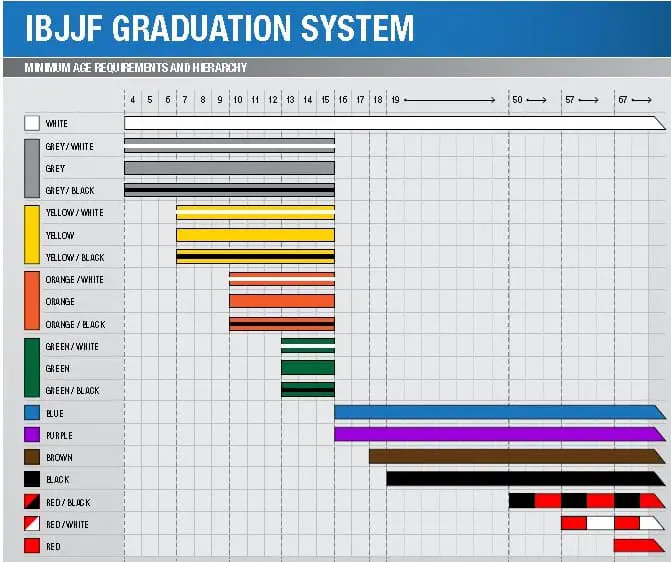 Let's talk about how many belts are in the Brazilian Jiu-Jitsu belt rank system in a simple way.
First things first: the short answer is 5 main belt colors and 8 colors in total. As in most martial arts, Brazilian jiu jitsu begins with the white belt. For children and adults. The jiu-jitsu highest belt is red and the most honorable.
A BJJ blue belt can be obtained by reaching 16 years old or even purple under certain circumstances. Brazilian jiu jitsu brown belt can be achieved from 18 years old.
'How do you get a black belt in jiu jitsu?' is a popular question. Well, google 'Brazilian jiu jitsu near me', start your BJJ white belt journey, enjoy your BJJ classes, and that day will come. But notice, the holder of a black belt cannot be younger than 19 years old.
What is a red belt in BJJ?
Is there a rank higher than the black belt in BJJ?
Yes, it's the red belt color. The red belt BJJ rank is the most honorable. It is tied to the achievement of merit and 67 years.
back to menu ↑
Now let's count how many belts are in BJJ
There are 8 adult BJJ belts in the jiu-jitsu rank system. But very often you can hear the answer 5 belts.
'What?! So 8 or 5 belts?!' you may ask.
Well, it is just not common for now to think about achieving the red belt. BJJ is a quite young martial art. Jiu-Jitsu black belt rank is already a high achievement and says a lot about the perseverance and devotion of its owner.
BJJ belts in order from the first – white, and to the highest – BJJ red belt.
back to menu ↑
Belts in Brazilian jiu jitsu: Adults
White
Blue 
Purple
Brown
Black
Black Red (coral belt)
White Red (coral belt)
Red
back to menu ↑
How many BJJ red belts are there?
There are about 55 jiu jitsu red belts in BJJ as of 2021. Depending on when you will be reading this article. The red belt in BJJ is the highest belt in jiu jitsu.
According to Renzo and Royler Gracie, red belts in BJJ are reserved "for those whose influence and fame takes them to the pinnacle of the art". It is awarded in lieu of a ninth and tenth-degree black belt. The five existing 10th degree or grau (from Portuguese) red belts were given only to the pioneers of Brazilian jiu-jitsu, the Gracie brothers.
Red belts in BJJ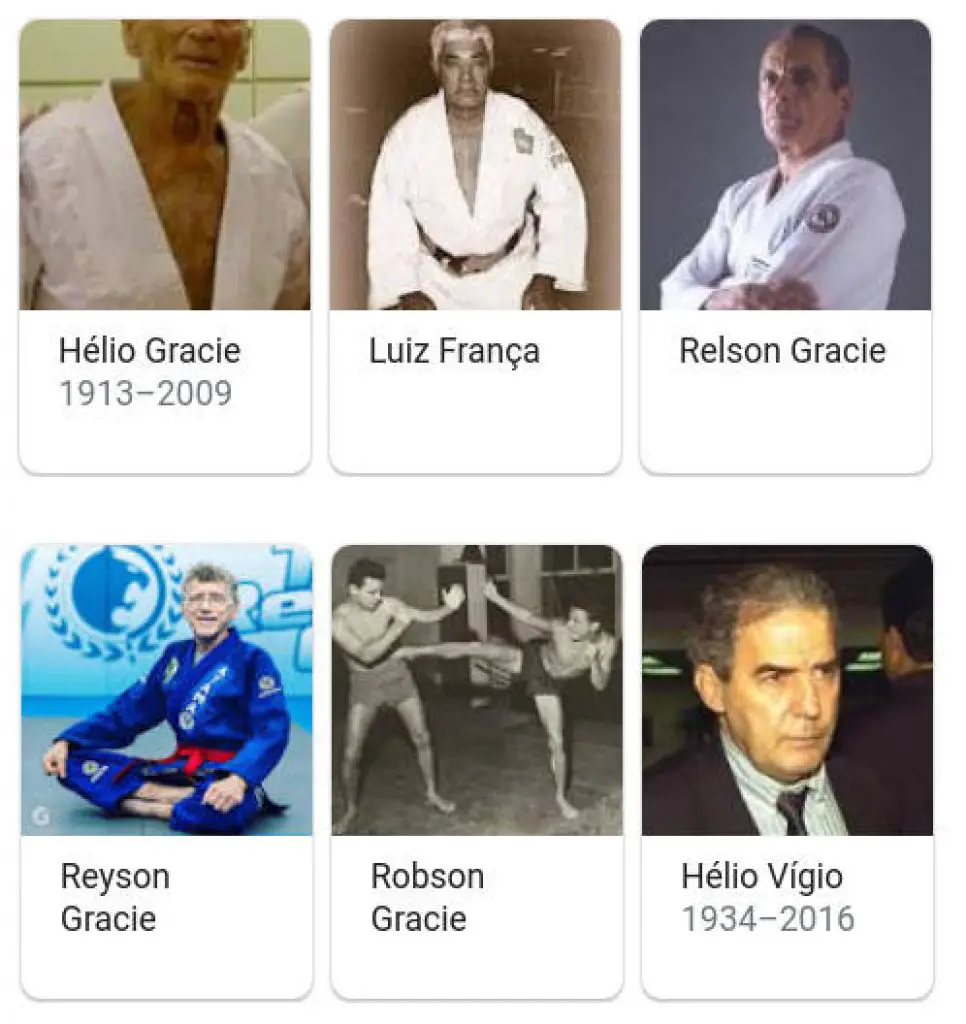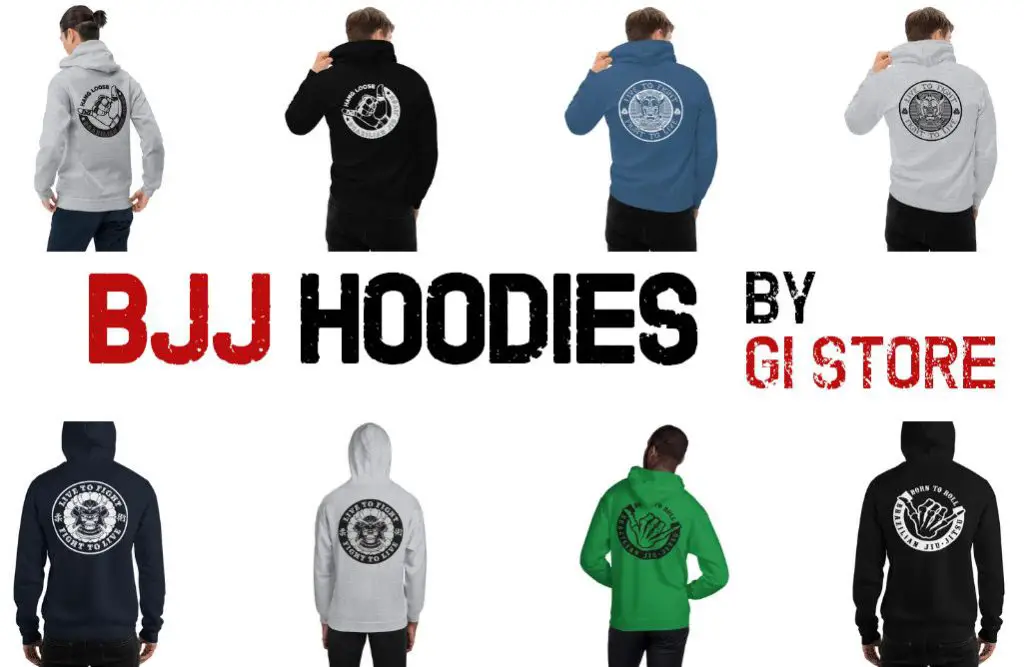 If you, as a BJJ practitioner receive your black belt at 19 years old, the earliest you could expect to receive a ninth-degree red belt would be at the age of 67.
back to menu ↑
How long does it take to get a black belt in BJJ?
On average it takes 8-12 years to get to black belt in jiu-jitsu. If you train jiu-jitsu with no long-term breaks, the most common average time span will be 10 years.
back to menu ↑
Stripes on jiu jitsu belt
Each belt during its existence receives white marks (as a rule made from tape), which are usually called "stripes", from 1 to 4. After the fourth stripe – certification for the next belt. Usually…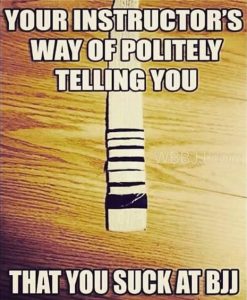 back to menu ↑
How long to get BJJ blue belt or purple belt?
The "life" of each belt lasts 1.5-5 years, depending on belt color and circumstances.
It is determined that a black belt with a red bar, as well as with white side stripes, is for instructors. According to some information, the first option is an assistant coach, the second is a head coach.
BJJ black belt degrees are called grau (degree in Portuguese).

There is also a BJJ black belt white bar vs red bar. This variant of the black belt – with a white bar – is for athletes who do not train students.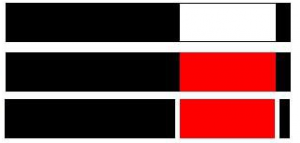 back to menu ↑
How many belts are in Brazilian Jiu-Jitsu for Kids?
Kids jiu jitsu belt ranks and youth Brazilian jiu jitsu belt ranks
| | |
| --- | --- |
| White  | as a rule from 4 years |
| Gray/White | 4-15 years |
| Gray | 4-15 years |
| Gray/Black | 4-15 years |
| Yellow/White | 10-15 years |
| Yellow | 10-15 years |
| Yellow/Black | 10-15 years |
| Orange/White | 10-15 years |
| Orange | 10-15 years |
| Orange/Black | 10-15 years |
| Green/White | 13-15 years |
| Green | 13-15 years |
| Green/Black | 13-15 years |
back to menu ↑
Level of Belts in BJJ according to IBJJF System: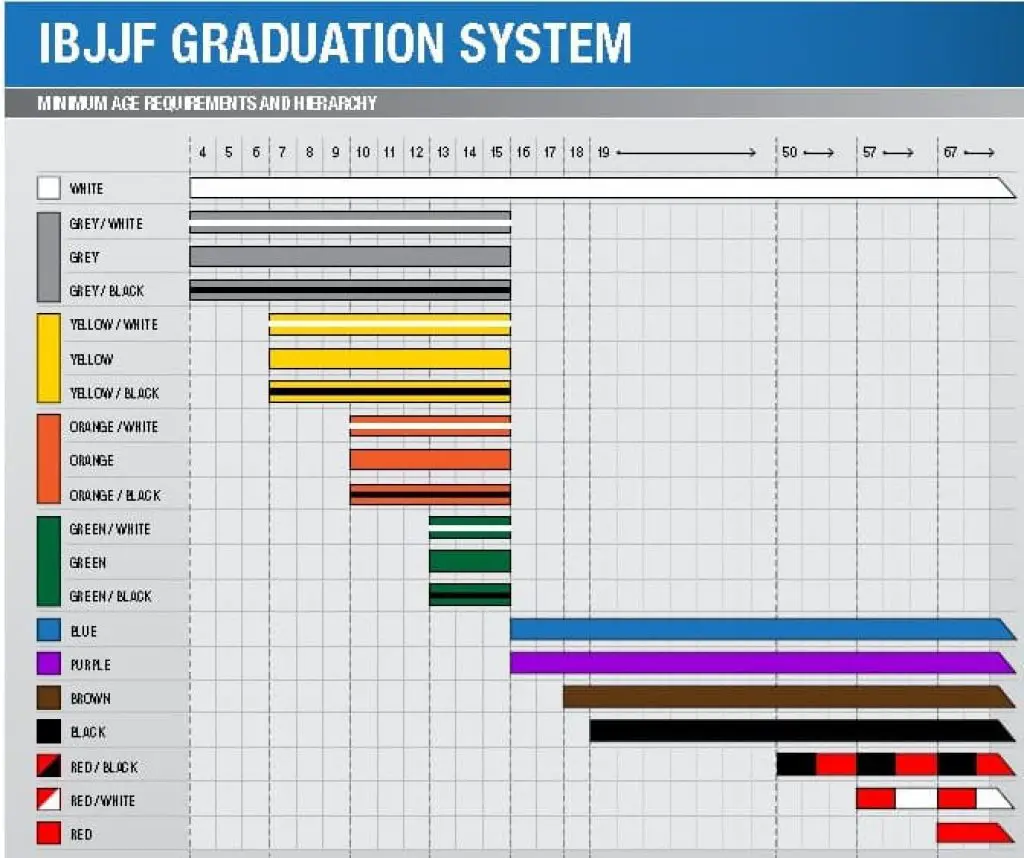 The width of the children's belt for BJJ, as a rule, does not differ from the adult – about 4-4.5 cm, although the width of 2.5-3.5 cm is indicated in the IBJJF description.
Upon reaching 16 years the kid's belt is replaced according to the adult system in accordance with the circumstances. The white belt remains white. Gray, yellow, orange turns into blue. Jiu jitsu green belt turns into blue or purple by decision of the head coach.

On the recommendation of IBJJF promotion for stripes and belts takes place every three months. Depending on the rules of a particular federation or academy, the conditions of promotion may differ.
back to menu ↑
Why are there so many divisions in the children's BJJ belts?
Each color of the children's belt is also modified by a white or black stripe along the entire belt. According to some explanations, such fragmentation exists to encourage a sporting spirit and the desire of the child to continue to train.
According to the adult system, a child would have to wait for two or three years to achieve the next rank, which is like half of her or his life.
Check other BJJ news and articles about Brazilian jiu jitsu fighters and MMA athletes. For instance, Female Jiu Jitsu Black Belt Fights against White Belt.
P.S.: First thing to do before starting BJJ and to learn jiujitsu is to type in Google "jiu jitsu near me" and let it be what it should be.